Cloud computing is a technology that changes approaches crucially among different industries. It brings flexibility, which a crucial for such an intense and people-centered industry as real estate.  
Cloud-based real estate software solutions bring real estate professionals and managers to a new level of operations, making digital no less of an import than physical. By combining both, it's possible to reduce operational expenses, give up manual data management, and increase the mobility of real estate professionals. 
So what can the cloud contribute to these goals and why does every real estate agency need cloud solutions right now? Let's contemplate the matter in this article.
Why is Now the Time for Cloud-based Real Estate Software?
Nowadays, traditional approaches to anything won't be as efficient as they were thirty years ago. Someone will state that they are even futile and there is no sense in even trying them with the young clients who are mostly millennials or even early gen Z. Young people appreciate digital experiences for their interactivity, and convenience and those who can't offer that won't succeed among such an audience. 
This concerns real estate as well: there will be fewer clients over the years who will check for your listings in the newspapers instead of looking them up online, on real estate portals, websites, or social media.
At the same time, everything in our lives speeds up, and we can't afford to linger. In the real estate industry, agents can't be attached to the office to do their work and make potential landlords, tenants, sellers and buyers wait until they get to their work computersto share details or process documents. The world becomes more and more about remote work and remote access, hence, any real estate agent should be able to operate with these concepts.  
Another real estate business struggle worth mentioning is ever-growing expenses on business operations, as doing business manually takes too much time and hence, costs a lot. 
As you can guess, cloud solutions, including cloud-based real estate CRM software, cloud-based real estate appraisal software, and other cloud-based real estate brokerage solutions, can come in handy and mitigate or even fully resolve the aforementioned challenges. 
Cloud-based real estate software solutions drastically change how real estate agencies can work. If the agency has never used any software solutions, it would be reasonable to start right away with cloud ones. And if it has been working with on-premise ones, real estate cloud software will bring additional flexibility, cost-efficiency, and workflow automation that won't be impossible with server-based solutions. 
Your competitors most likely have already adapted real estate cloud software and leveraged it to reach better results. To be able to overshine them, you will need to also have a cloud solution working for you. And that's the reason why the time for implementing cloud-based real estate software solutions is now. 
Want to upgrade your company operation?
Initiate the real estate software development.
Benefits of
Cloud-Based Real Estate Software Solutions
So, let's look closer at cloud-based software. What are its real advantages and what changes can it really bring?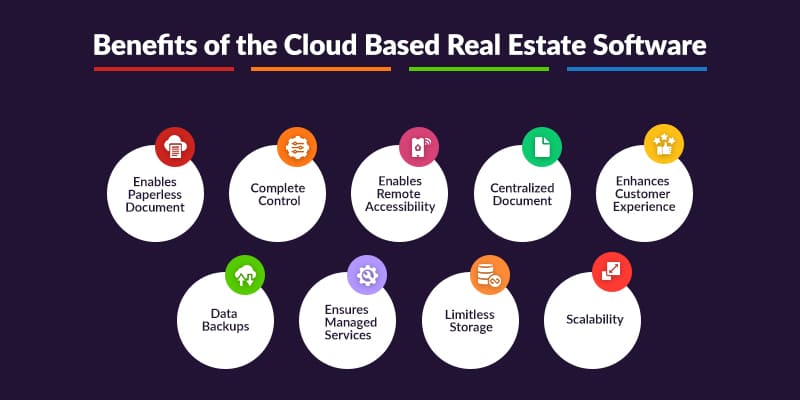 Business process automation
The responsibilities of a property manager include a lot of manual tasks that can be exhausting and boring, and hence, may kill the motivation and productivity of the employee pretty quickly.
Moreover, the tasks like data entry, report generation, and email marketing can take a pretty big part of an employee's workday. So, instead of focusing on building a friendly and trusting relationship with clients, they will be bound to spend hours behind simple basic tasks that can be easily done by a piece of software.
Cloud-based real estate software solutions relieve real estate agents from such repetitive tasks. They can automate a big number of administrative tasks and save time for employees. This way, it's not only possible to enhance the efficiency and throughput of your team but to increase the accuracy of certain tasks (e.g, data management). 
Various types of real estate software can automate different aspects of real estate processes: cloud-based CRM for real estate will help you manage the profiles of your leads and clients and automate your communications with them, and real estate ERP software will automate operation processes like property management, budgeting, building maintenance, etc., and cloud-based real estate appraisal software will provide you with a more efficient way for property valuation. 
Enhanced customer experience for landlords and tenants
As cloud-based real estate software solutions have a lot more flexibility than legacy server-based ones, you will be able not only to level up your internal processes but to bring new, desired experiences to your clients.
Tenant and landlord web portals or mobile applications become more and more popular in a rental housing area. With their help, tenants are able to notify landlords about occurred breakdowns and submit complaints, landlords will be able to monitor their property and payments, and property managers will get an opportunity to handle requests from both sides automatically and have a digital record of everything submitted by clients and every event happened. 
At the same time, digital experience and easy access to data will increase the quality of life for your clients, and in turn, it will leave a great impression of your business and its services in their minds. And it's a direct path to creating a group of promoters for your business. 
Mobile accessibility & sharing
Cloud computing allows not being attached to a certain location server, or mobile device to access data. Hence, a lot of opportunities open for real estate agencies like the ability to work remotely, the ability to open the necessary document on any device in proximity, including mobile phones. The data sharing between employees and clients becomes also easier, as the software may store all documents and other papers that can be checked within the software. 
Better data management & record keeping
How hard is it to lose a certain Excel file on your device when you need to go through dozens of them? Cloud-based real estate software solutions can also be used as databases, designed to organize and structure data. So, for every client or property, you will be able to have a dedicated folder or tab, providing exceptional contact management. The system may also have a quick search feature, which will make it easier to find the required document in a short span of time. 
Enhanced security
Data security is a cornerstone for any business. Real estate is no exception, especially considering that property managers handle sensitive data (personal data, credit scores, payment data) on a daily basis. 
Though there are some benefits to storing your data locally on a server, the cloud also provides a high level of data security. Almost every cloud solution comes together with two-factor authentication, encryption, and other important security measures.
Back-up & disaster recovery
Another significant benefit of the cloud solution is that it's pretty hard to lose the data stored there. Even if your devices are compromised, lost or broken, the data will be saved and easily restored on a new device. 
The data isn't basically attached to any location like your office. So, even if some accident like a flood happens and your hardware is damaged, it won't affect the integrity of your data. 
Want to develop cloud-based real estate software solutions?
Cooperate with GBKSOFT, a software development company with more than a decade of experience.
Developing
Cloud Real Estate Software Solutions
with Altamira
Altamira is a top cloud software development team with more than 10 years of experience. We help businesses to enhance their operation and startups scale their development and growth. 
We can help you with:
cloud-based real estate software solutions

development for your agency;

enhance the development of your start-up for the real estate industry;

initiate, run and support the

development of SaaS system

for property management;

ERP and CRM systems development for real estate business;

development of web and mobile systems for tenants and landlords.
To develop cloud real estate software, you will need a team that will consist of the following experts: 
business analysts;

software architects;

Scrum master;

front-end developers;

back-end developers;

mobile developers;

QA engineers;

UI/UX designers;

DevOps specialists. 
We can provide you with these specialists and adjust team composition and engagement according to your needs, requirements, and product vision. Moreover, our team has a sufficient amount of experience with real estate software, as well as with cloud application development, hence, we will be able to contribute to your project strategically. By choosing us as your software development vendor, you will benefit from:
flexible cooperation and payment terms;

established development processes they stood the test of time;

client success team and delivery team that will create the most efficient and convenient conditions for our cooperation;

a bench of skilled specialists in different technologies;

expertise with cutting-edge technologies, like IoT, artificial intelligence, and machine learning;

high level of ownership over our development.
On average, the cloud-based real estate software solutions will cost around $40-50,000k per month. The price may vary depending on the scope and difficulty of work. 
Our Success Cases
Propstech: Cloud SaaS Property Management System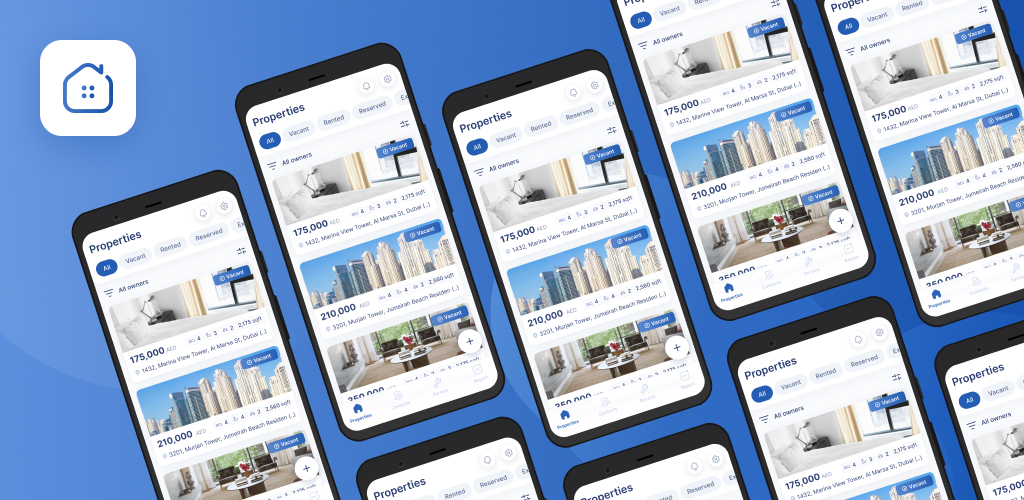 Propstech is a SaaS system that automates and simplifies the majority of operations that take place during long-term property leasing. The system is designed to help property managers enhance their internal processes and also simplify the communication between them and the other two parties, tenants and landlords. Generally speaking, the system is a big property management software with a mobile application for tenants. 
Zemp: Mobile version for Cloud SaaS POS Software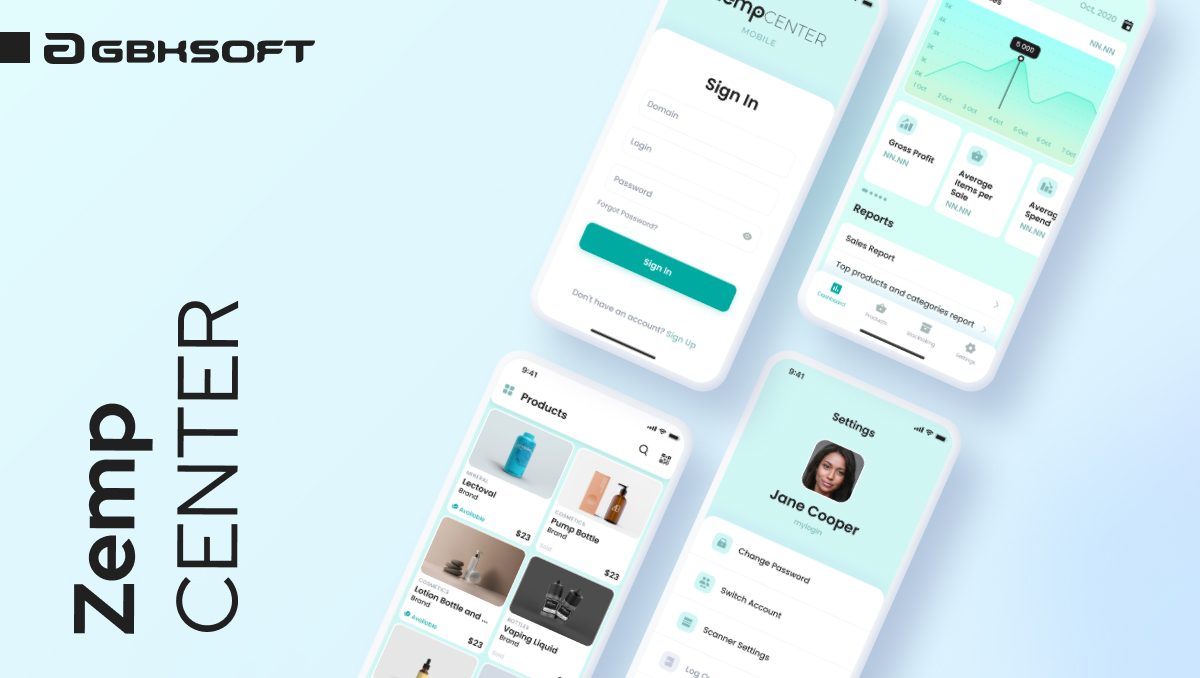 The clients came to us with an already operating SaaS POS system. However, it was only available on the web, and the demand for mobile solutions was constantly growing. GBKSOFT contributed our expertise in mobile development to create a Zemp mobile application that will provide its users with the same POS functionality as the web version. 
Leo: Cloud ERR System for Construction Company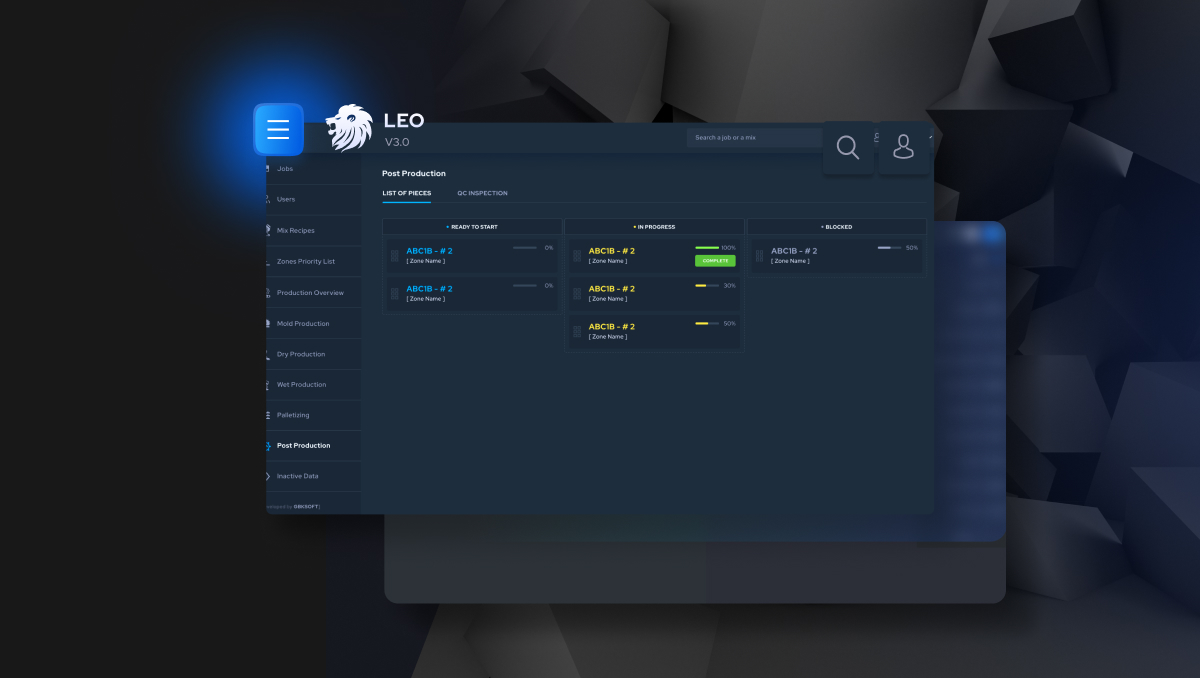 Leo is profound ERP software that is designed specially to cater to the needs of the construction company. Our clients specialized in manufacturing architectural cast stone and architectural precast and process customer orders. Hence, we designed a system where it would be easy to manage and keep track of such orders with increased efficiency.
In Conclusion
Adopting cloud-based real estate software solutions is a way to grow for real estate companies nowadays. It is not only possible to digitalize your operations but to generate additional capacity and widen your client base and even market niche. Think about investing in the custom cloud real estate solution and open new opportunities for your business!
Looking for a real estate software development company?
We will be able to provide you with the necessary expertise and experience.
There are different types of software in the real estate industry, the majority of them helping to automate processes and increase the connectivity between clients and agents. The most common examples are cloud-based real estate brokerage solutions, cloud-based CRM for real estate, cloud-based real estate appraisal software, and others.
Cloud solutions increase the efficiency of employees and the amount of work done in a certain period of time. They help to avoid mistakes in data and keep the whole process more efficient and rapid. Cloud also allows employees to access data from any part of the world, hence, it gives them more flexibility and agility.