Choosing Software as a Service SaaS software development means reliability, simplicity, and security enabling businesses to meet 21st-century business demands. The possibility of on-demand delivery and the possibility to get specific features in your application or software service directly to the business or to the end-user. Organizations that view and use cloud services as part of a digital transformation strategy benefit far more than those who choose the cloud solely for cost savings or as a low-cost alternative to a physical data center.
This article will give you a better understanding of SaaS application development benefits, the best development practices, delivering a solution that will help you gain an advantage on the market as well as the steps and criteria to consider choosing a reliable software vendor for your business digitalization.
Benefits of SaaS for your business 
SaaS app is a web-based application that can be used for connected devices through browser or API under the oversight of the software vendor. SaaS development consulting has seriously reshaped the understanding of business and allows business owner to cut expenses through developing software as well as eliminating the necessity for constant upgrades and updates. This model means the absence of costs associated with the purchase and maintenance of computer equipment and updates installation. The stability and smooth functioning of the solution is the responsibility of the vendor.
SaaS software types:
SaaS Type
Description
Vertical SaaS
Essence: caters to the needs of specific companies and particular niche (e.g. healthcare, education.
Benefits: eliminates the barrier to entry and allows quicker and more precise reachout to the customer.
CRM
Essence:

tools that allow improving interaction with clients.


Benefits: Allows

collecting, analyzing and storing massive amounts of data and consequently improving customer experience and allowing business owners to make data-driven decisions and changes. Absolute data security.

ERP
Essence

: automates business processes by consolidating data from different departments and unifying all the internal company processes.

Benefits: SaaS model is scalable and will grow together with the company, thus there is no need for additional further investment.

Billing software
Essence:

deals with tracking and invoicing.


Benefits:

SaaS apps have already implemented all the PCI certificates, and you can use them with no additional payment.

Project management software
Essence

: tools for organization and management of projects.


Benefits:

all the information is stored in unified storage, thus everyone can access it at any time.
Interesting Fact
In the 1960s, computers were enormously big, bulky and expensive. Few small and medium-sized businesses could afford to invest in a computer. That's why and when the software as a service industry was born. The model we know today as "cloud computing" or "SaaS" was simply called a "time-sharing system".
Here are the main benefits of the SaaS model:
No additional expenses for software installation and maintenance

Fast time-to-market with no expenses for launching the product

Single product for all devices

You get all the improvements and updates as soon as they are released

Software stability and scalability 

More secure and usable data

No additional costs for license and tech support

High levels of data security in comparison to on-premise solutions

Ability to implement the remote work model
With the release of SaaS upgrades, the capacity of services has expanded, the speed of information processing has increased, the volume of storage, the complexity, and the expansion of tools all also grew. It enhanced the performance efficiency, enabling us to get better business insights.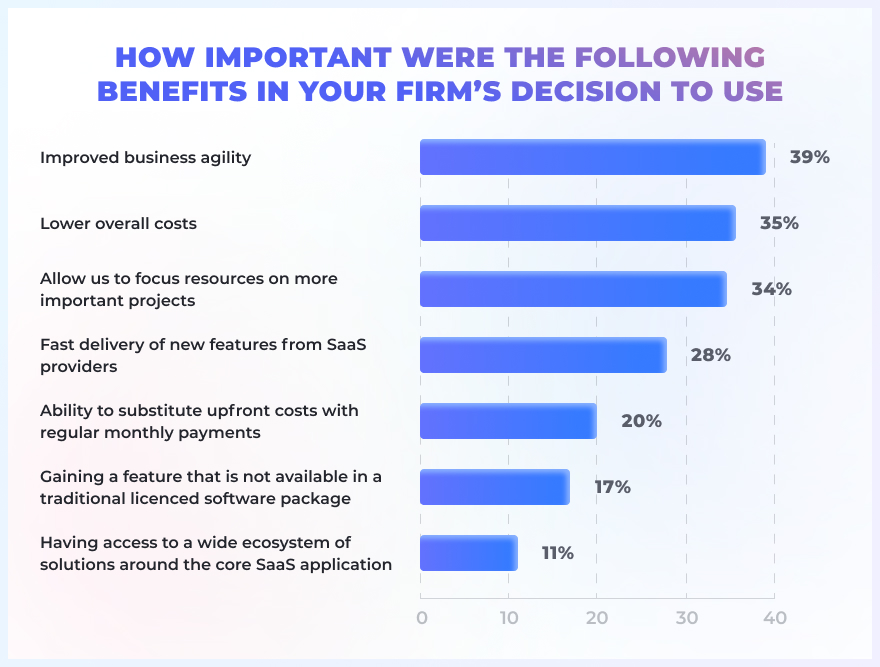 How understanding the benefits of SaaS can improve your business performance 
SaaS custom development allows your organization to quickly launch an application with minimal release costs. This means that you do not need to purchase and install special software for your users. You don't have to worry about developing applications to run on different types of computers and devices, because the service provider has already taken care of all of that for you. In addition, there is no need to hire qualified professionals to solve security problems that may arise when using mobile devices. A properly selected service provider ensures the security of your data, regardless of the type of device that uses the data.
Statistical insights
According to Vanson Bourne found, a business will grow by an average of 19.63% after moving to the cloud.
GBKSOFT as an experienced SaaS product development company offers reliable and secure tech support for companies eager to move away from on-premise commercial installations to SaaS models. 
You can focus on the business strategies while our team will maintain the optimal functioning of the software and its regular upgrading;

We offer the unique ability to benefit from the ready-made service and get a unique solution that doesn't need to be built completely from scratch;

Zero downtime deployment strategy allows using the software until the upgrades are made;

Choosing an appropriate framework once the company starts to scale to effectively support growth;

Access app data from anywhere. When data is stored in the cloud, users can access the information they need from any computer or mobile device connected to the Internet.
More and more world business leaders move to the SaaS model since it brings a considerable advantage.
You still do not have a SaaS solution?
Build your SaaS model with GBKSOFT
Tips to make your SaaS solution successful 
The SaaS model has gained tremendous popularity across a multitude of industries and helped thousands of companies worldwide to increase profits. All the benefits mentioned above allow to reshape the understanding of SaaS and the value it provides for businesses. However, not all SaaS products have survived in the competitive market environment. Here is the list of hints to ensure the competitiveness of your SaaS solution:
Market overview. The success of the product depends on the market demand as well as the benefits the solution offers in comparison to rivaling solutions. Moreover, the pricing model also matters.
Long-term planning. The solution should be developed with a long-term perspective and presuppose the implementation of new features.
Hire experienced and reliable software vendors, start creating workflows and internal threads. Make sure that the type of development process you choose is also determined (DevOps, Agile, etc.). 
Build an MVP to get user's feedback, test the idea on the market and uncover the necessary improvement to be implemented.
Elaborate on the growth plan and trace the progress.
Launch a well-prepared marketing campaign.

Inbound marketing

for example is one of the most effective strategies since it convinces your users of the importance of buying your software.

Present all in one solution that will combine tools for various purposes. 
Make sure to have a solution with cross-platform support.
Take care of the UX/UI design and enhanced usability.
Limit the number of free users, until there is enough conversions to continue supporting free use of the product.
GBKSOFT is a team of experienced experts operating a big stack of technologies and having extensive practical experience in SaaS application development. Our uniqueness lies in the special approach to clients, enabling them to uncover the potential of their ideas and get the best possible service, making this a reality. We always conduct a solution design stage, choose the right tech stack for your solutions, create user-friendly and trendy designs offering best price-quality ratios.
Let's do it together!
Build a successful SaaS solution for your business with GBKSOFT!
Best practices of SaaS software development
SaaS software development is the best strategic solution to support your rapid business growth. However, to make the right decision on hiring a development team one needs to understand all the key factors influencing that decision as well as what goes into planning and constructing the budget. Those factors include technical and non-technical characteristics of SaaS development.
Technical SaaS development characteristics
Non-technical SaaS development characteristics

The necessity to scale the database to fit your business data type, scalability, load as well as budgeting.

Scalability is a focus from the very beginning of development.

Regular solution updates based on user needs and feedback as well as market trends.

3rd party integrations will add value to your app and increase competitive potential.

Correspondence with market demands.

Intuitive and user-friendly interfaces. 

Fair pricing policy and offering various types of subscriptions.
GBKSOFT has an extensive 10+ years experience in SaaS development. We have experience working with several companies supplying SaaS solutions for various industries. Our solutions have architecture models, they are customizable and ensure that data is available to anyone at any time. Here are some basic principles we always stick to:
Through the

discovery stage

we evaluate the state of the company and identify the areas for improvement. You do not need to study the types of

SaaS custom developmen

t, our experts will give you a detailed recommendation as a part of the consultation.

The solution design stage allows defining the necessary project requirements and product development strategy

Build an

MVP(minimal viable product)

allowing to test it on the market and get the user's feedback with minimal upfront investment

When the product has paid off, we can scale the available SaaS through dominance play (restyling), growth of net revenue retention, and establishing a presence in new markets

Assign the tasks to the team versed in technology and all related concepts

Modern design

, a scalable infrastructure

Our solutions allow integrating several systems to maintain the smooth work of the whole company

We ensure the right choice of the cloud (AWS)

Security and transparency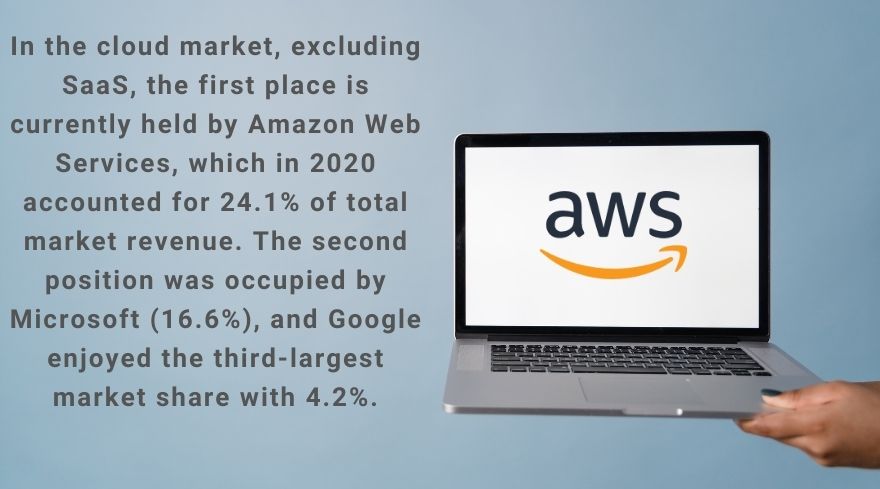 Schedule a consultation!
Choose GBKSOFT as your tech partner and get the best SaaS solution now!
SaaS has gained its tremendous popularity on the market since this model is widely adaptable by different types of applications, including:
CRM 

ERP

Finance management

E-commerce

Email marketing 

Project and data management 
Custom platform accessibility is one of the major benefits making this model attractive for business owners. However, SaaS software development is not an easy task, since it demands permanent availability as well as zero downtime, entailing that the application can be used at any time.
Here are the main development stages:
Research and discovery

Product design

Product development

Optimization and design

Deployment, monitoring, and support
Top critical nonfunctional requirements for SaaS
NFR are functional requirements that go deep into the architecture. The design of the app should address these requirements, and the development team should take this seriously.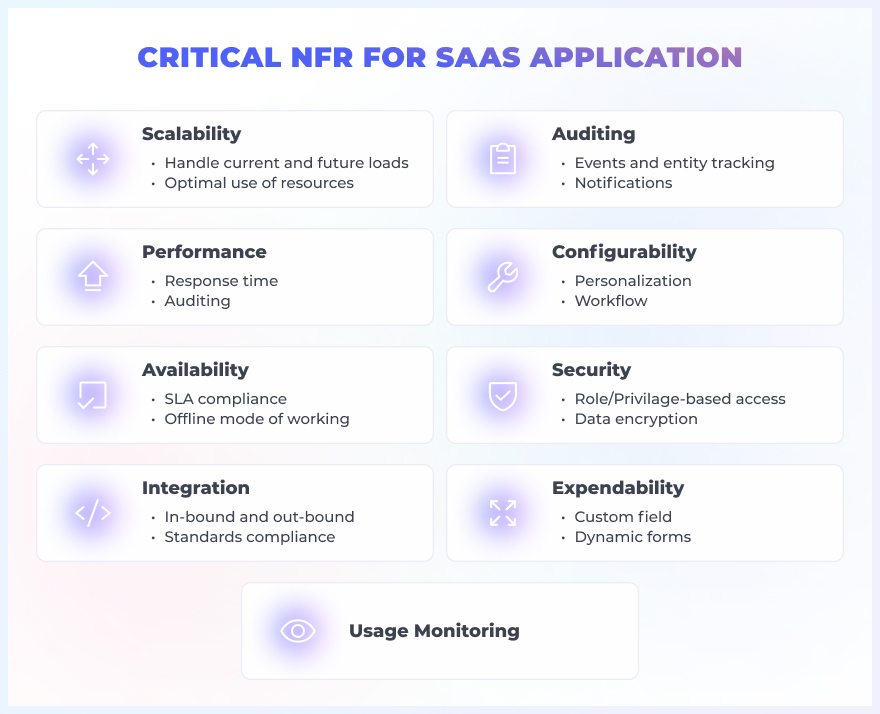 SaaS development requires adherence to a set of requirements that allow the proper operation of the system. Team of GBKSOFT experts always takes into account the NFR requirements, making sure that they are implemented before the SaaS custom development architecture phase so that the system will address all of them. Thus, the system remains effective and comprises all the compulsory qualities.
Develop a secure App!
Ready to develop a secure SaaS app in accordance with NFT requirements with GBKSOFT?
How to choose a SaaS development company
Every large enterprise chooses cloud platforms to achieve different business goals. From security to scalability and flexibility of operations – if you have any data-related issues, a SaaS application can be the solution perfectly satisfying the business needs. Here are a few things you should know about SaaS before we move on to finding the right SaaS development service provider.
Thus, the process of SaaS development is multiple-layer and complex, requiring from your technical partner:
Availability of expertise in development of SaaS apps as well as extensive experience in building app(s) for the target industry. It allows an understanding of the best suitable business model, design, and programming tools able to build the product that will best enhance your business;

Availability of portfolio comprising the successful cases of

SaaS development;

Reviews from real clients proving the reliability and expertise of the wanted software vendor ;

Digital presence – availability of website, blog and social media;

Methodology and efficient time and resource management. According to the latest trends, Agile methodologies proved to be the best choice, since they allow to provide the clear vision of all stages and processes as well as the understanding of the final product;

MVP Creation;

Availability of the rich tech stack;

Structure of the team comprising designer, PM, BA, backend, frontend as well as DevOps and QA engineers.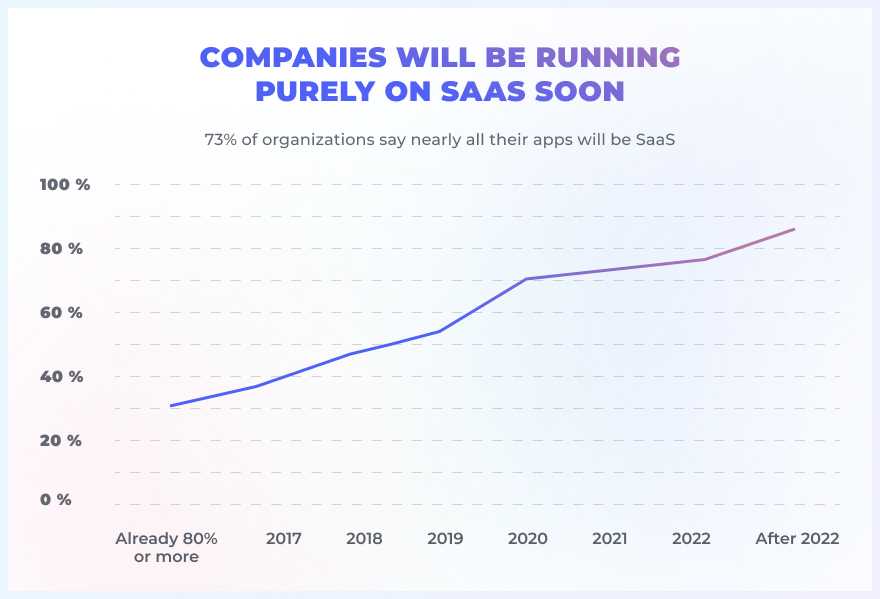 Tech stack for SaaS development
Choosing the right tech stack for SaaS development depends on the size of the project and the security level that is required as well as time-to-market and cost of maintenance.
Competence of the vendor. Companies should hire developers with knowledge of most programming languages and frameworks, as it is not mandatory to use the same language in all development projects. An experienced developer will save a lot of time and effort and provide effective software that will rapidly set leading positions on the market. 
Scalability. The aspect of scalability should not be overlooked, that is, always assess how scalable the development team is and how scalable their SaaS solution will be. Scalability will allow implementing the needed changes when your business grows.
Security. The tech stack also impacts security. Implementation of authorization algorithms, reliable servers, frequent backups and limited periods of data access can guarantee the highest levels of security.
Maintenance cost. The choice of coding language and architecture define the cost of maintenance of your future product.
GBKSOFT team builds best-in-class scalable SaaS solutions with the long-term maintenance on the AWS platform. The used tech stack approach allows us to remain agile, simplify development maintenance, and optimize cost.

Our tech stack for SaaS
Backend
Node.js, PHP, Next.js
Frontend
React, Angular.js, Vue.js
Mobile
Kotlin, Flutter, Java, Swift
Databases
SQLite, MySQL, Realm
Our experts always take into account the possible future needs of the software on the initial developing stages, thus creating a product with a long-term perspective in mind. Our team guarantees the maintenance of the software and is ready to provide any necessary continuous upgrading and highest security levels.
Why GBKSOFT can become your ideal partner

Consider GBKSOFT as your reliable technical partner having extensive experience in SaaS software development and expertise in various niches including healthcare, fintech, education, supply chain, manufacturing, etc. We can rewrite the existing SaaS app enhancing it with all the features that will increase your efficiency and revenue. Our benefits:
Security: data encryption, regular data backups, testing implemented from the preliminary stages of product development;
Scalability; 
Integration between multiple software;
DevOps expertise for SaaS solutions;
Best pricing policy;

Rapid disaster recovery;

IoT technology solutions

allowing to enrich customer experience and differentiate one's product on the market;

Integration of 3rd party payment systems;
Development and continuous software maintenance;
Fast time to market;
Updatability: get the new version as soon as it is released;
Variety of positive reviews and satisfied customers.
Here are our latest SaaS successful projects:
BMI traders 
A customer looked to create a better version of the existing software with richer functionality, better UX/UI design for digitizing the process of bulk electronics purchases.
Our team offered a SaaS system, which will comprise the functions of the current system, adding useful beneficial integrations.
The system will allow automating and successfully managing the purchasing process and reselling goods in the warehouses and e-commerce websites of the client.

PropsTech 
The customer wanted to digitize the property renting process and optimize the business process by better managing complaints, issues, payments, and communication. Our team offered to provide a location-based phone repair solution connecting experienced verified technicians working from home with customers in the local area. It allows to improve management of the main processes, including the delivery process.
Zemp – a point of sales SaaS solution providing an end-to-end business app. Our team had to create a solution based on the existing backend of the client's SaaS application ZEMPCENTER. As always, we maintained transparent and regular communication, so the client was aware of the results after each sprint. The final version of the product allows to manage inventory and generate deposits with the blink of an eye.
Based on extensive experience in building SaaS solutions for various industries, the GBKSOFT team estimated that it takes a minimum of 990 dev hours to build an MVP. The average project cost will be at a lower range of $70k.
Request an estimation!
Contact us to get more details about the cost your idea implementation.
Summing up
The number of SaaS services continues to grow due to their popularity and high demand. The market continues to offer more and more perfectly interesting opportunities and ideas tailored to particular needs. The most important thing is choosing a reliable vendor for your SaaS app development and following the steps to advance and gain more market share. It will allow you to grow your business potential and benefit from the SaaS model to the fullest.
The main advantage of a SaaS solution is that the user does not need to deal with the technical aspects and software maintenance. It enables a client to use the available functionality and configure the existing solutions to individual business needs. It's the best possible option for a business comprising a wide network of offices or branches that need continuous exchange of data.
Here are the main benefits of the SaaS model:
no additional expenses for software installation and maintenance;
fast time to market with no expenses for launching the product;
single product for all devices; -you get all the improvements and updates as soon as they are released;
software stability and scalability; -more secure and usable data;
no additional costs for licensing and tech support;
high levels of data security in comparison to on-premise solutions;
ability to implement the remote work model.
Security, scalability, updatability.
Corporate mail on Gmail, is, perhaps, the most widespread and simple example of SaaS technology.
CRM and ERP systems for project and resource management.
Online document management systems (even google docs), organizers, calendars – all these are also examples of SaaS, although many are free.
Website hosting services are also a prime example of SaaS.