Real estate industry is considered to be one of the most successful businesses in the world. Realtors sell so many houses and apartments that it seems that they do a perfect job and experience no issues. But in fact, it is not quite true. Apart from challenges caused by the pandemics and economic deterioration, most real estate companies struggle because they lack specific technological tools to streamline their work processes, unload employees, and boost efficiency of sales teams. 
Let's take a quick look at
the statistics
demonstrating how real estate agents and technologies are related. Here are some facts worth of attention: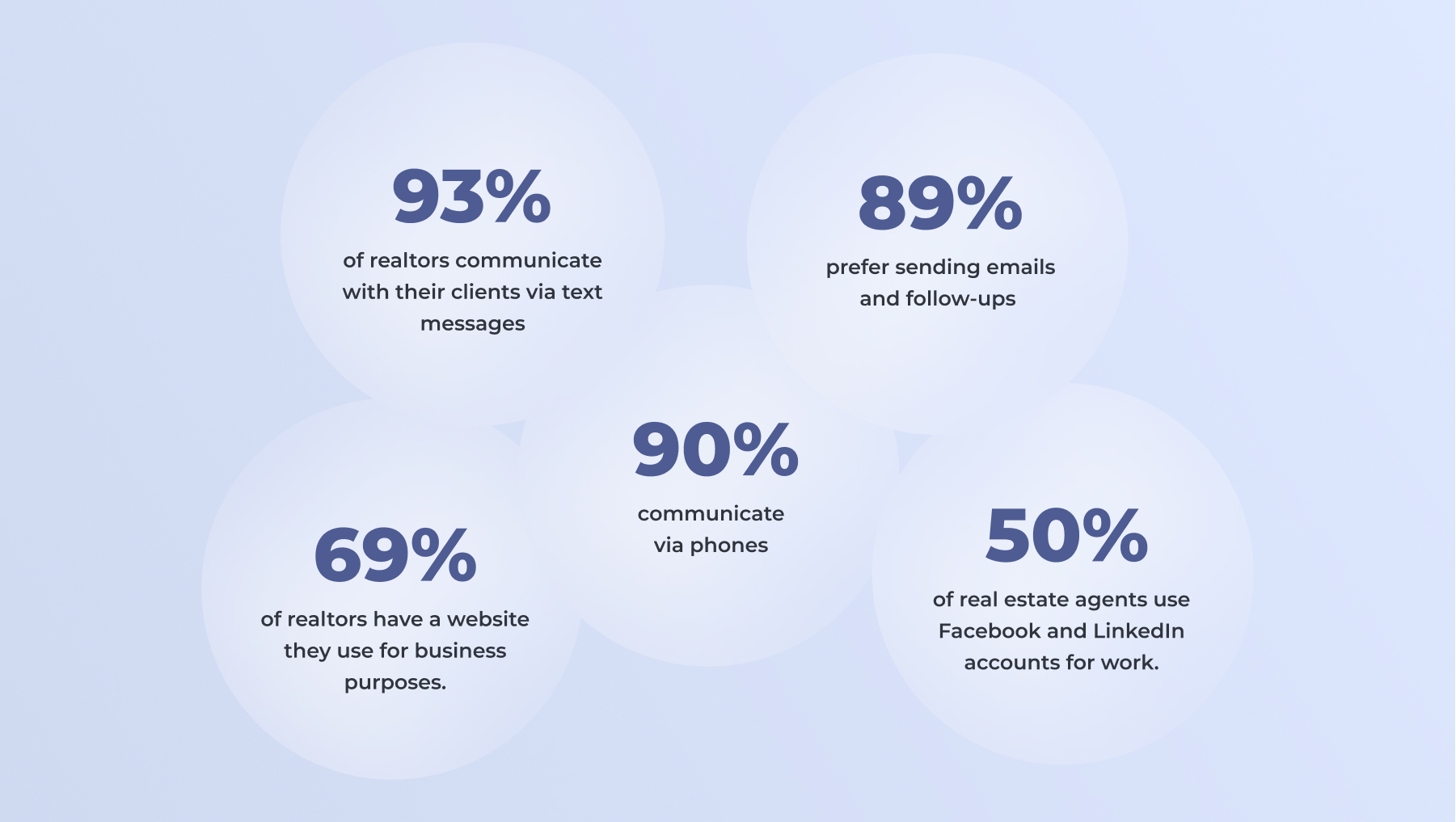 As you can see, some tools and technologies are rather popular among
real estate
agents. But what if we tell you that what you already use may not be enough? What if there exists something better like all-in-one software for effective communication, contact management, lead generation, marketing automation, data organization, and business processes automation? And that software is a custom
CRM for real estate
. 
In this blog post, we would like to discuss with you some common challenges every real estate business experiences, ways how these challenges can be eliminated by custom software, and how and at what cost a real estate agency can
build a custom CRM system
.
Request a consultation
Our experts are ready to discuss CRM solution development and benefits it can bring to your real estate business.
The true power of CRM for real estate businesses
To begin with, let's talk about the role of technology in real estate. After taking a look at
statistics overview
, we discovered that
real estate industry will bring around $12,6 billion to management software by 2025
. This information proves that there is a growing demand for real estate software, including customer relationship management software. Business owners became more aware of digital transformation and the power it brings to their companies. 
In case you still have any doubts whether it is a good idea to invest in custom real estate CRM software, you probably don't know how this software can be used to your advantage. Here at our company, we had several clients naming the same issues. Specifically, their real estate agencies suffered from: 
Ineffective manual processes and employees overload;

Numerous human errors keep constantly happening;

Poor customer service because some of the client requests get lost;

Disorganized data leads to loss of documentation;

Inefficient collaboration of departments. 
Some of our clients tried to address all these issues using different ready-made solutions, but they didn't offer processes unity and turned workflow into something rather messy.
We will talk about the flaws of ready-made solutions a little bit later, and now let's finally discuss how custom real estate CRM software can become your game changer. Let's see what processes it can drastically improve. 
Create a pipeline of potential customers
When it comes to working with potential clients, cloud-based CRM for real estate proves to be the most effective tool. Thanks to custom CRM, real estate professionals can keep information about every potential client in one place and access it anytime to interact about emerging opportunities. 
When all the information is safely stored and well organized, it gives you a chance to initiate better email marketing campaigns and create templates to generate leads and close deals faster. And thorough analysis of all client data helps identify their preferences and behavior to improve your selling process and strategy. 
Improve invoicing and billing management 
In 2021, it is no longer efficient to have a separate system for managing billing and invoicing. Now one CRM software can process client requests, help your employees provide clients with all necessary financial documentation, and even collect all invoices and bills and link them to clients' profiles. This means that no information will get lost and handling billing requests will be a much easier process. 
Manage commissions of real estate agents 
For a growing real estate agency, it is crucial to ensure that all real estate professionals get fair commissions for their job. And CRM can become a rather helpful tool to manage commissions on a regular basis. Using a real estate CRM system, agents can add information about their recent deals and new leads, insert all the necessary information and wait for their reward. It's as easy as ABC, and yet it promotes real estate agents motivation and engagement. 
Perform advanced property management 
It is hard to stay in control of all property objects your agency sells. Therefore, you need a reliable tool for managing property, add crucial notes and information, and even create property groups. With CRM, all these tasks can be automated to the fullest. The real estate CRM software has a range of tools that let your agents:
Create separate property files and accumulate all information in one place to edit and update it in the future.

Filter property objects using advanced search and find any necessary records in no time. 

Group property objects according to certain criteria to offer more similar options to clients.

Add tasks, deals, images, and even videos showcasing the property to use all that information for presenting the property to clients. 

Manage property owner files, insert, edit and access all contact information, and even schedule e-mail marketing campaigns or perform effective communication. 

Centralize and improve management of properties located in different places. 
Eliminate all booking errors 
Surprisingly,  many real estate companies perform booking manually these days. So all information about the booking can be found only in a notebook of a certain agent. But what if there is a situation where there are two bookings of a single unit?
This can lead to financial losses and a decreased level of customer satisfaction. Refunds, lost deals, and even bad reviews – all these things can influence your business reputation. And you definitely do not want that. 
Therefore, it is important to organize automated bookings as soon as possible.
Thanks to the
custom real estate CRM software,
booking will no longer be a headache. You just create a list of areas and properties, book a certain time frame and forget about confusing situations once and for all. All booking details will be saved and accessed by other agents so they can keep them in mind while creating their schedule. 
Improve analytics and forecasting 
We couldn't emphasize enough how helpful advanced analytics and forecasting can be. Real estate businesses depend on client demands, but what's even more significant is creating that demand and market trends.
With a customer relationship management system equipped with forecasting and analytical tools, any agency can boost its business and generate more revenue. Here is how you can make use of the aforementioned advanced features:
Analyze your payments and revenue streams;

Analyze your maintenance cost and overall agency expenses; 

Forecast future revenue and expenses using different methods;

Forecast your budget and make data-driven decisions on how to spread it;

Analyze different data related to properties, clients behavior, sales pipelines, all closed and possible deals, and many more. 
Why a ready-made CRM is not enough for running a successful business 
By now, you may be very interested in custom real estate CRM development, and yet you may have some doubts about it. After all, there are so many great ready-made CRM software like Zoho, Zillow Premier Agent CRM, Pipedrive, Close, or The Wise Agent on the market. So do you really need to invest your time and money into something so serious as real estate software development? 
It would be unfair to say that every company needs a custom real estate CRM software, because in fact small agencies can successfully work using ready-made solutions. They are easy to integrate, they offer a certain level of customization, and employees can master them effortlessly. 
But if you own a large agency that is supposed to grow in the near future, then custom real estate CRM software is a must for you. Custom solutions are more scalable, adaptable to your business processes and easy to integrate with other solutions used by your employees. Speaking about ready-made real estate CRMs, they may lack a lot of options that you need. On top of that, they may have the following cons: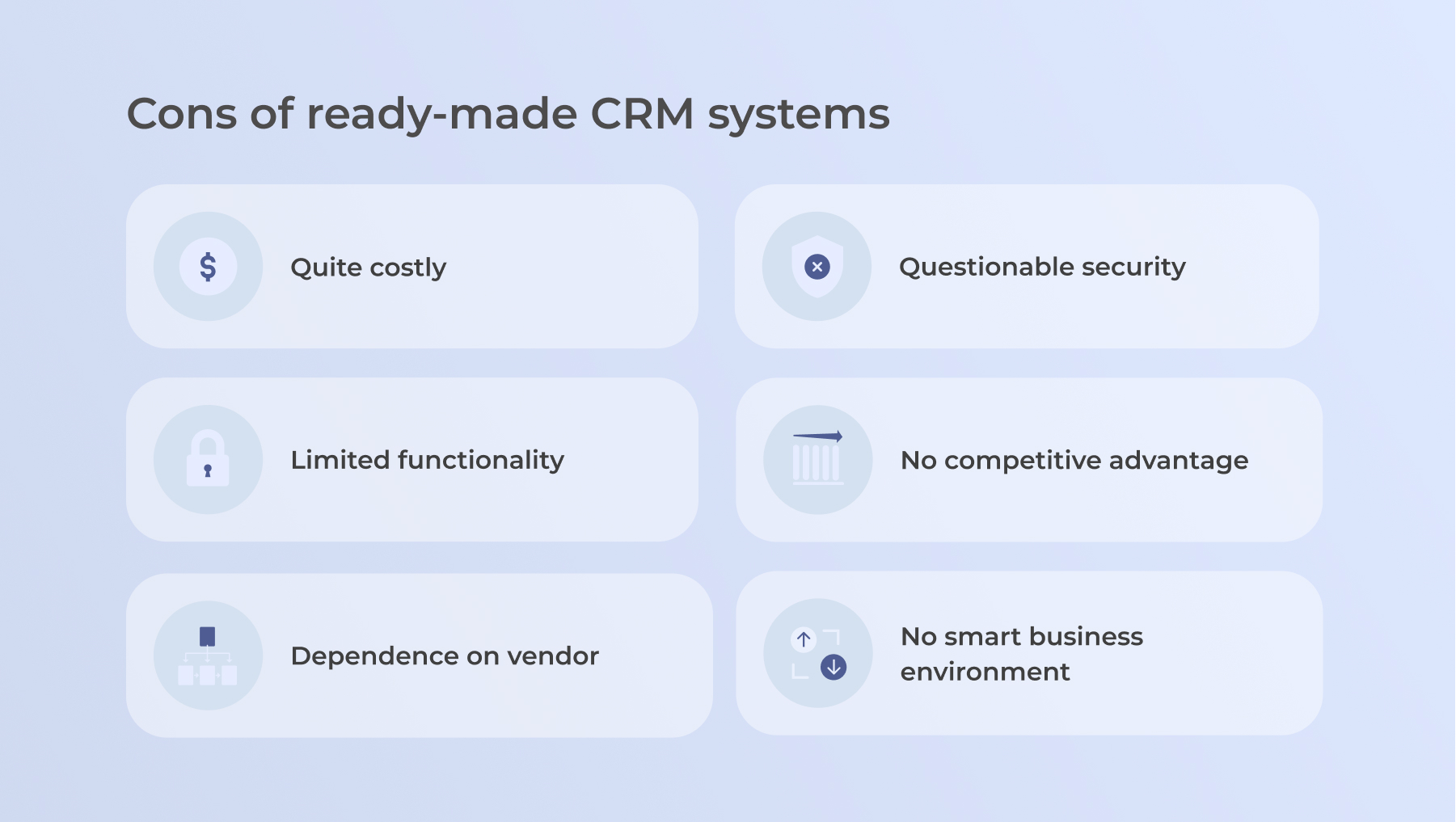 They can be costly
For example, the customer relationship management system offered by Salesforce will cost you $150 per user per month. Now count how many users you have and what a yearly subscription will cost you. It would be way more rational to develop a custom real estate CRM software, invest in it once and let it serve you for years.
Pretty basic functionality
What are you supposed to do if your ready-made CRM software does not offer analytics, contact management, sales automation or transaction management options? Do you have to implement other solutions for these? Or maybe you need to pay extra to integrate more advanced functionality in your off-shelf real estate CRM software? Whatever option you choose, it is not advantageous for you as a user. You need a solution to be adapted to your business, and not the opposite way.
You depend on the vendor
Whatever CRM software you choose, you will depend on the updates and improvements provided by its vendor. And chances are that some features that you find useful can be changed with time, or some integrations or services can be discontinued. And what's even worse, you cannot do anything about it. You just need to accept the changes and adapt to them, which in turn influences your workflow.
Security is questionable
Ready-made solutions can be hosted not on highly secure servers. And in case that server goes down or gets attacked, all your information may be lost. This is a nightmare for business that can affect it for weeks.
No competitive advantage
It is not a secret that advanced technologies can bring huge competitive advantages for businesses. So a custom real estate CRM software spiced up with AI, AR, IoT, or any other technology will be better than a ready-made basic solution any average agency uses. Any option that can automate real estate processes can become a game changer! Also, a custom CRM software has a more user-friendly design than off-shelf CRM which makes it more intuitive.
No smart business ecosystem
If your goal is to interconnect all applications and systems used by your agency and sync the work of all employees, then ready-made CRM software is not for you. There can be drastic limitations when it comes to app integration, making it impossible to use all your customer data and business data as a unique asset, and to optimize your business.
Additional information
Our experts have written a post about seamless integration of CRM systems. Take your time and check out that post to find out what steps you need to take to
prepare for CRM integration
.
Must-have features of CRM software for real estate
Now that you know about all the cons that off-shelf CRM software for real estate has, chances are you started considering custom development. And the first and foremost thing you need to think about is a functionality you would like to implement in your custom real estate CRM software. 
Therefore, our  team decided to share with you our own list of must-have features for the
real estate CRM
. We have implemented them in many custom solutions and our clients got back to us with positive feedback. So, without further ado, let's take a look at all of the features.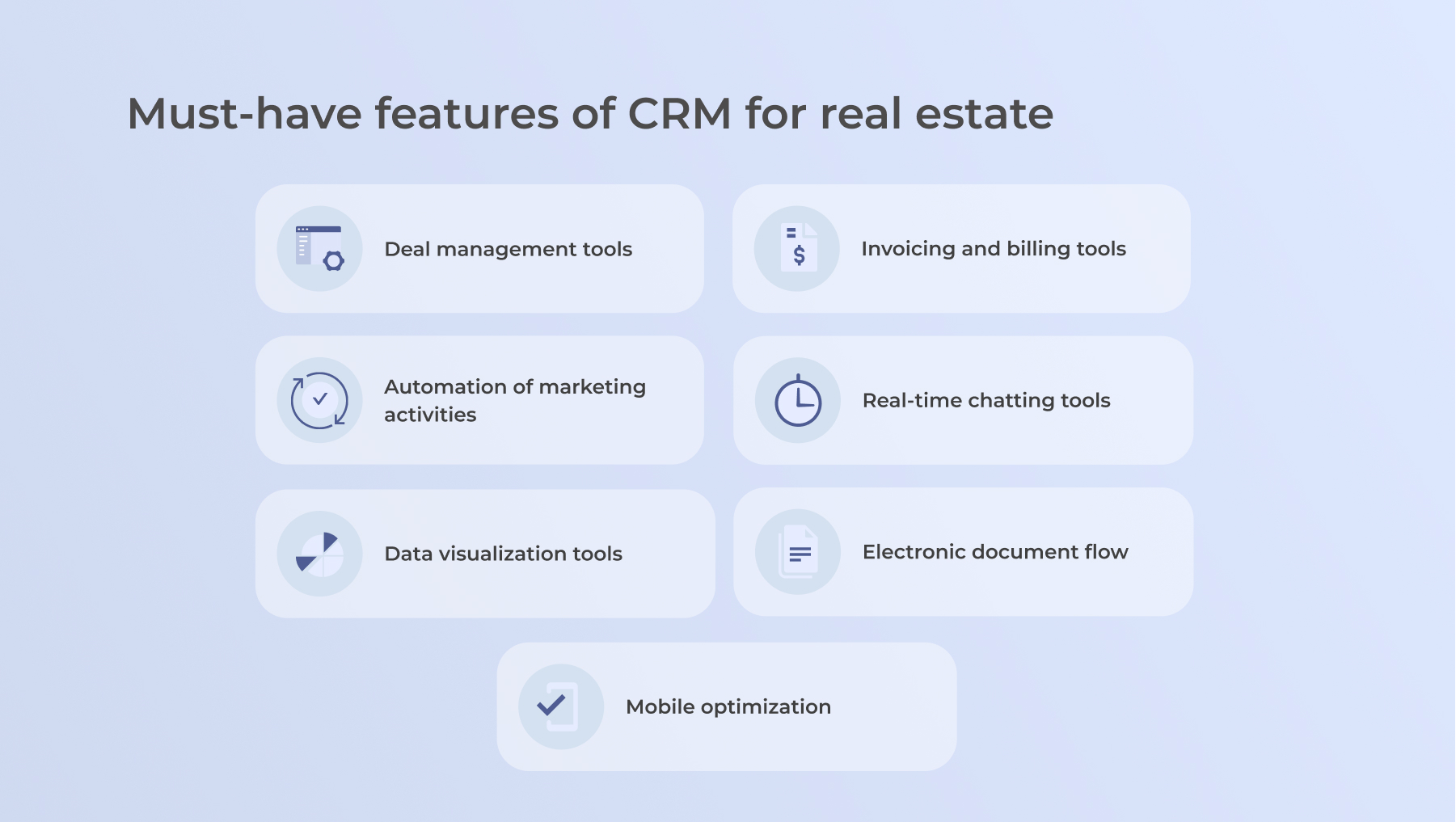 Deal management tools
real estate brokers have many clients, and to manage their queries and store deal-related information, they need a reliable management option. Thanks to deal management tools built in CRM software, it is possible to monitor all stages of real estate deals, analyze your sales pipeline, structure your client base, and add essential notes or reminders to every separate deal.
Automation of marketing activities
the real estate deals do not get closed too soon. Clients need some time to consider serious decisions and make a final choice. And while they take that time, real estate companies get a chance to remind about their services using a CRM software with marketing automation tools. They can schedule email marketing campaigns, launch branded advertisements, use videos or other sales materials.
Data visualization tools
CRM software stores so much information and lots of that information is not even used to the fullest potential. Therefore, it would be preferable to add instruments for easy data visualization so that all reports, client information and property management data can be shown in the form of graphs or charts.
Invoicing and billing tools
it should be very easy to create invoices, store quotes, bills, and even price books. All financial information should be safely located in one place, where every entitled user with special permissions can access and manage it easily.
Real-time chatting tools
clients appreciate fast responses, therefore, you need to take care that your real estate CRM software can help your employees reply faster. It can be either
a chatbot powered by AI
, or a tool that sends automated responses to new leads and performs lead nurturing
. Also don't forget about inner communication tools for your employees. It would be great to let them contact via text messages, voice messages, or phone calls.
Electronic document flow
there is nothing better than zero paperwork. With technologies, all real estate buinesses can forget about paperwork and benefit from electronic document flow. The brokers and their clients can create, sign, approve, share, or even alter documents online. All they need is a CRM software with a feature allowing them to perform all those operations.
Mobile version
if you want to ensure the most convenient work conditions for your employees, then consider developing a mobile version of your real estate CRM software. It will always be at hand of your brokers who can process queries, manage emails and documentation, perform lead generation, check out reports, or update any deals on the go. iOS or Android app can be the best way to keep your team in the loop wherever every team member is, so mobile development is a must.
Great tip
In case you started looking for a reliable CRM software development partner, we would recommend you to read one more article that can help you with your search. It shares some tips on how to choose the best team, what criteria to take into account, and also it names the
top 10 CRM development companies
.
How we perform CRM development and delivery for real estate industry
Here at our company,  we offer high quality development services with a little bit of extra. So in case you decide to go with our team, we guarantee holistic market research that will help you identify the best feature set, the most suitable tech stack, and the best third-party services that your CRM for real estate should have. 
Apart from real estate CRM software development, we also offer a
Discovery stage
that helps you to polish your ideas and requirements, and get well-written technical documentation, such as specifications, project vision, project roadmap, wireframes, and even a creative design concept. Besides, we specialize in development of other types of software, for example, real estate ERP software.
Together with GBKSOFT, you can complete development of a custom real estate CRM system from scratch, following the defined requirements. Once it is done, we help you with integrating your CRM into your workflow and we can even conduct training sessions with your employees to teach them how to use your new CRM.
And last but not least, we can ensure your CRM maintenance after the implementation. So all future improvements, the expansion of the feature set or even cloud migration can also be completed by our team seamlessly. 
Our team has all necessary specialists to develop CRM software among which there are: 
Business Analysts

who perform the discovery stage and explore possible development risks;

DevOps specialists

who help with system administration;

Software architects

who make different elements of a CRM work together perfectly;

Front and back-end developers

who write clean code and perform integrations;

QA specialists

who complete manual and automated testing;

Designers

who create a unique and user-friendly look of your CRM;

Scrum Masters

who manage the project and are responsible for communication between you and all team members. 
Since our team delivered several CRM systems for real estate companies, we can easily integrate the following industry specific features into your future solution:
Tools for advanced property management;

Lead tracking and management options;

Functionality for billing and invoicing; 

Marketing tools for your promotional campaigns;

Task management options;

Powerful analytics; 

Feedbacks and reports visualization;

AI-powered chatbots or other options;

Live streaming for effective onboarding and corporate education. 
Real cost of custom CRM development
Custom development of CRM software is a costly venture. And if you are still wondering how much money you actually need to build a feature-rich solution from scratch, then the chart below will be of use to you:
| | |
| --- | --- |
| Technical specialist | Type of employment + price |
| Business Analyst | full-time |
| DevOps specialist | part-time |
| Software architect | full-time |
| Designer | full-time |
| Back-end Developer | full-time |
| Front-end coder | full-time |
| QA engineer | full-time |
| Scrum Master | full-time |
| Dev duration | 4 months (depending on the CRM complexity) |
| Team cost | $50,000/month |
As you can see, you need to be ready to pay $50,000 per month for development and the average duration of your CRM creation can be up to 4-5 months. You will also need a range of technical specialists to complete your project, so it is better to hire a cohesive team like GBKSOFT where there are all required technicians. 
The development cost may seem enormous, however, there is one more way to get a great CRM and reduce your expenses. You can consider
MVP development
that will require less time and money and will give you a chance to improve your real estate CRM and expand its feature set in the future. MVP is a great way to try out a custom solution and see how it influences your business.  
The most useful technologies for real estate business would be AI that can be used for powering up analytics and providing real-time information. AR and VR can also help you transform your business by offering remote property tours. We have already covered how such tours work and what is required to arrange them, so you can read all additional information
here
. Also consider developing cloud-based CRM as it is more scalable and secure.
The duration of the development depends on many factors such as the complexity of the CRM system, the desired feature set, the technologies that will be used and the team composition. In general, it takes 4-6 months to complete and release a custom CRM for a real estate company.
We would recommend you to look for a team on Clutch and Goodfirms. Select several candidates, compare their rates, tech stacks and experience. Also explore their websites, portfolios, and clients. It is better to choose a team like
GBKSOFT
that has expertise in developing solutions for real estate companies and also is skilled at business intelligence tools including CRM and ERP.
To summarize
All in all, custom CRM is a must-have tool for a successful real estate agency. The true power of a custom CRM is that it is tailored to meet your particular business needs and address your unique challenges. Thanks to this solution, real estate businesses can transform their workflows, speeding up operations and making them easier and more productive. 
And what's more important, a custom CRM can make your business approach more client-oriented which leads to increase of sales and revenue, improvement in customer retention and satisfaction rate. If you've made a final decision to build your own CRM for real estate, don't forget to incorporate a wide feature set, preserve high security standards, and think about mobile optimization, of course. 
It is not an easy task to develop such a complex solution for business, so choose a technical partner like the GBKSOFT team that has experience in building CRMs for real estate and offers high quality services at reasonable prices.
And remember, a custom CRM is an investment in the future of your real estate business which will pay off really fast. As of now,
CRM pays back
$8,71 per each dollar spent on it.