Customer loyalty is a vital prerequisite for the success of every business. However, just providing high-quality services or selling good products is usually not enough. People want to get rewarded  for their dedication to a particular brand, so companies need to develop customer loyalty programs. 
Traditionally, such programs have been associated with physical loyalty cards, but nowadays, they lose their relevance. As mobile payments grow in popularity, more and more people are getting rid of wallets and everything they keep inside them. 
Today, a mobile loyalty app is a much more effective way to increase customer engagement and, thus, seal more deals. What companies can benefit from customer loyalty solutions? Well, we would say that all companies related to resale, retail, and also companies that offer off-line services like laundry, house cleaning, transportation, etc. 
In this blog post, we'll explain why developing a mobile app should be a mandatory part of your loyalty program. We'll also mention some key functions you'll likely want to add to your app, as well as show you some great examples. So, without further ado, let's get started! 
How mobile apps benefit loyalty programs
Building trustworthy relationships with customers is a long and rather complex process. In most cases, modern buyers have a wide choice of similar products or alternative service providers. As a result, as many as 71 % of American adults will likely choose another brand after just one disappointing experience. For this reason, most customer loyalty programs are aimed at strengthening connections between a company and its customers. 
What do mobile apps have to do with this? Well, they may become a key pillar of your loyalty program. Let's take a look at the main reasons why having a customer loyalty app is so important: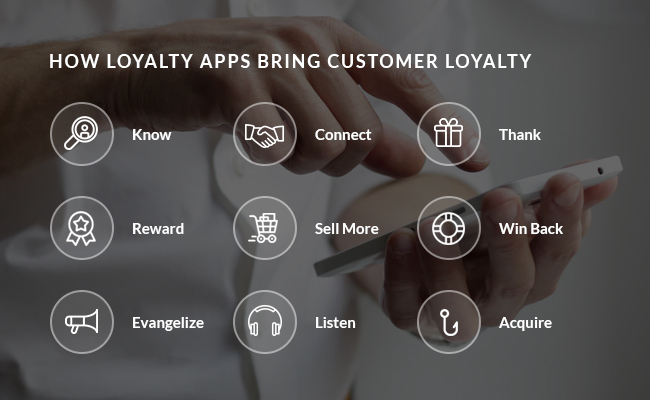 Stay in touch with your customers
An average US consumer checks a mobile phone about 52 times a day, according to the survey. This allows you to stay connected with your buyers all the time and be sure that they'll most likely read all your messages. You will be able to attract their attention to the important news better and faster if you add a push notification option. 
Personalize your company offers
The study shows that 62% of US consumers expect brands to send them personalized offers based on their purchase history. Also, almost half of buyers (namely 49%) have purchased products which they didn't initially plan to buy after receiving a personalized recommendation from a seller. So, a loyalty app analyzes customer purchase history and preferences. That can help you boost sales dramatically. Plus, it helps clients to save time they spend on searching for new products. 
Feature idea
It is always a good idea to incorporate a so-called personal assistant when it comes to customer service. If you are wondering how it works and what value it can bring to your business,
check out this article
.
Make loyalty program convenient 
Buyers don't have to worry about loyalty cards that might get lost with customer loyalty software. Neither do they need to check a brand's website in order to find some discounts. The only thing that is required to get a reward is an app installed on a smartphone. It will also notify customers about special offers. 
Grow your business faster
Loyalty apps allow brands to be flexible with their incentives and rewards. Since any ideas can be tested in practice straight away, you'll better understand your target audience, its needs and preferences. This means that you'll be able to tailor your marketing campaigns to fit their needs that will facilitate the growth of your sales and business.
Improve customer support 
Customer loyalty application is not only about bonuses and offers. It can be about support and customer experience. What client wouldn't appreciate 24/7 support? These days thanks to the latest technologies you can let your customers ask any questions related to your services or products anytime. All you need is to incorporate a chatbot in your loyalty application. 
Stand out from competitors 
What can be better than a solution that differs from all the others available on the market? By being innovative, you can attract even more prospects and turn them into your regular customers. You may be wondering, what features can help you stand out from your competitors? 
Among the most popular and interesting ones, we'd name AR-powered solutions. Many clothing stores already offer virtual fitting rooms. Such giants as IKEA also offer virtual room design (when you can try any piece of the furniture and see how it looks in your living space). By spicing up your loyalty app, you can keep users engaged and interested, and thus make them buy your products or services more often. 
How to develop a customer loyalty app
If you've decided to invest in your custom mobile loyalty application, the first thing you should start with is research. You need to explore the market, see what solution your competitors offer, what options and approach to customer experience those solutions have. Once you've done it, you will be more or less aware of what you want to add to your own app. 
You may get inspired and come up with an idea to create your own referral program, bonus system or a unique option that all of your competitors lack. We must admit, the research is quite complex and time-consuming, so you may even consider delegating it to your development  team. This is a totally normal practice that guarantees the best results. 
Let's take the Altamira team as an example: we have professional Business Analysts who can perform a holistic business and market analysis and provide you with the real statistics, key metrics, the list of suggested features, and all other valuable information related to your project. Our experienced specialist will complete the Discovery stage and help you select the most appropriate feature set and tech stack.  
And now let's speak about the development and what technicians you need to complete it. First of all, we'd recommend you to develop a mobile app for iOS and Android devices separately and avoid building cross-platform solutions. Native apps are easy to promote and submit to mobile stores unlike cross-platform ones. On top of that, native mobile solutions are better in terms of functionality and user experience. So to build a mobile customer loyalty app, you'll need: 
Business Analyst

to help you with holistic research, technical documentation, and risk mitigation.

Scrum Master

to manage your project and make sure that all deadlines are preserved, and the project stays within the discussed budget. 

iOS/Android developers

who will write high-quality code and perform integrations of third-party services (if needed).

Designer

to help you create a great look for your application that will highlight your brand identity. 

QA specialists

to perform manual and automated testing and make sure that every option and every integration works exactly as it is supposed to and that the app works fast enough. 
Also, if you are planning to promote your solution somehow and want to be sure that the target audience will discover it and get why it's great to use it, you may need a Marketing specialist to organize an advertising campaign, email marketing and further app promotion. 
The development of mobile loyalty application will include several key steps that are the following:
Creation of app wireframes and a prototype;
Concept and UI/UX design;
App development;
Quality assurance;
Product release and submission to mobile stores;
App maintenance and further improvements. 
As you can see, a full-cycle development is required to get a high-quality customer loyalty application. So when you are going to choose your team, make sure they have experience in building such solutions, they have necessary knowledge, skills, and domain expertise, and also that they manage the project using the Agile methodology. Don't be afraid to ask questions or request examples of their work. Check out the portfolio and client reviews. After all, you are investing a great deal of time and money in your app development, so you have to be sure that everything will go right. 
Good to know
Still have doubts whether it is a good idea to outsource your loyalty app development? We have a blog post dedicated to outsourcing that explains its pros and cons, how it works, and how you can benefit from it.
Check out that post
right away to dispel your doubts.
Key factors influencing the development cost
The second aspect you may be worried about is the development cost. Like with any other custom development, the budget estimation to build a customer loyalty mobile app will depend on many factors. On average, a mobile loyalty app cost  will start from $75,000. The range may seem huge, however, it all depends on the desired feature set, technologies, and other factors. Here's a list of the most significant of them you have to consider:
Product complexity
how many and what features it will include, whether you want any AI or AR powered features and whether you need any third-party integrations.
Seniority level of developers
senior developers will charge more than their junior colleagues, but they'll also finish your project faster. So when it comes to selecting your team, choose the specialists that can handle your app requirements and think of the budget  budget you'll need to cover their working hours.
Geographical location of developers
it's not a secret that the US programmers are the most expensive; the developers from Asia charge the least; Eastern European teams offer a supreme price/quality ratio. 
Chosen platform
you need to decide whether you need to build an iOS or an Android app or maybe you really need both. The thing is that building an iOS app usually requires more financial resources. However, to get the most out of your loyalty app, you should target both platforms. 
Loyalty app development may not be the cheapest investment you've ever made; however, it is worth every penny. But what should you do if you need an exquisite solution, but your budget is limited? We'd say you should not put your idea aside. After all, there is such a thing as cross-platform Flutter app development and MVP development. Both of these options will cost you less than native app development, and yet the solution will turn out highly functional and ready for further improvements. 
Our experience in building loyalty apps for businesses 
Altamira develops solutions for different kinds of businesses, and of course, we had some clients that asked us to turn their loyalty program into a great app. The examples speak louder than words, so we'd like to share with you two projects that already took full advantage of loyalty solutions. 
The first project we'd like to talk about is Laundry King , an application for New York citizens who use laundry pick-up and delivery services offered by our client. Actually, the client came to us with quite a successful business and an impressive client base. But unfortunately, he did not have an app to offer his clients mobile services and loyalty programs. We developed the Laundry King app from scratch and included its own referral program. Here is how Laundry King clients can benefit from it: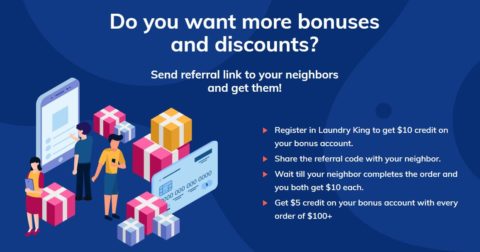 The second project we are proud of is the INCINQ app, a solution for blind dating. Not only has it a rich feature set, it also can bolster a very beautiful design. You may be wondering why a dating solution may need a loyalty program? Well, it's all about user ratings. INCINQ lets its users try a special referral program that adds 5 stars to their current rating in the app. And the bigger the rating is, the more this account is trusted by other users (which means more dates and attention). 
Must-haves of a customer loyalty app
The feature-set of your app will depend on your specific requirements and client needs you'd like to cover. However, there are some really popular options and loyalty program basics that most brands have eagerly included in their solutions. We have organized them in a list so that you can take a look at it and maybe even draw your inspiration from it:
Instant incentives
This is the simplest and yet the most effective type of customer loyalty program. By joining it, a buyer gets some points every time he or she purchases something from a brand. In addition, points can be granted when a user recommends a brand to someone else, shares the company's content, leaves a product review, etc.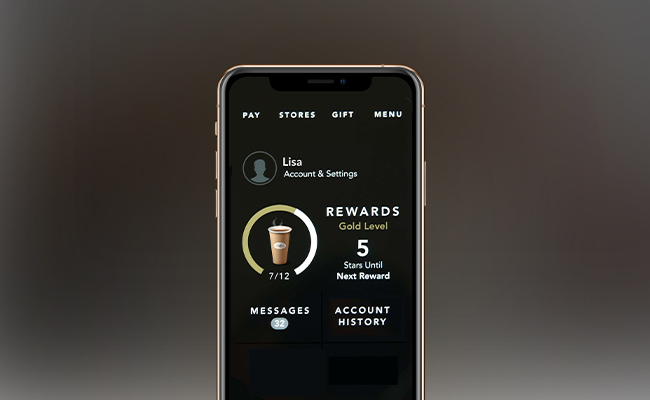 Tier-based rewards
Another wide-spread way to increase customer loyalty is based on tiers. In this type of program, buyers get access to a certain set of rewards once they reach some predefined milestones (e.g. an overall number of purchases, spending a particular amount of money, using service for a particular period of time, etc.). A loyalty app will automatically track user activity and level them up to the next tier when all the relevant criteria are met.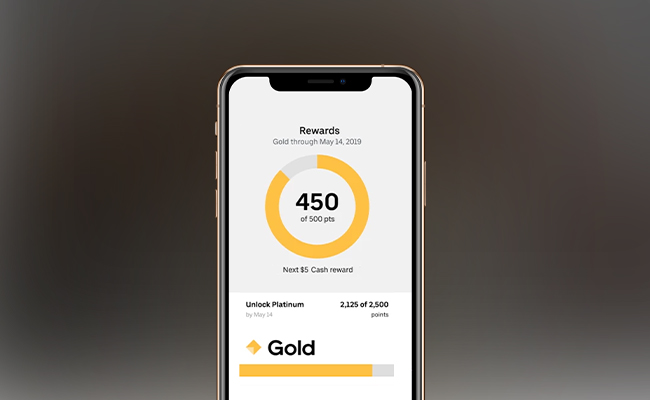 Location-based push notifications 
Location-based marketing is an emerging trend nowadays, so adding this feature to your application will definitely help you be a step ahead of your competition. Customers will receive a push notification from a loyalty app when they are in a specific geographical area, for instance, not far from the store. In other words, they'll get your offer at the moment when they can take advantage of it in the easiest way possible.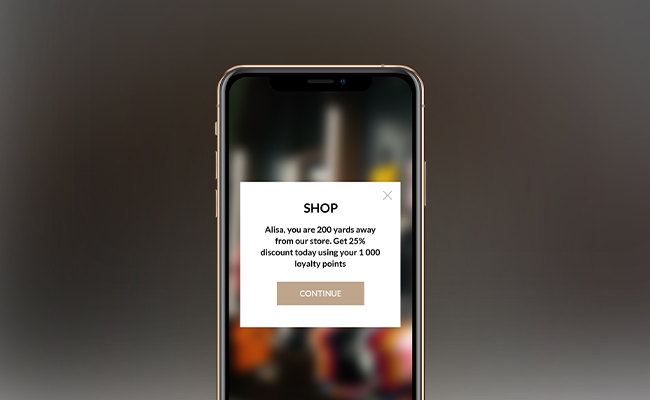 Repeat & recurring purchases
To encourage customers to buy more from your brand, you may add features simplifying their purchases to your mobile loyalty app. For instance, users may have an opportunity to save the items they buy on a regular basis to their favorite list or set permanent preferences so that the irrelevant results won't show up.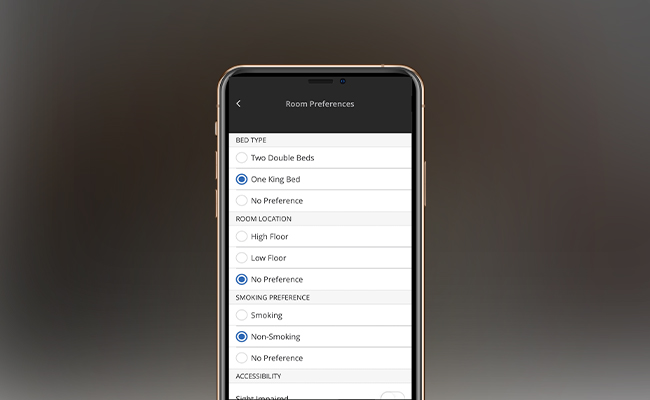 Integrated checkout redemption 
Collecting points and rewards makes no sense if customers experience difficulties in applying them to their purchases. That's why it's important to have an integrated checkout redemption in your customer loyalty program app. It will allow users to view their rewards at the checkout and redeem them to receive a discount on a particular order.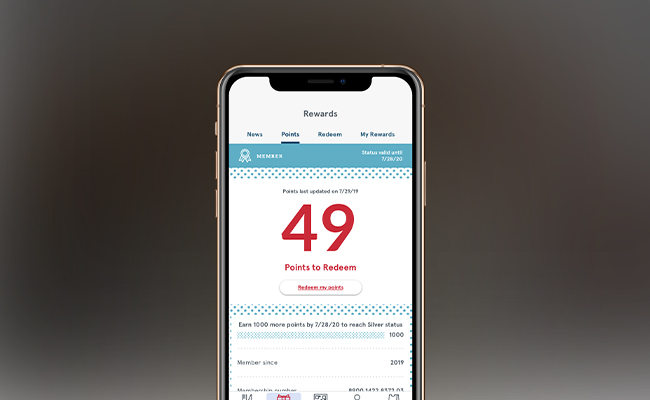 Gamification
Who doesn't enjoy time killers like small games? And what if those time killers can become real friends of your loyalty program? By designing an interesting and engaging game and offering points for completing it, you can make users' experience funnier. The points the users win in your small game can be further exchanged for real discounts or bonuses or be used to buy something. 
Examples of the best loyalty apps
Customer loyalty apps have already proven their effectiveness in practice. Let's take such giant companies as IKEA, L'Oreal, and ASOS. They all have different business models, they all sell different goods, and yet there is one thing they all have in common. And that thing is an effective customer loyalty program provided in the form of a mobile application. 
To give you some inspiration, we have collected the best examples of companies that have implemented customer loyalty app and fully benefited from them. Perhaps after checking their solutions, you will decide that your business needs something similar or even better. So let's take a closer look at the examples we've found. 
Sephora
Sephora is a beauty brand that uses a tier-based strategy to encourage customers to buy more. After users reach a certain spending tier, they get some benefits, for example, free shipping. Such loyalty options are very popular and customers enjoy them, which helps Sephora to boost its income. 
Chick-fil-A One
This food delivery app successfully utilizes a mixed customer loyalty program. The number of points users get per every dollar spent depends on their tier. In addition, each tier has a different set of rewards (e.g. giveaways, surprises, gift rewards to friends, etc.) Such a variety of rewards lets app owners meet the needs of different clients and truly encourage their loyalty.
World of Hyatt
Hyatt Hotels' loyalty program app is also based on point accumulation. Once a user gets enough points, he or she receives a reward, e.g. a free night in one of the Hyatt network hotels. Besides, the app offers advanced settings for user preferences and the simplified process of repeated bookings. 
Starbucks
Needless to say how huge this company is and what impressive income it gets annually. Starbucks values its clients and has a great mobile loyalty app that lets clients benefit from various reward options. They can collect stars per spent amount of money, get birthday rewards, and enjoy special membership events and offers. What a great approach to a loyalty program that targets a wide audience!
FAQ
Loyalty program is being formulated before the actual app development starts. So before you are going to turn your idea into an app, you need to do some homework. First of all, you need to set your goals and identify the needs of your potential loyalty app users. Then you need to think about the real numbers and success metrics that you expect to get thanks to an app. After you've done it, consider what loyalty options you are likely to offer to your clients. Then start the research, and proceed with the selection of tech stack and feature set.
We would say that combining both works the best, since people of different age groups tend to use different solutions. Of course, it is more convenient to have a mobile loyalty app, since you can use a smartphone on the go. However, web apps may work perfectly as well. So if you want to target as many potential customers as possible, go with both solutions.
The competition is tough these days, so if you are going to invest in custom development of a loyalty app, make sure it is powered by the latest technologies. We would recommend you consider chatbots, AR, and Big Data. Also, it would be great to incorporate QR code scanning, online payment systems, and gamification elements. The set of features and selection of technologies will depend on your particular business model.
To wrap it up
Companies are doing well only when their customers are satisfied and committed. That's why having effective customer loyalty management software is an essential component of business growth. Many companies (small and big ones) are already benefiting from their loyalty strategies, executed with the help of mobile apps. So if you are still thinking whether it is worth investing in your own solution, it's time to stop doubting and start acting. In the business world time equals money, so the sooner you spice up your business with a new loyalty app, the better.
Building a custom mobile app is the best way to implement a loyalty program in practice. It will encourage people to purchase more, help you personalize the customer experience, build a strong relationship with every customer, and constantly stay connected with your buyers.