It's not a secret that, in today's digitalized world, technologies power many industries and the cinema business isn't an exception. Not only may custom solutions help cinemas replace a physical box office by automating most of the routine processes such as management of schedules and selling of tickets, but they also can improve customer experience and attract a growing number of visitors to your movie theatre.
In this article, we will discuss applications that can take any cinema business to the next level.


POS systems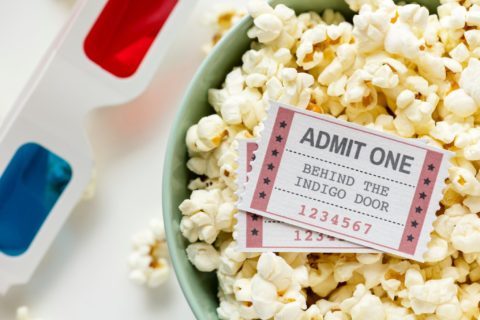 Selling tickets to movie-lovers is one of the most critical aspects of a cinema's interaction with its visitors so it must go seamlessly. And the most irritating thing for any person who just wants to enjoy a new blockbuster is to stay in a long line in front of a cinema box office anxiously anticipating that the beginning of a film will be missed.
POS stands for the point of sale and if we speak about cinema, it is, basically, a cinema ticketing software that works on a movie theater ticket machine. It allows for the faster selling of tickets that results in better and more pleasant customer experience.
The basic functionality of any POS system:
booking seats

selling tickets/concessions

canceling bookings/tickets

coupons scanning

gift card support
In addition, a more advanced POS system for a movie theater may also have integrated printing solutions and reporting software, so you can easily keep track of the number of tickets sold per movie or during the entire run.
Movie theater kiosk
A study shows that 89% of cinema visitors would prefer purchasing tickets using self-service machines over buying them from a cinema cashier. So to reach a full POS potential we recommend you to consider equipping your cinema with movie theater kiosks that are, basically, an automated box office with a user-friendly display to help people buy tickets in a fast and simple way. If you decide to do so, a POS system should also have such features as an integrated payment processing system and a barcode scanner to give movie-goers the opportunity to scan their loyalty cards.
Today, in a time of virtual reality and 9D movies, a high-end POS system is no longer optional — it's a must-have for any cinema.
Mobile ticketing applications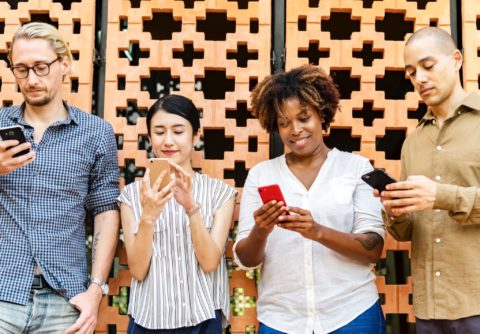 A decision to go to the movie theater is often made spontaneously so it's important that movie-lovers have an opportunity to review what's on the screen and buy the tickets at the moment they are thinking about visiting a cinema. Besides that, a number of mobile users is growing exponentially and it's expected that it'll reach a threshold of 4.7 billion in 2020. Hence, sooner or later, all cinemas will have to develop a mobile ticketing application. And we strongly recommend you to do it sooner to stay ahead of the competition.
Interesting fact: Fandango, an entertaining platform with headquarters in Los Angeles that allows cinema visitors to buy movie tickets, claims that 50% of its users perform transactions via the mobile application.
With a mobile application movie fans can:
buy tickets

view showtimes

watch trailers

review information about a movie

leave reviews

sign up for a loyalty program
On top of that, such an application can have the integrated GPS that is especially beneficial for cinema networks. Also, the features may include aggregation of cinema's social media accounts into one feed so it's convenient to spread the word about new movies and rewards programs across different audiences.
Pro tip: make your app available for both — iOS and Android devices to capture the greater audience.
Cinema management software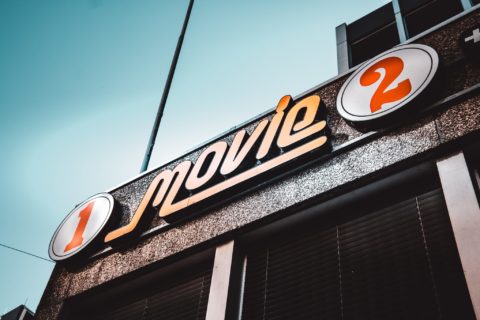 Cinema management software will be handy for any cinema owner. Depending on specific needs, it may include different features. For example, you may choose to create holistic custom software that will automate most processes in your theater — from creating playlists to tracking current stock levels. They will also integrate with other third-party solutions. Alternatively, you may opt for a system that has the basic functionality and handles only the most time-consuming tasks.
Key functions cinema management systems may include:
Management of schedules

Management of showings (lights, playlists, ads)

Management of a stock

Integration with POS systems

Issues reporting

Transaction tracking and stats collection

Promotion & email marketing

Management of payments & payment processing
Another great advantage of the cinema management solutions is that it's possible to develop a mobile version of them so cinema managers can access these systems remotely and around the clock.
The most sophisticated cinema management systems not only help a cinema operate seamlessly, but they may also create a truly memorable customer experience. For example, visitors can order food and beverages to be delivered to any place in a movie theater (to their seats, bar or restaurant), they may choose the time of delivery, split the bill if needed and track the orders. At the same time, the kitchen crew can view all the orders on the dashboard so they know what and when to prepare and serve the food fresh.
Showtime analytics solutions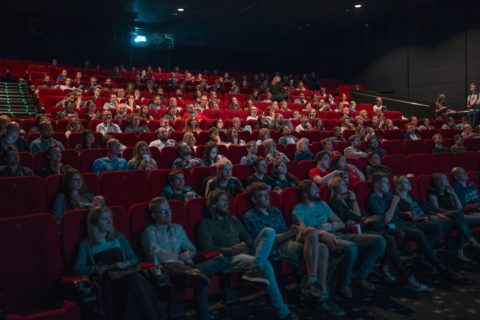 Gone are the days when video surveillance cameras were used only to timely react to conflict situations and spot pirates. Today, they help cinema owners understand their audience better and target marketing efforts accordingly.
Specifically, with showtime analytics tools, it's possible to collect statistics about cinema visitors based on their sex and age. This allows theater managers to select trailers and commercials to be shown before a movie more effectively.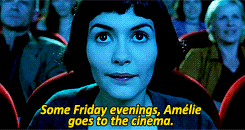 On top of that, showtime analytics solutions may include integrated face detectors that allow for the analysis of people's emotions during a film. What is the overall emotional background? Did men/women like a movie or negative emotions prevail? What is the average age of people who loved the movie? Based on such data, cinema owners can make better and more informed decisions about what films should be ordered in the future.  
Also, by comparing the number of sold tickets with the number of people who actually watched a film, it's easy to determine how many unpaid visitors were in the hall and decide whether the control at the cinema entrance needs any improvements.
Thanks to the above features, showtime analytics solutions are great tools helping cinema owners distribute financial resources more wisely and increase profits significantly.
Important note: Collection of information about individuals may be tricky in terms of compliance with a privacy law. Hence, it's essential that a development team you chose works in accordance with the GDPR and other rules on personal data protection.
Conclusion
There are, of course, many more types of software solutions cinemas can benefit from. In this article, we outlined only the most common and helpful ones but you may develop whatever suits you best. In any instance, we recommend opting for custom software development rather than third-party software. This is because a system perfectly tailored to your needs will bring more benefit to your cinema and will definitely pay off in the end.   
Want to bring your cinema business to the next level with a custom software solution? We can help!