Six years have passed since the moment when mobile payments were transformed by Apple Pay. The number of active Apple Pay users keeps constantly growing. And according to Statista, last year 441 million Apple Pay users performed 10 billion transactions. The numbers are quite impressive, aren't they? And it is not a surprise because our way of living changed and now it demands more fast and convenient services. It is easier to pay using your Apple device rather than a physical wallet. 
Have you noticed that less and less people buy things in malls? They'd rather make an online purchase instead of standing in the line for a fitting room or a counter. It is much faster and less tedious to choose an item and make one-tap payment on the websites. And that is what makes Apple Pay so popular. We have already covered the topic of Apple Pay on websites, how to implement it and what business advantages it offers. And now we would like to share with you a list of top websites supporting Apple Pay. 
Where to use your digital wallet?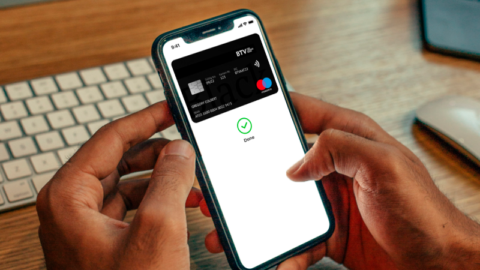 Without doubt, Apple Pay irreversibly changed the way we do online shopping. Each year more and more websites add it as a payment option. Apple Pay has numerous advantages and among them we'd like to emphasize such key ones as convenience and security. 
Convenience. The less actions a customer has to perform when making an order – the better. Just imagine how irritated customers may end up if they do their Christmas shopping. They probably need to buy various items on different websites, which, in turn, make them enter payment details again and again. That's just too much effort. So Apple Pay resolved this major issue and made all its users forget about an annoying checkout procedure. With a single tap on Touch ID sensor a person can handle all purchases and transfer money to a retailer's account.
Security.

You've probably heard how the whole databases of online retailers can get hacked or stolen. It is insecure to store your card number on a device. So Apple Pay offers a perfect secure solution. It transfers your money using a special Dynamic Security Code and Device Account Number. You will be charged only after you tapped Touch ID sensor and your fingertip was recognized and accepted by the system. You actual card numbers will not be stored on Apple servers. 
It is understandable why many big merchants enable Apple Pay option on their websites. And it is only a matter of time before all more or less big online stores will support it. The integration process is not complicated and does not require any special skills. It is way harder to develop a web application itself than incorporate Apple Pay in it.  So in case you are only thinking about web app development and you need a solution for business, take time and think about all crucial features and payment method it is going to offer. 
☝
PRO Advice
Before you make a final decision on what your iOS application should be, take a minute and read about
native and hybrid app development
. It will help you to choose the right type of app for your business.
But before all retailers will start accepting Apple Pay, let's take a look at the ones that are already doing it. 
Airbnb
This service is a favorite of all travelers. It allows to book apartments all over the world, communicate with your hosts, leave honest feedback and rate the place you've stayed in.  It was one of the first websites which enabled Apple Pay and keeps successfully using it right now. 
Best Buy
A huge consumer electronics retailer which offers its customers literally everything starting with various house appliances like fridges or washing machines and ending with digital cameras, mobile phones and even software. Dealing with daily influx of customers is not an easy thing and yet Best Buy managed to make shopping experience better by implementing Apple Pay into its website. 
Etsy
Probably everyone has heard about Etsy and perhaps even bought something on their website. Having a huge variety of vintage and hand-made goods, this retailer understands the importance of customer satisfaction which depends not only on goods but also on services. So should you decide to buy something chic and unique, Etsy website with Apple Pay will make this experience enjoyable. 
Groupon
As of now 15 countries can appreciate this marketplace selling services, activities and goods. No wonder Groupon became an Apple Pay friendly store. Numerous merchants united on this web platform to offer a full range of services. It is possible to buy everything you can imagine on Groupon – fitness classes, cosmetics, food, various memberships, accessories, flowers and many more. 
Kickstarter
Due to this crowdfunding platform many startups raised enough money to become a success. Kickstarter has a large community of people ready to back up any cool innovative project by investing in it whatever sum they can afford. To make investing experience even more pleasant Kickstarter introduced Apple Pay and that turned out pretty well for both startupers and their financial supporters. 
Grubhub
Food delivery is extremely popular and brings tons of money to companies. What can be better than ordering a set of delicious meals from a restaurant you like? Grubhub is a huge marketplace that has a website and mobile application and connects foodies with local takeout places. To ensure total customers satisfaction they offer various methods of payment including Apple Pay. 
Instacart 
The creators of this service understand the importance of fast delivery. By using Instacart one can order same-day groceriy pick-up and delivery from a store nearby. A couple of clicks and you have your food ordered, one tap on a screen – you've made a purchase using Apple Pay. One more great thing about this service is that anyone can easily become a shopper for someone else and earn money instead of spending them. 
Lyft
Everybody has used Uber (which by the way started supporting Apple Pay in 2014) many times but not everybody knows that there are similar services with even more wide spectrum of transportation and ride sharing services. F.e. Lyft – a holistic system (web platform + mobile application) allowing you to become a driver or get a ride at once. Moreover, Lyft has scooters and bicycles for rent and even organizes food delivery.  With such a big variety of services it is mandatory to implement different payment options for the customers convenience. 
Gametime 
All sports fans have already forgotten how exhausting buying a ticket can be. If previously they used to wait in the long queues, now with a couple of taps on the screen they can purchase a ticket for baseball, basketball, hockey, football and other games. Such ticket distributing services can't manage without Apple Pay which makes all financial transactions easier. 
Priceline
This platform is a real finding for all travelers because it offers renting of cars, booking of cruises, flights and hotels at cheaper prices. There are even additional discounts for those who purchased a bundle (f.e. hotel apartment + flight ticket + car rent). All customers can not only pay conveniently via Apple Pay, but also save money. 
Already have iOS app in mind?
Don't wait up ad shape your idea with our specialists. We can help you build your app with Apple Pay option from scratch.
What changes await for Apple Pay after iOS 14 release?
This year Apple surprised us with some innovations at its WWDC. And while all users are alredy waiting for new iOS 14 to play with the brand new options, the app owners and developers start being concerned. What is going to happen with the already existing solutions? Should you seriously think about updating your apps?
Based on our experience, we can say that it is better to face iOS updated prepared, because no matter what app you own, the new App Clips option will require its code review. If you missed WWDC 2020 and still do not know what App Clips are, we would highly recommend you to read our blog post related to this feature.
And now as to the influence of App Clips on apps with Apple Pay option. First of all it is necessary to mention that thanks to App Clips users will be able to use a certain features of the solution without downloading it from the App Store. So all companies which have apps related to renting, booking and services providing and have Apple Pay option will need to update their apps. It will be necessary to develop App Clip of the app (which is basically a lightweight version of it) and make sure that Apple Pay functions correctly.
Also many resources discuss the new possibility that Apple Pay will get in iOS 14. This will be an option allowing to scan QR codes or traditional barcodes using an iPhone camera and make instant payments. Which is great if we speak about customer experience. Here is a sneak peek of the upcoming feature we've managed to find on the Internet.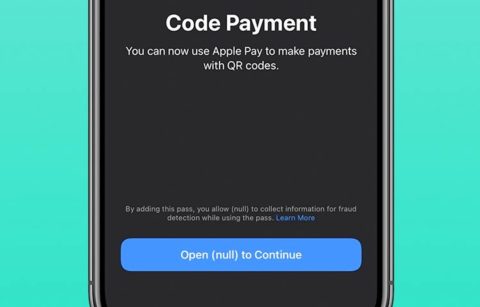 It is high time to think about your application update since many new solution will offer this new option, and if you want your app to stay highly competitive you need to alter it. App Clips and payments via QR codes are predicted to be extremely popular especially among people from 18 to 40 years old (which is quite huge potential customer base that you can get if your solution will be up-to-date).
Also if your solution is related to providing services or selling some goods via website or mobile application, it will be reasonable to think about your own custom CMS. In case you haven't heard about this solution, you can find all details in one of our previous articles here.
Yes, it can be set up on Apple Watches. To do this you need to open Apple Watch app on iPhone, find Wallet option and tap Add Card. After that follow the instructions and everything is set up.
As of now it can be used in 40 countries all over the world including US, UK, China, Canada, Japan, Australia, Ukraine, Russia and many more. You can check the full list of countries on the Internet.
Absolutely, since Apple does not save your card numbers or transactions data on its servers. Everything is performed through Wallet app and is kept there. Also Apple Pay makes a special token that replaces your payment details, and device account number is encrypted and securely stored.
To sum it up 
As you can see from the variety of stores accepting Apple Pay, this payment method works for any industry. The technologies nowadays aim to make our mobile and web experience more simple and secure. So before purchasing anything customers tend to ask themselves a question: "Why share my debit card numbers and store them on my device if I can avoid all risks and pay safely with one tap of a finger?" This means that way more customers choosing among similar stores would prefer the one with the convenient payment options. 
Need help with iOS application?
Our team can perform a code review of your existing solution or build a new one for you.