Implementation of ERP systems becomes a common decision for many modern business owners. They usually seek automation work processes, making the enterprise modern and recognizable, and managing the workflow to avoid errors or problems. 
In this article, we will discuss and compare a ready-made ERP system ERPNext and the development of a custom solution, particularly for your business needs. 
So let's get into details what is the difference between these two software integrations. 
What is ERPNext?

ERPNext is a ready-made enterprise resource planning solution that is implemented for structuring and managing the work of all company departments. It is an open-source web system that mostly suits small or medium-sized enterprises. This system provides such functions as HR management, accounting, sales management, project management, manufacturing, CRM, and others. In general, ERPNext can fit different business industries, but a perfect match is manufacturing, retails, or distribution. To say a few words about its architecture, this system is built on Python and uses MySQL as a database. Also, it has a Model-View-Controller structure that provides the flexibility of the solution. It means that different companies can customize and adopt ERPNext for their requirements and needs. 
✔️
Dynamics 365 vs custom ERP
Also, check our recent article
"Dynamics 365 vs custom ERP
," where we described one more ready-made ERP solution compared to a custom ERP system. 
ERPNext features
ERPNext has a wide range of features that help to optimize the work processes of enterprises. It makes them easier, faster, and more productive. Any software solution is implemented to reduce the number of human resources and replace some of them with smart technologies. So the main features of ERPNext are the following:
Cross-compatibility
As we have already mentioned that ERPNext is an open-source and online service, it can be applied to different devices and platforms.
Flexibility
ERPNext system has a function of customization according to your company's needs.
Friendly UI
ERPNext has a comprehensive and simple interface that is easy to use for everyone.
Organization management tool
This service can be a good built-in managing system for employees. For example, it contains a calendar for meetings or other arrangements, notifications and messaging, active projects, tasks, and to-do lists, also time tracking and reporting.
Accounting management tool
ERPNext manages the accounting processes of the enterprise. It supports multi-currency according to location, calculates taxes, provides reports, and built-in tools for banks.
Sales management tool
The service provides reporting about sales, newsletters, support requests, and communication with active and potential customers. Inventory management
Inventory management
ERPNext provides the feature of counting the inventory in warehouses and offices, managing their serial numbers, quantity, and availability.
Production planning tool
It helps to plan production and materials beforehand.
HR management tool
It is a kind of virtual assistant that helps the HR department to manage work processes like tracking employees' attendance, controlling expenses and invoices, payroll, and others.
ERPNext tech specs
Devices Supported
Customer types
Small business

Medium business

Enterprise
Support Types
ERPNext Pricing
ERPNext is an open-source ERP service that has several different paid plans of subscription. There are two types of them – cloud and self-hosted subscriptions. Both of them have various features like the number of workers, fixed prices, company suitability, etc. So here are more details about ERPNext paid plans so you can choose which one would suit your company best.
Cloud type of subscription also has two different variants that suit different business areas: 
Standard – it provides 10 GB of free space in storage, the ability to send 5000 emails per one month, control only 3 companies, and integration to payment processors, DropBox, Shopify, and AWS. The cost is $20 for one user per month. 
Pro – this plan provides 25 GB of free space in storage, the ability to send 15000 emails, and control an unlimited number of companies. The price is $50 for one user per month. 
The choice of the plan depends on the amount of your company, requirements, and features that will suit you or not. Also, there is a 14-day trial period for ERPNext to test the service for your needs. 
Ready to build own ERP solution?
Ready to implement an ERP system to your company and want to define what challenges can be solved with the integration of this software solution?
ERPNext advantages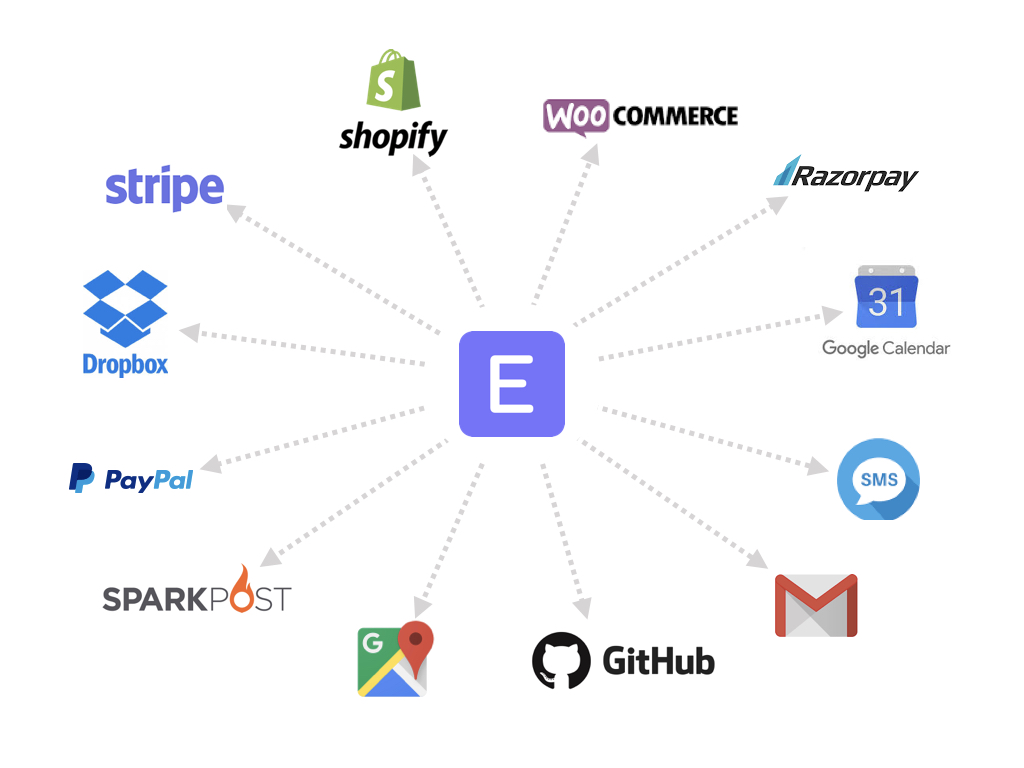 We prepared a list of the common advantages that ERPNext can bring to your company and work processes. So the pros are the following:
The subscription prices are rather low and can fit many business areas, but it provides limited resources. The on-premise plan is free, or you can choose a paid plan that we described above. 
As this service is open source, you can make it custom according to your brand and business requirements. So you can put a certain set of features, functions, and edit the service as you prefer.
It also provides the ability to scale together with the growth of your company. So you can upgrade the service and add more users, management tools, access levels, etc. 
Instead of a paid subscription from the first day of use, ERPNext offers a 14-day trial period for a cloud subscription to try the service in action with no commitments. 
ERPNext disadvantages
Besides the pros of implementing a ready-made ERP solution of ERPNext, it has a range of disadvantages, and it can not suit all business industries and companies of all sizes. So here is the list of main cons of this service:
ERPNext suits only companies of small and medium sizes, so if your company has more than 250 workers, the implementation of this system will be useless.
Besides, it provides a lot of features for managing work processes; they are not enough. ERPNext can not automate all processes of the workflow, particularly if their number is huge.
The system is a new system on the market, so it hasn't won a high level of trust among users yet.
The system is not really easy to use. As you have to train your employees on how to use it at work, you can spend too much time teaching them. Also, there is a bigger probability of problems and mistakes happening because of the complexity of ERPNext. 
As you can see, ERPNext is a good ready-made solution, but it suits not everyone. It is a perfect match for startups or small companies. However, all enterprises tend to grow and widen their scales, so this service is temporary. Implementing ERP should meet all your requirements and make the workflow more efficient, automated, and optimized. ERP should make your company better and take it to a higher level among competitors in your business industry. In this case, the best variant is implementing a custom ERP system considering all your problems and aiming to solve them. We want to describe what custom ERP is and why you will gain more profit using your own ERP system. 
What is Custom ERP Software?
Development and implementation of custom software solutions enhance the productivity of the entire company and increases the efficiency of each department. No ready-made solution can cover all demands for particularly your company and the needs of the business industry you work in. Your main task as a business owner is to find and hire a dedicated team of developers and ensure they have vast experience in developing and integrating custom ERPs. 
Custom ERP includes business intelligence tools that help you run the whole company and track all processes of the workflow. Among the work processes that can be managed with the ERP are:
HR management

Sales management

Inventory management

Report generations

Analysis and statistics

Database

Accounting management
✔️
ERP: Features & Benefits
Read more about developing a custom ERP and its benefits
in the article
on our blog. 
Benefits of custom ERP
All business companies have their strong and weak sides. Thanks to the modern software solutions and implementing them into them in the work processes, the minuses can be transformed into benefits. Integrating custom ERP provides a range of benefits for the company and increases the productivity of each department and worker. 
Better data apply
Inaccurate integration of software in your business can lead to an increasing number of difficulties in the work processes. Consequently, it causes a lack of time for necessary tasks and inaccurate forecasts. Custom ERP solution is built according to your business requirements and can be easily integrated with the existing applications in the workflow. All company data is structured and the option of forecasting is built in. 
More power for employees
Low efficiency of the workflow can reduce the productivity and income of the entire company. It can be critical for medium and small-sized businesses that usually don't have enough additional resources. Implementing ERP helps to automate and optimate the work processes and daily tasks for each department. It means that employees don't have to spend much time on little tasks that can be performed by a software system, so it saves time for doing more important things. All in all, ERP helps to sort with more number of tasks for less time and resources. 
Mobile version
To make the ERP solution more flexible and accessible, you also need to develop a mobile app to manage the work processes from any device anywhere. This type of applications provides real-time changes or updates and access to tools like:
sales management

revenue

customer purchases

traffic
Simple estimation
Custom ERP solution provides the option of custom report and quote generation. Custom reports help the company to respond to complex data requests quickly and much easier. so it provides a better customer experience and the ability to run customers` own reports.
Department coordination
ERP solution unites all departments of the company in one system providing real-time information and changes. It influences the coordination between different company branches and improves the efficiency of the whole company. So there is no need to wait for responses from other departments, as each worker has access to the ERP system.
Scalable solution
Custom ERP development is marked as a flexible system with high scalability. Unlike the ready-made solutions, custom ERP is developed considering all your business objectives and business strategy. It means that the system can be widened and updated according to the latest change in the technical part of the company workflow.
Define your aims
Ready to talk about your company and business area specifications and build a strategy for implementing custom ERP?
Our expertise in ERP development
We would like to bring to your attention several examples of developing and successfully implementing custom ERPs from our portfolio. Each project is unique and related to diverse business industries, Therefore, the ranges of functions vary depending on the business objectives and requirements of a particular company. We considered all demands from our customers during the development process and keep the customers up to date about new stages of building their custom solution.
Elite Vehicles 
Elite Vehicles Solutions is the company that creates and delivers parts of special parts for service transport like ambulance, police cars, etc. The company owners and workers faced with complexities in order-making. The number of orders and their details is vast and impossible to write down and handle manually. The company needed to develop and integrate a custom ERP system to manage the order-making flow to make this process accurate, simple, and quick.
After the ERP implementation, all customer`s requirements were satisfied as we solved the main difficulties in the workflow and made it more efficient and clear. Therefore, it increased the productivity and profitability of the entire company.
LEO
Nelson Precast company deals with the manufacturing of decorative stones of different molds and sizes for the construction industry. The problem they came to us with was the enormous number of orders and their details that couldn't be managed manually. Due to the development and implementation of custom ERP, the process of order-making became structured, advanced, and simple. Now users can create stones using different colors, molds, sizes, and see the real-time calculations. All orders are recorded and kept in the database so each worker has easy access to it anytime. ERP optimized the work processes of the company, reduced the time needed for managing and order, and helped to avoid mix-ups with order details.
As you see, modern business companies of all sizes can not handle all amounts of information and tasks manually. They are in need of smart software that will simplify the workflow but increase its productivity and profitability. Custom development aims to meet all the demands of a particular company thanks to deep research in the business industry, defining the strong and weak points of the company and build an accurate plan of reaching the main goals.
Our CTO,  Evgen, made the MVP estimation of developing a custom ERP system. You need to understand that this estimation is basic and can differ from reality. It all depends on the range of functions your development will include. Nevertheless, developing s custom solution is always more profitable than using any ready-made solution that demands payments every month.
| | | |
| --- | --- | --- |
| DevOps | Dev hours | Total cost |
| Business Analysts | 130 | $4160 |
| Admin | 32 | $704 |
| Designer | 120 | $4680 |
| CSSHTML | 150 | $3750 |
| PHP backend | 600 | $16200 |
| JS frontend | 400 | $10800 |
| QA | 360 | $6120 |
| Scrum master | 270 | $6210 |
Conclusion
ERPNext could be a good decision for the company that is not going to grow, but we all know there aren't any. If you hesitate and think that an open-source solution is less expensive and has the same range of features as custom ERP, then we know the right answer. Developing a custom ERP provides considering all your problems that your company faces every day, all your requirements, and a need for work processes. 
Implementing a software solution in the company shows that you keep in touch with smart modern technologies. It also makes the workflow more efficient and easier, helping your company be more productive and reliable. 
ERP integration
Want to get a professional consultation with a Business Analyst and build a business strategy of custom ERP integration?
ERPNext is integrated into the enterprise for the purpose of making the workflow more productive and easier. Among the main features are HR, project and sales management, basic reports, and online support. However, ERPNext suits only small and medium companies under 250 workers.
ERPNext is a good decision for different business industries, especially distribution, retail, and manufacturing. Though, implementing a ready-made solution can not be enough as it can`t cover all work processes and manage them. So we recommend you to think of creating your own custom ERP and invest in your future.
It may seem expensive from the first look but it is an investment to make your business productive as custom development takes into account all your demands and business needs. If you choose a ready-made solution like ERPNext, you will have to pay for each user monthly, so the sum will much be much bigger than custom ERP implementation. More details about MVP estimation and prices for ERPNext subscription you can find in the article above.