Franchising is at its peak for many years. Some of the most world-known cafes, coffee shops, fast-food restaurants, and stores are brought to various countries and cities by the means of franchising. You definitely heard about McDonald's, 7-Eleven, Burger King, and KFC (I like wings.).
The success behind any franchise lies in efficient standardization and established processes that can be easily scaled and transferred to other managers. The franchise POS system is one of the instruments that can deliver the required consistency and structure.
So, what features should franchise POS systems have? What is the best POS and why do franchises need industry-specific software packages? GBKSOFT, being an experienced vendor in POS development, will gladly answer these and other questions.
Why Franchise Will Benefit from Unified POS Systems?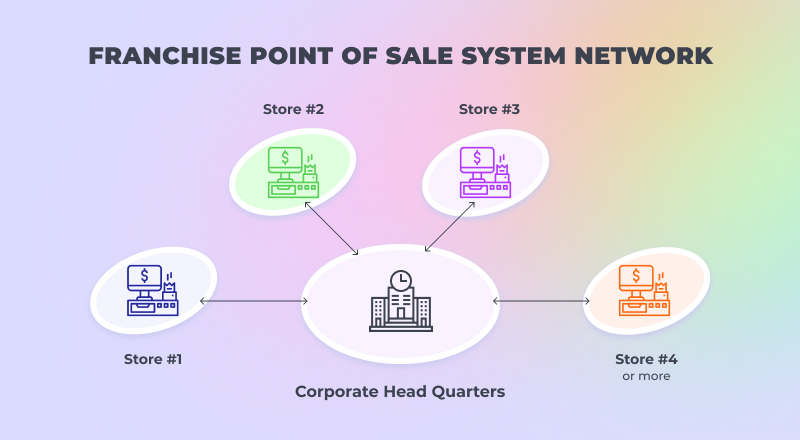 Point-of-sale systems are considered to be a centerpiece of any restaurant, delivery service, or store. Their primal function is to process customer checkout, handle multiple payment types and print a check, but the value of POS software is much bigger than that.
With a wide functionality, point of sale software may help business owners and managers better track inventory, streamline major business operations, analyze data reports on how the franchise locations operate, plan and predict sales activity, improve employee management and efficiency of franchise operations, etc.
For any franchise business, the one system that will be able to cover such a broad range of responsibilities will be highly beneficial. Instead of building the same processes from scratch on every new location, the franchise owner may provide the POS system with preinstalled settings to their franchisees on any location required.
Another perk will be to adopt a cloud-based point-of-sale. This way, it will be easy to understand and turn on for franchisees, and it also will allow seamless business data sharing between different locations.
So, we believe that one cloud POS system for the whole franchise will simplify the processes for both sides, improve the onboarding experience and guarantee the required level of coordination between multiple locations.
Develop POS system for franchises.
Partner up with the experienced team.
Franchise POS for Different Businesses
As we established, any type of franchise business will benefit from cloud POS systems. However, there should be a difference in point-of-sale functionality for the restaurant industry and retail businesses to deliver maximum efficiency.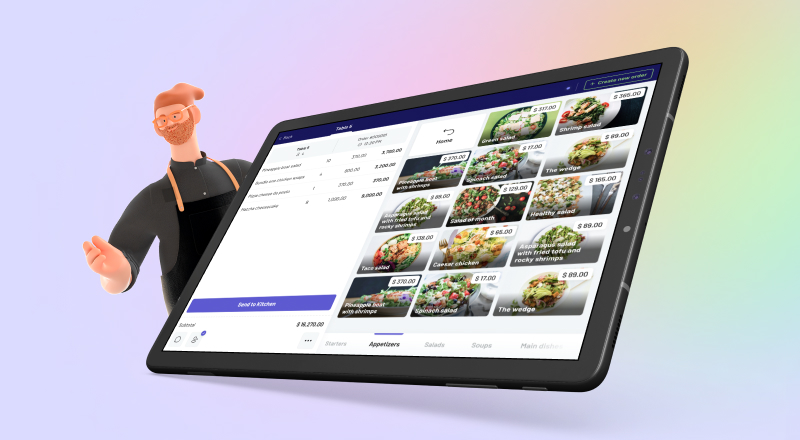 Franchise POS for Restaurants
Nowadays, the food and beverage industry works through various models. Restaurants are no longer just restaurants, they also operate as delivery services, takeouts, or even ghost kitchens for other brands.
Hence, the POS designed for the food and beverage industry should accommodate the specific needs of these places, like kitchen and restaurant staff management, capacity to track orders, and their progress made through delivery in real-time.
Restaurants might also consider obtaining point-of-sale software with offline mode: some kitchens might not have a stable Internet connection and Wi-Fi, but still require a cloud system to run things smoothly.
Franchise and Multi-Store Locations POS for Retail
Franchise businesses in the retail industry will demand another functionality from their point of sale system. It's crucial for any store to have a master account to keep track of its inventory and balance between over- and undersupply.
Hence, a good POS system should have strong inventory management features that will synchronize with sales transactions, keep a real overview of inventory levels and provide real-time reports.
At the same time, for franchises operating also as an e-commerce business, POS software may become an important link to create a positive customer experience and simplify the process of how medium-sized businesses can sell products online.
Features for Franchise POS systems
So, when picking a POS software to support your franchise operations, what aspects should you pay attention to? Let's contemplate the main features you might need specifically for franchise POS.
Shared CRM
You are most likely to encounter customer relationship management functions in any type of POS software. However, to manage multiple restaurants or stores under the same brand, it would be beneficial for franchisees to have access to the same client base.
A person may be a client of different locations of your franchise, and obtaining the joint business data will help you better understand their behavior and habits. Later, you may leverage this data to improve the loyalty of clients by creating personal marketing campaigns, providing special offers and discounts, launching a unique loyalty program, etc.
Order Management
This feature is applicable for both restaurants and stores, even though the design would differ. The key is to provide access to real-time data.
For the HoReCa industry, the system should be able to keep track of table orders, manage them and send them over to the kitchen. Here, franchise POS software should help waiters follow up with kitchen staff, hand over orders without mistakes, and ensure that the order is served to the customer in a short span of time.
When there are also delivery services in the equation, POS software should also synchronize the movements of deliverymen with the capacities of the kitchen and the speed of order preparation.
As for retail stores, POS order management will enable the capability to handle pre-orders for items that currently are out of stock, and hence, offer additional services to your customers.
Inventory Management
We have already mentioned the importance of efficient inventory management for multiple stores. POS software may help to automate its tracking, and hence, induce the efficiency of this process, as well as manage employees' time and efforts more productively.
As for restaurants, this aspect is no less essential. Availability of necessary ingredients in the kitchen will determine if the place can provide all menu items, and the lack of some products might lead to annoyance from the client-side. Moreover, food products tend to spoil, so it's also vital to monitor storage conditions and time.
Create efficient POS for the franchise.
Include the most relevant features in your product.
Multiple Payment Processing Options
Nowadays, your business should be able to accept different types of payment. Only cash sales are not enough, as people choose other contactless methods like Apple Pay, Google Pay, or simply chip credit cards.
Your POS system should be able to process all of them, so the clients won't experience any inconvenience.
At the same time, retail stores or deliveries might also need to generate digital receipts for online transactions, and the POS system should have the relevant features to fulfill this need.
Loyalty Program
Special offers for regulars, seasonal discounts, or sales help build relationships with customers and make them your promoters. As a franchise, you get a great opportunity to leverage this feature to boost customer loyalty and attract new customers to the whole brand and your different locations.
Franchise POS software should be designed to enable joint loyalty programs across the entire franchise, no matter who is a franchisee and where it is located. It might mean common bonus accounts attached to the client or coupons eligible for any franchise store or restaurant.
Reporting
The franchise POS system should not only provide different types of data on one location but gather and analyze it across the entire range of franchises. Get a better insight into the real-time data of your brand and use precise reports to improve the onboarding processes and policies.
Such a deep view might also simplify the way you calculate royalties, as you will be able to get the sales data reports from every location transparently.
How to Find Good POS Development Partner
GBKSOFT is a top software development company with more than a decade of experience. We help businesses and start-ups grow and enhance while setting up and scaling the development processes.
By completing successfully several point-of-sale development projects, we have generated sufficient expertise in this domain and are able to contribute a lot of industry-specific knowledge to your project.
Our POS Development Services
We can help you with:
cloud-based POS system development from scratch;

scaling up the development of your POS software;

third-party integrations between POS systems and other business software;

mobile POS development;

SaaS POS development
What Team Do You Need to Develop a Point-of-Sale for Franchises?
To ensure a successful POS cloud-based system, you will need the team with the following composition:
developers (front-, back-end,

mobile

);

UI/UX designers;

software architect;

business analyst;

DevOps specialist;

QA engineers;

project manager;
We can provide you with the necessary team and quickly connect them to your development. Depending on your project data, requirements, and capacities, we will think through the efficient team composition and pick the most suitable specialist.
How Long Does It Take to Develop a POS Solution for Franchises?
On average, the development of POS cloud systems takes at least 6 months with a monthly check of $40-50k USD. 
Our Success Cases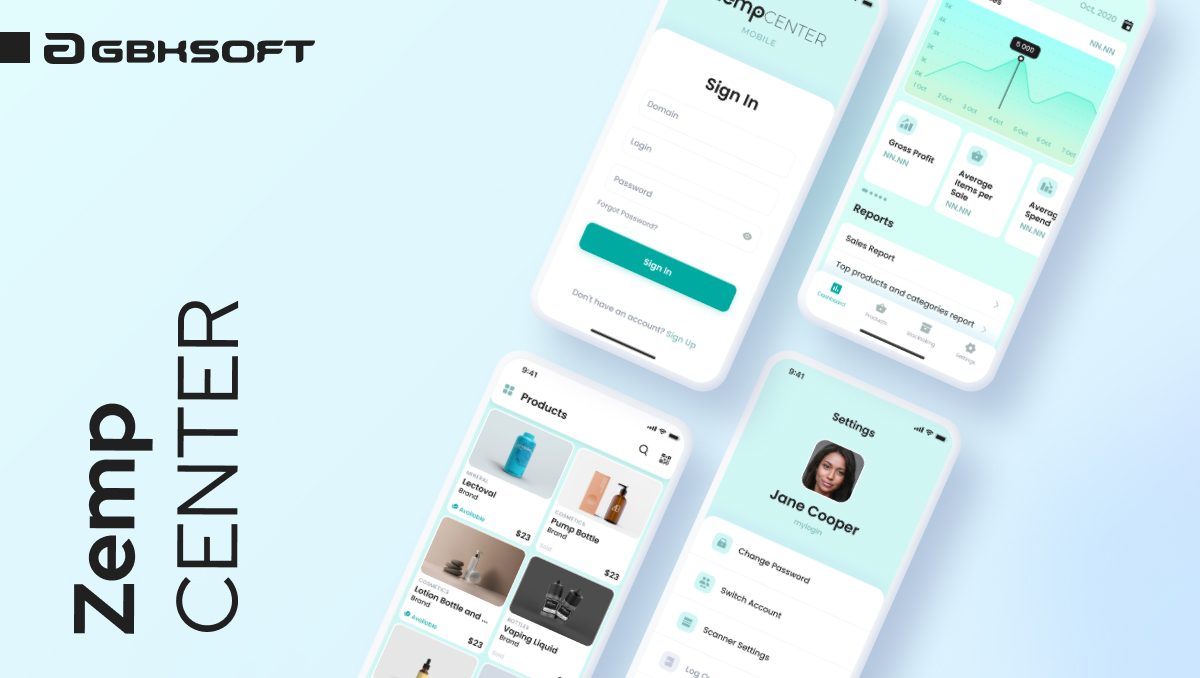 Zemp Center is a SaaS POS software created for easy and intuitive use with scalable design. Our journey together started when the client came to us with a request to develop a mobile version for an already existing web one.
Our team has worked hard and eventually delivered a simple but functional mobile application. It was built to correspond with user behavior and simplify user interaction with a system.
Among the many features, the application has, it is important to highlight the inventory management that provides real-time reporting on stock levels and their change, and employee management capacities.
In Conclusion
We believe that POS systems, as well as any other automation software, may become a crucial point for the long-term success of any retail or restaurant business. Moreover, POS software designed for franchises could significantly improve the operations of this business type and leave franchisees and end-point customers more satisfied with their experience.
Whether you want to develop a custom POS for your own franchises or create a solution and sell it to franchises, pay attention to the specific needs of this business type. This way, you will get a satisfactory end result.
Cooperate with a top POS development company.
Learn more about devs services from our managers.
There are a lot of ready-made solutions that can be suitable for your business. However, the custom-developed one will be able to bring the biggest value.
Custom POS development usually costs around $200k-300k and takes at least half of the year. The actual price and timeline depend on the requirements and capacities software should have.