The list of to-dos for a newly started company can seem endless. From improving marketing statistics and branding, to growing your customer base, it can all get very overwhelming. One surefire way to automate your processes and get your company on track for success is with a top of the line software solution. Your customers will love it and your internal staff will thank you. If you're unsure where to begin, GBKSOFT has got you covered! 
Here at GBKSOFT, we know that bouncing back from financial hardship can be tough, especially while trying to implement high quality app development techniques. Not to worry, we're here to save the day! We're a web and mobile app development firm that specializes on the delivery of stable and efficient systems. We always focus on boosting the revenue of our client's operations, so you can focus on growth through other business activities.
In light of our unique abilities and skill, we've been named one of the best app developers in Ukraine by Clutch, a B2B market research authority. They employ a world class ranking methodology to compare leaders across several different service sectors.
We'd like to take this time to shoutout our lovely clients for making this award possible. They took time out of their lives to chat on the phone with Clutch analysts, where they evaluated our work. We were assessed based on our costs, quality, and attention to deadlines. We're happy to say we've amassed a 4.9 out of five stars on Clutch, in reflection of 25 client interviews! Take a look at our most recent review below:
For those unaware, Clutch is a B2B market research firm that uses a unique rating methodology to rank leaders across industries. The Manifest, a business data platform, lists us among their most globally-minded developers and we're also named on Visual Objects' 2019 directory as a top mobile app development company. 
Thank you one and all for this honor! Please drop us line if you'd like to start a project today!
GBKSOFT Receives New High Rating Review
Our profile on Clutch allows new clients to learn about all of the great services we can offer them. We are considered one of the best PHP developers on Clutch!

Clutch is a B2B research and reviews firm located in Washington, D.C. Thousands of companies are published on Clutch, each including reviews from real past clients. One of our recent reviews is from updating a military helicopter aviator study app. The client appreciated our ability to keep fixing and tweaking the product until it was exactly how they wanted. Especially considering time zone differences, we are able to get the project done efficiently and effectively.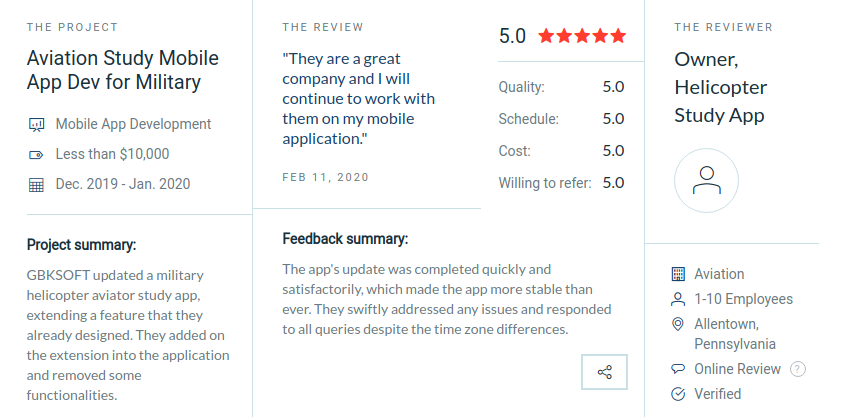 I can not identify any areas for improvement at this time. They are a great company and I will continue to work with them on my mobile application.

Owner of a Helicopter Study App
Another recent project was creating a Chrome extension for an influencer automation tool. Their team had a strong ability to comprehend and work through the complex project. They were also great at communicating during all steps of the project.
Project management is a strong point for GBK. They truly excel in project management. Their PMs are on top of everything and are very knowledgeable and capable of leading projects. They make sure the project keeps moving forward on time and within budget, ensuring all objectives are met.

Founder of Influencer Automation Tool
We're thrilled to receive this award and look forward to helping even more clients reach for the stars! Drop us a line if you'd like to collaborate on a project with GBKSOFT today!