For a long time, Android smartwatches were on the sidelines of smartphones because many considered them as niche devices for runners and performance geeks. Very few people were interested in buying a smartwatch as a separate gadget because it only was useful when paired with phones. But everything changed with the rebranding of Android Wear 2.0. In March 2018, Wear OS by Google Smartwatches update was released turning smartwatches into mature and standalone devices.
Since then, two upgrades were released: Wear OS Developer Preview 1 (Wear OS DP1) in March 2018 and Wear OS DP2 (Wear OS DP2) in May 2018.
In this article, we will explore the key features of Wear OS, as well as look at the enhancements brought by Wear OS DP1 and Wear OS DP2.
Wear OS: Features and Benefits
Standalone Apps
Unlike Android Wear 2.0, Wear OS allowed for the installation of applications directly on wearables and running them without a phone. This provides the possibility to create new solutions that bring a real value to B2B and B2C customers.
Industries and Benefits:
Mobile Medicine: Real-time healthcare monitoring and tracking app with the option to send data to the doctor during the workout.
Logistics: cheaper B2B app (compared to VR systems) to navigate workers around a warehouse.
Music Streaming: Music streaming giants, like SoundCloud and Spotify, leverage from mobile users, while there's a smartwatches market waiting to be conquered.
In addition, thanks to Wear OS, Google Play Market also became available on watches so owners of gadgets can download apps directly to their devices. Naturally, it is not really convenient to look for the right program using a small screen the smartwatches have, so Google made it possible to install apps on your watch remotely – using a desktop interface.
For mobile apps developers and owners, it is a chance to reach a wider audience, create additional paid options and updates since self-sufficiency of Wear OS allows developers to create full-featured versions of their apps and sell them separately on Google Play Market.
By the way, as of the end of 2017, Android Wear App was downloaded more than 10 million times.
Watch Faces after Wear OS update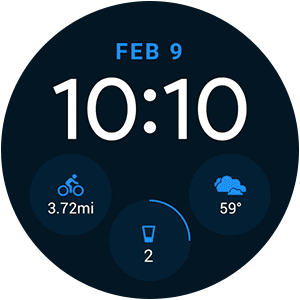 Simple Navigation:

With Wear OS it's possible to

swipe through the faces on your smartwatch. This method makes the navigation process easier on small smartwatches' screens and, as a result, attracts a bigger audience.
Complications:

 Developers of third-party apps can display additional information right on the home screens of Android wearables. This option significantly improved the UX and reduced users' flow from the hold screen to the app.

Customization:

Apart from mentioned above, Wear OS offers the possibility to create and download new watch faces from Google Play Market.
Monetization Tip: 

In 2016 over 101.9 million wearables were sold (IDC statistics). Selling custom watch faces is a convenient way to test smartwatches apps market demand.
Google Fit and Alternatives
Despite the fact that Wear OS comes with preinstalled Google Fit, there is always the possibility to create something better. For example, here, at GBKSOFT, we have developed a fitness app with remote coaching function.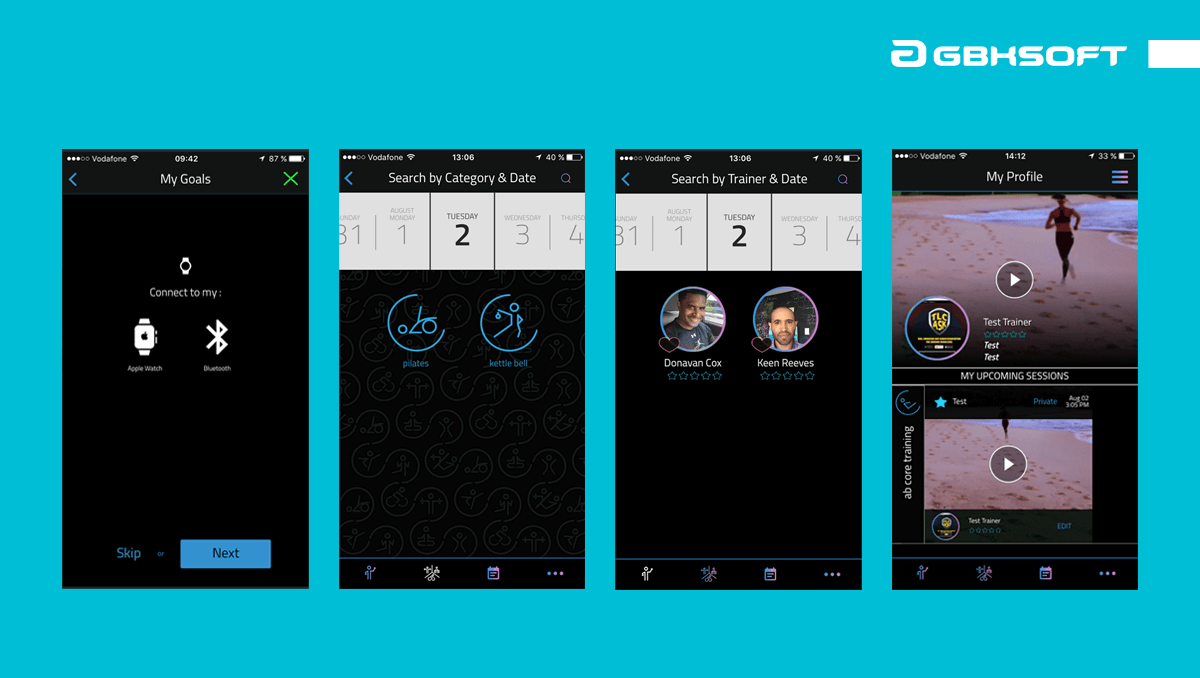 The app allows you to train and engage with a trainer without the necessity to visit a gym, but yet retain the same level of motivation as with a personal coach.
Features we've Integrated into Fitness App:
Fitness goals.

Flexible search options.

Booking system.

Paypal, credit card payment system.

Live video broadcasting.

Video streaming.

Health data pulling from Apple Watch

Health data pulling from Samsung Gear/Galaxy Watch

Health data pulling from Android Wear
Calls & Messages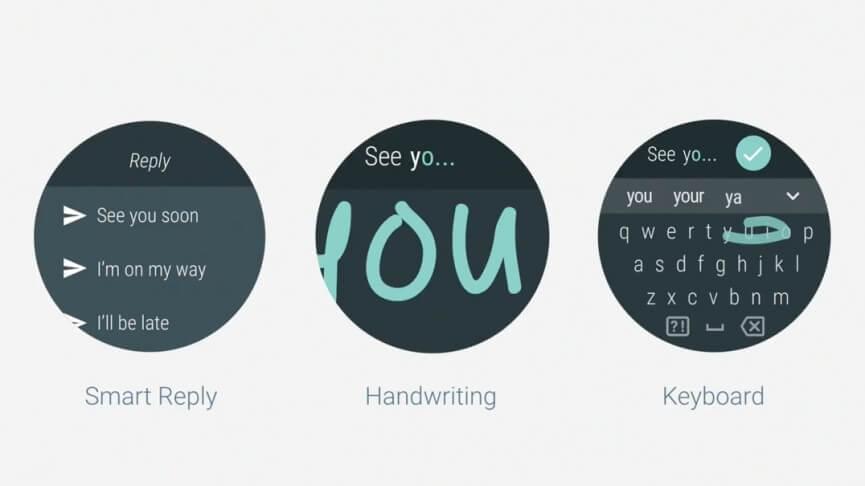 Wear OS made it possible to make calls and send messages even without a phone. The first device with such powerful hardware was LG Watch Sport, maybe the best android smartwatch ever developed.
But the messaging option wouldn't become such a great feature without a new set of interaction methods.
Methods to respond to your message:
Dictation.

Google Assistant.

Handwriting.

Typing using on-screen keyboard.
Notifications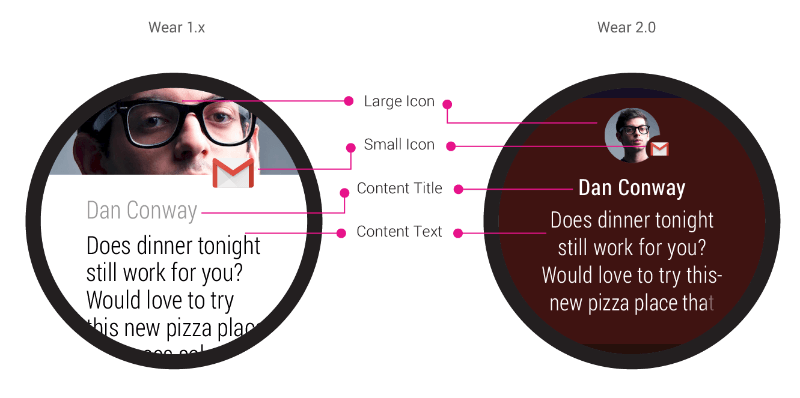 Another great feature that came with Wear OS is the ability to display notifications from third-party apps. Thanks to this, Wear OS made it possible to directly interact with the targeted audience and personalize messages to each customer.
How Business can Leverage from Smartwatch Notifications:
eCommerce

– Update users on new positions and available items in your store

Logistics

– Alarm your customers on delivery or status of a sent item

HoReCa

– Send discounts, coupons and bonuses to loyal clients

Madia

– Keep your customers up to date on your newsfeed.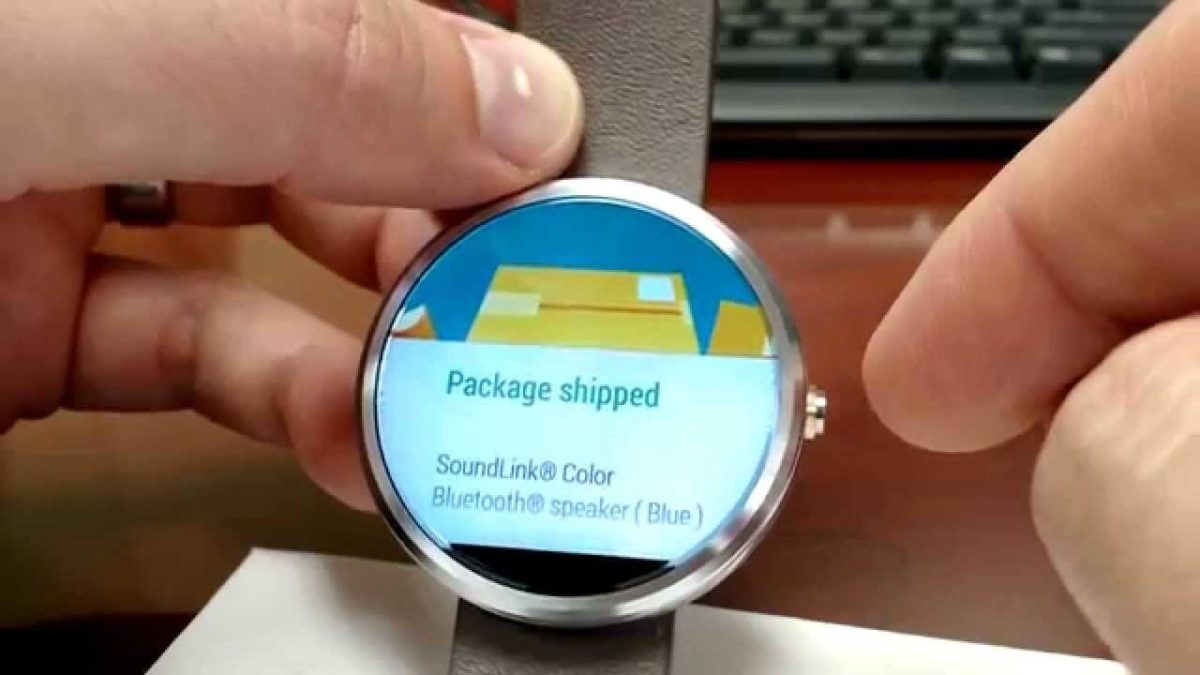 Development Tip:

 To display notifications on Android watch, developers may use the same class as they use for phone development: 

NotificationCompat.Builder

. The system takes care of displaying notifications properly on both - a phone and a wearable.
Voice Control Capabilities
The complexity of interaction with smartwatches has always been among the limiting factors. This is primarily because of a small size of wearables. To solve the problem, Google Developers improved voice control in Wear OS update.
Specifically, with Wear OS, developers can add their own set of voice commands to the application (in addition to the system-provided action and "Ok Google"). All of custom voice commands should begin with the word "Start". For example, "Start my doctor monitor" sends health statistics to your doctor.
As professional app developers, we believe that the integration of voice control is an opportunity that can not be missed.
Voice Control Statistics:

 39% of smartphone owners use voice recognition software (360 View: Mobility and the App Economy study). 
NFC Payments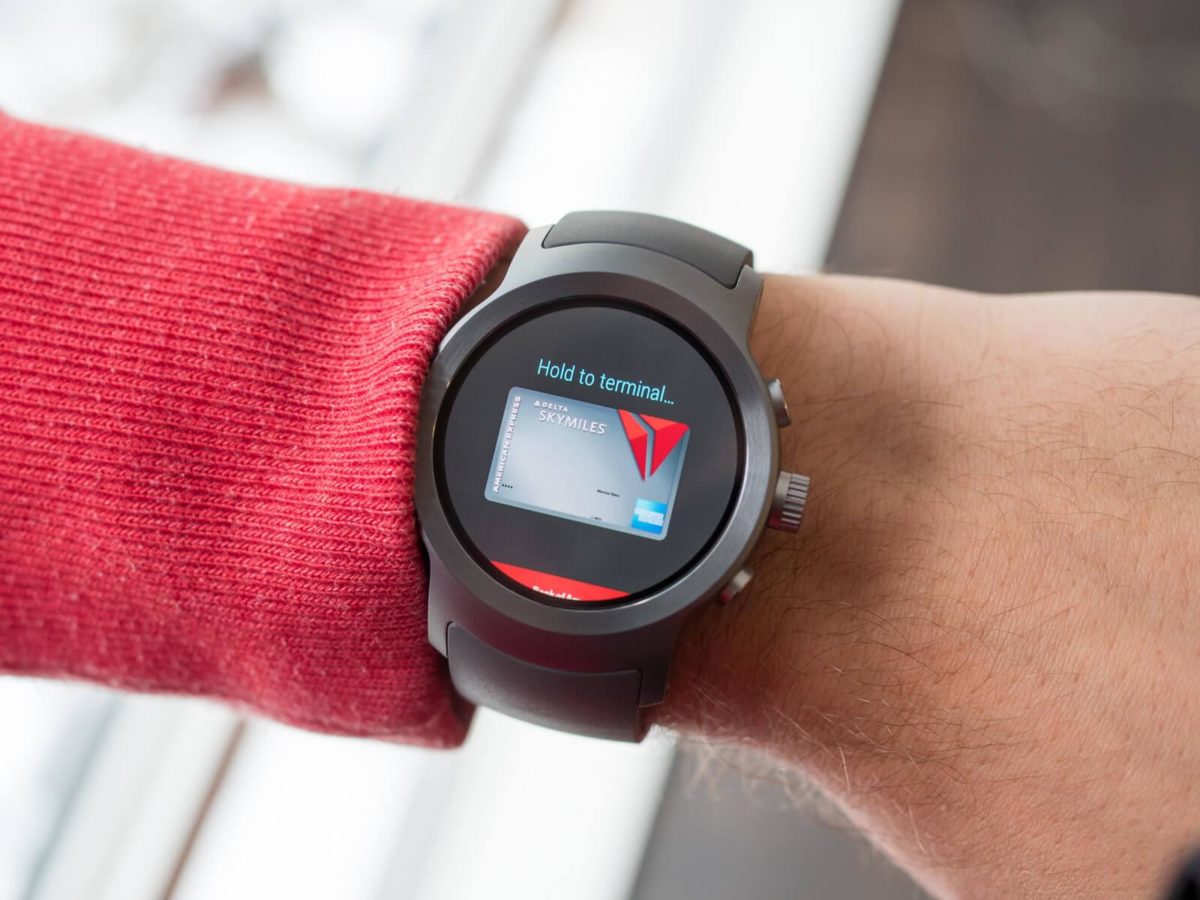 Wear OS also has the option of payment directly via a smartwatch Near-field communication module (NFC). With this feature, devices can act as electronic identity documents and keycards. For instance, we can process PayPal payments directly from the watch.
We Can Integrate NFC Functionality into your App:
Client personal keys for car rental.

Native

apps for quick customer authorization in gyms.

Bonus-holders and promo code scanners for HoReCa market.
iPhone Compatibility

The last but not the least feature of Wear OS is the ability to pair smartwatches with iPhone. And this means that native iOS Apps can be paired with Android smartwatches. For business owners, this is an opportunity to widen their audience.
iPhone Usage Statistics:

 In 2016 over 90 million people used iPhone (Statista).


Wear OS DP1 and Wear OS DP2
Wear OS DP1 was released at the end of March 2018, just a few weeks later after Wear OS appeared in the digital world. It brought the following changes:
dark UI as a default for the system interface

automatic disabling of some background apps aimed at the prolongation of a battery life

SDK restrictions to improve the stability
It took Google Developers about a month to collect the feedback on Wear OS DP1 and release Wear OS DP2. The new updates include rollbacks as they canceled some changes enabled by Wear OS DP1. For example, Wear OS DP2 doesn't have a feature of turning off Wi-Fi when Bluetooth is on. Besides this, the latest release added such enhancements as:
new mode for battery saving (disabling radio, touch input and "tilt to wake" function by one action)

improved Google Assistant  (e.g. support for Actions)
Watches that Support Wear OS
ASUS ZenWatch 2;

ASUS ZenWatch 3;

Casio Smart Outdoor Watch;

Casio PRO TREK Smart;

Fossil Q Founder;

Fossil Q Marshal;

Fossil Q Wander;

Huawei Watch;

LG G Watch R;

LG Watch Urbane;

LG Watch Urbane 2nd Edition LTE;

Michael Kors Access Smartwatches;

Moto 360 second edition;

Moto 360 for Women;

Moto 360 Sport;

New Balance RunIQ;

Nixon Mission;

Polar M600;

Tag Heuer Connected.
By the way, those who already have an idea for new smartwatches app can start the development process. Google has already published all the manuals and guidelines for app developers. 
Want to create your own Android Wear app? Contact us and we'll get to work!