If I ask you what you always take with you and use the most of the time during your day, the answer would be – mobile phone. No wonder we are so attached to our phones, because nowadays we have applications for everything – ordering food, online shopping, learning new skills, booking tickets and apartments, communicating with our friends and family. This variety of activities we can do using one device is what makes mobile app market so demanded and profitable. Here is a new research from our mobile app developers.
Did you know that in 2017 mobile app market demonstrated around 178 billion app downloads globally? This is  huge number and what is more exciting, it is expected to grow up to 258 billion downloads by the end of 2022. The mobile app market won't slow down anytime soon, as well as app revenues. Statista prospects mobile app revenues to reach 581,9 billion USD by the end of 2020.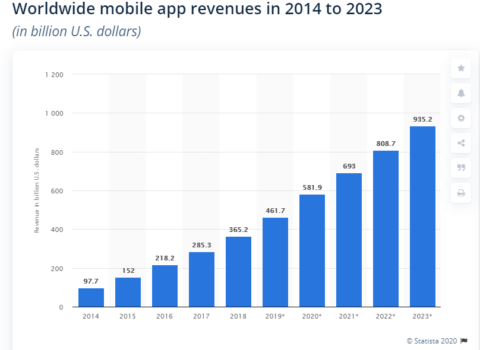 As we all know, there is no progress without change. And digitalization is the exact change that the whole world is already got used to. So if you are a business owner or a startupper who is eager to go digital and build your own app, we would recommend you to check out all current mobile development trends first. You would not need an app that either looks outdated or does not have functions able to attract users. So, without further ado, let's dive into all brand new mobile development trends of this year! 
Augmented Reality
Using AR on smartphones isn't new. The industry is huge and growing daily, and AR has already given birth to at least two popular apps: Snapchat and PokemonGo. Nevertheless, Apple's ARKit2 and iPhone X with enhanced AR processing power open up new opportunities for mobile developers.
And the market is pretty serious about Augmented Reality. Snapchat is gradually moving in this direction with their Spectacles that sooner or later will not just make photos but project visuals on the glasses using them as screens. AR will most definitely become integrated in Google Maps and Apple's "Maps" showing locations' features through camera.
Google does not intend to stand aside too. The company has its own ARCore SDK for Android developers. This SDK was built in close collaboration with Unity's XR team which makes it a perfect tool for developers. ARCore SDK allows to develop high-performance AR Android apps and upgrade existing apps with exciting AR features. So if you're thinking about the development of AR app for Android devices, now is the best time.
In the meantime, AR is not all about entertainment. The technology can bring a lot more practical-use functions for mobile devices users. So whatever business you own, an app with incorporated AR can be a real game changer for you. We have described in one of our articles some AR applications that can be useful for a businesses. So in brief, AR can be a helper if you are involved in:
Supply chain (many huge furniture markets already use application with AR allowing the potential customer to check out whether a piece of furniture they like will fit into their living space);
Logistics (to improve warehousing, speed up cargo loading and many more);
Design (of all kinds starting from tattoo design and ending with visualizing a concept of a complex object or machinery);
Education (to add some game elements and demonstrate some processes better);
Construction (to create and take a look at the object before starting a real construction).
There are way more spheres where AR can be of use. Just check out some top AR app ideas shown in the video below to get inspired.
Already have your own AR app in mind?
Virtual Reality
Nowadays, using virtual reality in other fields except gaming is still kinda expensive as it requires special hardware such as VR headsets or VR glasses. Nevertheless, there are multiple ways to implement this incredible technology into life. For example, the first VR cinema has already been opened in Amsterdam where visitors can experience the immersive power of virtual reality. Moreover, VR headsets are used to treat anxiety, panic attacks and phobias which means that VR has many benefits for healthcare industry.
Some other industries that may benefit from VR are architecture, 3D modelling, gaming, real estate and film making.
P.S. If you're still confused by the types of reality (because you are used to just reality), we have an article explaining the difference between virtual, augmented and mixed reality.
Blockchain 
Blockchain is one of the most revolutionary technologies that many business owners and startupers incorporate when building their mobile applications. Blockchain technology is used for apps that are related to trading and cryptocurrency. It makes the lives of traders and miners easier because their cryptocurrency is totally under control and is always safe. In general blockchain technology is the best and is used in mobile app development because it is:
Reliable and stable;

More secure (because it has high level of data encryption);

Easy to use (it is probably the most user and developers friendly technology in the segment);

Constantly updated (since this technology is new and growing, you will benefit from regular updates and improvements).
Thanks to blockchain the cryptocurrency used in a particular application can be used for various transactions and real payment operations. So all your traders need are their own e-wallets to store currency and then spend it. 
Blockchain can be also used to create applications allowing users to pay for real goods using bitcoin or cryptocurrency. F.e. some big restaurants and fast-food companies already accept cryptocurrency payments and their food delivery applications include such payment method. 
Are you interested in building your own app using blockchain technology? We have experience in this field!
One more big mobile development trend of 2020 is related to mobile wallets. Two business giants like Samsung and Apple represented their mobile wallets some time ago. But only now the popularity of them skyrocketed. Users finally understood all advantages and convenience of a safe platform for money transactions and started actively use their mobile wallets. They will get more and more popular because current market shifted to e-commerce and many internet payment systems require safe channels for performing transactions. 
Apps for Wearables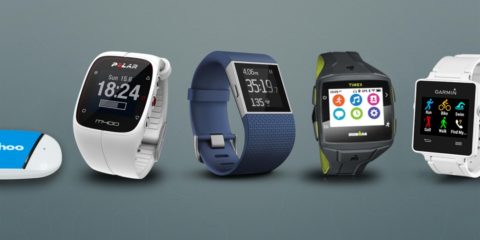 New Android Wear Update as well as the presentation of 5th Apple Watch generation show a steady movement toward autonomy and self-sufficiency of wearable gadgets.
Now Android-powered smartwatches can play music from inbound disc space and make calls or send SMS, using their own cellular module. Additionally, Android Wear 2.9 introduced a full-fledged app market for smartwatches with connection to other smart devices (IoT). Apple Watch 5 has pretty similar capabilities but the most notable of them are electrical heart sensor, improved overall performance, better screen, and smaller size.
All these advancements in wearable gadgets open new possibilities for mobile app developers and those who already have a mobile app. Here is why you might consider building your own app for wearables:
It's a

must have upgrade for any sports app

able to increase your users number.

It offers

extra monetization strategy

with a wearable app version upsell.

Your standalone smartwatch app

can be sold on Android Market and App Store

.

You receive the

additional competitive advantage

useful for marketing of B2B mobile apps.
So as you understand, it's about time to develop lite versions of mobile apps that are specifically designed to run on wearable devices or at least to consider wearables when making apps for smartphones.Are you wondering whether it is possible to optimize your mobile application for wearables? Yes, it can be done in a few following steps:
Clear an app from all secondary functions.
Keep only 1 to 3 most vital use cases.
Redesign wireframes and UI.
Straightforward user journeys to 2 screens max.
Make use of physical buttons (Must do for Apple Watch).
Take advantage of a new notification UI (Android Wear).
Resolve all possible connectivity issues.
Need help with building a lite version of your mobile app or want to develop an app for wearables from scratch?
IoT Development
The prices for sensors are falling faster than ever, thus, making IoT affordable for private sector. In particular, Google claims that it managed to cut prices for its autonomous cars' LIDARs up to 90% (source). Other advanced sensor technologies are also become used more widely.
Analytics prospect IoT market to expand from $157 billion in 2016 to about $661 billion by the end of 2021. Which means a growing number of sensors and devices to connect and control. It creates a nourishing ecosystem for further development of IoT devices. And smartphones are the best portable devices to work as a remote control for those wide arrays of sensors.
Therefore, software development for IoT devices is already in great demand will continue to be so in the future. There are many industries that mobile app developers can exploit. If you're interested, we've explored this topic previously in two articles about IoT for office spaces and IoT application in 5 business domains.
Want to make your office smart or looking for IoT app for a specific business niche?
Instant Apps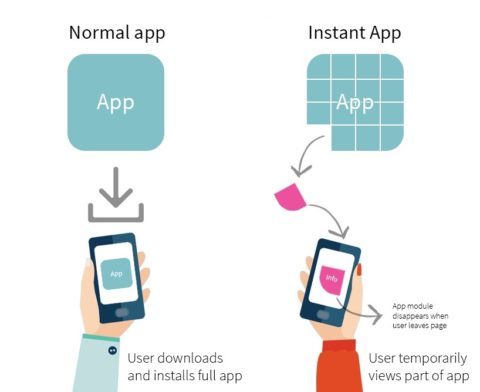 The internet is the home of content, all content, internet itself is the sum of data, an eternally expanding pool of information and a knowledge mine. On the other hand, disk space on our smartphones is a limited resource that is even more precious nowadays when you can shoot HD video with a few clicks.
Google sites that disc space shortage is second most important reason why users decide to delete a mobile app. So why not to stream mobile apps instead of downloading it to our precious little flash drives?

App streaming technology is called to deal with disk space shortage and bypass a balky way of installing apps through App Store.  The technology provides better user experience, lower user acquisition costs, and an increase of average lifetime value.
Chatbots and AI
Siri, Alexa, and Cortana are becoming more intelligent day after day as well as neural network algorithms that drive them. With the right idea in mind this extra intelligence can be put to use. Analytics in Gartner forecast that cloud-based neural networks will process over 40% of all interactions between users and mobile apps in the nearest future. 
This is exactly what chatbots and app developers are here for: easy-to-implement intelligent services like 
Natural Language Recognition, 

Multi-language Support, 

Image Recognition,

Face Recognition.

Frankly speaking, there is no need to integrate chatbot functionality in every mobile app. Development of an understandable mobile interface may become the link between customers and artificial intelligence we all have waited for so long. Chatbots are not new but as they become smarter, they give way to conversational AI which means that your smartphone will soon be like the robot from the film "Her". 
Bottom Line
On top of mobile trends listed above it should be mentioned that app performance and security will remain relevant for all time app market exists. What you also should not forget about is app design. Even if your solution is packed with cool features developed using all latest trends, it may be not visually appealing and intuitive. 
Users appreciate only those solutions that can be easily understood and used. So apps with great UI & UX, that have great performance and ensure users security will always be in high demand. And we develop the apps like that. 
Already have an awesome app idea?