Apple products have entered our life long ago and instantly became our irreplaceable pocket helpers. Mobile applications for iPhone and iPad entertain users, help small businesses and global brands to attract more customers, automate many tasks and boost revenue streams, and also they give all creative startuppers an opportunity to make our world a better and smarter place.    
Mobile app development is a huge trend right now especially when it comes to solutions for Apple devices. And since we are a software development team with a tremendous experience in iOS development, we'd like to share with you all crucial  details. 
We will describe the development flow, processes, trendy technologies and explain how the development cost is set. So let's delve into this topic right away and find out how you can empower your business  by developing native iOS apps.
💬
Related post
In case you still cannot make the decision which mobile operating system to choose and what market to enter, we have a post that can help you to make the final choice. That post is about native iOS and Android apps, web apps, and hybrid solutions. Read it here for more information. 
Why iOS development is a good idea
When it comes to iOS app development, many startuppers and business owners start to weigh carefully all pros and cons of it. After all, the development process takes some time and effort, and also has many risks. So it is understandable that people investing in iOS apps want to be sure that it's all worth it.  
We always thought that numbers speak louder than words, therefore we explored the market and discovered that last year almost 218 billion iOS apps were downloaded from the App Stores. Can you imagine the number of users you can get if you build an app for iPhones? 
Although the variety of iOS apps on the market  is huge, there is still a place for something new, custom and inspiring. On top of that, iOS is considered to be the most reliable system that:
And let's not forget that the number of active iOS users keeps growing. According to the report about Apple's sales, as of 2022 there are more than 1 billion iPhone users all over the world. So you can imagine how broad your target audience can be and how much revenue you can generate if you build a truly useful high-quality app for iOS devices. 
In terms of business benefits, Apple's ecosystem is considered to be one of the safest. So by building an iOS solution for your company and employees you can be sure that all your business information and sensitive data will be safely stored and rationally used. 
Plus the performance, customization and convenience of the custom iOS solution will pleasantly impress you and perhaps even open new business horizons. Ready-made solutions may still be good for business, but chances are that they cannot be adapted to your particular processes or production. And a custom iOS app will be a perfect fit for your business.  
Our iOS app development services
Perhaps you've already made a decision to empower your business and develop iOS apps, but do not know what kind of services to choose. Well, since Altamira has been building next gen mobile apps for Apple devices for more than 10 years, we'd like to showcase our services card as an example of what a highly skilled team can offer you. 
Although there are many iPhone app development companies that you can find on Clutch or Goodfirms, you should hire the one that has relevant experience in your business niche. This will help you to avoid many challenges and risks. 
For example, our team specializes in development of native iOS apps for healthcare, real estate, retail, manufacturing, logistics, education, insurance, finance and trading industries. In case you already have an Android app and want to build its iOS version, we can do this in no time. And we also are skilled when it comes to development of cross platform apps and hybrid solutions. 
Speaking about our iOS app development services, the full list of them includes but is not limited to:
We strongly believe that innovation is what drives business success, therefore with us you can build a little bit more than just a solution meeting your needs and requirements. You can create smart digital helper powered up by the latest technologies such as: 
Big Data;

Artificial intelligence;

Machine learning;

Augmented reality; 

Internet of Things. 
Who can benefit from cooperation with Altamira
It is not a secret that businesses have different end goals, and therefore require specific approaches. That is why it is so crucial to find a mobile app development firm that has not only skilled iPhone app developers, but also other qualified specialists who will help you during this technical journey. 
Here at Altamira we have a cohesive team of 120+ specialists who perform market research, business analysis, project management, iOS development, quality assurance, delivery and maintenance. We work with businesses of all sizes and enterprises, and have vast experience in launching startups. 
So in case you are still wondering who can make use of our software development services, take a look at this list below: 
Business owners who need digital transformation and a robust iOS app;

Companies and startups that need

to scale up

their in-house iOS development teams;

Startupers looking for

dedicated team

to outsource app development;

Businesses that require software modernization and implementation of new technologies. 
Whatever app idea you have in mind, we can turn it into a real project using the right approach and all the experience we've gained building complex iOS projects for our clients. 
Benefit from our services
Let's create an incredible iOS app that will boost your business in no time.
The approach our team uses for industry-specific iOS development
As we've mentioned earlier, our iOS app developers specialize in building industry-specific solutions using Swift programming language and various technologies. However, we know that writing high-quality code is not enough. You should take care of many other important business aspects such as industrial standards, compliances, guidelines, requirements and more. 
Therefore we offer our clients not only the most professional development services but also a special development approach to deliver software with expected business outcomes. When we build mobile apps for iOS devices we take care of: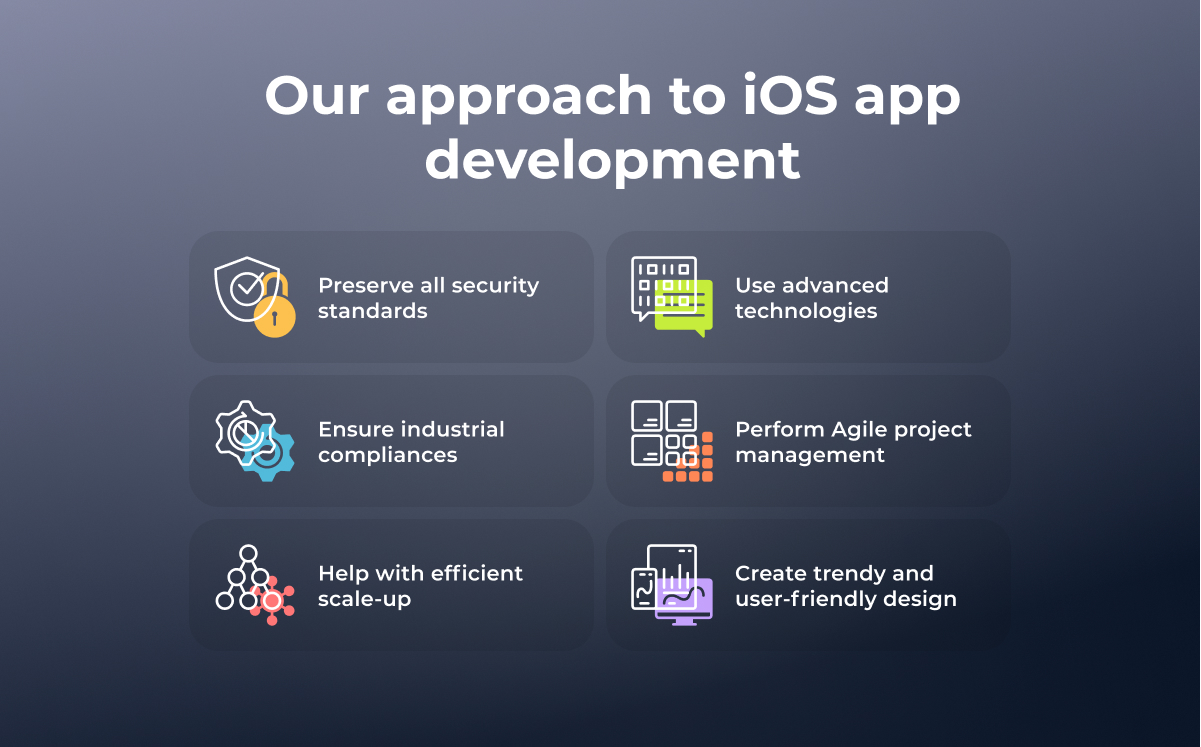 All security standards – we always use encryption, additional security measures, and perform manual and automated testing to discover issues and fix them immediately. On top of that, safe user authentication and security logging are our priority, so with solutions for any iOS version developed by us you can be sure that all your data is protected. 
Industrial compliances – since we create software for different industries, we had a chance to learn all necessary standards and use that knowledge on practice. For example, we follow HL7 standard for healthcare solutions, preserve PCI DSS for apps working with card payment processing, follow GDPR compliance checklist and HIPAA rules, and many more. 
Advanced technologies – we had many cases when clients came to us with the request to slightly modernize their solution and then ended up making it more smart and feature-rich thanks to our technicians. Since they work with all trendy technologies, it is never a problem to implement them into your iOS app and even perform all necessary integrations of third-party tools and services. 
Agile project management – our team has talented project managers who perform communication with our clients, provide them with all necessary finance reports and progress updates, and control the deadlines. Once you choose our team, you get your dedicated project manager who will stay in touch with you, answer all your questions and supervise the process of creation of your iOS app. 
Efficient scale-up – among our iOS app development services there is a scale-up proposition that helps businesses to get our experienced developers, expand their in-house team and grow their project. You can hire iOS specialists of required seniority level with knowledge of necessary programming languages, industries and technologies. This is a major advantage since our team is big and you can hire developers who specialize in healthcare solutions, real estate, retail or others and who can enrich your team and speed-up the development process.
The Altamira team can help you not only create high class iOS solutions but also make a smart ecosystem that will make your work way easier. We can spice up any business solution with useful advanced features such as chatbots, geofencing, gamification, fraud detection, etc. Then wrap those features up into a user-friendly design and ensure incredible UX. 
Whatever bold idea you bring to us, we have a wide talent pool full of iOS developers who can guarantee deep involvement into your business niche and project, timely delivery, transparency and flexibility. Our main goal is to provide you with the iOS solution meeting all your requirements and fitting your budget.
💻
Must-read
Perhaps you are starting your first development journey and feel a little bit worried. After all, there are so many possible pitfalls and issues that you can face. And it is better to be well prepared, that is why we'd like to share with you our blog post covering challenges of mobile development and practices helping to deal with them. 
How we build iOS apps: process and technologies
The development of iOS apps is a complex process that includes several main stages. Although everything starts with the app idea and predefined budget, it's not enough to end up having a solution you initially wanted. Before you get all set and ready iOS app, it will go through the following steps. Let's talk about them right away. 
Market research 
Before building anything it is necessary to explore the market, identify your business needs and understand what users, employee or customer experience you are trying to achieve. Here at Altamira we help clients with the market research and call it the Discovery stage. 
We will help you discover all development uncertainties, select proper tech stack and write all technical documentation for your iOS solution. Here is how the research is performed and how long it takes: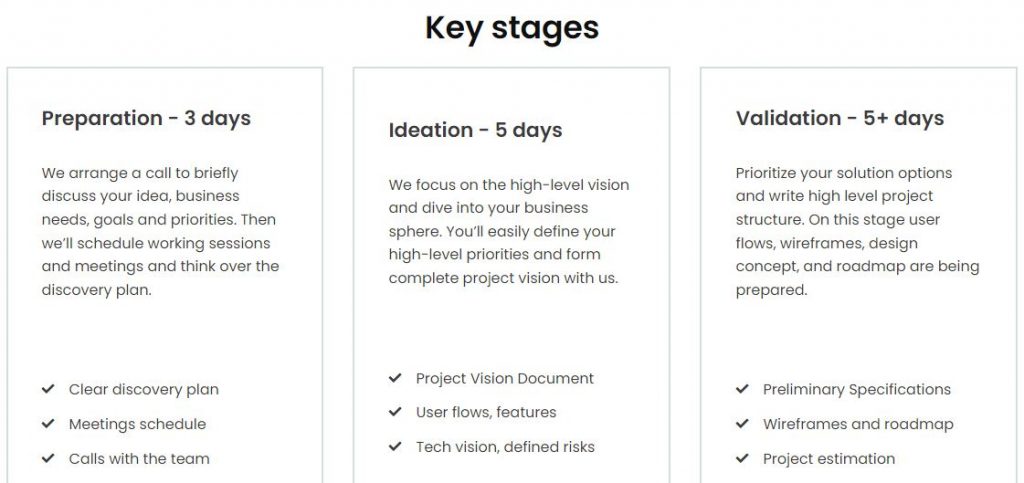 During the Discovery stage we create product strategy and detailed plan, write project requirements, define every key role of the tech specialists involved in your iOS app creation, and break the project into smaller parts – sprints. 
Prototyping and app design 
Once a plan and technical documentation is ready, we proceed with the prototyping and design. Our team has award-winning iOS app designers who create visually pleasing and highly intuitive solutions. Altamira designers pay attention to every single detail, select a proper color palette able to highlight your brand identity, work on seamless user interaction with an app, and design a bunch of unique elements. 
Having deep knowledge of dimensions and resolutions for proper iOS design, our specialists choose perfect shapes for app icons, pursue the grid system, and take care of DPs. They do everything to make your app look good on devices with different screen sizes. And of course they make the design responsive and trendy.  
Mobile app development and QA 
The next crucial step of iOS app creation is coding. Altamira developers write high quality code, implement new features and technologies, and perform all required integrations. 
Since the development process is iterative, each project milestone will be carefully checked by our quality assurance specialists. They will test performance, connectivity, load on device, and look for possible bugs and issues that could have occurred during the software development process. Our QA specialists use manual and automated testing, so no bug shall pass and ruin your app.  
💬
Related post
For more information about software development life cycle, check out this blog post. It covers all stages and describes in detail how it works and what to expect during project development. 
Technologies used by our team
By cooperating with Altamira you can be sure that only a robust tech stack will be used to create your iOS solution. Here is an infographics demonstrating what technologies, databases and tools our iPhone app developers utilize: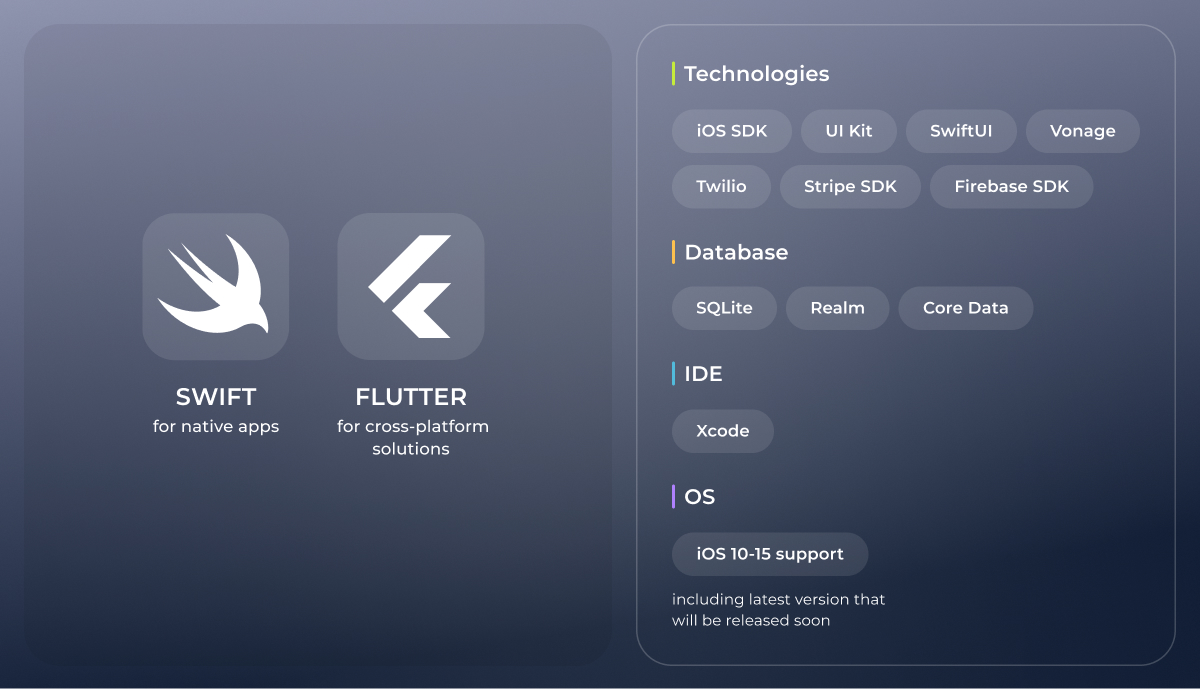 When it comes to integrations, you can be sure that all necessary payment services, social networks and APIs will be successfully added to your app. We preserve all industry-specific standards and compliances, so your solution will definitely last you for years. 
App release, submission to the App Store and maintenance 
Once your iOS app is all set and ready, it gets released and submitted to the App Store. The submission process can be a little tiresome and tricky, so we always help our clients with the preparation. We create all descriptions, screenshots, videos and submit the app following all the guidelines. 
When your app is accepted by the store, all you need to do is observe how your user base grows and collect feedback. Your users will point out what they like and dislike about the iOS app and based on their reviews you can proceed with app improvement and maintenance. Our team also helps with that. 
The cost of iPhone app development services 
By now you may be wondering how much money you need to build an iOS app from scratch. Well, although it is hard to name you the exact cost upfront, we can provide some numbers to orient on. The thing is that the development cost depends on many factors such as app complexity, tech stack, number of involved specialists, presence of integrations, etc. 
So we always recommend getting in touch with our experts and requesting a rough estimation of your project. After such consultation you will know how many development hours your project requires and how many specialists you actually need. 
All iOS app developers have different hourly rates that are set according to their seniority. For example, at Altamira the services of iOS engineers cost: 
On average the development of an iOS app takes 3-4 months for MVP and up to 6 months for a fully fledged product. And the monthly development check can be up to $50,000. But once again, everything depends on the project complexity, so it is better to request a quotation from your team.
Get a quotation now
Our team is ready to discuss your app idea and provide you with a rough estimation that will help you form the right budget.
Success stories and mobile apps that boosted businesses of our clients
We are sure that examples speak louder than all great words said about the professionalism of our iOS app developers. Therefore we'd like to share with you three incredible success stories of our clients. They all have different businesses and pursue different goals, but what united them is the need for reliable applications able to turn their business to a whole new level. 
Our mobile app developers helped to turn all ideas of our clients into real solutions, and what's even more important the development process was a pleasant experience for both parties. Let's wait no further and take a look at those three apps we were referring to. 
Includmi
Includmi is an iOS project with a truly noble goal. Its owner is David Paice who wanted to support kids with special educational needs and help schools, NHS and locality commissioners to identify kids needs, encourage informed decision making,make education more inclusive, and evaluate the success of all the efforts. Our designers created a clean and yet stylish UI and incredible UX for this app, just take a look at it: 
Our developers kept all David's goals and requirements in mind and created a multifunctional native iOS application. Here is a short list of the options that were added: 
Includmi is a holistic solution that works with real-time data, stores and processes a lot of information about kids, provides advanced feedback and reporting options. Of course such a solution required a high security level that was ensured by our software engineers. 
All in all, this project was already tested by schools and our client received only positive feedback about it. To find out more about this success story, read our interview with David here.
INCINQ
Yomi Ogunyemi came to us with a fresh and brilliant idea. He wanted to build a brand new iOS app for blind dating. While all other dating applications on the market make you choose your date based on the pictures, INCINQ app should have let people evaluate personality first. 
So our developers paid special attention to the feature set and implemented virtual matchmaker, internal portal and chat, date scheduler, voice assistant, and advanced user profiles along with an admin panel. The designers also worked hard on INCINQ and ended up creating a look with a hint of retro wave using dark colors and violet accents. 
As you can see, the app turned out very fresh and unique. Users already appreciated it and as our client said to us in the interview – his audience keeps growing very fast.  
Livetag
Livetag is an iOS solution for e-commerce business with a trendy live streaming option. It is a real innovation that drives marketing and sales and engages users. Livetag is a real finding for all retailers who strive to boost conversion rates. 
It is a native iOS application that offers a convenient and intuitive user experience and minimalistic stylish design. Our client was impressed by the developed solution and already enjoyed it in action: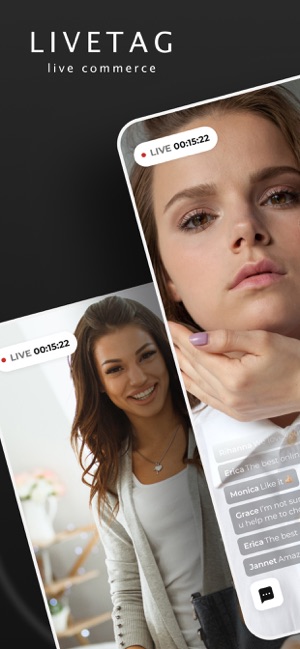 It's an undeniable fact that iOS apps have a positive impact on business. They help to create brand image, improve brand recognition and customer engagement level, introduce self-service options for clients, and streamline operations in the company if you integrate your iOS solution with other BI tools. 
Solutions for iOS devices can be fairly called a good investment that will definitely pay itself off sooner than you expect. With a wide variety of iPhone app development companies on the market it is not hard to find a vendor who will deliver a necessary app. So don't put your app idea aside and benefit from our iOS app development services to gain a huge competitive advantage and many other business benefits.