According to the latest research from Statista, the amount of mobile POS users is expected to reach at least 1.88m worldwide. Major companies dealing with retail businesses or full-service restaurants are showing the tendency of replacing the traditional POS solutions with mobile POS systems for the purpose of streamlining processes and enhancing customer experience.
The traditional POS system entails a manual way of things – manual inventory management, and manual tracking of transactions for the whole day on the local server. While mobile POS systems store all customer data in the cloud, providing real-time records and updates.
Thanks to mobile POS, all devices are connected via cloud technology, automating numerous daily operations, saving time for employees and customers, and having a positive impact on customer experience with your brand in general.
This article is dedicated to discussing the perfect collection of all pivotal POS features in one custom mobile POS development. Here we point out what this development should entail and what real value it brings to small businesses based on the extensive experience that the GBKSOFT development team has with these types of solutions.
Why your business needs a mobile POS software 
For the last two years, the number of digital payments has increased by 40% and is expected to double by 2025. Mobile POS systems provide customers with smooth online order creation, payment processing, and delivery, emanating a great customer experience and a positive long-term vision of the brand.
If you are still hesitant as to whether your business needs to replace a traditional POS system with custom mPOS development, then the benefits that we will discuss below will surely convince you of the importance of doing so for your company's sake.
Enhance the service quality
Mobile POS system speeds up the whole process of order-making, no matter if the customer places the order at a physical retail location or online. In the first case, the customer's purchase history is noted in the mobile app by the worker and automatically sent to the kitchen or warehouse. So while your worker and a customer are still discussing the order, it is already being processed.
In the case of online purchases, the benefits are pretty obvious as customers don't have to call their manager to make an order as they can easily purchase what they want in the smartphone app and conveniently track the status of their order on their smartphones.
Easier mobile payments – increased sales
Online payment processing becomes quick and easy as customers can add their credit card information and seamlessly use it to buy products or services with no forms to fill out or tedious payment information to enter each time.
The easier it is to accept credit card payments, the more products customers are willing to buy with a click in the online store and there is no need to attend numerous retail stores to buy all needed items.
This benefit is also related to small businesses and enterprises like flight or train companies where some products or services must be included in the ticket. Thanks to the mobile POS system, customers can buy the available items even during their trip via online ordering.
More selling locations
Mobile POS systems provide customers with the ability to pay for their orders even in the local fairs, markets, and other locations where commerce is allowed. It gives more flexibility to workers so that they could change the location and also promote the servicesproducts in a wider area.
Resolve inventory management issues
The lack of automation leads to complications around managing the inventory  – items in stock, low stocks, tracking sales information, and providing monthly and annual sales reporting. Mobile POS apps provide the ability of inventory tracking and management from your mobile devices.
As for customer experience, the high-sales items will always be available in the offline mode and online stores, avoiding their shortage.
Decrease staff cost
No matter whether it is a store or restaurant chain, the mobile apps reduce payroll expenses to highly-qualified sellers or waiters by decreasing their count. Mobile POS system streamlines the internal processes like creating the order and sending it into the kitchen or warehouse.
So while the workers with lower rates make the order or take the dish from the kitchen, more qualified waiters or sellers can dedicate more time consulting the customers, thereby evolving the customer experience to make it superior.
Want to know how your business will benefit from mPOS?
Get in touch with our experts.
How does mobile POS enhance customer experience?
One of the main tasks of custom mobile POS implementation is to evolve and improve customer experience by raising the service and product quality.
As we have already mentioned, mobile POS system can be smoothly integrated with existing business software systems like Customer Relationship Management (CRM) which aims to track the relationships between serviceproduct providers and customers.
Thanks to this integration, the mobile POS system collects information about the most frequent purchases for each customer, analyzing their individual preferences in order to provide them with these products in offline mode stores.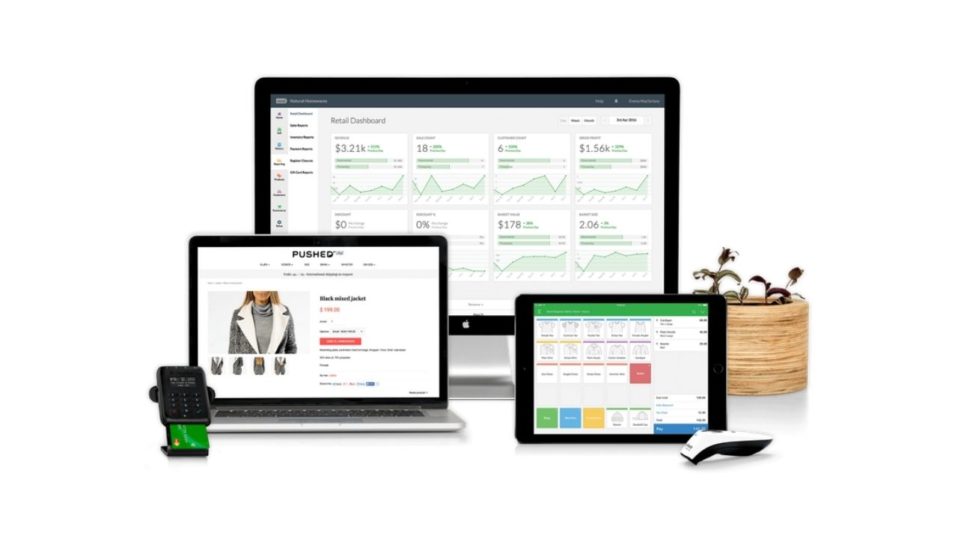 Currently, people prefer online shopping but they also wish to have the ability to try or experience the product in the physical stores while still being able to order online. Mobile POS ensures the shipment or availability of these particular products on the delivery date.
Thus, the store provides the customer with products that are up to their expectations, avoids shortage or waste of the goods, and also lowers the return rate as customers can better know whether they want the items that they are ordering online.
If not, the mobile POS system also collects information about the reason why customers refuse to take the order in order to work on improving service and product quality.
In addition, based on the information about the preferences and purchases of each customer, marketing managers can also adjust their marketing campaign, personalize special offers and promotions to increase the percentage of opened emails, and find out the expected products or services in their stores to make them correspond to customers' needs.
Core features of mobile POS system 
mPOS is a portable Point-of-Sale solution available on different devices including tablets and smartphones instead of the desktop version on computers that are accessible from computers. The mobile POS application is connected to the cash drawer, credit card machines, receipts and invoice printing, etc.
mPOS development can have features according to specific business needs. We have collected the core options mobile POS systems should provide.
1. Conducting online payments
Mobile POS system makes available online payments for online purchases for the delivery and takes away the points (cafes, restaurants, stores, etc.). It allows customers to perform credit card transactions, accept cash payments for online purchases that you take away from the physical location yourself, send receipts to emails, and carry out reward programs.
For businesses, the mPOS system collects all orders, payments, and wireless receipts printing accepts or declines payments, prints invoices for cash payments, and provides particular manage customers who can get a gift card or bonus rewards program.
2. Management of different locations
Mobile POS systems provide the functionality of stock management in different locations of your business, alert about low stocks, and track sales for each location for further reporting on the efficacy of its performance.
3. Customer profiles
Desktop POS allows creating profiles only for employees. Mobile POS system provides more options for customers allowing them to create customer profiles to add contact information including name, date of birth (for loyalty programs), address for delivery, individual preferences, etc.
Thus, customers can easily make purchases online to order the delivery or take in the nearest point, get email notifications about promotions and company news, etc. Additionally, customers can use special offers or bonuses to reward programs via mobile POS software automatically.
4. Inventory management 
Traditional POS provides management of inventory (itemsproducts in stock) only using a computer. The mobile POS system unites all points in one system and shows the inventory for each of the company's branches. All items can be complemented with other related items, pictures, descriptions, prices, and tracked within each branch (location) to prevent low stocks.
5. Seamless integration with existing software
Custom-made mobile POS systems can be easily integrated with existing business software, even if you use market-available solutions for data collection and analysis. Mobile POS system tracks all sales information, calculates taxes, manages inventory, sending its information to general business systems where all data is stored and processed.
6. Barcode scanner
Now there is no need for an additional mobile device for scanning product barcodes as your employees and customers can easily use their smartphones to tap into this functionality. This feature makes inventory management and online purchases easier and more precise.
Concerns in custom mobile POS development
The implementation of mobile POS software is rapidly evolving, replacing the traditional POS. However, this tendency also attracts cybercriminals that are looking to break the mPOS security down in various ways.
We have collected the common concerns about custom mobile POS apps that is mostly a threat to market-available POS solutions, where the technical support and level of security may not be enough.
Customer service and privacy
Customer data security is always the number one concern when talking about mobile POS system. It is obvious that one needs to follow PCI compliance for mobile systems in order to protect customer information including credit card and payments data. Your customers need to ensure that their private information is safely collected and stored.
Shrinkage
Mobile point of sale software allows making online payments by the customer with a little help from the store manager. So while online transactions are processed, there is a risk of losing the payments made in the physical store as all mobile payments are processed in the order they were received. The risk of disconnection between online and offline transactions must be considered during the mPOS development.
Device functionality
Mobile POS software connects several points like a receipt printer, cash register automation, and the sales processes. There is always going to be a risk that some of these connected devices may fail and badly influence the customer experience and trust in your brand.
Staff training
If your retail business has already used a point of sale solution, then mobile POS will make things even easier.
However, if your staff has never used point of sale solutions and everything was recorded manually, there could be a risk of spending much time training employees, especially those who are out of touch with modern technologies.
Employees will require training on how to use new mobile point of sale technology. There may be some employees that resist this technology and any new operating procedures that are created.
GBKSOFT experience in mobile POS systems 
Based on GBKSOFT experience, with time, off-the-shelf mobile point of sale solutions become irrelevant after automatic updates to its functionality or evolution and scaling of your business. Here below you can get acquainted with problems and concerns our clients came to us with and how custom mPOS development is capable of resolving such issues.
Here are the benefits that custom mobile POS solutions bring based on our experience.
ZempCenter
Zemp Center is a mobile Point of Sales SaaS solution seamlessly providing end-to-end business operations within the application. The main task of this mobile point of sale development was to enhance customer management by making the sales process easier and automated, making it compatible and accessible through various devices and operating systems.
The client turned to us with a ready backend SaaS solution, looking to develop a mobile point of sale app based on this solution, which became the number one challenge of our cooperation. Each step of the development process was to be discussed and approved during calls with the client's in-house team of developers.
Despite a rather large number of online meetings and back-and-forths, we succeeded in managing our communication, ultimately creating a highly functional mobile point of sale application with such features as:
Managing/searching for product inventory through barcode scanners
Customer order management and payment processor
Detailed information about all transactions (sales)
Information about the companies that use this mPOS SaaS app
Stock count to prevent low stock and track sales of particular products
Report generation – collecting and analyzing data from various company branches like sales, customers, employee management, and others.
Custom mPOS development for the food & beverage industry
Our client had a request to develop a custom mobile point of sale solution from scratch in order to unite all available sales directions.
To say a few words about the company, it operates in the business of providing different cafes, restaurants, etc with various software management systems used for food delivery, takeaways, physical restaurant order management with diverse cuisine offerings.
They needed a custom mobile POS system because:
Managing and processing orders within their software solutions became complex and arduous;
Lack of diverse options to order food within an app (online delivery, takeaway, etc);
No available solutions on the market that could unite all solutions.
Commonly, off-the-shelf mobile point of sale solutions end up not being a good fit for businesses, especially for those dealing with specific products or services in retail businesses, and the problem of the solution capacity not being able to scale in step with the business growth is one that is all-too-common.
Thus, ready-made POS solutions` functionality becomes irrelevant and not enough to cover all business processes that need to be connected and automated.
FAQ
Mobile point of sale solutions connects all devices like a cash register, printer, data storage automation, and the process of order creation, payment processing, and delivery. It quickens the daily operations, thereby keeping the customer experience on a high level. While the traditional POS, on the other hand, means lots of manual processes.
The duration and cost of custom mobile POS systems depend on the scope of the project specifications defined by clients or by the development partner. Due to our extensive knowledge and experience, the average monthly bill will start from $50,000, while the development process will take anywhere between 4-6 months.
Bottom line
Your investment outlay into a custom mobile POS system is nothing compared with the value and profit your business will gain from evolving your customer experience.
The ready-made mPOS solutions are enough when your business is only starting to grow, but as soon as a business starts to take off – a custom solution is more than likely going to be needed to be called into action anyways.
In custom mobile point of sale development, all potential problems, errors, and risks are considered before the development process even begins in order to correspond to the current needs and future requirements of your business.
Streamline your daily processes with a custom mobile POS solution
Let's discuss how we can help