Creating a successful pricing strategy for your SaaS business is essential for ensuring long-term success. Our Guide provides an in-depth look at the various pricing methods and strategies that can be used to maximize profits. We cover pricing models, pricing tiers, and how to determine the right price for your SaaS product. 
SaaS business is becoming more and more creative in pricing models by combining the most efficient ones or sometimes even inventing those. This is natural because the right pricing model is one of the critical factors in the general success of the SaaS solution.
In Altamira, we help SaaS Startups & ScaleUps to select and sometimes re-evaluate the pricing model and share our experience with the approach and criteria we consider.
SaaS companies that are open and transparent about their pricing are more likely to be successful in the long run. Customers appreciate being able to make informed decisions and are more likely to trust and recommend SaaS companies that are upfront about their pricing.
It is a common mistake to associate the pricing model only with the revenue side of the business, but it also contributes to operating costs.
Revenue and operating costs are the first two main factors that should serve the general monetization strategy adopted in the SaaS product. And one of the most important components of the proper product strategy is understanding the customer.
In order to select the right SaaS pricing model, I recommended to start with understanding and filling in the basic market & product overview.
SaaS Product Market Size & Overview 2023
The global SaaS market was worth approximately 146 billion dollars and is projected to reach 195 billion U.S. dollars by 2023 and enterprises are expected to spend $195 billion on SaaS.
And the SaaS industry has grown by
approximately 500%
in the past seven years.
Public cloud application services/software as a service (SaaS) end-user spending worldwide from 2015 to 2023(in billion U.S. dollars)
The SaaS industry is still in its early stages, and there is a lot of room for new entrants. If you're thinking about starting a SaaS business, or expanding your existing business with a SaaS product, now is the time to do it.
A common approach in entering the market with SaaS is an extension of the existing business automation to sell to competitors, and very often, it relates to those businesses that take some custom niche.
But even if the motive of the SaaS business creation is different, it is important to understand how many customers/end users would need the service you provide. This has a direct impact on cost formation.
You can be affordable for many people, but if the available market volume is limited, a better fit might be bigger but fair cost. This can be assessed by ordering or conducting Market Research in-house.
If the market is limited, it is worth thinking through the scope of SaaS products and including the market augmentation possibilities. Some of the most spread ones are:
Expansion of locations (very often adds the functional requirements to the SaaS product and requires adaptation of additional operating costs in time zones, locations, and promotion materials) 

Similar industries or cross-industries. Trying to make the platforms available not only for the consumers of your industry but concentrate on full lifecycle of the service the end user will use. For example, adding supply, delivery chains, etc.  
Partnerships. If your SaaS covers the needs and provides the values to those partners, systems your end users use, implementing, integrating, partnering with them is a good idea.  
How to Specify A SaaS Ideal Customer Profile
When selecting a SaaS pricing model, it can be beneficial to have an ideal customer profile in mind.
An ideal customer profile is a hypothetical representation of the customer that would most benefit from your product. It should include details such as the customer's industry, size, and budget, as well as their goals and pain points.
You really need to understand your Ideal Customer Profile financial situation. It's a good exercise to spend a few hours in overviewing the current database of users you already have.
How many do they or their businesses make a profit? How much do they spend? How much do they spend for solutions that help them to resolve problems that your SaaS resolves?
Very often, you would discover that you have a few types of buyers, and they have different business sizes (number of employees, revenues, etc), etc.
This information will be particularly useful when preparing the pricing plans and their cost.
Apart from financials, it is also extremely important to understand the Buyer's journey and target them at the right stage.  
As a practical example, one of our clients, a successful B2B SaaS platform, struggled to onboard customers to their platform. As a result of building buyer journey resulted that most of the company's sales department targeted could make the transfer of the tool only during the low season.  
Others just struggled with the client database transfer itself. So adapting the prices and functionality that will make the onboarding of new customers easier would allow generating revenues quicker and more stably.  
Building the buyer journey can be done with customer surveys or based on analysis of already existing SaaS users.  
And one of the most important areas is the identification of your competition. And this goes deeper than just analysis of similar companies out there and the amount of market volume each takes. This is mostly about identifying alternative solutions customers might have to resolve the same business.  
This would later matter in setting the cost and selecting the pricing model and plan structure.  
Why is Choosing the Right SaaS Pricing Strategy Important?
Gartner says SaaS business account for the most significant share of the cloud industry and will continue to grow rapidly. When it comes to SaaS, it often fails to understand how hard it takes to create a good product.
Building a product is just a start. Several SaaS companies spend countless hours creating a great product that they throw into the market and hope for an instant ka-ching sensation.
Worldwide Public Cloud Services End-User Spending Forecast (in billion U.S. dollars)
The secret sauce in creating the most profitable product lies in a crucial area: pricing. Is there any way to market your products? How many dollars can you make? What is the ideal client?
How to Select the Pricing Strategy for your SaaS
Think of pricing like a game of darts: you can throw at random, or you can aim for specific points on the board, but without data to tell you where to aim, you might as well be shooting in the dark.
In reality, pricing for maximum revenue doesn't have to be difficult—you just need the right pricing strategy. Between employee salaries, production costs, and marketing budgets, your pricing needs to cover these costs and more.
Based on the outputs of Market Volume and Customer Profile, you will have the basis to select the pricing model. It is also important to note that the Pricing model can evolve over the product lifecycle, so I recommended to revise the pricing plans from time to time to add /adapt to the market, because of this before investing in the SaaS delopment of a very complicated pricing management system in SaaS.
First, test out that the one you selected would work. Sometimes going with the right pricing model, even if it is different from the one adopted by competitors, can make you successful.
The Best Saas Pricing Models Examples 
The topic of Saas pricing models is definitely a contentious one, with many people having strong opinions on the matter.
If the current pricing model isn't working hard enough, it might be time to switch things up. After all, let's face it. The whole point of a pricing model is to grow your business. To help you on your quest to optimize the success of your SaaS product, I've done some digging.
I'm comparing 7 of the major SaaS pricing models to give you the good, the bad, and the ugly of each one.
Let's take a look at the seven major SaaS pricing models and help you single out which model is best for your business.
Flat Rate Pricing Strategy
Development Costs: Simple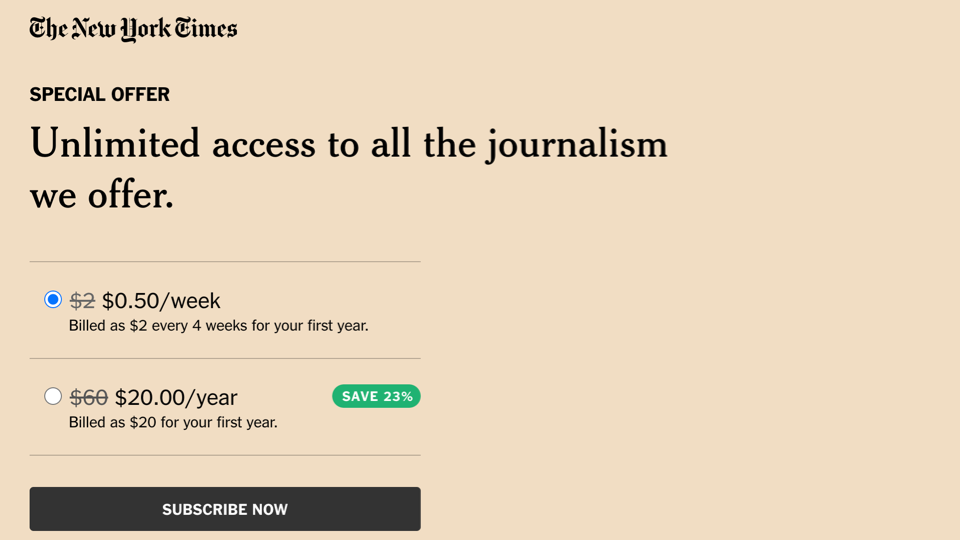 Flat rate pricing is the most straightforward SaaS pricing model available. You offer a single product, a single set of features, and a single price. Usually suitable for the early stages of SaaS.
The flat rate pricing model is straightforward to understand. It can be helpful for budgeting, as customers know exactly how much they will spend each month. This pricing strategy can build a long-term relationship with your customers, as they're committing to using your product over an extended period.
The main disadvantage of the SaaS flat rate pricing model is customer acquisition costs and process, as it can be hard to get people to sign up for a subscription, especially if they're not sure how long they'll need to use the service. So, if you have a high churn rate (meaning people cancel their subscriptions relatively frequently), it can be difficult to maintain a healthy business.
The most popular SaaS pricing models (Inc. 5000 list )

The main disadvantage of the SaaS flat rate pricing model is customer acquisition costs and process, as it can be hard to get people to sign up for a subscription, especially if they're not sure how long they'll need to use the service. So, if you have a high churn rate (meaning people cancel their subscriptions relatively frequently), it can be difficult to maintain a healthy business.
For End Users 
Pros  
Very comprehensive and straightforward to users  

Predictable expenses  
Cons  
No customized options if the client doesn't need all features or would like to have the added features 

Flat rate pricing might signal a "take it or leave it" approach denying that psychological satisfaction
For Your Business 
Pros  
Easy to manage from an operating perspective 

Predictable in terms of revenue 

Easy to sell because of its straightforwardness  
Cons  
if the users are very diversified, and some can pay more, this model won't allow extracting full value  

No flexibility in selling 

Low level of upsell/cross-sell options 
Pay-as-you-go or Usage-based pricing model 
Development Costs: Medium hard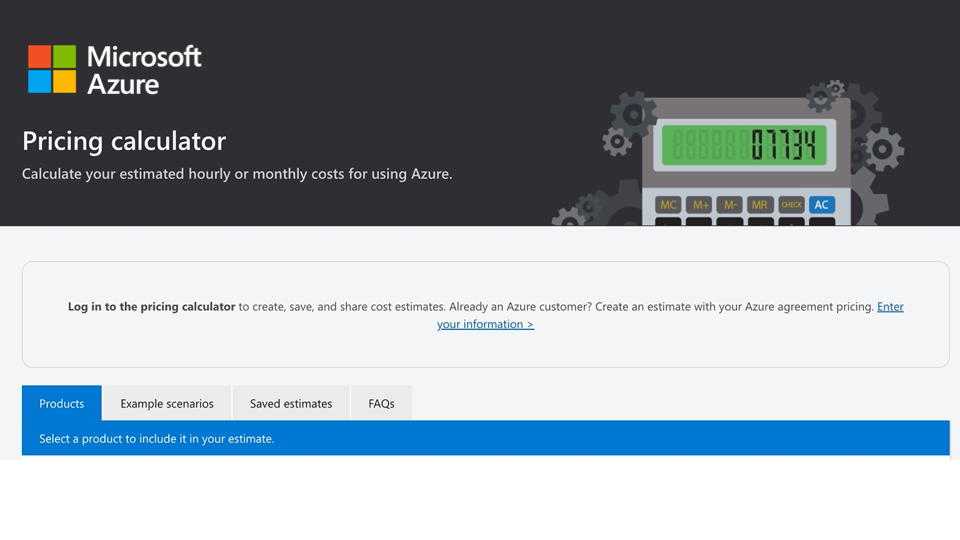 Directly relates the cost of a SaaS product to its usage: if you use more of the service, your bill goes up; use less, your spend decreases. Under this model, you charge customers based on how much they use your product. This could be anything from the amount of data they use to the number of API calls they make.
The usage-based pricing model allows you to scale your pricing based on usage, which can be helpful if you have a wide range of customers with different needs. This pricing model is a great way to encourage customers to use your product more – after all, they're only paying for what they use.
By choosing the Usage-based pricing model, you can struggle with several challenges. Firstly, it can be hard to predict your revenue, as usage can fluctuate monthly. Secondly, if you have a high volume of users, it cannot be easy to keep track of usage. Finally, some argue that usage-based pricing is unfair to customers who use your product less.
Usually good for SaaS with net cost dependency on the used space & big data sets
For End Users
Pros:
Medium complexity to comprehend.
Well received by clients since the spending is directly connected to the use
Cons:
For Your Business
Pros:
Ability to link direct space expenses to the revenues generated
Avg challenge to sell
Gives the flexibility to upsell
Cons:
Complex to operate due to variability
Low-level predictability of revenue
Development Costs: Medium hard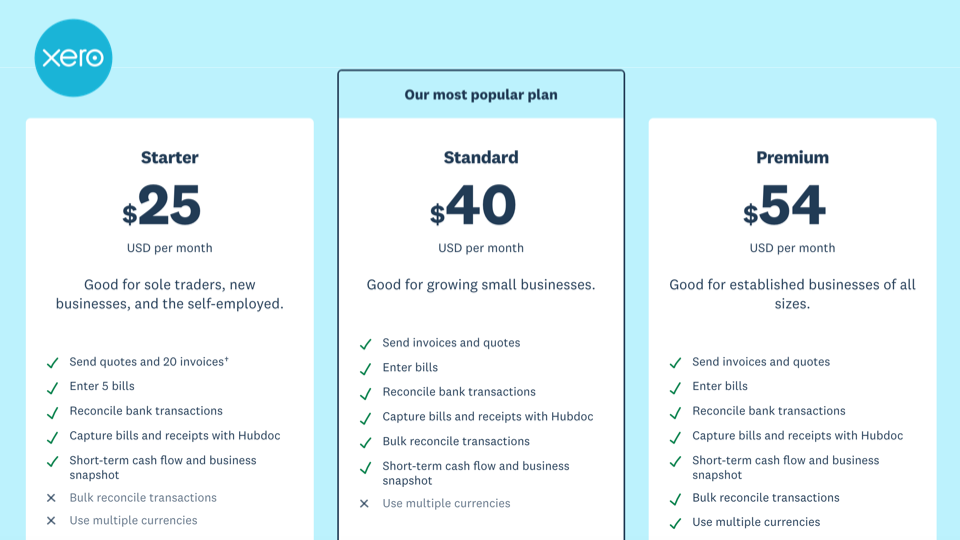 The tiered pricing model is often used in the software industry. Tiered pricing allows companies to offer multiple "packages", with different combinations of features offered at different price points.
The lower-priced versions usually have fewer features than the more expensive ones. This pricing strategy can be a way to increase profits, but it can also be used to appeal to different markets.
For example, a company might release a basic version of its software for a lower price, intending to attract budget-conscious consumers. It would then release a more feature-rich version at a higher price, targeting consumers willing to pay more for a better product.
Most experts agree that 3 to 4 is the ideal number of pricing tiers for a SaaS business. This range provides customers with a good understanding of their options while still ensuring that many user needs are being covered.
Factors to consider when determining the number of tiers include:
the scalability of the application
the trade-offs between additional tiers and increased complexity
the performance of the application
For End Users 
Pros: 
Easy to understand 

Agile for different types of clients. Each package can be adapted to each customer profile. 
Cons: 
It can be confusing for customers, especially if there are many different tiers 

Discourage customers from purchasing the highest-priced options, even if they are the best option for them.
For Your Business 
Pros: 
Easy to sell 

Big potential for upsell/cross sell 

Easy to operate  

Predictable revenue & upsell planning  

Allows to extract value from clients of different size 
Cons: 
can lead to price wars, where companies compete to offer the lowest prices in each tier 
Per User Pricing and "Per Active User" 
Development Costs: Complicated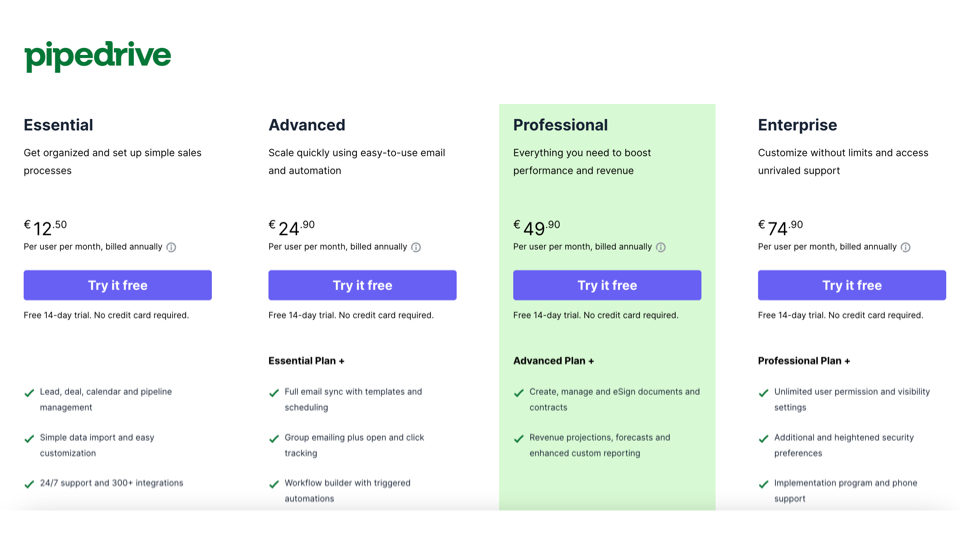 The user-based pricing model or Per Seat Pricing model charges customers based on the number of users accessing the service. This type of pricing model is often used by companies that offer services that many people can use, such as project management software or customer relationship management (CRM) software.  
It's one of the most popular pricing models for SaaS products according to the Pacific Crest's annual SaaS survey because it is simple to understand and scale. 
For End Users 
Pros: 
Easy to implement 

Predictable expenses for the customer  

Customer pay as they grow, not upfront  

Ability to extract revenues from growing businesses 
Cons: 
Not profitable for small accounts 
For Your Business 
Pros: 
Predictable revenue  

Easy to upsell 
Cons:  
Customers might abuse "shared accounts" 

Complicated to operate since some are going to change the number of seats weekly  

Usually shows high churn rates 
Per Feature Pricing Strategy
Development Costs: Medium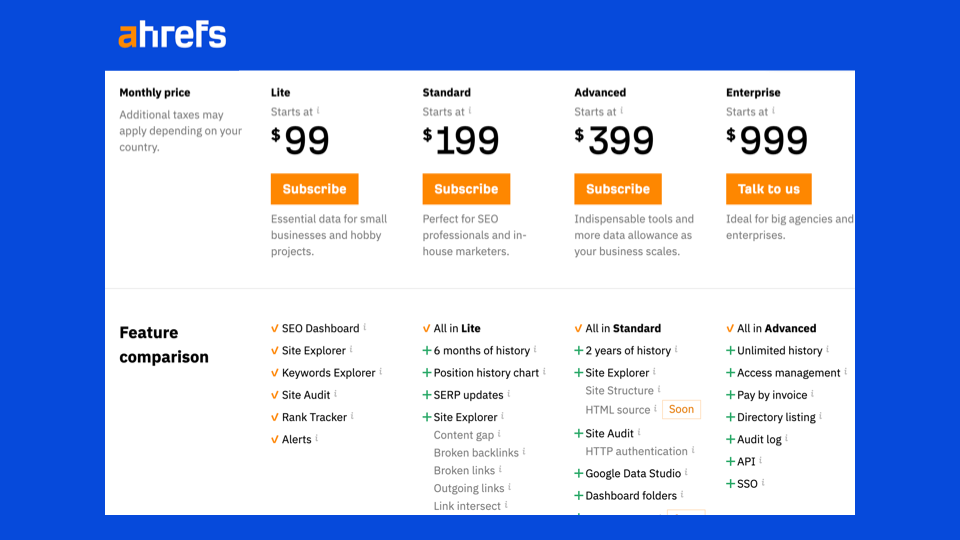 The product's pricing is based on the perceived value of the features and functionality to the customer; the higher-priced packages are associated with a greater number of available features. It is different from the tiers pricing model by strictly limiting the packages to features.
Per-feature pricing can be a good option for companies offering a flexible and easy-to-understand pricing strategy. But it can be hard to decide which features to include in the product and how to price them.
For End Users 
Pros: 
Predictable expenses  

Easy to understand  
Cons:  
Low users satisfaction rates (people pay and still miss features they need) 
For Your Business 
Pros: 
Strong upgrade incentive 

Predictable revenues 
Cons: 
Complicated in elaboration (which features should be in which package). It takes time to calibrate  

Complicated to operate. People will still request help that is done manually 
Freemium Pricing Strategy
Development Costs: Simple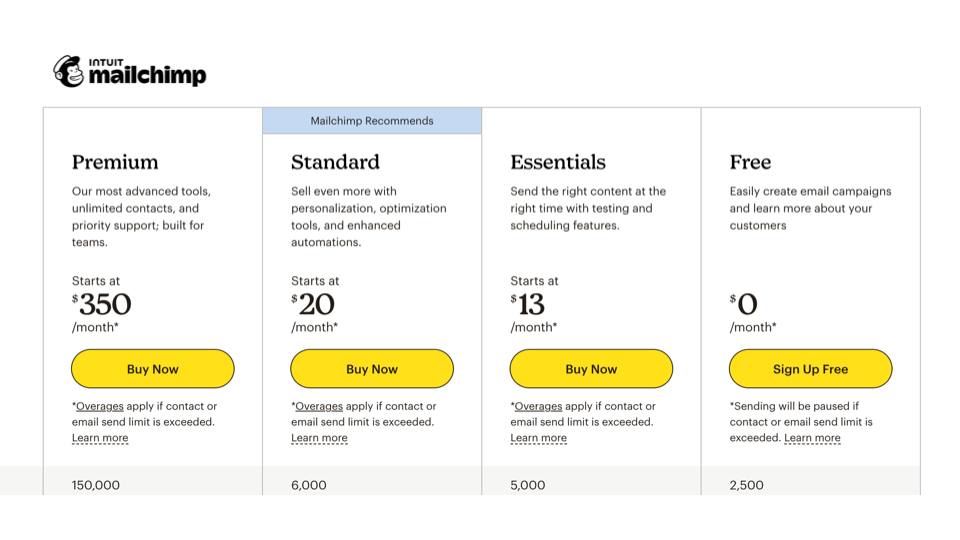 Should you implement a freemium SaaS pricing strategy? Yes — freemium pricing is easily one of the simplest and most straightforward choices in this list. The freemium pricing model is widely used by SaaS companies that want to give people a taste of a limited version of their product.
There are a number of reasons for this popularity, the world's biggest SaaS companies , such as Google and Spotify, use freemium pricing. That shows it's an effective way to acquire more new customers and grow your SaaS business.
However, some challenges are associated with the freemium business model, such as the need to carefully balance the free and paid features of a product or service and the risk of cannibalizing paid users with free users.
For End Users 
Pros: 
Very easy to adapt users  

Viral potential 
Cons  
Difficult to convert free users to paid customers

Can result in a lower overall revenue, as customers who use the free version may never upgrade to the paid version
For Your Business 
Pros: 
Medium predictability of revenue 

Strong upgrade incentive 
Cons: 
complicated in operations: lots of free users you have to service  

It might devalue core service 
Hybrid or Combined Pricing Model
Development Costs: Very Complicated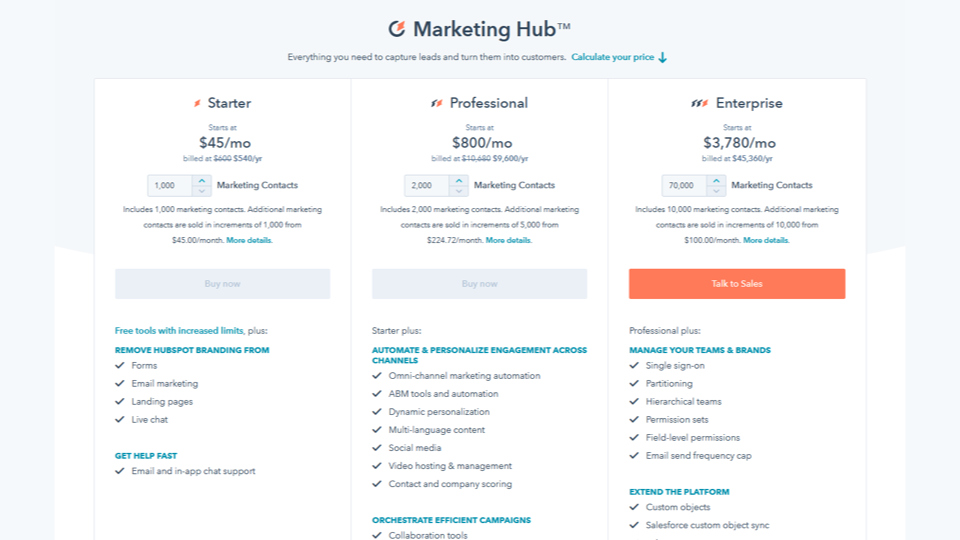 A hybrid pricing strategy allows companies to offer customers various pricing options depending on the features and services they need. With a hybrid pricing, customers can choose between one-time payments or subscription-based options.
By offering multiple pricing options, companies can better meet the needs of their customers while still generating revenue. Hybrid and combined pricing models also allow companies to be more agile when adjusting prices in response to changing market conditions.
I recommend choosing Hybrid or Combined pricing strategy for the later stages of the SaaS lifecycle. 
For End Users 
Pros: 
Cons: 
Complicated to understand 
For Your Business 
Pros: 
Allows to address the problems of all types of users  
Cons: 
Complicated in operations 
How to Align the Pricing Model with SaaS Sales Strategy  
Your pricing strategy has a direct impact on your sales strategy, and if it's not aligned, it can have a negative impact on your SaaS business.
The first step to aligning your pricing strategy with your sales strategy is to know your audience. What are their needs? What are their pain points? What are their budget constraints? Once you understand your target market, you can begin to craft a pricing model that meets their needs.
2. Define your value proposition.
Your value proposition is what sets you apart from your competitors. It's what makes your product or service unique. When crafting your pricing model, you must ensure that your value proposition is clear.
It's important to consider your costs when you're crafting your pricing model. After all, you need to make a profit! Otherwise, your business will not be sustainable in the long run.
Once you have done with SaaS sales strategy and the pricing model, you need to align it with success options, which involves making a few critical decisions: 
Should there be a Trial or not? 

Should I include custom costs?  
What should be a subscription duration, etc.  
These questions can be laid out across three layers: 
Revenue Acquisition  

Revenue Retention  

Revenue Expansion 
Below I`m giving a few tips that worked well based on experience working with Altamira SaaS product customers and might be a good tool for you to make the right decision.
Demos can be a good choice for community sales. If you already have a community of potential buyers with good relationships, a demo would be enough to sell without a need for a trial. 
Trials are a good tool for the initial sale. However, their duration needs to be carefully selected. Not suitable for the Freemium pricing strategy.  
The general trend is for shorter trials since it is expensive to keep the buyer's engagement levels high until they start paying (Engagement level is critical during the first 3m of tool usage). But in any case, trials do increase sales conversions.  

Recommended to have custom trial durations for B2B (the ability to set different trials depending on a user type). This brings additional operations expenses from the help team capacity. 

Requires client engagement tracking by the help team to ensure users are successful with the platform and subscribe rather than drop off. 
Cost Calculators are a good supporting mechanism for complicated pricing models since giving the possibility to predict expenses, which is often a decisive factor. 
Good practice to offer a direct connection with the Pricing team to elaborate the custom pricing model or plan for a customer; it creates additional operating loading but allows to cover all types of individual client requests. 
Onboarding is one of the most critical stages for revenue retention. Most SaaS clients cancel or drop off within the first 3 months of platform use.  
Tips to get client onboarded: 
Assist and make sure the client transferred data into the system (aim to become the unified data source for a client) 

Have buy-in from the client team. Make sure the UX is good.  

Educate how to get most of the platform  

Automate onboarding with guidelines, onboarding tutorials, and videos (videos are the most expensive) 

Ensure there is a help chat and help desk 
Subscription Duration Selection 
Subscription duration is best to select after Market & Customer Overview. Select the subscription long enough to prove the value for a client and onboard their teams.  
Not recommended to go with a duration shorter than monthly except for very short terms services. 

For community sales with high conversion rates, recommended to go with the annual subscriptions for revenue predictability 
The cancellation policy should follow the legislation rules of the target users' location. E.g. in EU, GDPR limits you as SaaS on possible options. The general rules are: 
Add predictability from a drop of: should be at least 1m notice for 1-year subscriptions.  
Suggest other tiers, features, etc. switch the revenue rather than lose it.  

Suggest free months to give it another chance 

Show the consequences of the decision (data migration, etc.) 
Select the pricing model that allows cross-selling, upselling, and not just extension.  

Make sure the software interface reminds users of the additional potential value they will get from the upgrade  

Measure user's engagement scores 
A good practice is to leave the custom options for those users that like the core of the solution but would like to customize and adapt it to their systems and are ready to pay for it. 
integrations with hardware 

change of flows 

adding additional features 

adding permissions sets and new user roles 
Having other "selling and unique" features in the pipeline and using them to retain/upsell/extend current users with the help of announcements and "coming soon" sections.
Selection of the right Pricing Model is not a one-time, isolated exercise. But it is rather an evolving business decision that should be carefully tested, reflected on, and re-iterated.  
Making sure each layer of a customer can afford the product and get the value it is a priority. But the pricing model should also have an available choice of options and tools to support them and test them out for the customers. 
What is SaaS model pricing?
The SaaS model pricing is a pricing system used by many tech businesses that offer software products and services. With this model, customers pay a recurring fee in order to access the software. This fee is usually based on the number of users accessing the software, the amount of storage needed, or the features and capabilities included in the package. The SaaS pricing model is a great way for businesses to offer their software products and services on a pay-as-you-go basis, without having to make large upfront investments. It also gives customers the flexibility to scale up or down as their needs change. Additionally, the SaaS model can help businesses reduce their overhead costs, since they don't have to maintain and update their own servers.
What are the most successful SaaS pricing models?
The most successful SaaS pricing models are those that are easy to understand, flexible, and tailored to the customer's needs. Common pricing models include subscription-based pricing, usage-based pricing, and tiered pricing. With subscription-based pricing, customers pay a fixed fee for access to the SaaS product. With usage-based pricing, the customer pays based on their usage. Tiered pricing is when the customer pays for additional features or services as they need them. Other popular models include freemium, which offers basic features for free and additional features for a fee, and pay-as-you-go, which allows customers to pay for what they use only when they need it. Ultimately, the pricing model you choose should be tailored to your target customers and their needs.
What are the different SaaS models?
Software as a service is offered in 2 models: horizontal SaaS and vertical SaaS. Typically SaaS is used in a vertical way by established software providers including Amazon, Salesforce, and Slack.
What are the 5 pricing strategies?
There are a few different ways that Saas providers choose to price their services. The most popular 5 SaaS pricing strategies are subscription, usage, feature, enterprise, and tiered pricing.