In the past, communications between doctors and patients were limited to in-person visits with no possibility to connect via video chat, messengers, and so on. Once upon a time, constant health monitoring was riddled with complications, often to the point of being impossible. Medical IoT enables constant interaction between physicians and patients for the purpose of 24/7 health monitoring, even remotely without losing the treatment quality. 
Medical IoT or IoMT implies providing wearable devices for all remote patients to track all health indicators, give recommendations, and assist in cases of emergency. Therefore, it has a great and positive impact on patient experience and satisfaction with medical services and reaching the expected results from treatment. Healthcare has really revolutionized the lives of clinicians as well as regular people's lives. And further, we would like to explain why this is a breakthrough in Medtech. 
What is medical IoT?
Medical or healthcare IoT is the process of implementing IoT applications into medical organizations to digitalize medical workflows and treatment courses. Medical IoT aims to provide patients with highly qualified remote health monitoring and treatment of any disease: physical as well as mental. 
Remote monitoring includes telehealth in the form of online consultations, using medical apps to give updates on their most recent state of health and symptoms, wearable devices to record the particular health indicators and send this information to healthcare apps and EHR systems. Medical IoT involves tracking not only the heart rate or pulse of the patient on remote monitoring but also controlling more symptoms, instructions for taking medications and analyzing their impact on health.   
The global IoMT market was valued at $44.5 billion in 2018 and is expected to grow to $254.2 billion by 2026. Investments in IoMT and other digital solutions are already on the rise, and the trend is expected to continue its acceleration in 2021.

Alltheresearch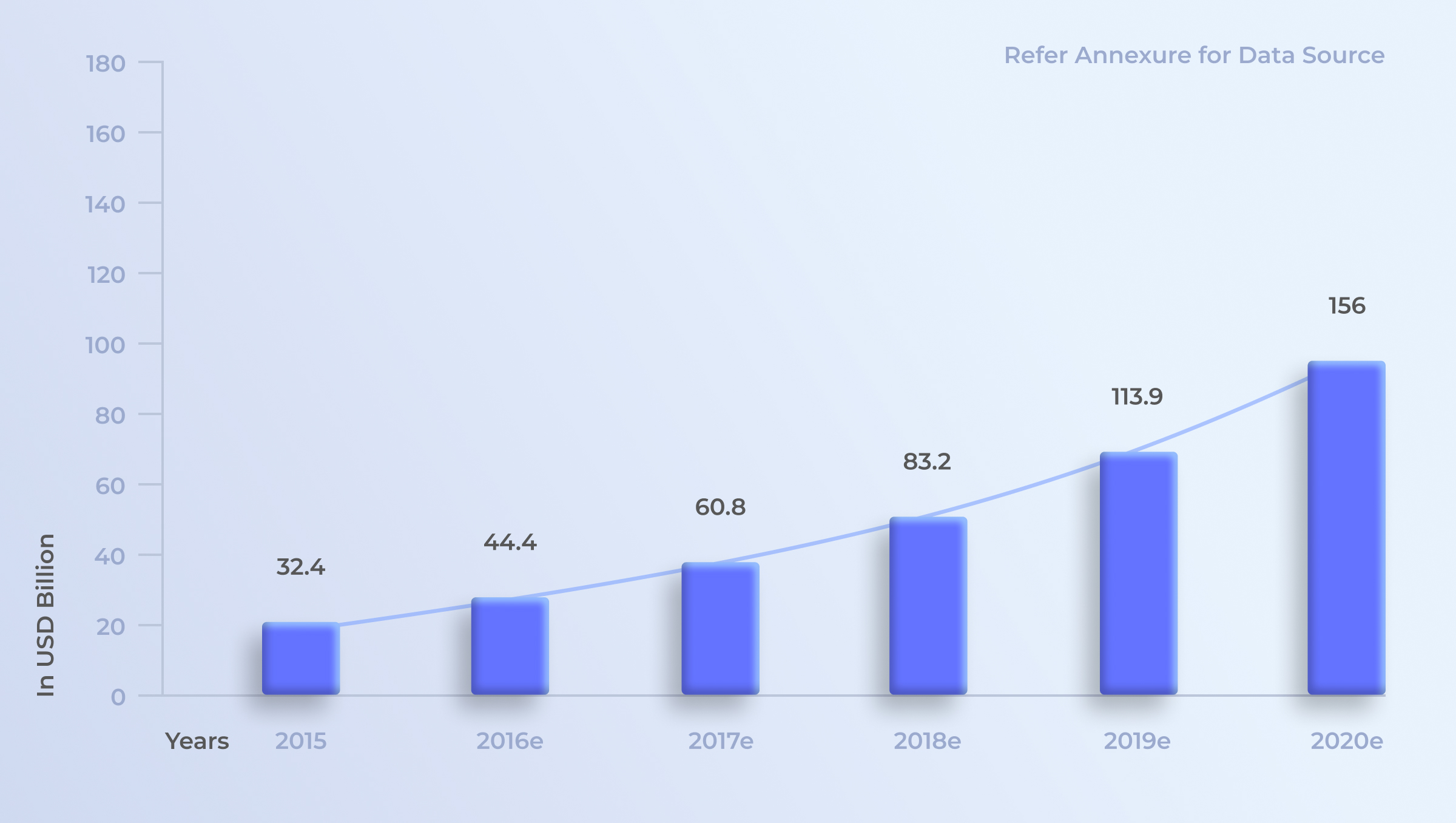 Healthcare IoT is beneficial for participants in the medical world:
IoT for patients
IoT for patients is in form of wearable devices of diverse types like rings, bracelets, sensors, and other health trackers that scan and read their health indicators and remit this data to medical centers, among the key such vitals categories are blood pressure readings, heart rate, glucometer readings, calorie count, etc..
IoT for clinicians
Thanks to medical wearable devices, physicians have the capability to monitor patients' health indicators round the clock to help resolve potential deterioration risks and dangers more timely and effectively; doctors can also track if patients follow the treatment plans and take medications on time. Ultimately, IoT makes the connection between remote patients and doctors much improved and efficient since it analyzes patient wearables data, putting it into the hands of knowledgeable clinicians who are aware of different relevant treatment courses, the progress, and cons you can expect from it, etc.
IoT for hospitals
IoT is also required for medical staff and medical buildings for the purpose of tracking staff tasks execution irrespective of their movement or locations, management of available equipment within a healthcare facility, pharmacy inventory control, etc. Due to the current pandemic situation, many hospitals implement IoT-powered hygiene monitoring devices to keep high levels of cleanliness all the time and limit the spread of infection by keeping to high standards of sanitation.
IoT for insurance
All executed medical operations go through insurance companies; whether it be prior authorization post-facto bills or other things that need to be sent, approved, and processed for payment. Consequently, all patient data is used by insurers to track the client`s activities, IoT is to bring more transparency, clarity, and equalization in the relationships between insurance and their customers as both sides have access to all information like medical services, claims, bills, invoices, etc.
IoMT ecosystem components
The IoMT system is composed of two main interfaces – home-care unit and healthcare terminal. Basically, medical IoT apps enable exchanges of data between patients and medical facilities and require interaction from both sides. 
You can also find more details about IoMT architecture in the Aranca report by the link 
Patient side
Each remotely monitored patient should be provided with the following equipment:
Image registration that is used to scan or take photos of documents;

Wearable device to measure ECG, BP, and oxygen in blood;

The user interface in mobile or web application

The modem that converts digital data into electrical signals.
Physician side
Correspondingly, the medical worker should have all equipment to receive and analyze patient data, namely:
Doctor interface of the application for remote monitoring;

Modem to receive real-time data transmitted via internal network between the clinic and remote patients;

Physician camera that consists of main, auxiliary, and document camera.
Along with patient and physician functionality, the internal network stores data that consists of all information sent and received by both sides and provides data analytics for improving remote health monitoring.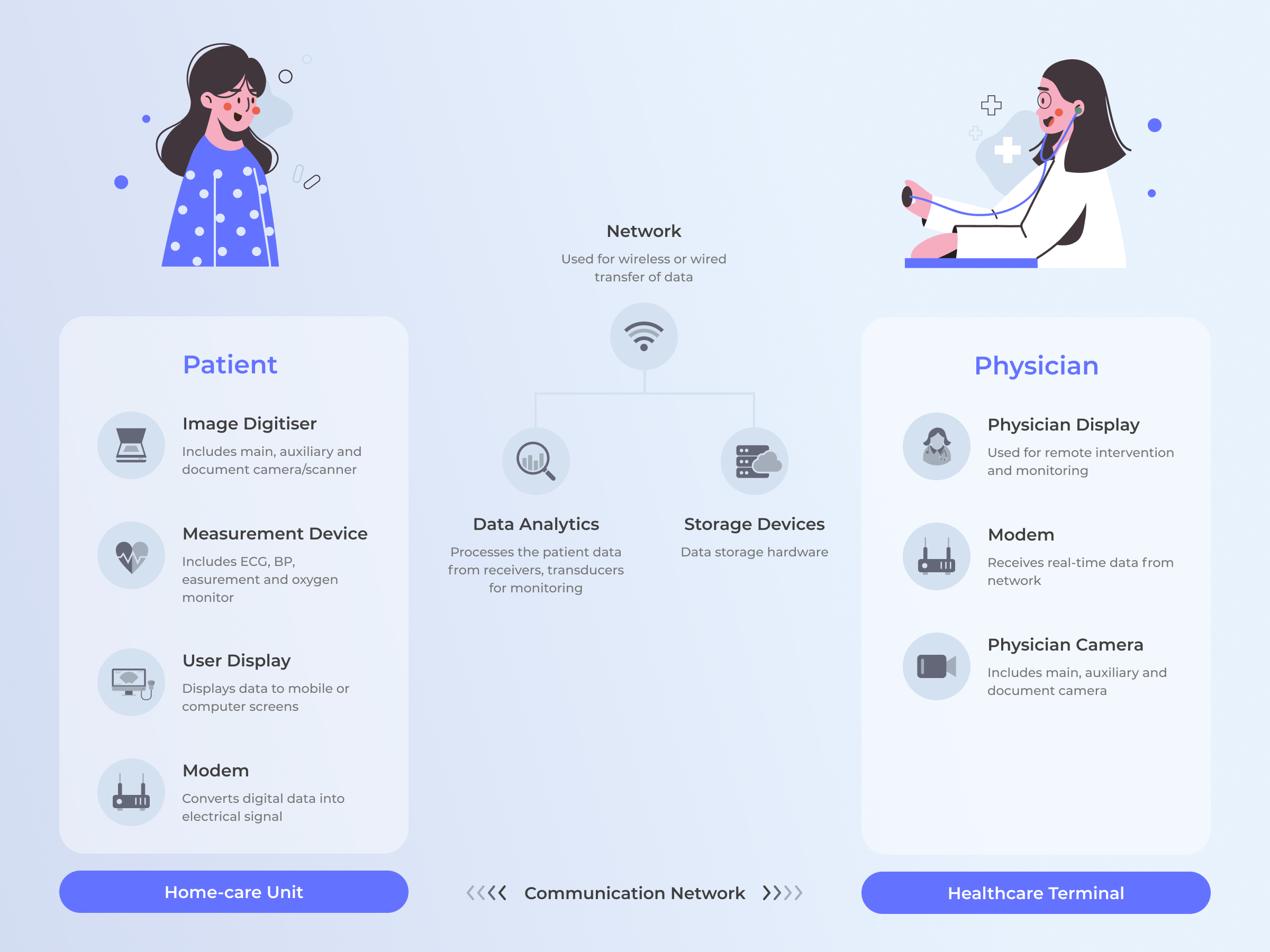 Real-life IoMT use cases:
Moodables devices
Moodables are medical wearable devices that are currently still in development. Moodable devices are tasked with influencing the patients' mood throughout the day. This innovation aims to bring use not only for people who struggle with depression or other mental disorders. In today's day and age, everyone is living under constant pressure and stress and sometimes some people can't cope with all of it on their own. So how does it work, exactly, one may ask? Moodable is a wearable device that is put on a patient's temple and sends light impulses to the brain for the purpose of lowering the intensity of brain activities. This development will be beneficial for patients and clinicians to investigate the human brain and the underlying reasoning behind rapid mood changes. 
AR surgeries
AR technology implies complemental surgical procedures with the work and precision none other than robots. Due to medical IoT, all health possible data from pre, during, and after the operation is collected, recorded, and analyzed. Data analytics allows doctors to track the validity of actions of medical staff and show what improvements can be introduced. Being connected to IoT medical devices helps to regulate and optimize activities performed by medical workers.
Ingestible sensors
Ingestible sensors are a real breakthrough in the digital healthcare area. Have you ever heard stories when patients missed or failed to take their medication as prescribed and faced serious consequences as a result? Ingestible sensors are a kind of digital pillow that monitors patient health, reacts to symptoms, and helps devise a path forward so they can know what measures to take in order to avoid drastic deterioration of health. 
We also encourage you to find out more specifics about medical IoT from the video we put below.
The Risks of IoT in Medicine and Healthcare
The most imperative risk that should be considered and managed in IoT medical systems is, first and foremost, data security as there are numerous facets and challenges connected to health data privacy. We would like to highlight the most widespread risks of IoT in medicine. 
Disclosure of PHI
As all personal health information is collected and stored digitally it brings about a huge set of risks associated with third-party gaining access to vital personal information. Hence the need for disclosures to be integrated and accompany processes surrounding medical internal systems. Disclosure implies not only revealing the information but the fact that it can also be copied, shared, changed sometimes even without patients or involved medical workers being aware.
Privacy violations
Hackers, scammers, and fraudsters are not really interested in patient health information per se. They primarily focus on stealing population data, illegally obtaining credit card information, social security numbers, etc. This sensitive data can be used for diverse malicious intents and purposes. 
Data ownership issues
Before entering the private health data to a particular medical entity and using their wearable devices, learn about the data ownership laws that are enforced in that particular country or city. There are cases where, after agreeing to the hospital`s terms and conditions, the patient completely loses any future ownership rights to his or her data. 
Location data  
Patients' locations are considered to be private and sensitive data that historically often been shared with third parties without hesitation. However, we are now witnessing a shift in the way the world thinks about this matter.
DDoS attack
DDoS attacks are surely dangerous for medical organizations as IoMT implies 24/7 remote health monitoring. It means that patients and doctors need to have consistent access to the system to update health information, especially in cases where patient health is deteriorating or in immediate jeopardy. DDoS attacks interrupt the activity of this medical system, which can have debilitating consequences. 
Medjacking
Medical device hijack (Medjacking) is one more type of security risk in IoMT. This type of cyberattack implies invading medical equipment like X-rays, ultrasounds, CT scanners, EKGs, medical refrigerators (especially paramount in times of need to safely store Covid vaccines), and implantable defibrillators. When medical workers lose control of any of this medical equipment,  it can have the worst repercussions for patients, in many instances far worse than leakage of sensitive data. 
Unauthorized access
Internet of medical things solutions are commonly set up as cloud-based multi-user systems where all patient data is recorded and saved. To avoid unauthorized access to private data, systems and device vendors should provide your medical organization with advanced authentication laters.
Challenges in IoT
Cybersecurity
Patients' health data demand the highest possible level of security and privacy. As IoT-powered applications transmit health data in real-time, most of these applications do not really consider compliance with data standards and protocols. The lesson is that all IoT-based medical solutions must be HIPAA-compliant in order to protect the patients` information like personal EHRs, credit cards, bills, etc., from cyber attacks.
Uncomfortable wearables
IoT medical apps that provide remote health monitoring would be impossible without wearable devices. The variety of wearables is pretty diverse to this day: bracelets, rings, headphones, moodable devices connected to the clinic system. However, the challenging part is that the devices should be turned on all day and all night but some of these wearable devices cause inconvenience and give patients a hard time.
Affected data nature
Remote monitoring and treatment imply transmitting patient data from sensors on wearables to databases in clinical systems. Data`s nature and its quality can be somehow affected in this way because of external noise interference. To avoid these problems, the medical app should initially have a
suitable architecture
and be equipped with a noise removal option.
Cost
Medical IoT-powered applications use numerous technologies to provide highly qualified telemedicine for patients, including machine learning, AI, AR/VR, etc. Of course, the development and integration of such software can be cheap and easy. However, medical IoT is to meet all your expectations and demand by reducing the paperwork and need for human resources, optimizing the treatment courses, and making the quality of your healthcare entity`s services highly qualified and prospective. Complicated to connect IoT and cloud but it is a must to correctly process all patient data
Listen to more IoMT challenges from the video about Science, Technology, and Security in healthcare.
IoMT cybersecurity
Cybersecurity is the top priority in medical IoT devices. So we would like to dedicate a separate point about core requirements and cybersecurity standards used for encryption of health information exchange. There are some factors that endanger medical IoT systems to become more prone to frequent cyber-attacks and we would like to highlight them to prevent malicious activities targeting your organization from being successful.
Find out more information about the importance of cybersecurity in healthcare from the overview of UL 2900 ( medical device cybersecurity workshop).
Outdated systems
Some medical equipment can be quite old and poorly protected from fraud and cyber attacks that are called medjacking. It is important to remember that while your medical systems are outdated and only getting older, the skills of hackers continue to develop and only get more sophisticated.
Insubordination with regulations
A choice of healthcare vendors is a highly responsible task as you should ensure that their medical systems consider the legal regulations and FDA recommendations. Moreover, healthcare software providers should be aware of different types of hacker attacks and know how to prevent or cope with them.
All medical systems and devices are commonly connected to each other within the clinic network and to the Internet for the purpose of improving remote health monitoring and treatment. Thus, it increases the risk of cybersecurity attacks. Unfortunately, there is no method to eliminate cyberattacks once and forever, however, being aware and trying to reduce these risks will have a positive impact on medical devices and health data security, and this also applies to hospitals, healthcare providers, and other medical entities. 
AI-powered future of IoMT
Medical IoT processes huge amounts of clinical data every day. AI technology can be used to analyze all this data properly using complex algorithms and making conclusions in order to foresee the medical diagnosis. It means that all wearable devices are expected to become more accurate in predictions about patients' diseases with the use of Artificial Intelligence and machine learning.
With the help of machine learning technology, all data processes by IoMT can be effectively used to detect different types of infections in the blood, heart diseases, as well as potentially exposing some types of cancer when a patient has no idea about having an illness. AI and ML technologies aim to prevent sudden and crippling deterioration of health and help people so that they and medical doctors can take timely action. 
IoMT latest trends
Remote health monitoring continues to progress and provides hospitals with advanced functionality. All medical devices should be connected to each other and the general medical system. These devices are ECG trackers, glucose monitors, pulse oximeters, blood pressure trackers and provide 247 patient monitoring and assistance.
Most of these medical devices are expected to be connected to the internet so that health information could be available from different parts of the world for the doctor's side as well as for the patient's side. The full potential and real values and benefits of connection to the internet are yet to be realized as there are numerous potential security risks but following through with this push is important and required as it key to the correct overall functioning of the entire system.
North America is considered to be the epicenter of IoMT device development. People are becoming more and more interested in self-management of their health, starting with healthy food consumption and ending with sports and vitals monitoring, namely, the latter is especially popular among people who were born with or have acquired chronic illnesses. While others exercise preventive caution by making efforts to be more conscious about their health.
Top IoMT companies
Alivecor
Alivecor makes FDA-approved medical devices that allow patients to perform ECG monitoring using their smartphones. Alivecor offers three different way of tapping into their ECG scanning system:
KardiaMobile – it is a small device that lets patients use ECG monitoring in real-time and sends this information to their smartphones so that patients could, in turn, forward the results to their doctors or EHRs;

KardiaPro – this is a separate medical system where doctors can track all diagnostics provided by patients via their devices and smartphones; along with monitoring, this platform notifies about any worthwhile changes to a particular patient's state of health and gives recommendations based on analyzed patient data by AI technology;

KardiaBand is a medical wristband for Apple Watches that provides ECG scanning by AI technology which helps control the heart rate; today, ECG trackers are already integrated into Apple Watches so there is no need to strap on any additional bracelets or wrist bands.
Babylon Health
Babylon Health is an AI-powered system that connects and matches patients to visit doctors virtually. Babylon Health offers web and mobile versions of their application that are accessible to both doctors and patients. Users can easily take a photo or video of themselves, describe their symptoms, give some background information and send this information to an appropriate physician.
This solution also replaces different types of in-person consultations, which is especially important for patients with mental illness. Additionally, patients can get their drug prescriptions sent straight to pharmacies of their choice and request scanning and monitoring of their lifestyle to give some useful recommendations on how to improve it. 
Genoox
Genoox differs from other MedTech systems by its innovativeness and uniqueness. This cloud-based system uses genomic patient data and converts it into clear medical data. What does it mean? This platform holds deep diagnostics based on patient genomic data and records it in a database so that clinicians can further analyze the results of this research and pick the most suitable and effective patient treatment. 
Medical IoT or IoMT is the process of adopting IoT into medical software systems for the purpose of providing efficient and highly qualified remote patient monitoring and treatment. There are a number of Medtech devices that are already implemented instead of traditional healthcare to reach the expected goals as soon as possible.
The future of healthcare is behind digitalization. Technologies make medicine different, improved, really effective, and individual to each patient. Along with treatment, Medtech helps prevent some illnesses and shows the most efficient ways of treatment.
To sum up 
By this day most health organizations have already adopted the internet of medical things and those who haven't are expected to do so in the nearest future. IoMT widens the borders of traditional healthcare and makes it more affordable and convenient for all groups of patients with different illnesses. Medicine is becoming more advanced with the implementation of the latest Medtech innovation to provide each patient with highly qualified and effective treatment, especially remotely.
You may ask how we can help you with adopting IoMT into your medical entity? Due to wide experience in developing healthcare software solutions, our software development team will help you easily implement medical IoT into your existing internal medical systems like EHR or EMR or build an accurate plan of developing and integrating a medical solution with the built-in IoT from the very beginning. 
Digitalization continues upgrading the healthcare industry.
Let's schedule a call to discuss what benefits medical IoT is to bring to your medical entity.