The construction industry is a broad one and it includes different types of companies which supply construction materials or perform various types of building (industrial, residential, commercial and institutional, etc.). In such companies employees usually have to create and manage numerous documents, they also deal with an influx of orders, perform accounting, manage projects of all sizes, control materials flow and delivery. It may seem impossible to perform such amount of work without any automation tools. And yet many companies are still unaware of digital optimization and all benefits it offers. 
So in this article we would like to discuss how software optimization can improve performance and optimize numerous processes in companies which manufacture and supply materials for construction, offer installation, renovation or reconstruction services.
What processes can be optimized? 
While some companies only supply ready materials for construction, others are involved in complex planning, design, creation and installation of a project from scratch. The main difficulty is that a new project should be thoroughly controlled at all stages. So one company can be responsible for a lot of tasks, starting from shaping the idea and ending with making a project real. 
E.g. Let's take a company that manufactures building brick and precast concrete structures and offers installation services. Such company needs to perform the following: 
Accounting and finance in Construction Company
If a company receives a big order, they need to calculate the amount of necessary materials and  what sum of money is needed to get everything done in time. If an order requires some kind of customization (e.g. the company may need to manufacture a precast concrete structure of an unusual shape, instead of supplying a ready-made one), then managers should calculate the expenses on mold design and construction. 
It is important to avoid any kind of mistakes at the accounting and finance stage, otherwise it can lead to processes slow-down and further expenses. How do construction companies deal with this issue? Usually they try to maintain the documentation using online resources like Excel tables. This approach may be not so bad in the beginning, but unfortunately as documentation gets accumulated, some important data may get lost. Moreover chances are that some human mistakes are present in the documents. 
Accounting and finance matters require accuracy and attention. Therefore a holistic software for managing the company documents is a must. It is a very convenient way to keep all your documents in order and automate data input that is usually performed manually. Such digital solutions are able to:
perform automatic accounting, 

create regular reports, 

forecast project cost, 

organize all data in convenient charts, 

sort everything and change necessary figures,

provide you with easy access to all documentation from any machine.
Warehousing and logistics control
Some companies usually have their own warehouses where they keep all necessary materials. They also organize the delivery of materials to the object of construction. This means that the company should be in charge of inventory management and logistics control. Managers should always have updates regarding available materials, their number, cost and specificities. As to logistics, it is crucial to coordinate and track supplies movement. So a company requires software to:
view inventory and check what materials are out of stock;

create and analyze reports about inventory levels;

manage orders, returns and presence of necessary materials; 

keep documents related to orders in one place; 

track delivery route, costs and time. 
Need an advice regarding processes optimization in your company?
Team and Project Management
If you are providing services of professional constructors, you should be aware of the job they are going to do, estimate the time that project would take to complete, understand what materials are required and in what amount. So you need to create a document related to a certain project and update it timely. You should also understand whether you have enough workers to assign a project to, track to-dos, coordinate schedules with your clients, create daily reports and track time. 
If you manufacture building materials like precast concrete structures, some installations or bricks of specific shape or else, you should be able to manage such projects easily. You will definitely need a system to input all essential data and numbers, check the progress and discover the performance of your company and each separate employee. 
Documentation control
Construction is a business sphere that deals with numerous papers daily. Starting with contracts and ending with papers related to routine calculations. Therefore it is better to consider transferring all your paperwork into the digital format. It is more secure, convenient and fast. Moreover you will save a great deal of time spent on filling all necessary information. If you have a system for documents management, this means that you and your head managers will be able to access all essential data anywhere and anytime.You will no longer have piles of papers and will not have to waste time searching for the necessary document. Digital system allows to:
store all documents in one secure place;

access them on the go from any device;

categorize documents;

perform easy search;

edit data if necessary;

create and export reports;

sign all documents using digital signature. 
Feel that your company needs a custom software for boosting productivity?
What kind of Software should be developed for your Construction Building Company? 
Based on our experience, we can say that constructions companies require holistic CRM and ERP systems. They can be customized and you can consider adding some specific features necessary for your particular business needs. The main benefit of these systems is that they automate routine tasks like inserting the data, looking through documents. They allow to perform easy accounting, order tracking, data analysis, project and team management. If you are using CRM or ERP then you always have the most up-to-date information regarding different aspects of your business – you know and control your performance, income, productivity. 
We have already covered the topic of CRM and ERP systems and all their advantages. So let's better take a look at the real project we've accomplished to understand how software helps to optimize processes in constructions companies. 
It all began when a business owner contacted us. He has a company that manufactures precast concrete constructions and offers a certain range of services (their employees can install large columns, signs, cornices and items like these). The managers of this company had to deal with repetitive data entry, they were loaded with paperwork and it often led to some minor errors. There were some issues with prioritizing tasks, measuring materials and needed labour, performing quality control. 
Our client understood that it was necessary to implement some kind of software to manage all processes, and he actually came with a pre-developed part of the project (it was around 15% ready). So our main task was to understand what processes needed optimization and what we could offer to develop. It was not an easy task, but we managed to build the exact system our client required. The software helped him to:
Easily track the progression of every project;

Calculate and track delivery of materials;

Reduce workload and make managers work more efficient;

Easily create schedules and prioritise tasks;

Reduce time spent on work with documents;

Arrange check-lists for main tasks and improve the quality of work within the company. 
Our client remained satisfied with the results and even posted a positive review claiming that we've resolved a major problem that had occupied their business for years. Can there be any other better proof that software optimization works for a business?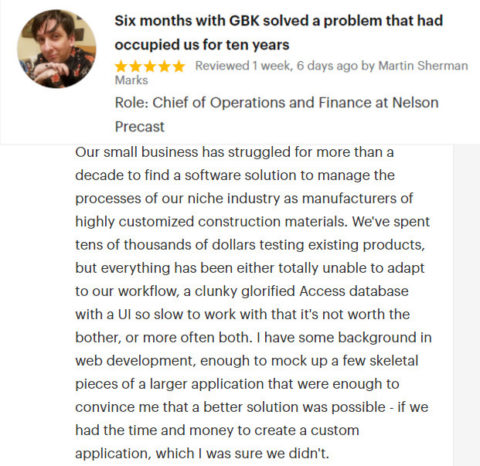 To conclude 
Any business has its challenges that should be resolved in the best possible way. If you are dealing with processes that require fast and effective solutions, then you definitely need your own custom software. Whatever niche you are occupying in the construction business (supply materials or offer certain installation services) , you need to pay special attention you the productivity of your company and employees.
If your managers are loaded with routine manual work, if there are mistakes in your documents and calculations, if you feel that you are wasting too much time on minor processes – then software optimization is exactly what your company needs right now! 
Want to develop custom CRM or ERP for your business?