Have you been in the market for a long period? Do you want to expand your business? Don't know how to optimize the expenses? Read this article and you may find the answers to these questions.
Retail used to deal with cash that made service slower, but mobility incredibly changed the industry for good. Over the past few years, the percentage of the retail sales increased with the growing number of online portals and mobile payment mechanisms. Tablets and smartphones help connect and engage customers through creative marketing campaigns, contests, ads, and promotions. There is no need in legacy hardware and custom applications are no longer necessary for POS kiosks. A particular app launched on a tablet can create an excellent kiosk for use in retail business and create compelling customer experiences with enhanced interactions and customer engagement.
For instance, more recently McDonald's introduced the digital self-ordering kiosks. The company launched an innovation according to its all-going crusade for simplification of the ordering process. But what they got added to the time-saving was the increased customers' loyalty. These giant kiosks allow guests to order and pay for their food without any interactions with restaurant's staff. The main goals were to reduce lines, human errors, and customize the menu for every client in order to enhance the user experience. So the brand claims it's genuine purpose was to better engage with clients and enhance the dining experience.
Customer service is the key to successful business. A recent survey proves that 86% of customers will purchase goods with those who provide better customer experience. We believe if the retailers will concentrate on the satisfaction of their customers, it will have a positive impact on their revenue.
What is Kiosk mode?
We already mentioned some benefits of kiosk mode usage in passing but let's determine exactly what kiosk mode is. 
Kiosk mode is an application specially developed to make a PC or tablet into a self-service kiosk. The kiosk software is locking down your other applications to prevent user's interfering, which is why kiosk software is often referred to as "kiosk lockdown software."
Touchscreen kiosks or interactive kiosk is at its core a computer terminal with specialized hardware and custom software. It's used to perform special tasks like navigation, information display, communication or provide access to special applications. The most common usage is held by commerce, entertainment, hospitality, education and related businesses. Smartphones kiosks are typically placed in crowded places like airports, shopping centers or hotel lobbies.
Do you want to know what type of kiosk mode will suit your business?
How Does Kiosk Mode Work?
The Kiosk mode is usually administered by a Mobile device management system (MDM) but it can work without one too. The admin configures it into single or multi-app kiosks mode, also there is a possibility to configure kiosks to run in one browser mode with restricted access to whitelisted websites. Further we are going to describe all these types and cases of use. 
Single App Kiosk Mode implies a single application installed on the device. The application can be downloaded from App Store or Play Store, and also it can be published as enterprise apps in kiosk mode. Users have access to only one application.
Multi-App Kiosk Mode. There are one or more approved earlier applications on the device. Just like single app mode, administrators can push applications from App Store, Play Store, or Enterprise store. Users have access to only allowed applications.
Browser Kiosk Mode. The only app is used in this case – a browser. The whitelist website is set up and access is allowed to the websites on the browser.
How can brands benefit using kiosks?
While watching the success of McDonald's initiative many brands have started thinking about implementation of the same technology in their businesses. But are those smart kiosks or mega tablets (as they are sometimes called) really worth the hype? Let's analyze the basic opportunities of these machines and understand how can businesses benefit from them.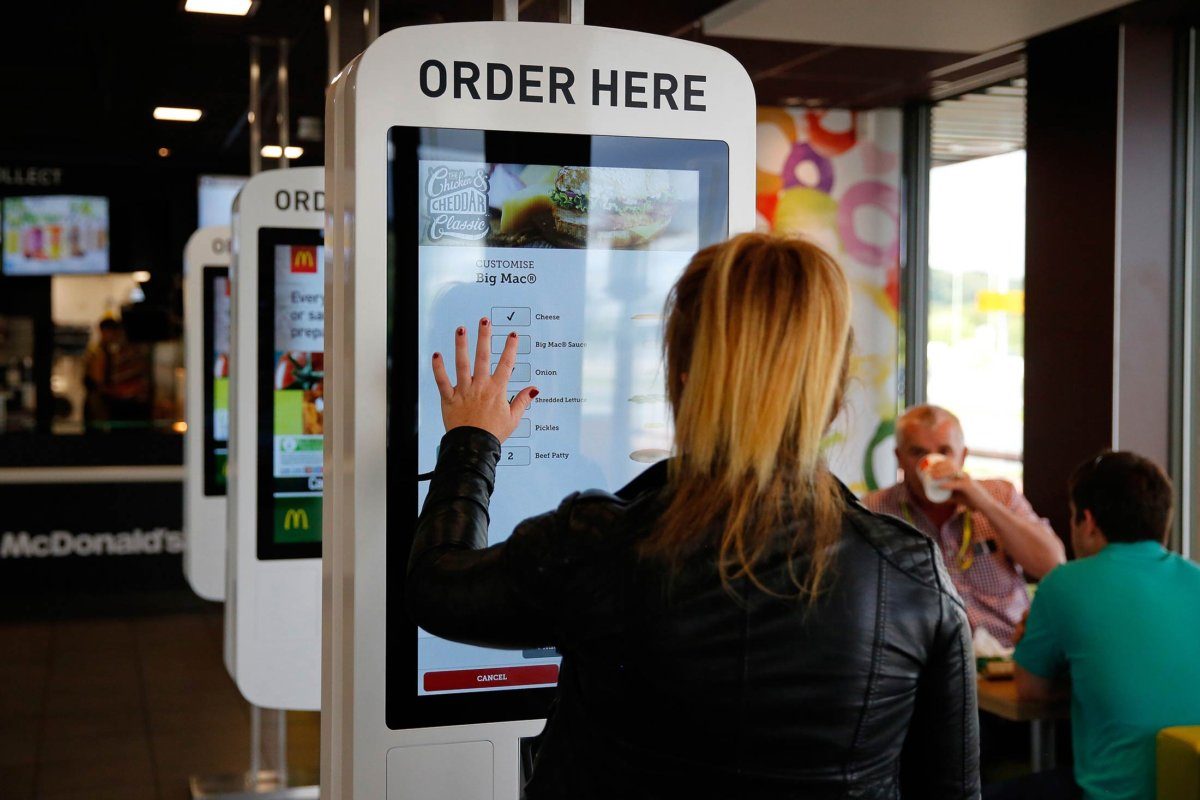 What are the main benefits of a retail kiosk strategy implenetation?
Implementing the new technologies, especially those who require both hardware and software installation, is always costly and involves the additional expenses. On the other hand, any innovation that can boost your business is always a good investment. Retail kiosks provide many benefits to any company looking to increase their retail revenue. Also it will allow you to reach out to more customers and increase sales opportunities.
Below you'll find the list of main "YES" points in favor of interactive kiosks:
Enhanced Interaction with Customers
Nowadays, when mobile devices surpass desktop computers and we are all used to managing our daily tasks via smartphones, tablets and etc, it's not a surprise that brands try to use this addiction for their own gain. Combining large touch screens and branded software businesses create the new powerful engagement tool. Now you can impress and engage the customers as soon as they enter the venue.
The process of interaction with new kiosks is comfortable and comprehensive due to the resemblance with the smartphones or tablets, we are using every day. Customers can intuitively browse through dynamically adjusted content and complete their orders in few clicks.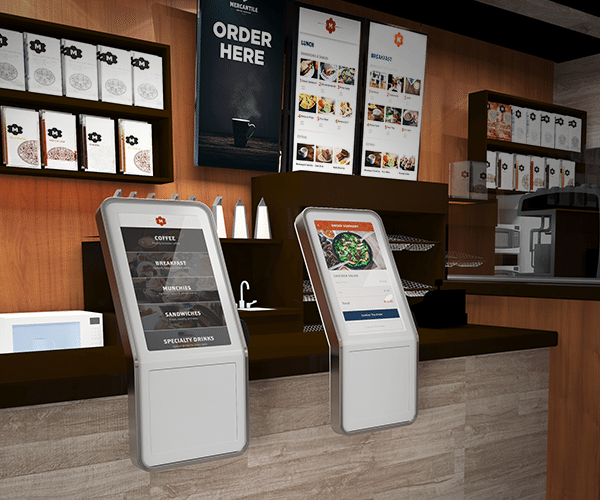 Sales and Marketing Tool
It's up to you how to use touchscreen kiosks whether to entertain your visitors, promote new products, provide navigation, offer useful information or taking orders. In any case, you'll need to install a specifically-tailored application for kiosks. These apps are similar to those we use on mobile devices but still, you'll need to develop special software compatible with the interactive kiosk. But don't freak out about the costs! Most kiosks run on Android so building an app for your business needs is compared in terms of costs to Android mobile app development.
Automatisation of Business Processes
No matter what will be the main function of your public kiosk, automatization remains the first and foremost advantage of these devices. For example, McDonald's introduced the option to order food without the help of a cashier. This feature allowed employees to focus on meal preparation thus reducing the wait time. Since there is no interaction with a human during order handling, the possibility of errors is brought to zero.
Time and Money Saving
A company using a retail kiosk mode can offer more services at a lower cost. The reason to provide the customer information on the buying questions on an on-demand basis through the kiosk, it allows a store to focus their labor costs.
What kind of processes do you want to improve in your business with a kiosk mode?
Online Access
Another adorable feature of touchscreen kiosks is their accessibility. Choose any language you need. Localisation costs hundred times less than hiring a bi-lingual person. In addition, kiosks can work 24/7 even when your store is closed. It can receive orders, or check-in guests without any help.
In the last year the Interactive Kiosk market has grown by 17,6%. This means customers are responding to interactive kiosks as a means to talk to brands creating endless opportunities for companies and visioners to deploy Kiosks across all major business verticals from education, retail to finance. According to the report
Gain efficiency through diverse applications
In addition to streamline the general consumer experience, interactive kiosks are very expandable and offer the ability to streamline many of the other aspects of the retail business that typically require human interaction. These applications include processing credit apps, managing gift registries, and purchasing gift cards.  
Improve satisfaction of the staff
Since retail kiosks can handle many of the customer inquiries that are not directly related to sales, the retailer's employees will be able to focus more of their efforts on increasing sales, which generate more revenue for both the store and the sales associate. This increase in revenue will boost employee morale as employees will typically see an improvement in the company's bottom line reflected in their increase in compensation.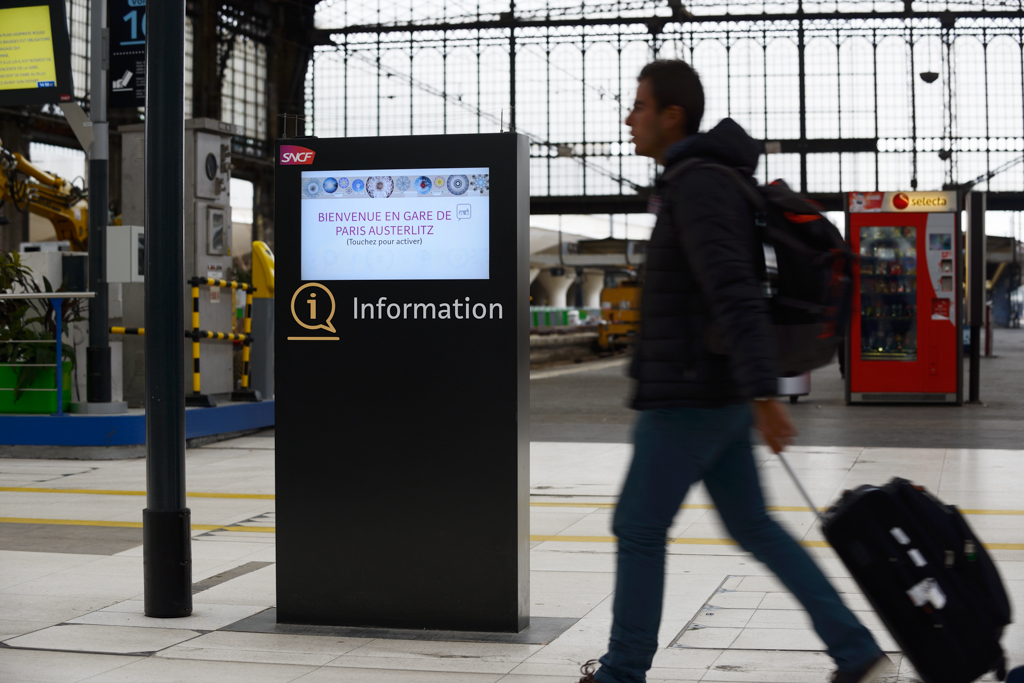 Interactive kiosk examples
Having learned a lot about the possibilities of these magic assistants for your business, get ready to find the best examples of interactive kiosk solutions:
Self-ordering kiosk.

Just like McDonald's, restaurants can now have an efficient ordering system allowing customers to interact with the menu without the help of a cashier.

Self-ticketing kiosk.

Such kiosk help to reduInteractive kiosk examplesce queues and misunderstanding while buying the tickets. Usually, they provide multi-language support.

Informational kiosk.

Usually, you can meet such type of kiosks in the airports, railway stations, parks and museums. They can provide the schedule and navigate visitors through the venue.  

Self-check-in kiosk.

Both hotels and hostels can significantly simplify the check-in and check-out process, especially in the night time or when the big group of guests arrives at the venue.
Conclusion
The use of a kiosk mode in retail industry can be the key to generating icreased revenue, improving brand loyalty and customers buying experience as emloyee loyalty. These kiosks can be an effective method to reduce costs and expedite the growth of any retail company. Now you can impress and engage the customers as soon as they make the first step to your doors. Thanks to the new technologies it is getting easier and more affordable to make your clients say "Wow!".
Ready to build the most engaging app for your kiosk mode?