The world's population is projected to hit 9.7 billion people by the end of 2050. Naturally, food consumption will rise accordingly. Experts predict a nearly 70% growth in demand for agricultural products over that time, and this is an optimistic forecast considering the overall shortage of cultivated areas and challenges posed by climate change. Moreover, the average consumer is growing increasingly interested in the origins of the products and conditions in which those food products were grown and made.
Such high demand and changing climate conditions affect not only the output but supply all around, including the supply chain, which pushes the agriculture industry to embrace innovation and look for new ways to overcome productivity obstacles bottlenecking supply. Drones are one of the presently available solutions that are here to intensify farmers' production and transform agricultural operations. They help save costs for the agriculture industry, make it more efficient and highly profitable.
In this article, we will tackle the essence of drone mapping software, the benefits it brings to agriculture, and discuss the ready-made and custom-built solutions that will continue improving farm management, while also protecting and improving profitability.
Drone Mapping Software application overview
The agriculture drones market is expected to grow from USD 1.2 billion in 2019 to USD 4.8 billion by 2024 at a CAGR of 31.4%. Pressure and strain are mounting on the global food supply like never before due to how fast the world's population is growing. In today's capitalist society, where there is an opportunity – there is typically investment and growth, which is the case with the development of agriculture drones as well, strong interest from venture capitalists is among the key drivers of the market's growth.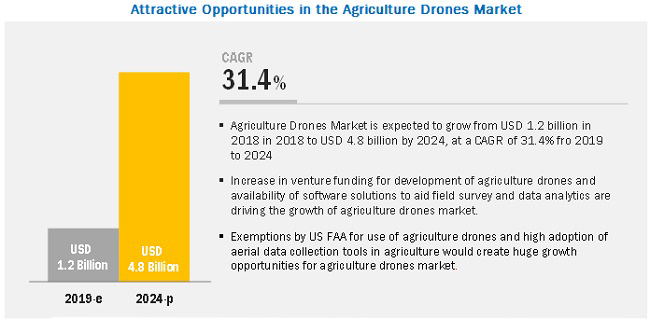 Field mapping appears to account for the largest share of the agriculture drones market for precision farming. Field mapping helps look at the condition and health of crops across different types of soil and management zones to portray crop health and harvest potential.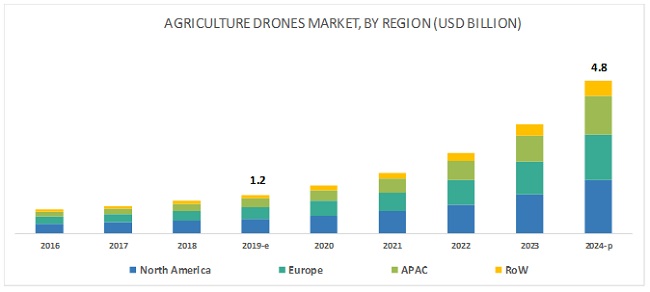 It is expected that the agriculture drones market will grow at a higher CAGR during the forecast period. Large investments from venture capitalists and angel investors suggest that software and analytics to digitize the information collected by drones is going to be a hot area going forward. Key sectors for investment are mapping, imaging, and data analytics software.
North America is likely to take the main part of the agriculture drone market going forward because of the Federal Aviation Administration (FAA) exemption under the part 107 rule, leading to high adoption of drones in agriculture. This fact attracts investments into the agriculture drones market.
Drone Mapping Software Market Prospects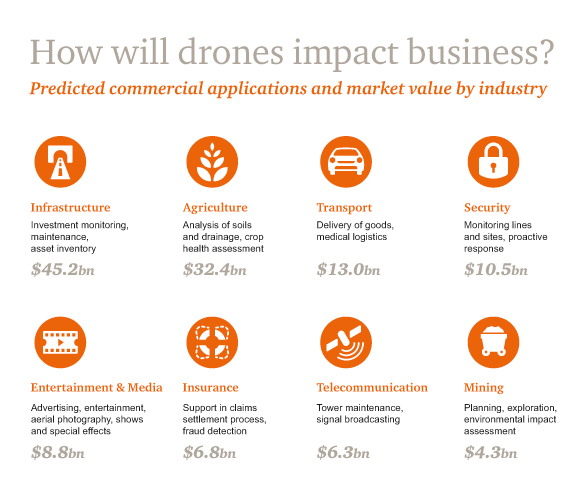 The Census of Agriculture numbers around 2.2 million farms in the U.S. with a total area of 922 million acres. 88% of those households are small family farms with an average area of 230 acres. This is the best-targeted audience the drone industry could ever wish to have.
Just look at this number: 1.85 million farms can immediately benefit from agricultural drones and are eager to do so because of hardening competition and growing demand. Based on these and other figures, PwC estimates the market size to be $32.4 billion. Not bad for a start!
Another thing to mention: some analytics already cite that 80% of the global drone industry revenues are related to agriculture.
Benefits of Using Drones in the Agricultural Sector
The popularity and usage of drones in the agricultural sector are growing every year. And it is no wonder given the array of problems that can be solved with the help of drones. Drone mapping software has revolutionized agriculture, allowing farmers to save costs, increase efficiency and positively affect profitability. Being able to quickly peruse through the farmland and notice minor nuances. Drone mapping software helps optimize the use of resources, quickly react to changes and hazards as well as safely estimating the time harvest will take to ripen taking into consideration the various factors.
There are six Major Applications of Drones for agricultural use:
Soil and field analysis;

Planting;

Crop spraying;

Irrigation;

Health assessment;

Geo-tagged monitoring.
As you may notice, three of them (field analysis, monitoring, and health assessment) are built around field mapping software instead of costly heavy machinery. From an investment point of view, these fields yield a higher return on investment and offer better flexibility in the harvest growing.
Moreover, properly built software by Altamira will enable you to:
– Trace the heath of the harvest and detect the efficient ways to support it in proper conditions
– Identify and stamp out the invasive plants- Detect, assess and repair damage caused by different factors
– Optimize water consumption
Drone mapping software is a beneficial solution able to transform the agricultural niche by optimizing key operations. Altamira can build software that will, in addition to many things, enable you to trace the growth trends, measure the size and amounts of harvest, generate prescription maps, and identify the factors that may negatively affect the quality of harvest in the early stages.

Having more than 10 years of experience in building agricultural solutions, Altamira offers powerful AI (Artificial Intelligence) solutions tailored to the individual needs of the customer. Our drone mapping solutions will help you to:
– create unique reports, choosing the necessary criteria with intuitive UX/UI design
– produce prescription maps utilizing the latest tech trends, leveling up your farm management system in a major way with a highly functional agricultural software
– being experts in data science and analytics, our team will build the drone mapping software that will gather important data, analyze it and extract valuable insights to use those points to devise a more efficient and effective farm management system
Drone mapping software is likely the single most beneficial upgrade for your agri-business since it enables you to detect and mitigate risks in the early stages, enhance crop measurement and assessment as well as spot trends and take them into consideration when it comes to your processes. All of the above will inevitably improve your efficiency, performance and reduce operating costs, as well as enhance the overall safety of your business.
Advantages of Farm Mapping Software
Farm mapping software presents an efficient solution that supports the whole agricultural value chain. Farm mapping solutions have fully revolutionized and transformed the agricultural industry, allowing farmers to quickly get valuable data and turn it into profitable business decisions. Sustainable management of the entire harvesting life cycle needs massive amounts of thoughtful planning. The conclusions drawn from data collected by drones allow one to accurately assess the situation and introduce the needed changes, measures, improvements. Moreover, layering a planting database onto a map combined with the extracted data gives better access to it going forward.
As you can tell by now, farm mapping software is a technology that will propel farm management to new heights. Here are the real advantages that farm mapping software will bring to your agricultural business:
Soil and Field Analysis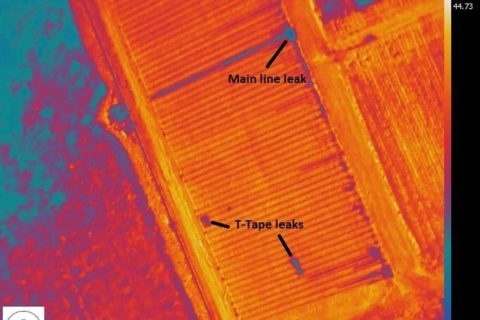 Thermal image used to find water leaks.
Planting & Irrigation in AgroTech
Identifying field conditions allows farmers to make informed decisions and actions, save on irrigation, or enhance nitrogen-level management. Drones can acquire precise 3D volumetric data, which reveals hills and drainage points and saves on the number of personnel that need to be hired or used. Based on this data, farmers can plan their planting patterns and distribute crops according to landscaping specifics.
Geo-Tagged Monitoring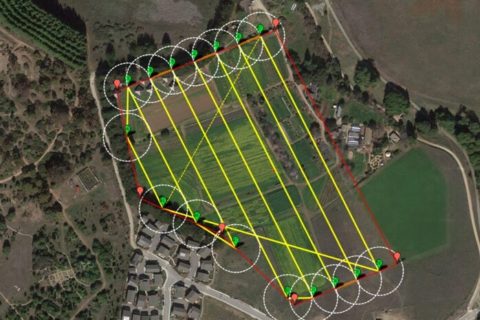 It must be acknowledged that vast field areas become a big drag that lowers or even completely negates crop monitoring effectiveness. Nevertheless, unpredictable weather conditions require farmers to take immediate actions without waiting for a season to end. It is no longer enough or feasible to decide what went wrong based on after-effects and season statistics, looking back at the losses.
Crop spraying
A professional UAV gives a deep understanding of a crop's growth, enabling agricultural specialists to identify issues at once and better target their field scouting. Data collected over several years can improve prospective planning and monitoring, for example, by giving a better indication of what ditches need to be placed where and evolving fertilizer applications.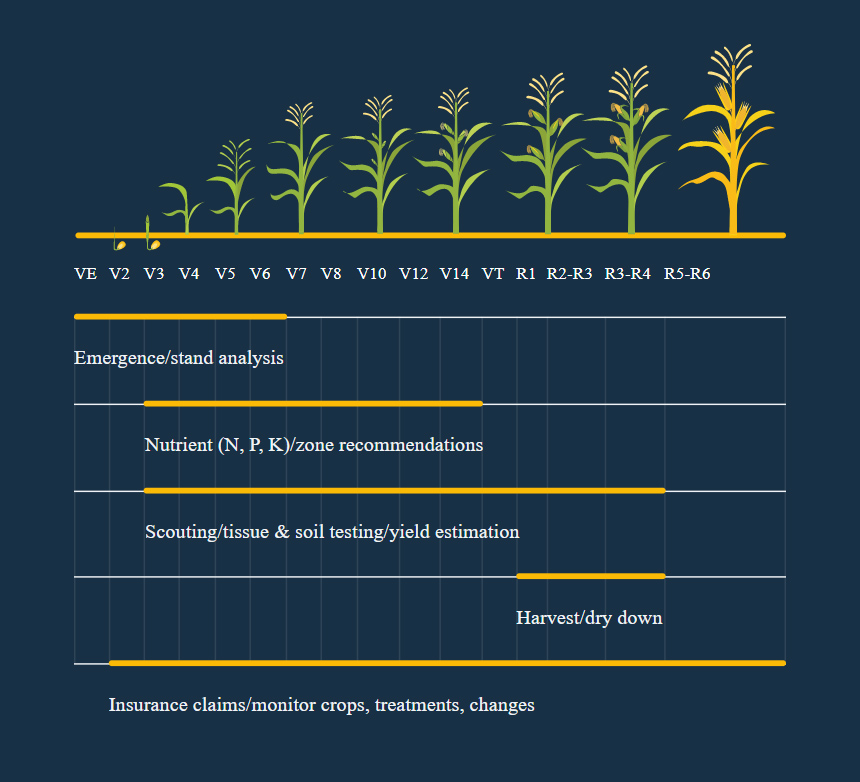 For example, drone use per growth stage (corn) Drone technology adds value throughout the growing season, from emergency and early growth assessments to pre-harvest harvest prediction. [/caption]
Crop monitoring provides flexibility and allows farmers to adjust their strategy during a season and even within a month. Crop monitoring also allows farmers to reduce field maintenance costs and focus only on the most critical areas, thereby saving their time and resources.
Previously, crop monitoring was only possible with the help of satellite imagery. This service was clearly costly, image quality could suffer from weather conditions, and resolution left a lot to be desired. Fortunately for the sector, the Unmanned Aerial Vehicles are here to stay, develop, and become a much better alternative to its satellite imagery predecessors going forward.
Agricultural runoff from industrial fertilizer and pesticides is a major health concern. By checking on plant health and pinpointing troubled areas, drones produce valuable data that farmers can use to reduce chemical footprint by only administering chemicals in a very targeted and sparing manner.
[/fact]
Health Assessment
The health analysis is performed by gathering data from several sources via thermal, multispectral, and infrared sensors. This way, farmers can learn about the sunlight absorption and transpiration rate of their crops. Furthermore, one could apply the NDVI mapping method to know the field's health condition.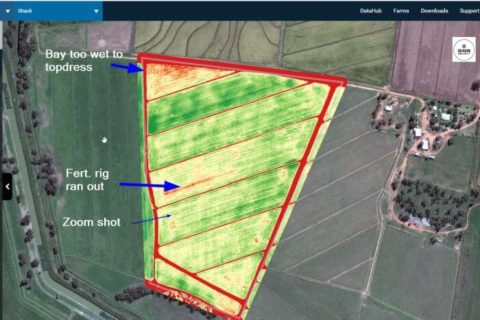 In essence, Normalized Difference Vegetation Index (NDVI) is a mapping method that reveals green portions on the map and gives out an early warning based on the crops' slight color deviations.
NDVI is well-known among industry players. What really sets this technology apart now is the accuracy in image resolution and image acquisition speed that can be achieved using drones vis-a-vis what satellites can achieve. Commercial drones can acquire a much more detailed map and measure areas accurately to the inches and centimeters. So drones are better and cheaper than satellites. 
By having this information up-front, farmers may be able to gain not $3,000 to $4,000 a ton but $5,000 a ton, depending on what the issue actually is.

Jonathan Smith, Status Imaging Director
The drone technology can also be used to spot bacterial or fungal infections on trees. The health information can be gathered from multispectral images that track changes in plants and indicate their health. A swift response can save an entire orchard.
Also, as soon as some vegetation disease is discovered, farmers can use remedies to get a more precise picture and track the plant's condition during treatment to gauge and assess the efficiency of the medicine or treatment given.
Precision Agriculture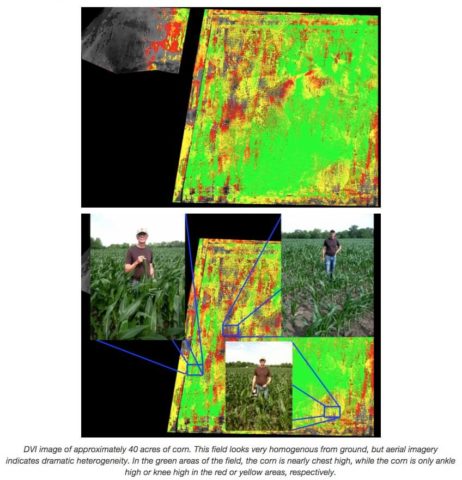 All those mapping practices are used as a foundation of a comprehensive farming management concept called Precision Agriculture. Precision Agriculture gained decent popularity inside the industry and is viewed as one of the most promising trends.
The concept is based on observing, measuring, and responding to inter-and intra-field variability in crops. If you need a deeper understanding, here's a great article The Economist has published on this matter.
The goal is to distribute the farm's resources more efficiently and gain maximum harvest, of course. This is achieved by minimizing crop health variability within a single field. At this point, you are probably seriously considering the possibility of implementing smart software tools for your agricultural business. However, you may not be able to decide which solution or solutions will be the best for supporting your business objectives. You can reach out to our team and get much needed answers to all your questions. Due to years of extensive experience in the technology field and based on in-depth business research, Altamira will help you choose and develop the best solutions for your business.
apping practices are used as a foundation of a comprehensive farming management concept called – Precision Agriculture. Precision Agriculture gained decent popularity inside the industry and is viewed as one of the most promising trends.
The concept is based on observing, measuring, and responding to inter-and intra-field variability in crops. If you need a deeper understanding, here's a great article The Economist has published on this matter.
The goal is to distribute the farm's resources more efficiently and gain maximum yield, of course. This is achieved by minimizing crop health variability within a single field, thus taking action point-wise.
Also, as soon as some vegetation disease is discovered, farmers can use remedies to get a more precise picture and track the plant's condition during treatment to gauge and assess the efficiency of the medicine or treatment given.
Agriculture Mapping Software Functions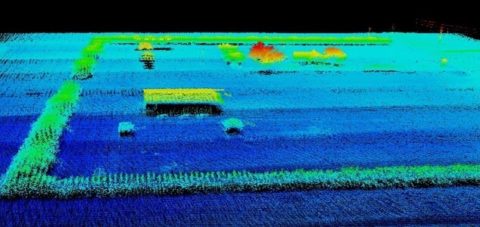 Precision Agriculture definitely requires a lot of data. Moreover, it requires gathering data regularly. And that is where agricultural software comes in handy!
Technically, UAV drones can gather a wide variety of data just by capturing the imagery of livestock, fields, and specific plants. Here's a rough list of info you can acquire from images:
Plant count, height.

Plant stress monitoring.

Leaf area indexing.

The presence of disease, nutrients, weeds.

Relative biomass estimation.

harvest monitoring.

Animals movement.

Tree classification.

Drought assessment.

3D field surveying (elevations, holes, suitable water drainage points).
How Farm Mapping Software Works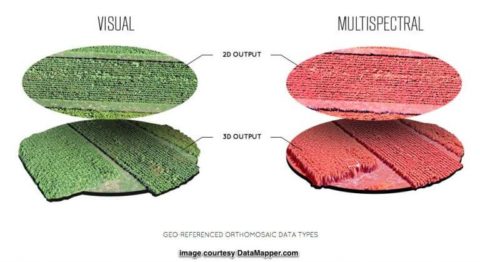 Let's start with the types of imagery that can be acquired by drones:
Visual.
Thermal/IR.

This kind of sensor can see hotspots and measure land and plant temperature. Thermal sensors are also used to detect the water because of its cooler temperature signature, which helps detect drought or leaks in irrigation.

Multispectral.

Used for health assessment and normalized difference vegetation index.

LIDAR.

Despite its high cost, it may be used once for initial 3D field surveying.

Hyperspectral data.

The combination and overlaying of images from multiple channels are used for a more in-depth analysis.
How Agricultural Drones and Software Can Measure Health
Mostly, agriculture software uses multi-spectral imagery to reveal how healthy the food products are, whatever stage of growth they are in. Those algorithms analyze changes of near-infrared light and visible light reflected by crops based on agricultural drones' imagery.
Specifically, the algorithm analyzes the changes in green color volume on VIS image and NIR light. Roughly speaking, the more green and reflected light is present, the better is the plant's health.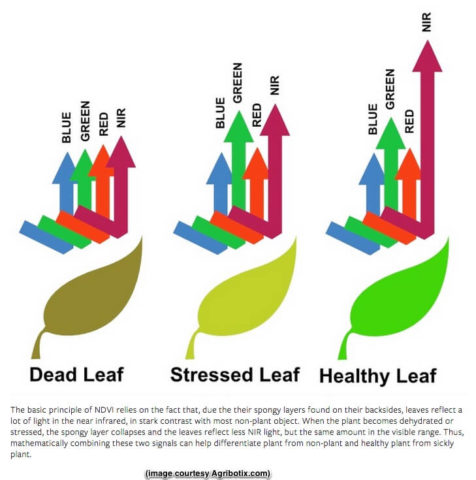 By using this data, farmers can monitor health changes over time, calculating and tracking NDVI. The NDVI calculation principle is pretty much based on the same method. NDVI = (NIR-VIS)/(NIR+VIS).
Here is an example of an NDVI-processed image.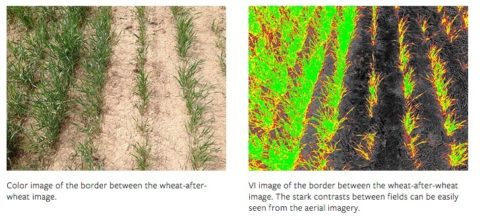 That's basically how agricultural health mapping software works in a nutshell.
Further useful UAV applications in AgroTech:
UAV / Drone-based remote sensing for mapping & surveying.

UAV / Drone-based industrial inspection, maintenance & repair of oil & gas platforms, assets, utilities, infrastructure & energy parks.

UAV / Drone-based precision agriculture for the crop, soil, and irrigation monitoring.

UAV / Drone-based structural analysis in assessment, archaeology & heritage monument inspection.

UAV / Drone-based documentation with aerial imaging.

UAVs / Drones as the first to respond in case of accident, fire, or crisis.

UAV / Drone-based flight dynamics & control theory research.

UAV / Drone-based flight automation & reproduction.

UAV / Drone-based computer vision & SLAM research.

UAV / Drone-based swarming intelligence & networking.
Top 5 ready-made and custom-built drone-mapping solutions for agriculture
As professional software engineers, we recommend that you opt for custom development whenever possible. But if you want to try some off-the-shelf solutions first, here are the most popular of them:
Professional solution that uses pictures to create point clouds, digital surface and terrain models, orthomosaics, textured models, and more. Having a variety of features, the app allows transforming pictures into 3D maps and digital models. 


Benefits:

increased productivity;

accurate results;

regularly updated maps and terrain models;

improved accuracy and data assessment.

Effective ready-to-use software is suitable for beginners and advanced users. It comprises autonomous flight features able to generate 2D map view models during the flights and high-resolution 3D views from your office.


Benefits:

the software allows conducting quick stand counts;

identifying variability;

making in-field recommendations;

helping farmers bring the best products to market.

The software facilitates the extraction of precise data on each stage of the agricultural supply chain. It comprises all the necessary tools to allow quick access to real-time and field-level data and info.

Benefits:

tracing and monitoring real-time situations and connecting the extracted data to your device;

rapid and precise diagnosis as well as accurate planning

and efficient farm management.

Accurate and highly functional tech solution for drone mapping. Iterative accurate flights allow to perfectly analyze the platforms and create an accurate map. High resolution cameras combined with slow drone movement and detailed scanning provide detailed mapping of a level, which nobody could imagine or dream of before.

Benefits:

the platform offers the most cutting-edge methods of textured 3D models out there;

all the necessary measurements can be made from the web browser;

easily process data entirely online and multi-visit management.

This software is more suitable for advanced users since it allows careful monitoring. It supports data from every drone and has a huge library of algorithms that can be successfully used for efficient farm management. 


Benefits:

precisely analyze huge amounts of data with several methods for individual farming purposes;

the software allows creating various types of maps for different clients.
Custom built drone mapping solutions with Altamira

Ready-made solutions present an easy and accessible way to apply UAV mapping solutions in your industry. Of course, there are considerable benefits of ready to use solutions, as for example cost reduction (less financial outlay upfront) and minimal time for installation and launching. However, as its turns out in practice, custom-built solutions end up offering much more benefits for businesses on aggregate, since:
– custom built software supports particular individual business needs
– customized solutions will make sure to contain all the necessary features
– developers are ready to provide instant and continuous tech support, rapid bug fixing, and regular code reviews
– allows for full business automation
– gives the opportunity to design an MVP (minimal viable product)
There is an opportunity to build MVP of your product as you want it, giving you the chance to test the product on the market and evaluate it. You can see what you like and dislike, and decide on the development of a more elaborate solution. We feel that this step is necessary before spending big on the actual project as it can limit your risk exposure as pertaining to the project
The Altamira team can help you with the development of drone mapping custom software utilizing IoT, analytics, AI, and ML technologies, building solutions that will be sure to optimally streamline agriculture management efforts. Custom-built technology will offer precise forecasts and estimates based on real-time data. It will enable you to make data-driven agribusiness decisions, increasing the revenue and propelling your business to great success.
Our team eagerly assists in modernizing, upgrading, and integrating new software. In case you already have a ready solution that is perhaps slightly outdated for your agribusiness needs and purposes, Altamira knows exactly how to improve it in no time.
Useful Vocabulary
Photogrammetry – measuring done with the help of images, most commonly taken from the air.
Thermography – imagery of the infrared spectrum of light. This kind of imagery shows areas of heat and has a quite number of commercial successful uses.
RGB Camera – the camera that is usually used in the mapping. RGB cameras take a sample of Red, Green, and Blue spectrums of light to create an image.
Point Cloud – a collection of points on an object's or area's surface used to create a 3D model. It is usually obtained from photogrammetric or LIDAR data.
Orthomosaic – Aerial images are corrected for topographic relief to ensure that the image's scale is uniform throughout.
GCP – Ground Control Point. A physical marker on the ground guarantees the accuracy of a geographical map. GCP is located using RTK (Real-Time Kinematic) GPS coordinate. It properly aligns the whole map to ensure overall consistency.
RTK – Real Time Kinematic satellite navigation used to obtain centimeter-accurate GPS data.
FAQ
In supporting precision farming, drones can do soil health scans, monitor crop health, assist in planning irrigation schedules, apply fertilizers, estimate yield data and provide valuable data for weather analysis.
To benefit from agricultural drone technology, you should make a careful preparation – from estimating business goals to deciding on the proper hardware and drone software features. After all, drone technology development is a complex solution that requires reliable drone hardware and software solutions provider. After choosing the right subcontractors, the discovery stage is the first step you can take to lay a solid foundation for your app's development. It includes a functional specification, UX/UI design, etc., that will give you a clear understanding of the end product. More information about the discovery stage you may
find here
Drones are inexpensive in comparison with satellite imagery, and their data is more accurate, but there are things to consider before implementing drone solutions.
Identifying goals. There are agriculture drone applications like field and crop monitoring, seed planting, cattle surveillance, etc. What kind of issue do you want to solve? Assess all your farm processes and concentrate on the main benefit most from using drones.
Following the law. Drone usage for commercial purposes should be done due to legal aspects, so it is better to involve a lawyer to take care of everything. Laws and rules for drone usage may vary depending on your country or state of residence. Register your drone if you have to determine which types of drones you can legally use in your area.
Considering the drone hardware Based on the tasks you want to reach, it is necessary to decide which hardware to equip your drone with. For example, for crop health monitoring, your drone will need an infrared camera. If you want it to estimate soil condition, it will need appropriate sensors, etc. And don't forget about the drone capabilities that will depend on the tasks you have in mind.
Selecting the type of drone software The collected data should be processed with agriculture drone software. There's also a need for navigation and flight management software, mapping. In some cases, ready-made, out-of-the-box software won't work, and you will need custom-made solutions that will meet all needs.
Custom drone software At the start, you need to understand the data collection, analysis, and visualization process. Also, it is required deep knowledge of plant physiology to set the software algorithms to recognize certain patterns identifying plant health. You will also have to decide on the optimal image processing type, and on how your drone data will correlate with other metrics – like humidity, temperature, field topography, etc.
Bottom Line
It must be acknowledged that NDVI is the most popular index but not the most precise one. Hence, many other indexes can be added to the agricultural mapping tool like CWSI and CCCI.
Drone mapping software helps to optimize field management through clear and precise analysis based on detailed 3D maps received from drones. These maps allows one to trace the health of harvest, availability of hazards and insects as well as define the needed amount of pests and fertilizers. Altamira helps to enhance drone mapping software by applying its engineering services and technology expertise.
The development of such a sophisticated system can add value to your agriculture apps and get you a better position in a competitive market. But this is another story that requires a deeper dive into the science of agriculture image processing.