Claims management is a complex process that consists of several steps starting from scheduled appointments to complete reimbursement. This process entails the interweaving of different parties, each of which provides a certain scope of information related to each consumer who is expected to be paid according to the insurance plan.
Commonly, each step within claims operations is performed manually by insurers, who are tasked with connecting all required parties to collect certain data to approve claims. 
Therefore, any error or gap in documents delays the process, impairing customer expectations and experience overall. That is why insurance companies start acquiring automated claims management tools to streamline this process and treat customers with high-quality services. And further, we would like to take a closer look at what benefits this type of software brings to the insurance business and what claims management systems are worth your attention.
What is insurance claims management software?
Claims management system is an automated software solution that provides companies that deal with insurance services with client-oriented, cost-efficient, and flexible claims processing. Basically, this type of insurance software solution aims to reduce operational and maintenance costs, enabling better customer experience when requesting reimbursement. 
Insurance claims management software automates the process of claims treatment, providing each customer with an individual approach and solutions.
According to Gartner's research, the insurance industry is expected to invest in custom software development, like claims software, more in order to grow their businesses, improve the quality of their services, retain customers, and grow their income. So what reasons cause this tendency? Let's find out the key benefits of developing and integrating custom insurance claims management software within insurance processes. 
Challenges of the claims management process
Overall, claims processing combines various processes and touchpoints with other parties to approve the claims. Hence, this process becomes challenging, and each touchpoint entails a huge risk of errors. Why does it happen all the time in insurance claims processing? We explored the main challenges claims managers commonly face.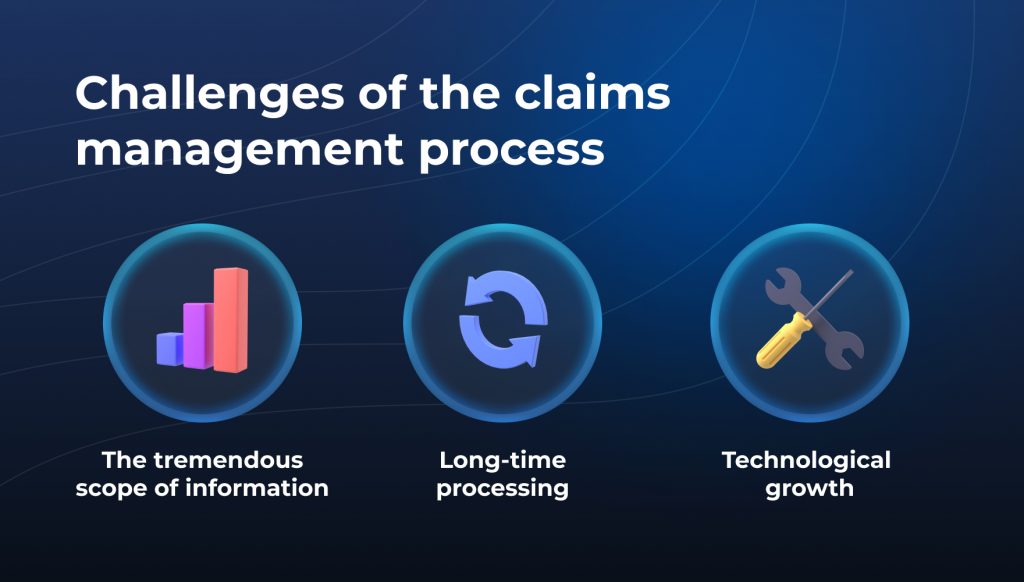 The tremendous scope of information
Each claim request goes through a long way to approval, collecting information from different sources like electronic health records, patient identifications, information about payments, and so on. Just think about it, each claim of each consumer of insurance services goes through the same process which is done manually and therefore lasts longer.
However, this issue is quite simple to resolve by implementing an automated insurance claims management system that provides quick access to the required sources of information with a low risk of mistakes. 
Long-time processing
This challenge follows from the previous point. Commonly, the process of insurance claims approval lasts between 30-60 days, which is really durable, depending on the state. So, if the documents contain any errors, different parties cannot quickly connect with each other to clarify the information, then this process can last even longer.
Technological growth 
This is not a challenge, but rather a demand. The InsurTech market is rapidly developing, forcing insurance companies to acquire technologies and automated tools to receive a competitive advantage and provide customers with the level of services they expect.
Hence, insurers that avoid technological growth are at risk of being left behind and losing consumers. Surely, insurtech software integration is a costly and complicated process, but it is a must under these circumstances. 
Acquired legacy software systems
Lots of insurance companies have adopted software systems long before insurtech has become a real trend in the industry. However, software of any type is expected to become an outdated or a legacy code solution. Such software solutions need code refactoring or elimination in order to integrate modern insurtech solutions, which are way more effective than legacy systems.
Taking into account the aforementioned challenges, some of them cannot be addressed without efficient process automation as the scope of data keeps expanding, and technologies proceed with developing and spreading the industry which causes the need to acquire insurance claims management software
What issues do your claims managers struggle with?
Let's discuss how we can help
Advantages of claims processing software for the insurance business
Claims management can go in two options –  as a feature to the existing insurance software systems or as a standalone software application that can be intertwined with your internal process and other exciting apps. This insurtech solution counts numerous profits for insurance establishments, which we would like to summarize further. 
Improve the process performance
The main purpose of adopting insurance claims management software is to make the process of their preparation automated, quicker, and error-free. Therefore, it eliminates the need for filling out paper forms and minimizes the involvement of human resources, which eventually leads to less number of errors in the documents, making the overall process efficient and fast for the client side. 
Standard insurance claims management process
Although each insurance company follows international compliance and data security law, such companies also implement an individual claims management process that outlines the flow of claims review and approval. To make such flow efficient for your customers, it has to be a unified system that defines each step in claims management software for your and client sides.
Custom insurance claims management software helps implement a standard claims management process, which includes the responsible managers, their duties, and tasks, which can easily be tracked with the automated system. It means that each case of each customer will be recorded and kept within a unified software database.
Reduced expenses 
Digitalization always means reducing operational costs. First of all, as a certain number of tasks related to claims management will be automated, there is no need to supply your team with certain employees as well as expand your team as custom insurance claims management software eliminates the manual processes as much as possible. Eventually, you cut spending on recruiting, hiring, onboarding, and training your employees as you simply don't have a need for some of them. You can expand the range of features of your custom insurance software. If you need some processes to be automated, it doesn't entail the need for expanding your full-time employees.
Enabled service quality and customer experience
Claims management automation also enables the customer experience as it takes the services of insurance establishments to a higher level. Saying a higher level means speeded-up claims processing and refunding, error-free documents which are checked automatically, not manually by insurers, etc. The integration of custom insurance claim management software has a direct impact on customer satisfaction and retention. 
Easy software onboarding
The onboarding of new software solutions within your inner processes can take some time, it doesn't really matter whether you have already acquired some tools, or not. Claims management software does not require much effort or technical knowledge from your staff, and also the basic onboarding will not take more than a day or two. Building a custom solution guarantees the convenient, clear, and intuitive interface of the system that will be simple to use and apply for all your staff. 
Features of claims management software
If we view the insurance claims processing software development as a detached solution, this can be integrated with the functions individually for your ongoing business needs and requirements, including the specifics of your services, the size of the company, and other details. Hence, we collected the top features that are considered to be a must for custom claims management software.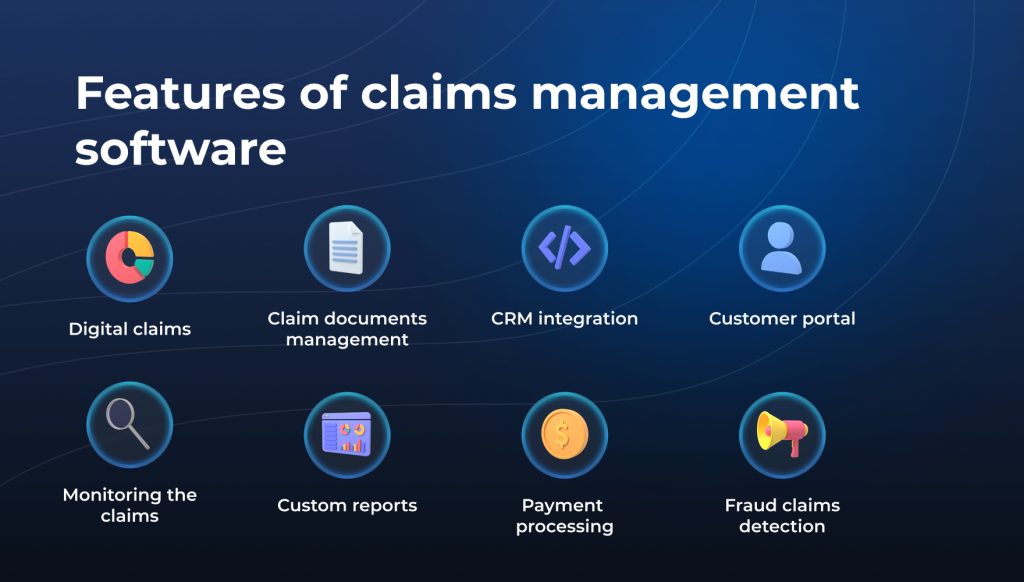 Digital claims
This feature eliminates the paper forms of claims as all your customers can do it online within your platform in order to keep these records and access them anytime they are needed. No manual work, no human errors, no data loss. 
Monitoring the claims 
The next function is accountable for processing all incoming claims according to a single standard flow that can be adjusted to a certain service or requirement.
Claim document management 
As all claims and related docs are stored within a unified system, insurers always have quick access to information about each customer, that is structured, and can be simply changed or expanded. 
Custom reports
All actions within claims management software are tracked – the creation of new claims, customer profiles, and other document management. Thanks to this scope of data, it can be analyzed to reveal the efficiency of the current claim processing flow and software solution overall. 
CRM integration
Claims management software can easily be integrated with Customer Relationship Management software, custom-made or off-the-shelf, for the purpose of knowing the wider scope of information about each consumer in order to customize the claims process.
Payment processing
The reimbursement process can also be conducted within the claims management system directly to the bank account of the consumer, which speeds up this process and makes it fraud-free.
Customer Portal
The customer portal provides the opportunity to create a personal account for each customer in order to submit and track the status of their claims. There is no need to call the insurers or visit them personally, everything can be resolved online. 
Fraudulent claims detection
Digital claims management is at higher risk of being attacked by fraudulent claims. Thanks to a unified database and risk management, the claims process system can detect these frauds and prevent payments to scammers.
Key bottlenecks of ready-made claims management solutions
Software updates
Off-the-shelf claims management software has regular software updates, according to numerous reviews from consumers. And it has two primary risks for your insurance company. The first one is that your feedback can be left unnoticed and hence not fixed for your case. The second one is that new functionality and other system updates will make the solution irrelevant to your ongoing business needs, where the function can be even worse than in the previous system version. Thus, you will be forced to look for another solution that entails similar bottlenecks. 
Complex employee onboarding
Due to our research on the best claims management software companies use, we found out that the majority of read solutions have poor, and far not intuitive user interfaces which prolong the employee onboarding process making it more complex. Surely, the software provided might have how-to-use guides and technical support, but you still need to figure it out on your own. So, organizing the process of using the new tool can take much more time than you expected, delaying its advantages for the claim processing within your company. 
Lacking functionality
Custom software can grow functionality simultaneously with your business, which cannot be said about ready-made claims management tools. For instance, the solution you acquire now considering the ongoing business requirement can become irrelevant and simply not enough to cover all processes and tasks in a year of integration or sooner. Certainly, the software provider conducts regular system upgrades, but it doesn't ensure you will receive the functions your workflows are lacking at the moment, but you still are going to pay for usage.
Limited integrations
Integration of a new claims management tool into the existing software ecosystem can lead to interference with each other. Thus, the implementation process will be challenging with the huge probability of lots of system errors and inconsistencies. As a result, the entire software ecosystem will not work smoothly and be stable.
Do you cope with any of these complexities?
Let's discuss how custom software can transform your claims management process
Altamira is your trusted partner for custom claims management software development 
Being a reliable software partner for many years, we helped hundreds of businesses with the acquisition of digitization and technologies for the purpose of automating and streamlining internal workflows, enabling service quality and customer experience. 
We are proficient with the peculiarities of the insurance business and are ready to offer the following services to digitize the claims management process for your institution:
AI/ML – deep data claim data analytics in order to predict claims costs, and enable their complete management including claims reserves;
Data solutions – structuring all data for the purpose of receiving valuable insights from it
IoT – connected devices enable better risk assessment and address claims for customers
Cloud solutions – enabling claims process efficiency with a cloud-based system
Summing up
Taking into account the challenges the insurers struggle with in manual claims management software, we would emphasize the essence of the adoption of automated tools for your insurance business. Custom insurance claim management software development surely requires investment and time for building and integrating within your inner processes but still, it is incomparable with ready-made solutions, and we know what we are talking about. Let's schedule a quick call with our experts to outline the advantages and business objectives of a custom claims management solution for your business.