These days, many organizations rely on their business operating on technologies. They make attempts to possess innovations to streamline and simplify their daily processes. The process of introducing technologies into the business environment is called information technology (IT) procurement.
The success and effectiveness of this process depend on the IT procurement strategy and the solutions you choose for your case. Everything is simple – if you implement the required solutions, they will benefit your business, and on the contract, if you make the wrong decisions, it will cost huge sums of money, time, and effort.
Further, in this article, we are going to dive into the details of the IT procurement process, what benefits and pitfalls it may have, and how to ensure the selection of solutions is suitable for your current business needs. 
To begin with, let's outline what IT procurement basically consists of. IT procurement is a gradual process of obtaining and implementing hardware and software solutions within business processes for the purpose of their automation, streamlining, and simplifying. The set of the required software systems and their functions allows companies to manage their inner processes.
IT procurement process includes integrating new software solutions according to the ongoing business needs and requirements, communication, and maintenance from software vendors, managing investment in IT procurement, etc.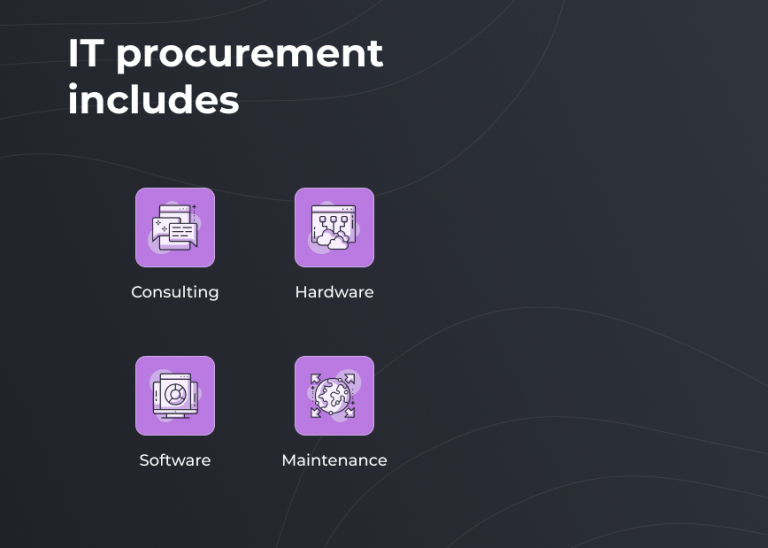 Why is IT procurement critical for businesses? 
The IT procurement process may not be always successful if you execute this process without consultations from appropriate suppliers of IT services that have scalable experience in IT procurement cycle for various niches.
 Overall, IT procurement is a scalable process of possesing technology services that requires deep analysis of all your inner business processes within each of your departments by the IT procurement team and software supplier to reveal the core issues your staff struggle with daily in the execution of their routine tasks.
It means before launching any type of information technology solution an, you need to define the purpose of the solution for your company and how this type of system can benefit your productivity.
We don't recommend comparing your company to other companies within your industry and implementing the same types of solutions like enterprise resource planning (ERP) software or cloud solutions or customer relationship management (CRM)  software, etc.
 The selection of software systems for your business depends completely on your current business requirements and the concerns your team struggles with within their work. So foremost, you are tasked with looking for a reliable software provider with vast experience in application IT systems for businesses of different industries, including yours.
For example, we would like to discuss this process with you in Altamira. Commonly, we get requests from our potential clients with some concerns they have in their businesses and the willingness to fix all of these problems by implementing custom-made software systems.
They do not always precisely know what kind of solution they want to develop and implement,  and they don't know whether the existing software apps are effective for business productivity, but they commonly list the issues they have so that we could provide them with a plan of action to resolve all these problems.
 For instance, a certain business company struggles with unifying data collection, meaning all company data is unstructured and spread within different departments and branches of the company and cannot be accessed and managed from a single interface. So this makes accurate data analytics and reporting impossible for this company.
One of the solutions would be the integration of business software like enterprise resource planning (ERP) that can be integrated with various functions, one of which is a single database for the entire business where all data from internal and external sources will be stored and easily accessible. Hence, structured data collection provides efficient reporting about the sales within the company and the procurement processes, and it also helps to evaluate if the integrated software is suitable and effective for your business. 
Technological trends in IT procurement
The variety of modern technologies is so big, that we can hardly cover all of them in the following point. Nevertheless, we managed to collect the top popular technologies and innovations that have already been adopted by business companies of different industries and sizes. What benefit do they actually bring? Keep reading to figure it out.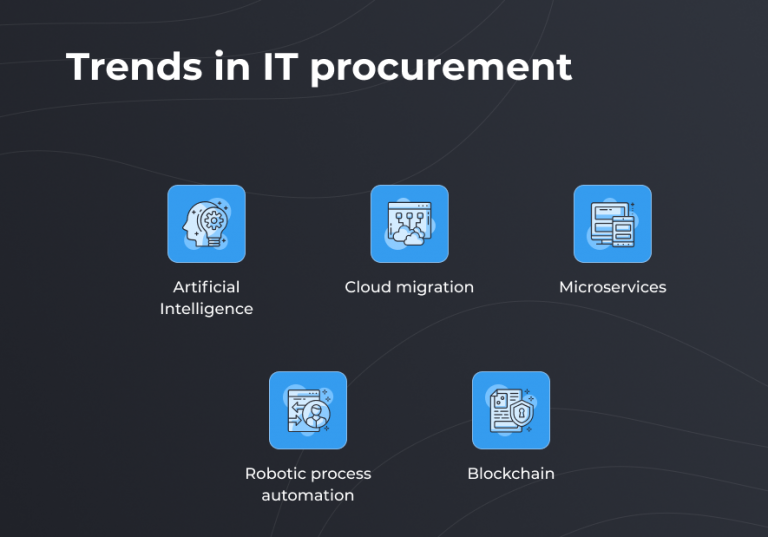 Artificial intelligence and machine learning technologies simplify the process of procurement management. Thanks to detailed data analysis using machine learning algorithms, your staff can manage and report the efficient costs and expenses distribution within the procurement process, structure data about suppliers, and keep documents in one place.
AI technology also provides integrated chatbots that can provide suppliers with quick responses to common questions and requests.
Due to huge amounts of data and processes to collect and manage, migrating from on-site procurement solutions to cloud services is inevitable for businesses. This process helps companies to access all these integrated applications and inner information from a single interface, being at any location and having any device. Thus, data becomes available and simply managed and changed. 
Microservices architecture
Microservices architecture is supposed to be the best choice for developing procurement management software, as this approach allows developers to split the entire software system into several independent parts, each of which is responsible for certain services and tasks.
Thereby, this method simplifies the process of maintaining the solution in the future, making each function of the system available to upgrade and change separately from the whole system.
Robotic process automation (RPA)
The implementation of robotic process automation simplifies the load of human resources that are involved in the procurement process.
Robots can learn and execute repetitive tasks that don't require the involvement of employees. Thus, workers can dedicate time to other critical tasks, thereby RPA boosts the overall staff efficiency. 
Blockchain aims to simplify, secure, and validate all P2pP transactions available in the procurement process of your company. The data of each digital transaction becomes encrypted, thereby eliminating data leakage to third parties. Also, blockchain fastens the order processing by structuring the data of each customer and supplier as well. 
How can IT procurement tech trends benefit your business?
Let's chat, so we could discuss it in detail
Best practices for effective IT services procurement process
To know what software integration your procurement services require, this process within your company needs to be managed and analyzed by an inner developer headed by a CTO or outsourcing software vendor capable of supplying your procurement process with all required implementations. 
Specify ongoing business needs and IT requirements
Proof of the software integration by IT procurement team
After the IT procurement requirements are collected, all of them need to be proven in their necessity and eliminate incorrectly defining requirements for your business processes by the team leads and chief procurement officers before signing any procurement contracts and launching the solutions.
Commonly, the procurement team needs to analyze the correlation of expenses for the software integration and their benefits for your inner processes and their efficiency. This process double-checks the requirement collection to ensure their correspondence to your current business software needs. 
Select software providers
Depending on the list of software requirements, the next step is to collect the list of software vendors who may supply your business with the required solutions. The software suppliers can be divided into two main groups – those who provide off-the-shelf solutions and those who develop custom solutions to the requirements of their clients.
Foremost, you and your leadership teams are tasked with deciding what type of solution you prefer and can afford. Based on our long-term experience working with diverse businesses from startups to enterprises, building custom solutions is always more profitable than using a ready-made software system due to a range of reasoning like high charges, irrelevant functionality, and technologies, poor customer and technical support, etc.
You can pick the software vendor that will correspond to your technical demands and budget, but this is primarily related to outsourcing development teams, as in-house developers are quite costly to cooperate with.
In case you select a development approach in IT procurement, the next step is the development process with the selected software vendor. This is a scalable process that consists of 5 main stages – collecting specifications that we mentioned previously, picking the architecture and design for your solutions, gathering teams, and developing, testing, and integrating.
The duration and total cost of the software development for your case completely depend on the specifications of your project and the requirements of your company and inner processes. 
Assess the effectiveness of IT procurement
After all required software systems are procured or developed and integrated within your internal processes, your team needs to ensure its effectiveness, trustworthiness, and relevance for your company's overall productivity.
So the final step entails creating procurement KPIs and assessment metrics to monitor the optimization and streamlining of inner processes and compare them with the expected initial and planned results from IT procurement.
Custom-made or off-the-shelf solutions for the IT procurement process
When you select ready-made software solutions to be integrated into your business processes, it means that you are to purchase and buy the software on your own according to the requirements that you defined through communication with your team.
Off-the-shelf solutions commonly are related to poor customer support due to a vast number of active users, rare technical changes and upgrades of the solution functionality, the unsuitability of design and functions to your current business requirements, and so on. 
If you tend to select custom software development, which is also a part of an IT procurement process, then you are going to consult on your needs and requirements with an experienced software supplier who knows your pains and knows the solutions to those pains with software integration. 
All in all, the probability of effectiveness of the IT procurement process for your company increases if you select custom-made solutions as they are designed and built according to your specifics and your demands as a separate business instead of your competitors in the industry. 
There is a stereotype that custom software development is more costly than ready-made solutions, but mostly the ready-made solutions have huge monthly charges for the functions that may not be relevant for your business at the moment.
Moreover, custom-made solutions can be extended with any function and integrated with any innovation and technology your business requires, instead of the off-the-shelf solutions that primarily focus on the common needs of similar businesses like yours but do not consider your specific needs.
There is no single example of when the IT procurement process can start without consulting services from your software supplier and specifying the specific business needs, requirements, and expectations from this affair. It is not necessary to define the type of software solution you need to purchase, whether it is off-the-shelf or custom-made or the hardware you need to equip your company with.
The first pivotal step in the IT procurement process is to analyze the current situation and inner processes of your company along with your software strategic partner, and then start building the IT procurement plan, which entails gradually obtaining technologies and innovation from your business.
Let`s schedule a quick call
Our team will consult you on the best IT procurement strategy for your case
IT procurement is a consistent process of obtaining technologies by implementing software and hardware solutions within a certain business for the purpose of streamlining, automating, and simplifying the inner processes. 
Before launching the IT procurement process, it is critical to explore your ongoing business needs and requirements to define the types of solutions you require to integrate. It is better to start by consulting with your software supplier, from what step in IT procurement will be next for your company.