According to a report by Owl Labs, employees in the U.S. work remotely full-time 66% more frequently than the global average. After the pandemic, this number can increase to 81%. So the reality is that most business companies continue working remotely and have already gotten used to holding all communications online.
However, effective communication is a key to successful task execution and a team's higher productivity. The communication approach is also one of the top priorities that potential clients pay attention to. So how can your company provide great interaction with customers if your internal processes are not well-managed?
Of course, no company wouldn't use text and audio messengers where employees can't share videos, images, links, and other files. Nevertheless, text and audio formats are not enough as they do not create real-time participation effect. This in turn can cause misunderstandings between workers and revulsive factors.
All in all, we would like to discuss the top reasons why modern companies are in demand for custom video conferencing apps. 
Secure data exchange
Data security is a great challenge in many industries that implement software solutions. As video conferencing apps allow sharing different types of business information, there are constant risks of data stealing by hackers for malicious purposes. 
For that reason, a custom video call app is usually built with local privacy regulations in mind.
Integration with internal portal
Most business companies use several different apps for the management of internal processes. Thus, the appearance of a new video call solution should not interrupt the common workflows and should be easily integrated with the internal business system. Video call app implementation is not a complicated, spendy, or long-lasting process. There is no need to spend time on learning how to use it, as its functionality is pretty clear.
Cost efficiency 
The ready-made video conferencing apps are indeed good and can be used for small groups of meeting participants. So if you ask us what companies can make use of conferencing apps, we'd say – middle and large-sized businesses where the number of workers starts from 100 till eternity. However, most of the popular apps required a monthly fee for each participant to provide access to all functionality. The average cost for one participant starts from $5, and if you put all the pieces together, you will understand how expensive these apps are. 
Custom development is not an easy or less expensive process. However, you invest in the development only once, and get the video call app that you expected to get with the ability to add new functionality and update technologies. 
Reasons to Love Video Meetings
Companies are moving further apart. So a lot of small to midsize businesses spread throughout a country, a continent, or even the world which creates a significant burden for communication, even for employees that work in-house. Besides, don't forget about communication with customers and partners, it's difficult to imagine talking to all of them without numerous trips, which brings impressive costs. In this case a video conferencing can provide additional growth to your company's bottom line.
Skip of spending third of your life in airport lines, by video conferencing usage you can bring life to your meetings. All present persons are not just voices on the phone but an on-screen presence allows seeing and communicating with others, share presentations, and more. For meetings, one of the participants can sketch out ideas on an online whiteboard and invite participants to join. Some video conferencing services let presenters pass control to another participant who can continue the meeting without interruption. 
96% of respondents agree that video conferencing is effective for improving the connectedness of remote team members.
Features of video call apps
It is not a secret that feature set is what really makes any solution useful and appreciated. So we always recommend companies to think about the most demanded features beforehand and then incorporate them in their custom video conferencing solution. Based on our experience we have selected several key options for you to consider:
Screen sharing
Screen sharing is the number one feature for any type of video call solution. It is vital to provide full-fledged interaction between the conference participants as everyone could see the presentation in real-time. 
Multiple webcam capabilities
To make all your employees visible at meetings, the video call app should support advanced webcam capabilities to display every employee on the screen. This option is tasked to provide a participation effect to make the communication feel more "live-ish," so to speak.
VoIP
Voice over Internet Protocol (VoIP) is a widely used approach to delivering highly qualified audio and video communications via the Internet. You may know that the Internet connection can be lost pretty often, but using VoIP makes the conferences smooth, and each participant can also choose between video and audio calls. 
Chat feature
Can you imagine getting a chance to speak when the meeting counts more than 100 people? Chances are that you might not get heard. That's why chat is a must for video call apps, especially for middle and large business companies. Along with text messages, users also can share links or other multimedia files. 
Remote control
Remote control implies the ability to edit the shared documents in real-time. Each user can use the cursor to show something on the screen to get the participants' attention. 
Unlimited recording
Video recording is a must feature for business video call solutions. There are cases when some employees cannot be present at a meeting but the matters discussed there are important and shouldn't be overlooked. It is also vital to provide an unlimited recording time as ready-made recording apps usually have limitations and demand charges for unlimited records. 
HD video
Video recording without HD would be meaningless, right? Moreover, high definition video is always perceived much better so that every employee could clearly see the speaker and go with the flow.
Branding features
Brand watermark is required if your company holds webinars and video conferences not only for the internal participants. It also can be used during the client presentations and make your approach more professional.
Dynamic presentation
Today simple presentations will come as no surprise to anybody. The presentation needs to contain different file types like videos, PDF files, animations, etc., and you need to be sure that your video call app will display all of these add-ons correctly for all the meeting participants.
Performance reports
Reports aim to show if all the meeting participants stay engaged during the meetings and how often they attend. Of course, there are video calls that are obligatory for all company employees, however, such types of meetings should also be engaging. 
Have your own corporate video conferencing app in mind?
Our Business Analysts can help you shape your ide, suggest the best feature set and tech stack.
Choosing the Right Video Conferencing Platform
The choice of a suitable video conferencing platform is a deliberate decision as it will host both the internal team meetings and the ones with the clients . The quality of the services and the company's reputation partially depend on how you can organize the internal business processes. 
First of all, you need to analyze the current state of your communicative flows, their efficacy, and apps that are already used in your organization. Afterwards, this analysis will allow you to set the main goals. Finally, you can decide whether you need a separate app or are willing to integrate this option into the existing internal business platforms.. 
The further questions may help you with this decision. So before implementing a video call app, you have to answer the following questions: 
How many employees will be involved in meetings considering the company's growth?

How often do you hold video conferences?

What functionality is required for your particular needs?

What level of security is appropriate for your business?
Cisco Webex and Zoom customers experience the fastest meeting setup times. Cisco Webex users report the fastest meeting setup time overall, with 67% reporting a setup time of under 9 minutes.
The Top 5 Video Conferencing Systems
The variety of ready-made video calls application is really impressive. It can be separated applications as well as the integration of video call options into the existing business systems. Quarantine forced all business industries to embrace remote work, and our company was not an exception. Since the beginning, there have been challenges in arranging proper communication between all company's departments to maintain the quality of the services. Therefore, we created a list of the most popular and convenient video conferencing applications of our preference.
Microsoft Teams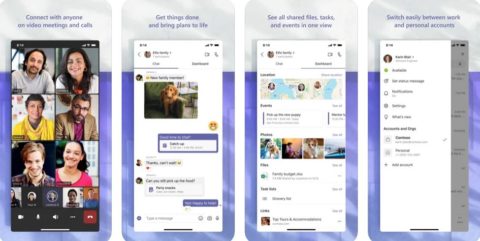 Image source: Microsoft Teams
Microsoft Teams is a solution that allows scheduling large group video meetings and a one-to-one conversation. This app allows up to 10000 participants to join a single meeting, which is an excellent option for large-scale businesses with offices in different locations. It can be easily integrated into Microsoft 365 ERP system if the company uses it or plans to implement the solution. All meetings can be scheduled and shared among the company branches via the Microsoft system.
Microsoft Teams is available on diverse devices and versions. Besides, the solution offers a free 30-day trial after which you will have to pay $5 per one meeting participant monthly.
Google Meet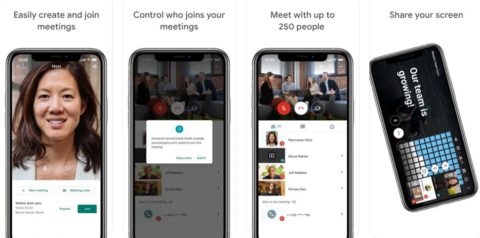 Image source: Google Meet
Google Meet does not concede to Microsoft Teams. It is considered to be the most frequently used among business companies. Google apps are all about the connection of different company`s departments and workflows. Google Meet calls can be scheduled via Google Calendar or Gmail. The notifications about the upcoming meetings are sent via email
so users can confirm their attendance or receive other important updates
Google Meet is convenient as it supports different OS and devices, so you can easily use it on the go. It also provides chat, screen, and presentation sharing. Generally, Google Meets is free, however, you will have to pay $6 per one participant if you want to get advanced unlimited features. 
BlueJeans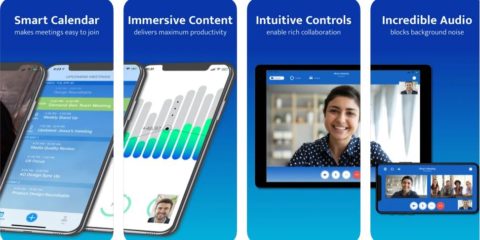 Image source: BlueJeans
BlueJeans is a cloud video call solution that is primarily suitable for middle and large-sized businesses. It is tasked with providing HD video meetings for a large number of participants and combines audio, video, and web conferencing. BlueJeans is not free but offers a trial period of 30 days. Then you need to pay at least $14.99 per user if you choose the annual plan. 
Zoom Meetings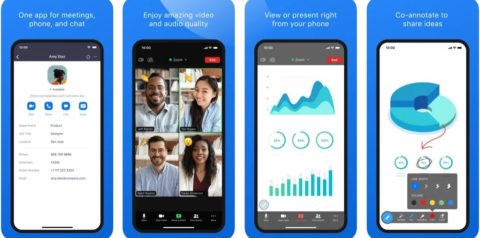 Image source: Zoom
During quarantine, the Zoom app has become one of the most frequently used video call platforms used in many industries like education, medical learning, science, business, etc. It is a cloud-based app that suits different organizations despite its size and type of activity. Zoom offers the creation of simple chat rooms, private and open video conferences, cloud video meetings, screen sharing, etc. It can be downloaded on any device and any OS. Zoom is free for a limited group of people and common functionality. If you want to access the advanced option, you will need to pay $14.99 for one user monthly. 
Cisco Webex Meetings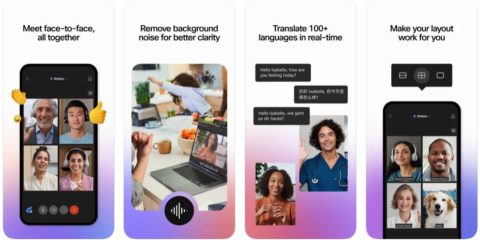 Image source: Cisco Webex
Cisco Webex is a video conferencing app that
companies of different sizes can use
. It can be used via the browser, or on the smartphone. In addition, Cisco allows sharing screens and different file types with the meeting participants. It also offers a free trial period, After that, the pricing plan will be $13.5 per one user monthly. 
Nearly half (46%) of our respondents report that they're likely to switch to a different video conferencing software platform in the next 12 months. The most common reasons to consider switching are ease of use and cost.
Smart Conferencing
Most services have the same functions with a slight difference. Nowadays one of the most demanded technologies in the video conferencing sector is speech-to-text. The machine detects clearer articulate speech pretty well but not a fluent live speech. However, video calls simplify the procedure of communication through different channels, and many vendors have announced voice recognition services.
Apart from subtitling that is useful for deaf people or at public places, the business needs to manage the meeting results.
It's not comfortable watching tons of videos over and over again just to find a particular bit you're looking for
. 
Microsoft Teams can make people blend in with a background during a presentation that is conducted via video conference. The Team Room presented the Intelligent Capture option in August 2019. This technology implies using two cameras: one shows us all angles (a speaker and a presentation board, for example), and an additional one broadcasts the image of a whiteboard where a speaker might draw something. In case the speaker is in the way of the whiteboard the system will restore the image of the covered part of the board by using an additional camera.
The
fundamentally new technology
in video conferencing that
understands sign language
was presented in GnoSys app. This service recognizes all popular sign languages. A user needs only to place the phone or tablet in front of them during a video call. GnoSys application will translate from the sign language of one user into a life speech for another user. 
The
security of private information
during the video conference is crucial. Zoom service announced the adoption of a unique ultrasound signature.
Special ultrasound code
will be integrated into each video call to allow identify the source of the leak in case if the record will appear on the Internet.
Working with any video streaming service can be tricky over a corporate network. While the basic setup is enough to get one session running, be sure to work with your IT department to test what happens when multiple streams are open. You're looking for artifacts or excessive buffering that disrupts the stream which can happen if the video stresses the bandwidth limits of your network or your internet connection. Also, if you have remote users that connect to the internet by using a virtual private network (VPN), then be aware that these services often also cause bandwidth problems that can affect video streaming performance. For the times when something goes wrong, you need solid support resources.
How to develop a custom video conferencing app?
Since the GBKSOFT team has been developing custom business solutions for more than 10 years, we can indeed say
that developing a custom business app
is one of the best decisions you can make to enhance your company's growth. Generally, the ready-made business apps can be worth using. Still, they are no match to a custom video conferencing app with the innovative functionality, latest tech trends implemented, and fascinating design that would be convenient and modern at the same time. 
We are ready to provide you with a full team of developers with an incredible experience. To develop a video conferring app from scratch as a separate solution as well as an integrated platform you will need to hire:
Business Analyst – helps to define the main issues and set goals to resolve them with software; 
Scrum master – responsible for the management of the development team and providing communication between the team and clients;
Designer – aims to create user-friendly, unique, and modern design up to your requirements;
HTMLCSS developer – who are responsible for front-end development of the app;
Backend developers – writing the code;
Testers – provide different types of testing to reveal the weak points of the solution and fix them before the integration;
Maintenance team – the team of developers that will help you implement the app with the latest technologies and widen the functionality in case of need.
The final cost depends on many factors like the project scope, range of requirements, and available budget. The development price starts from $45000 and varies due to your demands.
Custom software cannot be compared to ready-made solutions. Custom video conferencing apps are unique and suitable for your company platform that considers the peculiarities of your workflows and provides easy integration.
Final thoughts
These days video conferencing has become an inevitable part of the internal and external communication of business companies. Employees are used to working from home and do not rush to come back to offices. Companies that haven't integrated their companies with video call solutions yet, should think of developing a custom video call solution to provide constant and highly qualified interaction within the organization. 
Custom video conferencing app implies developing a fully secure and unique solution that will 100% fit your company's communication approach. 
It is high time to enhance the communication within your company.
Let's discuss our further cooperation.