Live Streaming Fitness App
Anywhere Fitness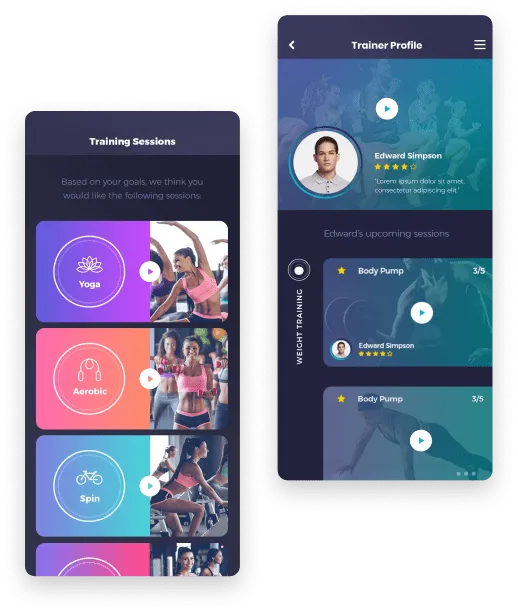 Discovery phase
Product development
Maintenance
QA
Live Streaming, Messenger, Geo, Search, Booking, Wearables
See what Altamira can do for you
The client came to us with an idea of a multi-platform fitness marketplace where trainers can stream workouts in real-time and train sport lovers wherever they are. The idea was born while he was on vacation and imagined how cool it would be to have a coach nearby and to workout while on the beach.
Hence Anywhere Fitness app grew bigger than simple "vacation coaching". The app covers a huge targeted audience: freelancers, homemakers, people with little kids, and those who prefer home to gym. In additions, Anywhere Fitness meets the needs of people who require remote training, travel a lot, or prefer individual training.
Shortly speaking, Anywhere Fitness is created for those who have too many excuses not to go to gym. The app brings gym to wherever you are now.
Platform is also a marketplace for trainers and fitness instructors. App helps trainers to promote their training services and grow client base way beyond the limits of gym, city district or even country. Anywhere Fitness app allows training up to 6 sportsmans at a time thus growing their client base and income faster.
The value of Anywhere Fitness app is growing with the number of offers it provides. The more trainers are involved, the more choice and interest from clients you get. That's why it was vital for us to streamline trainer registration process as much as possible. By doing so we managed to enhance user base grows and user acquisition rate.
Getting started as a trainer
Science fitness chains is one of targeted audience of the app we created dedicated admin roles for chain owners. That's how two admin roles appeared: Super Admin and Group Admin.
Super Admin has all the privileges in Anywhere Fitness app. Only the owner has this kind of access. Super Admin can create groups, sees the whole site analytics, manages billing settings, releases payments to coaches, and manages sessions.
Using Group Admin role gym supervisors can manage their trainers. For instance, you can create profiles of trainers that work in your gym and live stream their sessions through Anywhere Fitness app in order to attract new clients.
First, we decided to develop MVP in order to test out the core functionality of future product: joint sessions, video streaming, and health data reading from wearable devices.
Here's a use case we've developed for MVP:
Trainer creates a workout session.
App connects to trainer's camera and enables video stream.
User joins workout session and joins the video broadcast from trainer's side.
Anywhere Fitness connects to user's wearable device and camera.
The app acquires health data from Apple Watch or Android Smart Watch.
Health data and video are streamed in real time to trainer.
This use case was replicated on each of three targeted platforms: Web, iOS, and Android.
Client has successfully used this MVP to get additional funding from investors. Thus, we moved to the development of the full-scale fitness app.
Video streaming is a core feature of our Anywhere Fitness so we paid great attention to its development. We started from testing different technologies and software products available on the market. We wanted to make ensure that video streaming function performs flawlessly, without any lags and slowdowns.
The most important thing in training is to keep the pace. That's why the main criterion for selecting the software was its ability to stream video without any lags even if user has low Internet bandwidth or speed.
We chose a bundle of technologies including TokBox and Amazon Elastic Transcoder to process and convert media files in one format. Unified video format ensures that video stream will play on all devices regardless of brand or performance capabilities.
Video streaming specifications:
Media container format: MP4
HDTV format: 720p (HD Ready)
Video compression format: H.264
Max bit rate: 2.5 Mbit/s
App focuses on the delivery of the best training experience possible. That's why we were required to create near real-life environment. For this purposes, it was decided to integrate app with wearable devices.
Synchronisation with sportsmans' wearables allows trainers to adapt sessions to the performance of the group by checking with their health characteristics like:
Heart rate
Calories burned
Running speed
Miles covered
Steps made
Wearable OS supported:
WatchOS
Samsung Tizen
Android Wear
As is the case with gyms we have created a dedicated virtual wallet system. Each user has its own wallet which can be topped up through PayPal. Thus, users can top up their wallets once and that train without the need to transfer money after each workout.
In addition, virtual wallet system ensures flawless monetization of the app. That is because only paid users can access live streams and contact trainers.