Yes, Coronavirus is scary, there's no doubt about it. But even worse is another great pandemic of the 21st century – stress, depression, and anxiety. They are quite slow killers of the many millions of people around the world. Our daily lives become faster every day, yet they lack meaning. It is now serious to reflect on our mental health and get the best from modern technology to improve our overall mental capacity. 
Smartphone addiction is real. At the same time meditation apps, mental healthcare coaching apps, stress relief apps, and even therapeutic products conquer the software market quite successfully. The year 2019 has proved that the next most significant trend in software development to follow is mental healthcare apps to help individuals successfully confront the everyday challenges of complex, often frustrating, and anxious modern times. Let's navigate further to assess the business value of such products as well as their usefulness. We will discuss the features, costs, and examples of such apps. 
Just pause for a moment and consider the US statistics:
1 out of 6 Americans is taking a prescription medication like antidepressants.
Around 20 million of Americans suffer from depression
33% of the population report they have experienced or are now experiencing chronic loneliness
What is a mindfulness app?
The deep researches of scientists proved the necessity and useful effects of mediations based on a constant warp. They have a really positive influence on human bodies and mental health. Meditations help to slow down and relax after high intended emotional loads. that why they are frequently used all over the world.
Nowadays the meditations are becoming more advanced and have easier access and performance. As this flow started to gain huge popularity, there was a need to make this process sin=mple and convenient for modern busy people. That's why business owners decided to develop a new stream of web applications. nowadays there is a large number of diverse mobile app available in any location you are. they usually have different meditations, plans, and goals to set by users.
The meditation time lasts pretty long as it is important to become calm and focused on your internal state. Now all you have to do is to open your app on a smartphone or tablet and play any meditation you want to hear.
In this article, we will discuss the most popular mediation app available on modern marketplaces and if it is worthy to build your own.
Features of meditation app
Besides meditation apps are different and have specific plans and mantras, there is a range of features that are obvious to include in the development of the mediation app. The list long is rather short but if you decided to build this kind of apps, you should take them into consideration:
Stories shares
This feature implies sharing the experience between users. sometimes mediation is not just time to relax; it is a part of mental health treatment. It is a great option to read stories about how other people coped with depression and other mental diseases.  This experience shows the real use of meditations and encourages new users to keep calm and continue meditating. 
Calming music
In addition to meditations, you can put on soothing tracks and sound of nature like flowing water, rain, winds, sea waves, or birds chirping. This practice is used to help people to concentrate on monotonous work, fall asleep faster and sleep better, or just have a rest after a hard-working day. 
Private chat support
This feature is really necessary and advanced for meditation apps. It implies not the availability of meditation and calming music, but discussions and getting tips from experts or experienced meditators. Each user can contact them to talk about the problems, ask for advice, or get a motivational speech to continue meditating.
The development of a meditation app provides a vast space for your creativity and individual approach to building. You can add more features and functions, create an attractive design ad put in it whatever you want.
Features of meditation app
Want to define the main feature for your own meditation application?
The Future of Mental Healthcare 
We use apps for everything now. People order food, services, play games, text each other, book appointments, etc. Once our physical needs have been fulfilled, we face an existential vacuum. You can find a date with Tinder and you can take a ride with Uber. But how to find peace?  
Take, for example, HeadSpace. It is a meditation app. Since it is now scientifically proven that breathing techniques, meditation, and yoga all positively counterbalance the effect of anxiety, meditation became very popular in the West. 
HeadSpace app works a lot like a learning platform, although instead of listening to lectures and passing tests, users make little daily tasks, read brief motivational quotes, and choose their individual strategies on the way to happier and healthier lives. 
The user interface of HeadSpace as well as many other meditation stress-relief apps are designed specifically to reduce the cognitive load of users. With HeadSpace users are reminded to take short 5-minutes of breathing exercises in the morning and reflect on their daily progress in the evening, feeling the surveys and gradually progressing. Users receive level upgrades, nice bonuses in the form of motivational pop-ups during the day, life advice, etc.
The most interesting thing, though, is that the apps like HeadSpace and Calm have actually collaborated with life coaches, professional psychiatrists, growth guides, and experienced practicing therapists as well as doctors with a Ph.D. diploma. All that is done to guarantee that the exercises are clinically proven to maximize the user's wellness and reduce their stress levels. 
Examples of top meditation apps
Modern marketplaces are full of meditation applications. There is a huge number of advertisements on the web. practically on every social media page. We covered the most popular of them and described the main option they can perform.
Headspace is considered to be the most popular and efficient US mediation app. It has widespread advertising on the internet so it has many active users constantly. Design is very important if we talk about nothing applications. Headspace is a perfect match as it has a user-friendly cartoonish interface. It is the first thing that attracts users when they search for a new app, especially that one who helps to relax. Also, all meditations available on Headspace have detailed guides on how to start and perform them right. Headspace has different aims of meditating – it helps t cope with insomnia, anxiety, stress, or encourage the spiritual growth of personality. Moreover, Headspace provides training with experts where users can discuss all their problems and feelings.
Calm is another one popular meditation application that is considered the second after Headspace. It has a specific design with soothing patterns and colors to match the title entirely. This app is aimed at helping with anxiety and sleep problems but also provides a wide range of other meditations. Calm has several advanced features like choosing the music for mediation and concentration instead of narrative form. Also, Calm offers to listen to stories narrated by famous people like writers, voice-artists, actors for sleep. It is worth to mark that Calm suits people who had any experience with meditating before as it doesn't have detailed guides of usage.
Inscape is a little bit different meditation app than the previous two. Its custom playlists like Return to Peace, Urban Meditations, 3 Minutes to Rest, and others. This is a solution to one of the NY meditation studios. If you have the ability to visit this studio, the meditation can be added with candles, oils, and other relaxing things. However, Inscape has its own shop where you buy all these additions for the home.
Buddhify is known for its short but efficient meditations which makes it extremely convenient. You can take your time and have a rest wherever and whenever you want – at work during the break, walking on the street, driving in a car or public transport, etc.
Monetization of meditation app
There are several types of monetization available for mediation solutions. As advertising is not a successful way of earning money, we prepared a list of another three of them. You may ask why ads are not desirable for meditation apps. It is pretty clear – usually, ads interrupt the performance of the application. Meditation should last with no interruption to be really efficient and helpful.
So the common types of monetization are:
Paid download
Some apps are free, and some demand payment to download. If you only launch your solution and the internet users haven't heard about your brand, it is better to make your app free for a while. After you gain an imposing number of active users, you can make it paid for all the next users.
In-app purchases
This type implies buying content in a digital store in your application. You need to be very attentive to prices and range of content if you choose this way of monetizing. The prices should available and meet users' expectations. Also, it is important to build a vast library and constantly update it because you need to engage more users in buying new practices.
Subscription
Subscription is the most frequently used type of monetization as users see the condition from the very beginning.  Every customer can choose a suitable plan of meditations, a particular amount of content, and the price for a week, month, or year.
Monetization
Curious to know what type of monetization is the most efficient for your case?
Digital Self-Help
Mental healthcare apps are still far from being real medicine. People with severe chronic anxiety or clinical depression absolutely must seek 1-on-1 help, probably take prescription drugs, and do a lot of other things to get better. But where does the line go? Are you just a little anxious today? Perhaps, you haven't feel good for a month or a year. Even if you are perfectly fine, why not give it a try? Using a meditation app is like reading a great self-help book – crucial if you're at the crossroads in your life but also useful even if you're not.
For all those who still decide to deal with troubling symptoms of depression apps like Calm and HeadSpace are the best options. They are literally thousands of times cheaper than visiting a real therapist. And perhaps using the app today can save users future sessions. 
With mental healthcare apps, users can constantly monitor their progress. Paying on the subscription-based model or buying the app once, users are to complete stages on their way to a more mindful and balanced life.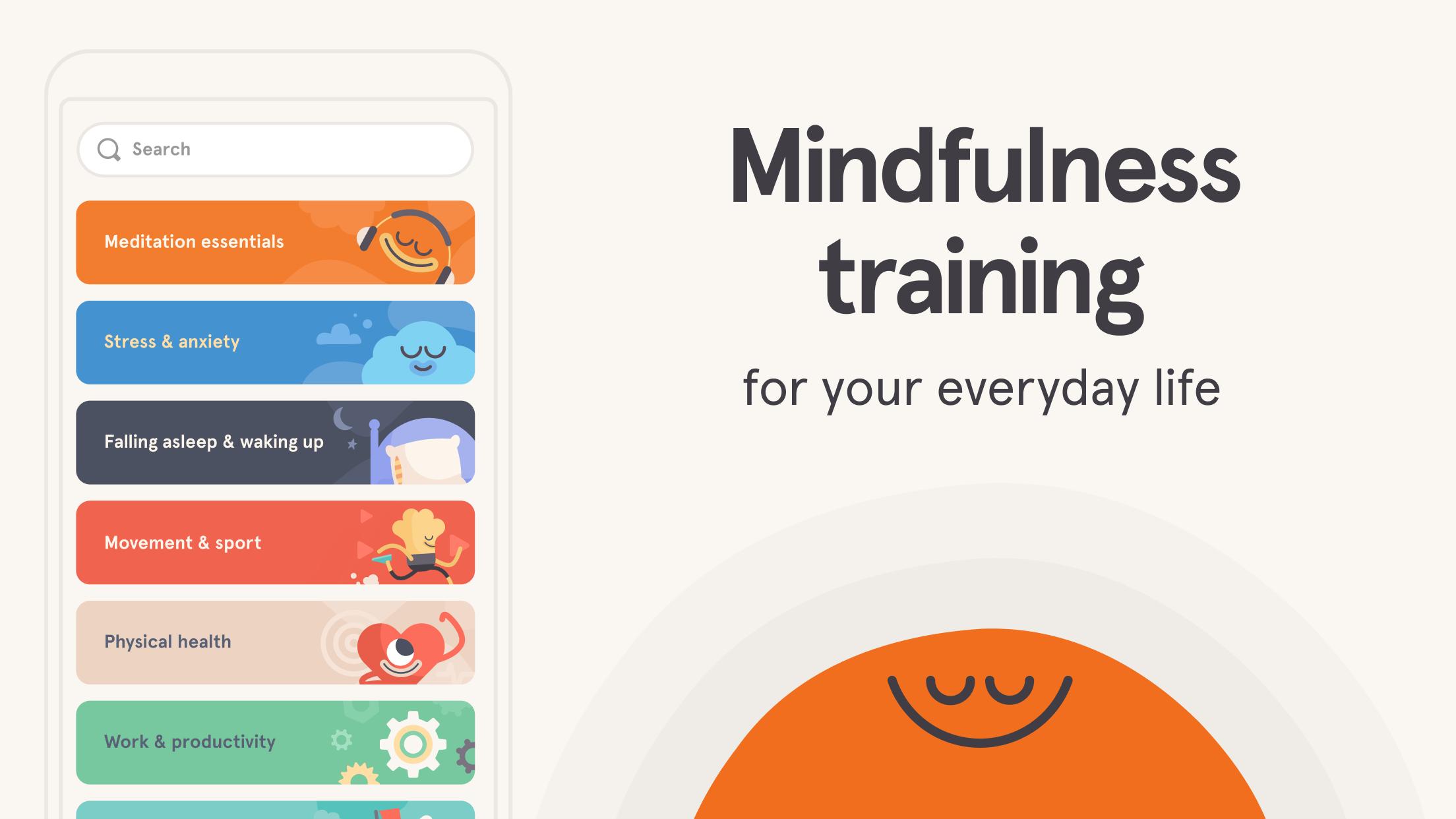 Make MVP Your Priority  
It really doesn't matter what kind of app you are going to develop. MVP is a must. All apps (well, like 90% of them) are MVPs upon their initial release. This is the most common practice because it saves time, costs, and helps to shape the final product as to allow it being maximum value to users and maximum profit to you, the app's owner. 
Business Analysis
All our projects start with business analysis. During a personal (free) consultation our Business Analyst will advise you on how to incorporate your ideas into the app. A Business Analyst connects the business logic with the development cycle. More precisely, our BA team is responsible for picking the most suitable features that will make your meditation app successful on the market.  
Do you want to see such articles in your inbox?
Stay up to date with latest tech trends and products
The Popularity of Meditation
It will be more accurate to claim that meditation apps are popular now not because apps is overall popular. Meditation apps are popular because guiding meditation has become popular in the US. Many yoga classes devise their own apps that are essential to the practice. It helps users to continue self-improving even outside the class. It also helps venture owners and personal coaches to reach their trainees, attract more students, and, especially now, continue teaching virtually because of COVID-19. 
Of course, another reason for the popularity of the meditation and anxiety-relief apps is, well, the fact that more people suffer from depression now than ever before. Most experts advise radically change one's lifestyle in order to reach full personal growth, self-actualization, and maximum potential.
Users who comment on the lifestyle habit apps, meditation app, and stress-relief apps all comment on their ability to distract people from negative they encounter in life. Why not? After all, smartphones and apps are the #1 distractors. Meditation apps use attention economy techniques to make users spend more time in the apps and eventually become better at life tasks. All other apps work the same, though they do not bring such value. If the app is going to make me actually want to spend more time improving myself I might as well get addicted to it. That is much better than Netflix binge-watching. Because I doubt that Netflix is going to cure depression.  
Conclusion 
Well, there's no time like now. And 2021 is the best year to develop, release, and use stress-relief apps to battle anxiety. Modern people live in constant stress and often feel anxious. Meditation apps are a must-have for everyone, no matter in what area, what ages, or gender. The development of the mediation app is actual as never before. All you need is to build really creative, attractive, and professional solution. Contact our Business Analyst to discuss what features and functions your application should have, and together we will build a successful business strategy for your solution.
Contact us
Are you ready to start creating your own business strategy for the development of a meditation app?
The main thing about meditations is consistency. If you try it for the first time, it doesn't mean that all your problems and stress will be solved. Take your time and allocate several minutes a day to relax and meditate. The result will not be long in coming.
The level of competition among mediation apps is rather high. Besides common features for app development, you need to build a calming and simple design, provide a wide range of soothing music and narrations vocalized by professionals.
The total cost of mediation app development depends on the functionality and experience of the team you will hire. Contact our Business Analyst to estimate your future project.