According to Statista, the size of the IT outsourcing services market is steadily growing, exceeding $103,9 billion in 2021 compared to $93,1 billion in 2016. It means that more and more leading companies entrust the development of their technology solutions to third-party development experts. And within that, Eastern European software developers seem to be the market/region of choice for many. And it is not much wonder why – perfect location, the best price-quality ratios, rich tech expertise, and awareness of the latest trends often make these specialists the number one choice.
This article comprises the practical tips to find and hire app developers, reasons to choose them from Eastern European countries, and why software developers in Ukraine are particularly great, as well as some inside tips that will allow you to launch and successfully finish the project.
How to find and hire the best software developers in Ukraine and other [Eastern] European countries
Being able to develop robust custom software solutions is an important step for any organization. But, as is often the case, the in-house team is not enough. Thus, business leaders seek to outsource to software developers – and the optimal tech expert options are often found abroad. There is a wide pool of talents all over the world and in this day and age of the internet, you can access anything you'd like. The major challenge that decision-makers face is choosing the perfect team that will successfully handle all project objectives and satisfy individual business needs. That being said, it is essential to have a solid strategy in place to approach this correctly and attract and hire the right development company for this role. GBKSOFT experts have prepared their own checklist helping to find and hire the best Ukrainian software developers and successfully finish your project:

Define the feasibility and define the scope of the project.

Develop the operating model and agree on the cooperation strategy.

Establish the roadmap of implementation.

Clarify the requirements, service metrics, and evaluation details.

Conduct the initial location analysis and make sure it suits your requirements.

Make sure to examine the referrals, see the company testimonials and real customers' feedback.

Choose the preferred vendors and discuss all the details. Take into consideration all the security and privacy issues.

Develop the contract. Implement retained organization and establish performance monitoring.

Optimize the processes to open up the path to achieving the objectives.
The business decision-maker should also take into account such factors as the maturity of the tech partner company, all-around cross-industry expertise, how well-established their brand is, and cooperation experience in finishing similar projects. Following the above-mentioned steps will inevitably lead you to partner with experienced and reliable Ukrainian software developers that are able to put one's idea into reality.

Get to know more about gathering the best team of developers:
Trust your software development to the Eastern European partner!
Fill in the form and get custom web and mobile software development!
Reasons to consider Eastern European software developers
Finally, you have established the strategy allowing you to select the best team of software developers. Now, you face the challenge to select the location and start interviewing potential custom software developers in Ukraine or another country. In this section, you will get to know why Eastern Europe has become the perfect location for hiring a team of developers for your project.
For more than twenty years, software developers in Poland, Ukraine, Belarus, Slovakia, Czech Republic etc, have been helping to make up for the scarcity of talent and expertise for US and Eastern European markets/customers. The large tech talent pool, high level of education and tech expertise, good price-quality ratio, and close geographic proximity are the factors that influence the popularity of these developers among business leaders. According to Statista analytics, the European trend towards gradually adopting new technologies like the Internet of Things (IoT) and Artificial Intelligence (AI) offers further growth potential for these segments in the coming years. There are thousands of custom software development companies in the region that are ready to partner with and supply high quality of service, advanced tech expertise, and unique ideas.
Reasons why global leaders choose software development partners in Eastern Europe?
Eastern Europe is famous for its great digital infrastructure and is full of qualified software developers. According to a Statista report, Ukrainian custom software developers and software developers in Poland are on the list of sheer number of software engineer professionals in European countries.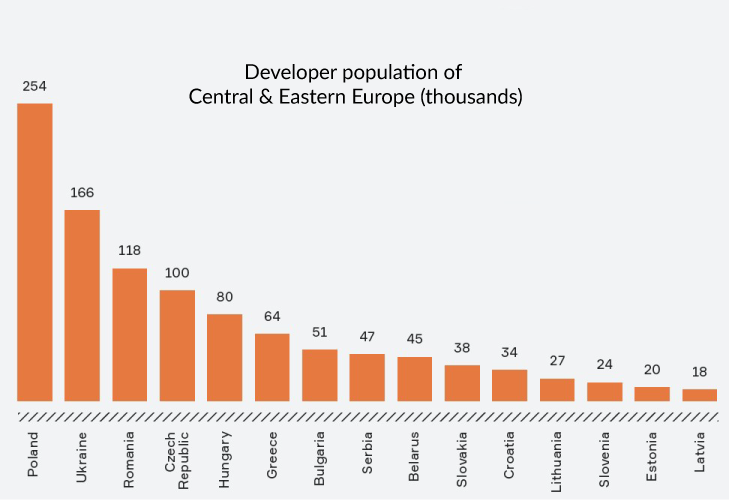 A wide number of advanced experts
European experts also occupy the top charts in terms of the level of expertise of the developers. For instance, software developers in Ukraine occupy the leading positions in the hacker rank among the countries supplying software development services. 
University level of professional education. As is often the case, a software developer completes a couple of courses and becomes an IT specialist. In contrast, 83% of software developers in Ukraine are graduates with technical specialty educations.
Geographic and cultural proximity. Eastern European in general and Ukrainian software developers in particular are located at the crossroads of Europe. They can become perfect software development partners with no need to spend long hours traveling to conduct strategic meetings or visit the team's office. Shared European values, common business customs and outlooks mean punctuality, efficient team management, efficient conflict resolution.
High level of English. Advanced communication skills and a high level of English will make communication and cooperation more transparent, efficient, and clear.
High quality of the software solutions at reasonable pricing.
Eastern European countries are known for their good price-quality ratio in providing software development services. If you compare the rates of software developers in Ukraine with those in the US, for instance, you can expect to see approximately a two-fold difference in prices.
Enhance your cmpetetive capacity on the global arena with advaced tech support!
Launch your project and put the idea into reality!
Main concerns about outsourcing to Eastern Europe
There are some risks involved with entrusting software development to outsourcing companies. Business owners face many difficulties and without adequate planning and management, projects risk failing. Here are some pitfalls that are common to the process:
Mismatch in expectations

– it's important to discuss not the segregation of roles or what parts of the project are being outsourced, but rather the services that should be delivered by the software vendor. Thus managing expectations and defining the needed results.

Cultural gaps management

– cooperation is definitely more comfortable and smooth when there is cultural alignment or at least compatibility between the software vendors and the clients.

Initial transition period

– is the biggest fear. The assimilation period needs to be well-structured and precise, whereby enough time and resources need to be allocated in support of this purpose.
Communication management – make sure to pay attention to  scheduling and planning for specific methods of communication; all of which needs to be hashed out to the smallest level of detail. It will eliminate any unnecessary misunderstanding and lower the risk of anyone setting unrealistic expectations.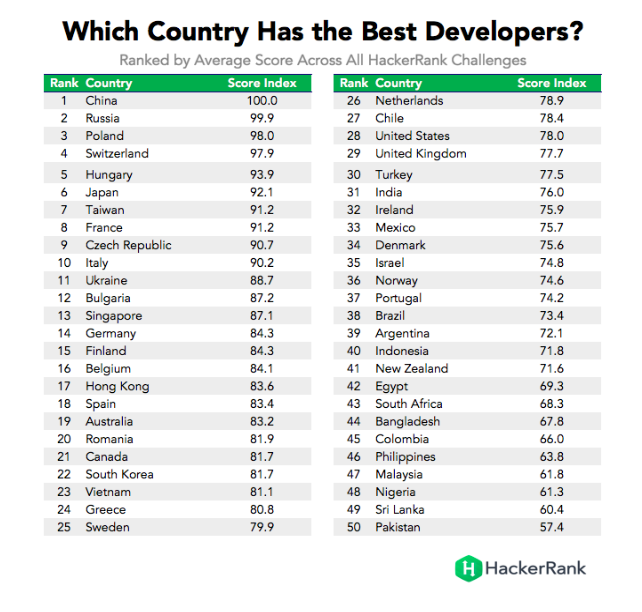 How GBKSOFT eliminates any possibility for client concerns:
We inspire client confidence by taking a more consultative approach. We conduct deep market research,  take the time to explore our clients'  business needs and objectives and combine that with developing a proof of concept.

We offer a wide range of tech talent availability, transparency of all processes, as well as ability to control project direction at any stage.

Specific cross-industry knowledge and high level of communication allows us to avoid any communication gaps or misunderstandings.

We equip our clients with competence, powerful tech tools, and processes offering advanced software development services.
We cover the full cycle of software development from individual business research to deployment. The complex approach enables us to deliver the full range of services, including business case modeling, advisory, risk, and regulatory implications helping the customers to make the right decisions.
Comparison of top countries to outsource your software project to
Eastern Europe is a large pool of talent with beneficial conditions for software development. The top destinations for software development outsourcing are Ukraine, Poland, Czech Republic, Romania, and Croatia. These IT hubs offer high levels of expertise and great quality of service. The table below comprises the key insights and comparisons of top Eastern European countries to outsource your software development to.
| | | | |
| --- | --- | --- | --- |
| Country | Number of Programmers | Average Rates | Popular Languages |
| Ukraine | 200K | $30–$60 | PHP, Node.JS, SQL, JavaScript, Java, Python |
| Czech Republic | 130K | $39–$58 | Python, SQL, JavaScript, Java |
| Hungary | 105K | $44–$57 | SQL, Java, JavaScript, Python |
| Poland | 400K | $45–$69 | Java, SQL, JavaScript, Python, PHP |
| Romania | 139K | $31–$51 | SQL, Java, JavaScript, Python |
| Bulgaria | 63K | $39–$56 | SQL, JavaScript, Java, PHP |
| Belarus | 69K | $33–$48 | JavaScript, Java, SQL, Python |
| Croatia | 46K | $32–$63 | JavaScript, Java, SQL, Python |
Choose the trusted software developers!

Launch and successfully finish your project with GBKSOFT!
What benefits will you get from outsourcing to Eastern Europe?
You do not need to offer relocation to the specialists you hire (visa sponsorships etc.), since Eastern Europe is increasingly becoming a great place to live and develop professionally.

Hourly rates are much better than in the US or UK (from the client's point of view).

Great level of English and strong professional skills.

Can accommodate the working hours of clients in the US and UK time zones.

Great technical education and polished professional skills.
Ukrainian software companies – fair pricing and high quality
Ukraine is a great choice for software development outsourcing. It numbers about 200,000 advanced software developers across Lviv, Kyiv, Kharkiv and Dnipro. Software development is a big part of the local economy, and it is a flourishing tech hub and the size is predicted to reach USD 8,4 billion in terms of yearly volume of exported services by 2025.
The country has proven to be a reliable outsourcing partner mainly thanks to highly skilled software engineers, of course. Among the list of reasons to choose Ukraine are that it offers: a beneficial location, rich labor pool, overall dedicated work approach of professionals in this market, reasonable cost and an easy-going mentality. And these are just some of the advantages and reasons why global leaders choose Ukraine as their destination to outsource their software work to.
Here are some more pros in favor of selecting a Ukrainian software development firm:
Optimal time-zone 

Absence of restrictions for recruitment

No strict visa requirements and restrictions

Great transportation system across the country

The strong skill set of engineers and advanced education

Unique work approach of developers, flexible mind, and hardworking nature 

Affordable process, high quality of software, and tech-savvy teams

Security and transparency
Among the latest tech trends that the Ukrainian tech market is actively honing their skills in are: IoT, Blockchain, AI/ML technologies.
Hourly rates of software engineers vary from 40 to 60 USD depending on the tech stack and professional level of software engineers.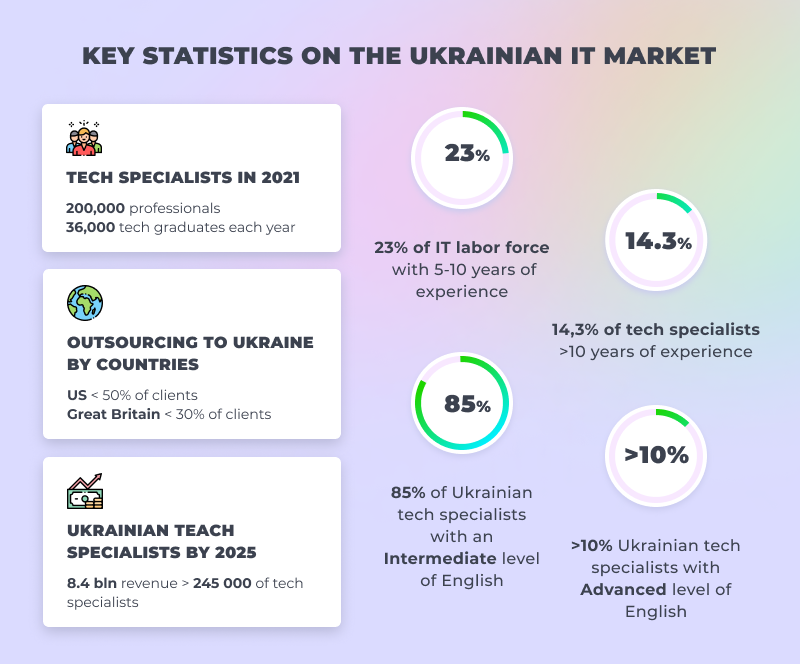 Get to know more about the salary rates and popular technologies in our latest report on the IT market in Ukraine
 Launch and successfully finish your project with GBKSOFT
Among the biggest concerns of customers hiring a software development team is that the software development project they launch will be successfully completed. A properly chosen software development partner will guide and support you through all stages of development and present the final version of the product, which will be even better than you could have expected.
GBKSOFT is a mature Ukrainian software development company with more than a decade of experience in the native arena. We provide web and mobile app development from idea to deployment. The team comprises more than 70 advanced tech experts, including DevOps, Business Analysts, Front-end and Back-end developers, UX/UI designers, Quality Assurance specialists, and Scrum masters.
Our clients say that we are good because:
GBKSOST has successful experience with clients from various industries and demonstrates rich expertise and a dedicated approach to projects;

We approach each client individually, assessing their particular business needs and setting up unique project objectives;

Our experts apply their deep tech knowledge and skills to put customers' ideas first, continuously turning them into reality, always with the long-term perspective in mind. So the technology built will be competitive on the market for a long time;

There are no hidden costs and no pre-payments, everything is clear and transparent;

The perfect pricing model (team extension, dedicated team)to successfully finish your projects and complement the team with the necessary experts;

The client can control and influence the project flow at any stage of the Development Life Cycle (DLC), attend daily team meetings and be present at the sprint sessions.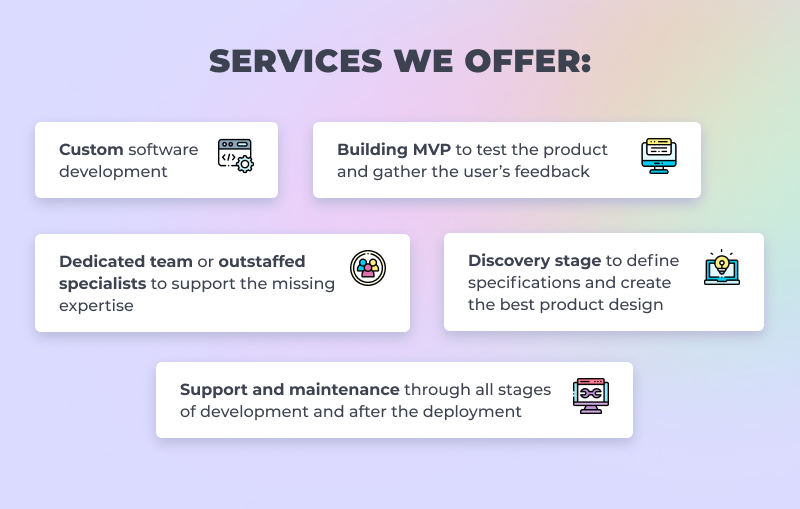 Quickly scale up your business with GBKSOFT!
Click to get the consultation and launch your project!
To sum up
Partnering with an Eastern European software company is a great strategic move – you can be sure of the quality of the project, the hourly rates are affordable, and the service is at the highest level. The project will be finished in time, and it will correspond to your expectations. 
Ukraine, as one of the largest technology hubs in Eastern Europe – offers a wide range of services and tech partners to choose from. Hiring software developers in Eastern Europe, you will compensate for the possible lack of expertise in your team and successfully finish the project in the shortest terms. 
Eastern Europe has a large pool of tech talent with beneficial conditions for software development, great price-quality ratio, advanced experts, perfect location and reliable partners.
The top destinations for software outsourcing are Ukraine, Poland, Czech Republic, Romania, and Croatia.