When setting up a new business process, many of our clients are trying to find a ready-made digital solution to facilitate our work. How do we usually do it? We read the description and, at best, watch the video review. Then we decide whether it is suitable or not. Only after using this software can an understanding come so that it can be changed, supplemented, etc. An out-of-the-box solution usually does not allow you to customize it for your business needs. As a result, there is a need to save or process data in another application, or, even worse, keep it in separate documents and folders on the computer.
By developing custom software, you don't get a solution here and now. After all, to make a high-quality solution, you need to conduct a discovery phase to study your business processes, your needs and create useful software that will automate work processes in the future, save your resources, and so on.
Let's take a look at a ready-made solution, and then we will give arguments for custom software development to manage rented real estate.
What is iRent?
iRent is a cloud-based real estate management solution for property managers who control 5 to 5,000 units. It includes tenant verification, role-based system access, and work order management, automatic billing, forms (digitally signed), online rent payment (tenant portal), website management, posting vacancies, real estate insurance, and more. In addition to the web application, mobile devices are also applications for the most popular iOS and Android operating systems for both property managers and tenants.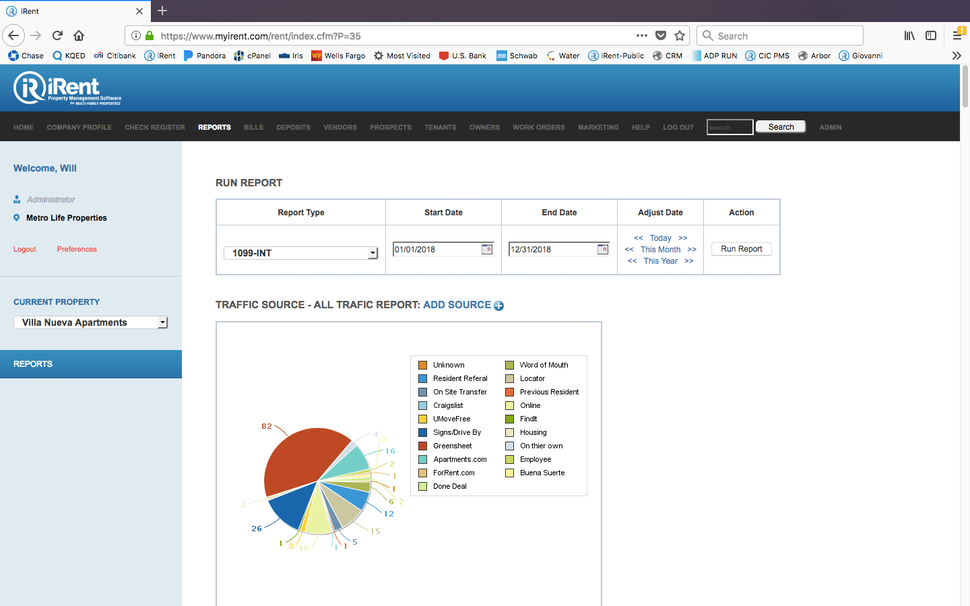 This digital solution also has accounting tools that allow you to bill tenants, monthly process rentals, store digital copies of rental receipts, impose penalties for late payments, and pay utility bills. Property managers can upload documents such as rental applications, housing documents, lease agreements, rental receipts, etc. And also manage the filing and expiration dates of essential documents. The tenant notification function allows users to send bulk notifications for rental reminders, water outages, power outages, other maintenance schedules.
The main features of IRent
Let's take a closer look at the main functions of this ready-made solution, and then move on to its disadvantages.
Automated payments
According to a pre-set schedule, all mandatory invoices and late fees are automatically billed to the tenant. Thus, you do not need to process rental receipts and enter them into all statements manually.
Tenant notices
Every time a fee is debited from the tenant's account, they automatically receive an email notification and a push-notification in the mobile app. It ensures that they are aware of the changes.
Online access
All you need to access your office in the application is access to the Internet. It doesn't matter where you are – you can manage your property from anywhere.
Analytics
Check the state of your affairs at any time using reports generated directly in the program. This approach helps to make decisions faster and build a development strategy.
Property-based rules
Adjust prices, late fees, user access, all from a web-based dashboard.
Tenant Portal
Tenants can access the system via their smartphones or computers and enter work orders, view reports, etc.
But even though IRent has relatively complete functionality, there are some disadvantages that customers say. Let's take a closer look
Disadvantages of IRent
The main disadvantage of iRent is that it can restrict users from using certain functions. Also, this software does not have the following features:
Credit Check
You cannot check the credit rating of your future tenant. This significantly increases the risks of agreeing with a dysfunctional tenant.
Tax Management
The solution can automate the acceptance of payments, but as for paying taxes, you have to figure it out yourself or involve an accountant. Alas, with this point, the cost of real estate management costs also increases.
Tenant Screening
Besides the fact that you cannot check your future tenant's credit rating, you cannot check it for convictions, sexual harassment, etc.
Website Management
One of the most useful features is missing. In other words, the vacant property will not appear on the site after the tenant moves out. You have to do everything manually.
The main disadvantage of this app is that you have to pay a fee to use it, which starts at $ 200.00 per month, and you will have to pay $ 1 / unit every month.
Considering all the advantages and disadvantages of IRent, it becomes clear that this solution will not be enough to meet your business's needs. To introduce the above, we recommend that you consider custom PMS development from scratch, where all your business needs will be taken into account. We described the main advantages of implementing a custom solution to decide whether you need it or a ready-made solution. 
Looking for a developers team?
We can help you with developing PMS for your property rental business.
Why create a custom property management software 
You probably already know that there are also individual solutions in addition to ready-made solutions available on the market. Out-of-the-box solutions have quite extensive functionality, but users often face certain limitations when business development takes place. Customized business solutions are perfectly tailored to your needs and offer tremendous scalability potential. But in comparison with out-of-the-box software, non-standard solutions are more expensive.
Rental property management software built to meet the needs of a specific business has many benefits, which is why custom development is becoming more and more popular. We decided to provide several reasons why you should consider creating a custom property management solution as one of your significant investments:
You only pay for what you use. Ready-made tables and templates in ready-made solutions – can be useful, but are all the fields used? Some areas are probably missing, and you will have to put this information in separate documents that you cannot find today. By reducing the number of third-party tools, you can achieve greater standardization and management efficiency.
Use any channel to attract tenants. An individual rental property management system will allow you to cover all distribution channels for your rental services.
Be in touch, 24/7. The use of chatbots and virtual assistants makes it possible to provide excellent support to your customers when you are offline.
Data security. The property management system must be created by high cybersecurity standards, eliminating the risk of data leaks and fraud.
Advanced reports. Real-time data access helps business owners quickly adapt their strategy to a changing environment, which contributes to the growth and efficiency of your company.
Win the loyalty of your customers. Creating a simple and straightforward application, with instant notifications and personalized offers, loyal and potential customers will feel you are cared for. A personal account for tenants makes the interaction with the user more friendly.
Scalability of the solution together with the business. Customized software is always developed to be expandable. This is so that missing modules can be added in the future to meet your growing needs as your company grows.
Do you want to see such articles in your inbox?
Stay up to date with latest tech trends and products
Features of a custom property management system
The benefits of a personalized digital rental management solution are hard to overestimate. You may already know what kind of digital solution you need. If not, we would like to help with the selection of must-have features for your future proposal. After analyzing dozens of solutions, we highlight the following features:
#1 Accounting for agencies or multiple properties
Property Management Software (PMS) can track your bottom line with reports generated right there in the program. You can also control payments to contractors as well as payments to property owners or suppliers. These reports can be used to work with taxes.
#2 Process automation
Today, property owners or property managers do many routine things themselves, or they shift it to the team. As a result, time is wasted on things that can be automated. Analyze all processes to highlight those that do not require human participation. This can be accounting and communication, automatic notifications, autoresponders and payments, and much more. You can also create various email templates and schedule when to send them.
#3 Centralize your business management
Agree that running any business, and even more so in the field of real estate, requires performing routine tasks that can distract from more important tasks. To develop rental management software, you can delegate some of your day-to-day tasks and consider integrating a task management module. Operations that are repeated from day to day can be automated. As for individual actions, they can be processed manually. Developing a mobile task manager will allow your team to be flexible and complete assigned tasks on the go. Task reports and smart notifications can help you centralize your business even more efficiently.
#4 Payment processing
No PMS today is complete without a built-in payment module. When developing an individual solution, you can choose a more reliable payment gateway with favorable conditions. A high-end solution should include integrating deposit and balance payments, end-of-life reminders, and email notifications. 
Of course, you must keep track of your payment information so that you and your customers can view your payment information at any time.
#5 An innovative approach
IoT technologies are penetrating in all areas of life. Create IoT connections to your software to manage your property better. You can connect smart devices such as smoke detectors or stoves to your app. Thus, you will receive real-time notifications in case of emergencies.
Before introducing new features, we advise you to consult with your employees about what would be useful to include in your solution's functionality and how they see the implementation of this. Thus, you can create the most convenient solution for your staff, saving time for training.
#6 Scalability
A digital solution should grow with your business. In the early stages, the feature set may be small, but you may need to integrate new software modules over time. In this case, your solution should be ready for a new level of development. For example, you decide to add new features, or you have a new apartment building. It is essential that scalable software can be extended or integrated with third-party solutions at a minimal cost.
#7 Easy backup and recovery
You always want to be sure that all the information in your application can be quickly restored and backed up. Individual PMS is the way to do this.
Do you want to rebuild an existing system or to create custom software from scratch?
The cost of custom rental property management software development
The cost of rental property management software is mostly subscription-based. The price ranges from $ 0 to several hundred dollars per month (affecting the program's number of managed properties). Undeniable – free software looks very attractive to landlords and property managers. There is only one note that free software usually has a limited number of functions and does not have additional marketing and accounting tools. Also, you will rarely find the ability to access from anywhere in the world and the ability to track the insurance policies of renters. And most importantly, when using a free digital solution, no one guarantees data security, which is a critical point. As for custom PMS development, we recommend starting a project by building an MVP. Thus, you can get a large investment to get a digital product with a basic set of functions, and as users give you feedback, you can add the necessary features. Especially for this, we calculated how much it would cost you to develop an MVP.
| | |
| --- | --- |
| Role | Hour |
| Product Owner | 660 |
| Design | 445 |
| HTML/CSS | 550 |
| JS Front End | 1656 |
| PHP Back End | 2006 |
| Manual QA | 1348 |
| Admin | 64 |
| Scrum Master | 1004 |
The estimate is approximate since each such software is an individual solution with a specific set of features created for the company's particular needs.
Want to know the price of your project?
Let's discuss its functionality
To conclude
It is likely that, compared to off-the-shelf solutions, specialized software can seem expensive and complicated. But once you do the math and take into account the risks, you will see that tailor-made rental management systems can bring significant benefits to your business.
You can also reduce the amount of administrative work, increase your efficiency by 3-5 times, and increase customer satisfaction and make them come back to you again and again.
Rental property management software is a digital solution designed to help property owners and companies who own real estate manage these very properties effectively. Good management leads to increased profits, so it is so vital that tracking all transactions is in one place and is as automated as possible. Property management software optimizes processes such as screening tenants, rental management, and maintenance request management. Also, some software includes accounting and marketing tools, which can significantly reduce the time it takes to advertise vacant apartments and manage a rental business's finances.
When building your property management system, you may face the following obstacles: the ever-changing business environment requires constant software proprietary updates; overly complicated architecture and the interface can lead to usability problems; an ineffective cybersecurity system can lead to a guest data leak; incompatibility with pre-existing management systems can lead to problems with data import/export; systems without multilingual support are likely to be abandoned by users.
Creating a CPMS is similar to creating any other digital solution. This one consists of the following steps. We start the development process with strategy and planning. To offer the best solution, we carefully study your business needs, target audience, technical and non-technical requirements for the product. The opening phase is crucial because it saves time and money in the long run. After completing the business analysis, we move on to creating wireframes and prototypes. This stage is dedicated to UX design, a better understanding of the target audience, creating custom journeys and flows. After agreeing on the previous stage results, we move on to the next – creating the user interface design. Then follows the development of the application functions, which were agreed upon at the beginning of the project. The software is built so that you can scale it and add new software modules or integrations in the future. During development, we always test the software to minimize any bugs or problems. Completion of a project is not still the end of cooperation. We are always ready to support you because our goal is to establish long-term relationships with customers and become a reliable technical partner.