Why custom mobile app developers will successfully scale up your business? Compared to well-established businesses, startups operate with limited budgets and resources. However, some of those eventually manage to keep hold the competitions at bay and get ahead. Mobile app development is one of the most efficient tools to grow fast, leaving the competitors in the dust far behind. In this article, you will uncover the real value of mobile app in your startup scaling and get to know the main steps and processes involved.
How custom business app developers can help your business?
All market giants have started their path as small companies having an aspiring idea. However, at a certain stage, it is necessary to make a wise strategic move to go forward and conquer new heights.  If you wonder what helps companies to scale a crew of enthusiastic entrepreneurs into a global market giant, it is much more than simple luck.
It varies, depending on the company, however, you need to elaborate on the efficient business scaling plan having a long-term vision. In this case, there is an efficient business instrument that can help to scale up your startup business successfully and overcome the competitors. Custom mobile app developers has moved the startup business scaling far beyond.
According to Statista, the number of smartphone consumers globally today is about 2.5 billion, and the trend is that this amount is increasing year by year.
Custom business app development offers new business opportunities and has become an indispensable driving force that supports business scaling. However, it is not enough to just hire a custom mobile app development agency.
It means you have to find app developer for startup, launch custom business app development, create a customized mobile app. It will optimize your internal business processes, satisfy current and future business objectives, allow offering advanced user experience and increase the customer retention rate. You may wonder, how custom mobile app development for startups can reshape the way you lead business and help you to scale up?
Here are some benefits your business will get after hiring app developer for startups and building the custom mobile app:
Custom business app developers claim that it is a new way of interaction with customers. Advanced user experience, personal offers, easy and instant issue and request management, simplified payments, access to the property listing, and all data gathered in one place. It for sure increases customer satisfaction and contributes to your business growth.

Establishment of the individual brand. Custom business app development allows building the app that reflects your business values and company's philosophy. It can also serve as an efficient marketing instrument. What is more, 48% of users admit an app helps determine brand credibility.

Custom mobile app development for startups helps to attract and retain a bigger number of customers, since you may design an app that will help to fight their major headaches. Custom mobile apps also allow monitoring the user's behavior and integrate features that satisfy the users' demands.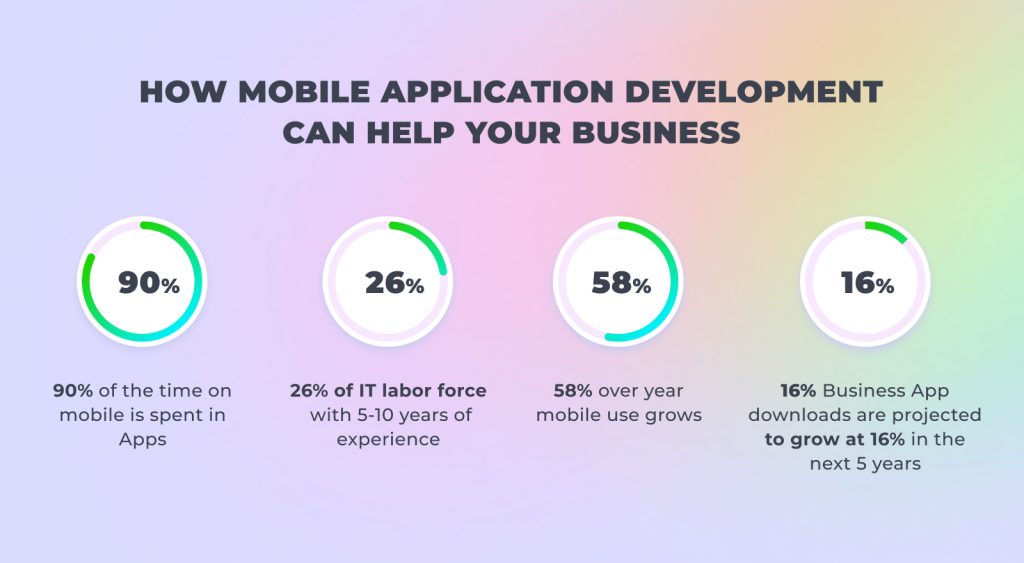 Why custom business app developers are necessary to be hired?
Why does a startup business need custom mobile app development agency? Just because all progressive business owners have already benefited from custom mobile app development? Not only. You need to hire app developers for startups to keep up with the emerging market requirements and adapt to the digitalization of all industry niches.
Businesses need to think about custom business app development to stigmatize major business processes as well. Moreover, services of app development companies for startups bring multiple advantages, increase ROI. Such strategy is worth the investment and pays off in the long run. It makes the process of business management smoother and more convenient.
Here are the reasons why launch mobile app development for your startup:
It boosts the online presence and increases market reach; it means exposure not only to existing customers but to the potential ones as well;

Allows your customers to easily interact and communicate with your business;

It serves as an instrument to increase sales and conversion rates through enhanced customer participation and interactive customer experience.
Zillow real estate mobile app was founded in 2005 and today nine out of ten homes in the USA are checked with the help of the app. The launch of the app has revolutionized real estate. Millions of tech rental listings, property calculators, features that enable verification of potential residents – all that have become available online for anyone to access. 
Modern people involved in the property management business looked for simple and seamless experiences enabling them to turn property management into an easy, integrated process. Zillow with the support of custom business app developers has managed to give people confidence throughout all property renting and management processes. The Zillow business also needed a solution that would help it launch and grow a new part of its business, Zillow Offers. Mobile app development gave such an opportunity.
This groundbreaking service gave people a seamless experience and complete control over real estate.
Now, Zillow has thousands of sales, service interactions, and professionals that partner with the company. And now, over 15 years they continue to build on and expand their business supported by advanced custom mobile app development agency.
Custom mobile app development for startups - key points to consider
Custom business app development, in comparison to using ready-made solutions, gives businesses more flexibility. It enables you to implement the unique set of features and fully supports your business philosophy retaining the clients and growing the overall loyalty to your brand. Focusing on the target needs of your clients, you solve their potential problems and simultaneously achieve your business goals.
After you have decided to move your business mobile and hire custom mobile app developers, you need to shape the concept of your future custom mobile app. The choice of app development company for startups should be done based on your business objectives and expectations with the customer in mind, of course. Based on it, you can identify the type, features, and purpose of the mobile app as well as chose the best team for launching the development process.
Key points to consider when starting custom mobile app development for startups
Decide on the type and purpose of your future app.
Evaluate your business strategy and think about the concept of the mobile app as a tool that can put your company ahead of competitors. Identify the unique value proposition of your product.
Identify the goals of the app
To put it simply, decide on the value app development for startups will bring to your customers. Focus on the problem of your target customer you want to solve and identify the way you will do it.
Identity the budget and decide on its allocation
Access the internal resources. It is important to understand the limits of your budget to distribute it wisely. Consider what software development cooperation model is more suitable for you and hire the best app developers for startups. Discuss the services you are going to spend the budget on, such as MVP development, marketing service, etc.
After you have shaped the business idea of your app, you need to find and hire a team of custom business app developers who will put it into reality. 
Technical aspects, features, and technology trends for custom business app development
A modern custom mobile app development agency can make the service more effective to business owners and more pleasant and useful for customers. The mobile app should be oriented on the end-user offering a unique experience and amazing design.
What are the main features to add to your future mobile app?
Simple onboarding with social media API integration;

Filters and categories will be the primary tools your target customer will use to find the right service options;

Services or items listings with extensive information;

Calendar for appointments and tracking;

Dashboards, reports;
GEO location;
QR code scanning options;

Maps comprising extensive information about average incomes, price rates, infrastructure that will help the customers with additional info;

Notifications telling about price changes, new services appearing, any updates;

Analytics comprising info about the performance of the app and allowing to estimate how successful your business strategy is.
The current business environment no matter the industry has become extremely competitive. People seek efficient ways to connect with businesses and services. Here is the list of technologies that will allow making interactions between all the participants of the process more efficient.
Big Data
Allows making the business more data-driven based on insights extracted from the data generated. The technology allows tracking and analyzing users' behavior making the service you deliver more client-oriented.
AI
Allows the choice and implementation of specific algorithms, which allow formulating personal suggestions and offering for your clients. It is usually used for the analysis of users' preferences and requirements. AI helps managers to efficiently process the maintenance requests and track any changes arising on the market.
VR
Enables businesses to generate more sales quickly offering the unique property visualizing function in real estate, for instance. Conduct virtual tours and save time simultaneously improving property marketing.
IoT
Internet of Things technology allows implementing the smart home conveniences and control a lot of hardware and safety conditions with the help of the app.
The integration of the unique features for your app and implementation of the latest technology trends is impossible without expert tech support. 
How to build a custom mobile app if you do not have an in-house team?
Custom mobile app development is a time-consuming process that requires skills, budgeting, and full dedication. Custom mobile app development for startups requires the availability of an advanced team of developers, designers, business analytics, QA specialists, and project manager. Moreover, you need to find a team for mobile app development for startups that will fully reflect your business philosophy and values.
The best way to get the expert's help if you do not have an in-house team is to find and hire a dedicated development team for your startup. It enables you to attract the best lacking tech expertise to your mobile app development startup at a reasonable cost.
Altamira delivers the technology that pays off in the long run. Apart from the delivery of high-quality solutions, we act as a technology advisor understanding startup mentality and helping our customers to serve the technology niche and save their equity. We supply services like mobile app development for startups from prototype to the end-product. Our experts utilize the lean startup methodology enabling them to adapt to newly emerged needs and avoid problems when possible.
Having more than a decade of experience working with startups, we understand the degree of anxiety and doubts through the development cycle. That is why we made the development process fully transparent for a customer and elaborated on a development flow that will move all worries away.
We enable our customers to supervise the project at any stage of development, be involved in the sessions and daily meetings with guaranteed help at any stage.
Altamira facilitates continuity and stability in any unpredictable conditions, being a solid foundation for rapid growth and a strong position in the marketplace.
We culture a customer-centric approach and actively push the potential of mobile app ideas for startups offering dedicated team development services for more than a decade.
iOS and Android mobile app development. Our experts offer advanced mobile app development for native platforms. Offer incredible experiences to your clients!
Discovery stage. Advanced business analytics conduct market research and formulate unique value propositions. 
MVP development. We provide the MVP development comprising all the necessary features to test the product on the market, get the user's feedback and enhance the future app with all the necessary improvements.
UX/UI design. Since the unique experience is one of the most important aspects that can attract and retain new customers for a startup, we create designs that impress. 
Integration and maintenance. We help with the integration of the app into your business processes and offer continuous tech support and maintenance.
Documentation. Our specialists prepare all the necessary documents, including project visions, specifications, descriptions of features, and technologies integrated.
The unique structure of the project team, including the Project Manager, QA Testers, and UX designers, enables simplification of all internal processes, allowing us to control the full custom business app development lifecycle efficiently and effectively. To secure the productive operation of the team we put the manager in charge of the technology, understanding the behavior of the user, and organization of the work of all members of the development team.
 We evaluate the app efficiency at each stage of the product delivery. Every team member bears in mind the client's needs. We have established our solid testing methodology successfully applying it to assure the highest quality of the delivered product from the preliminary stages of development. Software engineers work with the team from day one to build an ability to rapidly release updates. All this allows us to build custom mobile solutions that fully meet the expectations of the customer in terms of usability, performance, security, and, most importantly, budget.
Mobile Apps became an integral part of our daily life. 87% of smartphone users spend most of their time with the smartphone in their hands. Any business at a certain stage faces the necessity to rely on technology for successful scaling. The next step in this evolutionary process is making their service available on the go. Thus, mobility solutions become a cornerstone for rapid business growth and productivity. Custom mobile app development also became a brand-new channel for reaching customers.
Altamira experts have established a practice that focuses solely on all aspects of mobile applications development. The developers optimize the process and produce highly resilient applications, providing great ROI while taking into account the critical factors for mobile app usability, stability, and scalability.