The delivery services have become our go-to option long ago because our lives are always quite busy. It is more time effective to make an order in a couple of clicks and wait till its delivered, than to go to a store and spend some time on choosing the food or goods and waiting in line to buy them. To order food delivery right to your office or to your home has also become our habit. 
Delivery made our lives easier and couriers were always welcome at our houses. But now with the outbreak of coronavirus, people tend to make use of contactless services more often. It is quite understandable, because nobody wants to get infected. Coronavirus is dangerous and you cannot be 100% sure if the courier you are interacting with is healthy and virus-free.Therefore drone delivery can be the best option for both companies selling their goods and people ordering them.  Such business giants as Amazon, UPS (United Parcel Service), Alphabet (the parent company of Google) together with FedEx, and huge e-commerce company Alibaba already use drone delivery technology. 
According to the report that we've discovered, the global drone market will grow to 43 billion U.S. dollars in 2024. It is also stated that drone delivery will become the most popular and the fastest growing area within the market. At the moment around 40% of online shoppers claim that drone delivery will not make them refuse from buying goods and 36% of shoppers are already excited to try out this new option.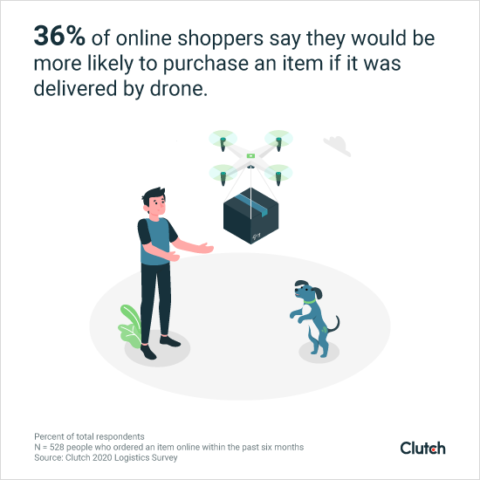 Key advantages of drone delivery 
So what exactly makes drone delivery such a great option in times of pandemic? Apart from being safe (which is crucial in the current COVID-19 situation), this type of delivery offers numerous advantages: 
Drones are easy to disinfect and sanitize after each delivery. 
They offer touchless delivery and you do not need to be in direct contact with anyone. 
The goods can be hermetically packed which minimizes the risk of virus contamination. 
The packages can be delivered to people who live in the outlying areas. 
The delivery takes less time (e.g. the courier driving a car or riding a bike can get stuck in traffic and deliver a package in an hour or more, while a drone can accomplish this task in less than 30 minutes ).
Drones are environmentally friendly and they can reduce carbon emissions drastically. 
Drone delivery was used in China when the epidemic of the coronavirus peaked. Medical workers used drones for transportation of numerous testing supplies between hospitals. Drone delivery allowed to minimize human contacts that take place during the transportation cycle. Moreover the delivery was performed twice faster than in a usual way (with a courier) and time is always extremely important in the medical area. 
Have an idea of an app for drone delivery services?
It seems like drone delivery is the perfect option in quarantine, however people always demonstrate caution when it comes to something new. And it is not that bad because the concerns expressed by people make the companies improve the quality of their services and the technology being used. At the moment people name a couple of things that make them anxious and ready to refuse from drone delivery. Here is what they are afraid of: 
Their packages being damaged; 

The drone being hacked or stolen;

The delivery being cancelled because of the weather conditions (rain, storm, snow, fog, etc.).
Actually, two of the named concerns can be easily eliminated if the companies make sure that all goods are reliably packed before being delivered and that their drones are secure too.
Some privacy and liability concerns
People do enjoy the fast and convenient deliveries performed by drones, however, they still questions whether their privacy rights are preserved. While some people are strictly against drone delivery and they think that these flying machinery should not be allowed near their households, others consider this delivery mathod quite normal and safe. So what opinion is right?
We have researched and discovered that such giat as Amazon can analyze the people's households after they've performed drone delivery and got a filmed video. Why are they doing this? Simply to boost their sales. For example, if drone delivered a package to your house and noticed that your roof requires repair services you will soon get an ad offering you some while browsing from your computer. This is a way for Amazone to promote some products you might need or like based on the condition of your household. So of course it is understandable why some people are still against drone delivery. But others just don't mind seeing additional ads.
The experts say, that in the future there will appear some regulations allowing to pform drone delivery without compromising people privacy. And if you think about it deeper, actually there are a lot of things intruding into our privacy on a daily basis ke smartphones or satellites. We do not say that it is good, but it is just the side of the progress.
Now as to the liability. Let's say a drone somehow dropped your package nd the goods were damaged. However they are delivered to your door. So what should you do? Who is actually holding responsibility in such cases? Well, luckily the companies offering drone delivery successfully handle these cases and make everything to satisfy you as a client. So they will definitely provide a replacement of the damaged good, or some compensation.
Drone delivery costs less than typical UPS or FedEx delivery. It costs 5-10 cents per mile while usual deliveries require $6 or more. On top of that, drone delivery is much faster and therefore convenient for your clients.
Drone delivery is not only faster than any other delivery method, but also it is more safe. The package is delivered to a customer in a good condition and there are less chances that it will get damaged or stolen. Moreover drones can reduce the transportations costs of your company and make it more eco-friendly.
To conclude 
It is hard to predict what turn the situation with coronavirus will take and how long the quarantine will last. The only thing we can say for sure is that contactless services will keep being popular even after the pandemic is over. People became more cautious and more attentive to their health. But they still want to enjoy their lives and spend money on delicious meals and things bringing them joy and being useful. That is why touchless drone delivery will become a huge trend and then a usual part of our lives.  
Looking for a team to help you with building drone delivery solution?