All business owners know what a headache common paperwork can be. You have piles of papers which create chaos and sometimes even you cannot find the necessary document when it is needed. And on top of that, now, when people from all over the world are put in quarantine and numerous offices work remotely, it became even harder to manage all your documentation. To sign important papers you have to scan them, print them and send with a courier. It takes a lot of time and effort and does not let you minimize the contact with people as quarantine regulations imply. 
So is there any better, faster and safer way to sign the papers and manage them afterwards? Luckily it exists. You can be in control of all your documents, if you consider adopting a digital signature. Digital technologies have already changed our world and simplified numerous daily tasks. Gadgets are powerful tools and we should make the most of them. 
To transfer from paper-based workflow to the digital one is definitely a good idea. According to the statistics businesses in the USA waste $8 billion each year on managing papers. And the companies which started using digital signature solutions reduced their expenses by 85%.  But cost effectiveness is not the only advantage you can get. Let's discuss some other benefits. 
Key advantages of e-signature 
To sign a digitalized document is very easy – first your paper gets authenticated by the system, then you apply a unique identifiable mark and that's it. You do not need a pen and do not waste a lot of paper, which is quite an eco-friendly approach. And there are even more pros of e-signature you should be aware of: 
Lower expenses.

Digital signature can save your budget and you would not have to spend money on printing, postage, mailing services or couriers anymore. And what is more important you will not be losing time which is also money. 

More efficient workflow.

Avoid numerous unnecessary actions like sending a paper to one person or company, waiting till that person or head of the company prints it, signs it and sends it back. The contracts can be signed faster and therefore your business may get more profitable opportunities and become versatile. 

High security level.

If you use an advanced system for managing documents and your  digital signature, your data will be protected. To log into your account you'll need to enter your personal credentials. As to your signature, it will contain information on the person who signed the document (you) and when that was done.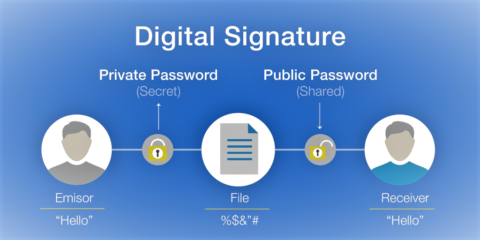 Perfect order.

We all know how easy an important document can get lost in a folder with numerous papers. Some companies even have separate rooms loaded with folders and papers and try to put everything in order, so far to no avail. Digital systems for signing and keeping papers do not have such issues. You can easily find any document by name in a couple of clicks. 

Convenience.

To hire employees from different parts of the world or to start partnership with a company from abroad is a common practice nowadays. And it is more convenient to sign contracts and agreements using digital signatures. 
Feel that your company needs a digital signature system?
What businesses need digital signature software? 
Every business can benefit from implementation of digital signature systems. It helps to organize and manage all documents, access them from a computer or a device anywhere in the world, and improves productivity of your company. Among well-know business niches where digital signature system is required, you can see the following:
Human resource management.

It is easier to hire great remote specialists from all over the world if you know that you can sign an agreement with them without any issues. You can send all necessary digitalized documents (paychecks, contracts, etc.) and get them signed by a person without any issues. 

Legal sector.

The security of digital signature systems allows to manage highly important documents within it. The attorneys can leave their special qualified signatures and also personal accountants can manage financial documents and tax returns.

Healthcare.

In many countries it is impossible to buy medicine without a prescription from your doctor. But sometimes it is not so easy to get it. People need to go to a clinic, wait in line to receive their prescription and only then they can go to the drug store. It is very time consuming and risky, because patients may need their medications urgently. So signing prescriptions digitally can be very helpful. 

Supply chain and sales.

With digital signature systems it is much easier to sign numerous contracts with suppliers and commercial partners. Moreover a paperless office allows to access any electronic invoice, bill or consignment note from any device if a person has an initial access to those documents. This is very convenient and helps to speed up the key processes. 
Conclusion 
Current situation with pandemic only emphasized all the issues that existed in businesses for many years. The reality is that in the near future many offices will transfer from paper workflow to a digital one. The quarantine made many offices work remotely and reconsider how various processes are being organized. 
It turned out that it is way more time and cost efficient to manage all your documents in a holistic system on your computer and to sign the papers using a digital signature. At the same time it is easier to share documents with the employees and control whether they were checked and signed on time. Digital signature systems are what businesses of all sizes need right now. 
Want to develop your own digital signature software?