Lots of people keep asking how to hire mobile application developer. And you have only three options: find a business partner who is a developer; hire a local development team; or hire outsourced developers. That's it, no more options.
Now, let's get to the evaluation of specialists you're going to hire. When hiring an app developer there are five key points that you should seriously consider. We'll describe each of them later on. But before we start we need one thing to mention.
There are two kinds of quality indicators to notice while hiring mobile app developers:
Internal indicators that are totally dependant on developer or dev team.
External, or hybrid indicators, that are determined by the market, your budget, idea, and objective.
Baring this fact in mind, let's get to the point and answer the question of how to hire an app developer, meaning how to evaluate the development team.
Portfolio
The first one is app developer's portfolio of course. The portfolio is not like a website, that developer just built on the whim. Most of the time, because it's so expensive to produce, developer's works are limited by the client's budget, creativity, idea, and general purpose of the project.
That's why in order to understand the full range of developers' capabilities you have to really talk to them and make sure that they have the vision and skills required. Especially if you have a complicated project, you need to make sure that they have a certain set of proficiencies.
Portfolio will help you look for these proficiencies. A good app developers' portfolio describes the project beyond the fancy design. It must list functionality, integrations, tech map, time expenses. Especially if you're looking at mobile app developers' portfolio.
A trustworthy portfolio features more than just UI/UX designs.
While examining case studies identify tasks and technologies similar to your project. This way you can find hints that will help you to evaluate the skill level of the team and their proficiency in particular topics.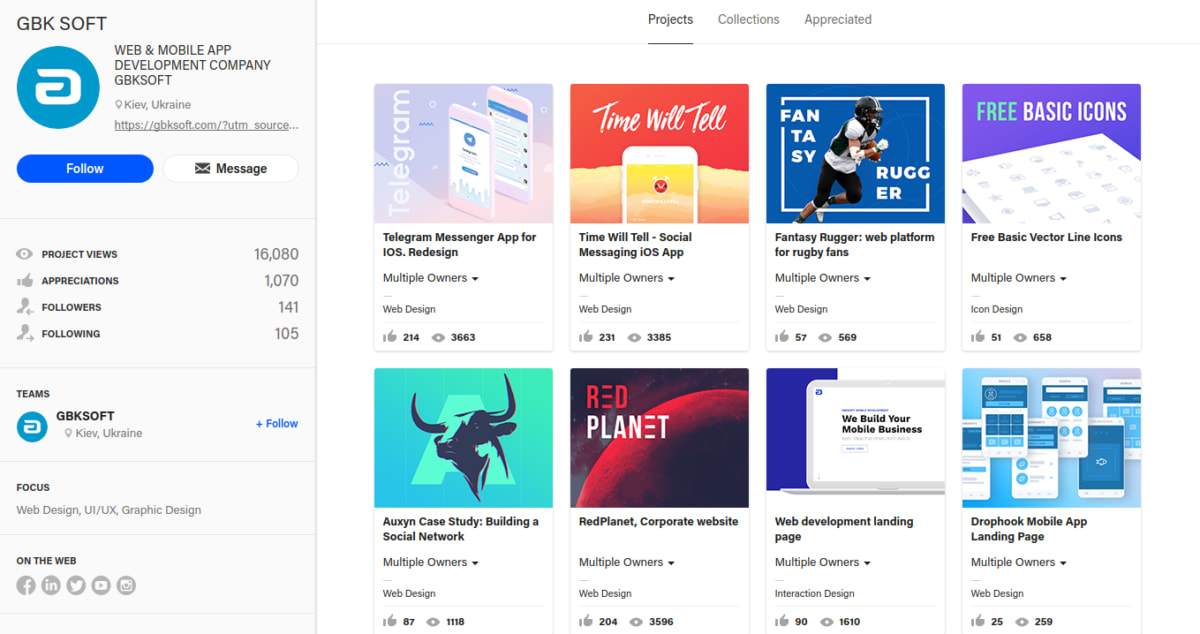 Internal team
Lots of app companies now (because of competition and because they're just growing so big) have a salesperson. That will be your first point person. And that's really great in understanding your contract and how the company works.
Unfortunately, it won't help you in understanding how the creative team performs. So you really want, before signing any contract, to test out the creative team and make sure that they are on the same page. Because once you sign the contract, you're on the hook. Especially if you're singing a Time & Material contract.
There could be something in the contract that says: "If the creative team did finds out the project much more complicated – they are eligible to raise the price". And you're now pot committed.
Evaluate creative team before signing a contract.
There are several ways to test-drive creative team. First one is the how much in-detail estimation they send to you. But, hey! Don't expect to get an in-detail estimation out of few phrases you wrote in the contact form! This is a team sport. You will feel the performance by how many and how forward-looking question the team asks you.
The second step is to order software Software Requirements Specification for your project. At this step you will be introduced to the creatives: software architect, business developer, and web designs team. You will be communicating with one of them or even with several team members. Specs development is your best chance to evaluate the team before actually deciding to hire mobile app developers.
In addition, the team may meet halfway and offer a few preliminary designs or wireframes. But this bonus only works if you have clearly described use cases and they are not too complicated for drafting.
Pricing Breakdown
The next thing that often found in app development contracts is the price/work breakdown on the percentage basis. For example, 30% up front, 40% halfway through, 30% upon delivery. Or 40% front end, 40% backend, 10% QA.
These two pricing examples are terrible and we strongly advise not to do so. The best way of price breakup is by milestones. For examples, wireframes – a certain amount of dollars; functionality A – fixed dollars amount. And if you'll find out by that time that you don't want to continue to work with the team, you'll get the wireframes at least and pay only for them.
You have to know when and what things are going to be delivered and the price for each of those deliverables.
Review & References
This is a very important criterion, and you should absolutely choose the team that has positive feedbacks from their previous clients.
Places to search for feedbacks:
Company's website / portfolio.
Clutch – trustworthiness 100%. The platform interviews clients by phone.
Upwork – trustworthiness 75%. The platform has selective moderation, there may be duplicates, controversial and fake reviews.

Fiverr – trustworthiness 70%. The platform has swift moderation, but there are too many gig project and review to keep track of all of them.
Types of clients feedbacks:
Individuals – that feedback you can get from the platforms listed above.

Corporate clients – the reviews of this type of clients are hard to find on the internet. But the client manager can put in contact with those companies or share some project's details with the consent of the company of course.
In addition, the team can put you in direct contact with their previous clients, if you happened to be from the same region/country, or have a somehow similar project.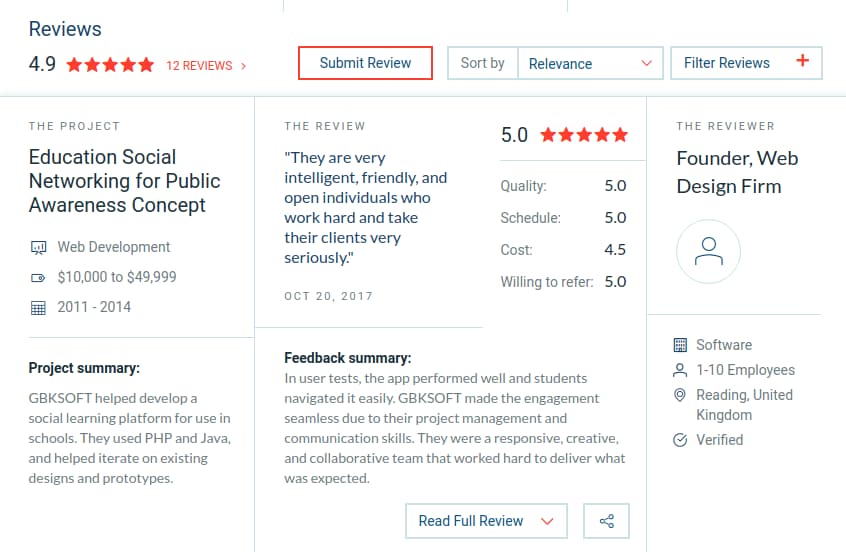 Upgrade Over Time
The next thing. Don't launch with every bells and whistle. What's cool about an app is that you can constantly upgrade it. Consider that the price for maintenance can be as much as 20% of the original app cost.
Upgrades are a good reason to you reach out to your community and let them know there is upgrade. It's great to get some feedback and listen to what the community wants. Don't waste this opportunity.
A trustworthy team will advise you to go with small steps. Maybe try to build MVP first, or deploy new functionality on a step-by-step basis, as additional milestones. This strategy will not only save your money but also prevent confusion and save time.
Bottom Line
Finding a reliable mobile app developer is a challenging task nowadays. Despite the huge number of existing proposals on the market, professionals are still hard to find and even harder to distinguish from amateurs. But if you try sometimes, you may find and get what you need!