The crisis became a game changer for many businesses. It revealed that only the companies that have their own software can keep working and getting solid income even in the most tough times. 
The crisis also revealed that many ready-made solutions are not suitable for businesses. Therefore, the need for custom software development and tech specialists is growing now, as well as the demand for outsourcing services.
According to Statista, the global IT market experiences the wave of popularity of outsourcing software development. Here are some numbers that prove this point: 
Image source: Statista
Speaking about outsourcing, we must admit that most businesses tend to outsource to Eastern European countries because they proved to be trustworthy, professional and highly involved. We have decided to dedicate this article to Eastern European software development, its pros and cons, and true business value. 
We will also share with you top 5 leading companies located in Eastern Europe and point out what countries are perfect outsourcing spots. So, let's wait no further, and proceed to this incredibly interesting topic. 
Top countries in Eastern Europe with the best tech talent pool 
To begin with, let's talk about outsourcing software development to Eastern European countries. So why actually this destination and IT market remains so perfect for business owners and startup founders? Well, the first and foremost reason is that all Eastern European software development companies have convenient time zones and locations, and they offer a wide variety of tech specialists. 
With Eastern European software developers you can jump-start your project development, scale up fast, perform modernization of the existing software, integrate some new solutions seamlessly. And most importantly, you can save time, nerves and money. Eastern European countries have stable economies, strong legislation and incredibly talented technicians with higher education. 
By now you may be wondering in what countries you should actually look for your team of software developers. So to help you out, we have explored different sources and created our own top of Eastern European countries perfect for outsourcing. Let's take a closer look at software development in Eastern Europe right away. 
Slovakia
Eastern Europe is rich in Slovakian development professionals who are focused on digital business transformation, startups launch and scaling, and cybersecurity. According to Clutch, there are 45 firms providing outsourcing services in Slovakia. This country is a home for almost 40,000 qualified developers including over  hundred of tech professionals from Altamira team. 
The massive development hub is located in Bratislava, Zilina and Kosice, where you can easily find a software development company of necessary specialization. As to the price of a working hour, for a skilled developer of middle or senior level you will need to pay $50-90. The proficiency of Slovakian companies is undeniable, as such worldwide businesses as Amazon and Johnson Controls entrust them with their projects. 
Let's take Altamira team. We can become your reliable tech partner and help you perform digital business transformation and build custom solutions of any complexity. With our tremendous experience and dedication, we are able to deliver more than you expect. Just take a look at our service list and case studies to make sure we are a perfect fit for your business project.
Poland
Poland is one more mainstream software outsourcing destination with a powerful IT infrastructure. At the moment there are more than 295,000 highly skilled developers and their number increases drastically. 
Most companies in Poland have teams of 50+ technical members. And in general there are 424 top IT outsourcing companies. The average hourly rates in Poland are $49-99 depending on the developers' seniority and skill set. Speaking about the cities with the high concentration of IT companies, Warsaw, Wroclaw, and Krakow are the leading ones. 
Among the huge business giants that choose Polish software companies are Microsoft, Oracle, HP, Amazon and even Google. 
Hungary 
Hungary can boast of more than 84,500 qualified software engineers and IT professionals. In the category of top outsourcing companies on Clutch you can find 49 agencies offering a variety of services starting with web and mobile development, and ending with specialization in AI, blockchain, ML and IoT. 
As to the hourly rates of Hungarian developers, they are $49-60. And the minimum project size starts mainly from $25,000+. There are more than 100 research and development centers of multinational companies in Hungary, so you will definitely find necessary specialists without spending too much time on it. 
Czech Republic   
Czech Republic has never suffered from a tech talent shortage, as it has more than 150,000 specialists and more than 60 highly appraised software outsourcing companies. Every year more than 7000 students graduate from computer science universities and enrich the existing talent pool. 
Speaking about the hourly rates of an average software development company from Czech Republic, they vary from $45 and up to $63. You can cooperate with the major companies that are located in Prague, Brno, and Ostrava. Skype, NetSuite, and even IMB already benefit from such remote cooperation.  
Bulgaria
Bulgaria is one more country from Eastern Europe that employs a huge amount of development specialists. As of now there are 56,500 software engineers working in companies in Varna, Sofia and Burgas. If you check out Clutch, you will find 101 agencies with services focused on business development and automation, consulting, cybersecurity and design. 
The rates of leading specialists in Bulgaria are around $38-60 which makes the outsourcing quite affordable and yet extremely professional. Such companies as CISCO and SAP already partnered with Bulgarian companies. 
| | | | |
| --- | --- | --- | --- |
| Country  | Outsourcing firms  | Qualified developers  | Hourly rates  |
| Slovakia  | 45 | 40,000 | $50-90 |
| Poland | 424 | 295,000 | $49-99 |
| Hungary | 49 | 84,500 | $49-60 |
| Czech Republic | 60 | 150,000 | $45-63 |
| Bulgaria | 101 | 56,500 | $38-60 |
Main reasons to outsource software development to Eastern Europe 
As you can see there are a lot of opportunities to outsource software development to Eastern Europe. You can choose any country, get in touch with several tech companies and select the perfect fit for your project. And although everything seems that easy, some business owners still have doubts whether it is a good idea to resort to software development outsourcing. 
We have dwelled on this topic and decided to point out several key reasons to use mobile and web development services of European companies. 
#1 Wide tech talent pool 
By delegating your custom project to Eastern European developers you get access to an incredible talent pool and cohesive teams that have mastered a lot of programming languages. According to the tech report, there are more than 6,1 million professional developers in Europe. This proved that the tech hub is tremendous and that there are specialists of many different qualifications. 
The talents of software developers in Eastern Europe constantly grow, and now you can easily hire a team that works with the most advanced technologies such as Big Data, artificial intelligence, machine learning, IoT, and Cloud-based services. 
What's even more exciting is that there are hundreds of Eastern European developers who work with the most used programming languages to deliver high quality web and mobile applications. According to Statista, the most popular coding languages of 2021 became: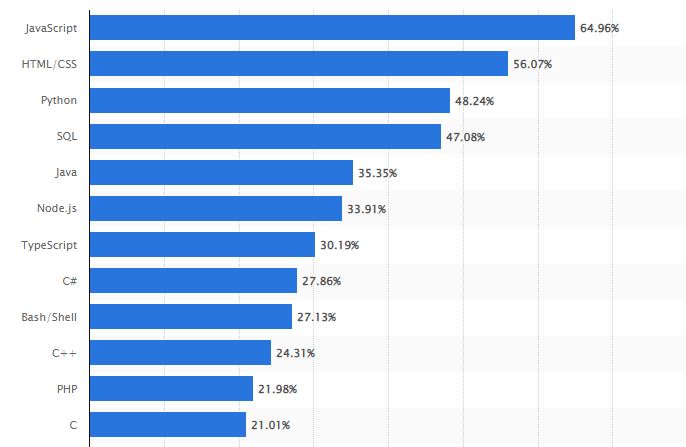 Image source: Statista
And guess what? Most software development companies in Eastern Europe have those languages in their service lists and can provide you with the examples of solutions they've built using them.  
With companies in Eastern Europe you can be sure that you get the services of technical specialists who have completed higher education at specialized universities. So you actually pay for the services of real experts with a lot of knowledge and practical skills they have been gaining for years.
For example, at Altamira team we have certified specialists that perform coding, testing and project management. They constantly visit new courses, broaden their knowledge base and skill set to build modern projects following high industrial standards. 
#2 Great price/quality ratio
We all know that serious and ambitious projects require solid investments. That is why it is crucial to hire software developers like ours – with affordable rates and great skills. In such a way you will not have to sacrifice your project quality and instead benefit from software development outsourcing to the fullest. 
When it comes to the price/quality ratio, companies from Easter Europe like Altamira turn out to be very cost efficient. Their rates are lower than the rates of specialists from the US and Canada. Why is that? Simply because there is a difference in salaries of US and EU specialists, mandatory taxes and various office expenses.
So basically by choosing outsourcing companies like Altamira you get high level specialists with extensive technical expertise who deliver incredible results but cost you almost twice less. 
#3 Seamless communication 
Companies in Eastern Europe can boast of a huge number of developers, project managers, business analysts and marketing specialists who have perfect communication skills and a high level of English proficiency. The written and spoken English will pleasantly surprise you, as well as the flexibility of communication.
For example, Altamira team uses popular tools like Google Meets, Zoom, Teams, etc. to perform video calls with clients, our project managers provide all kinds of reports via email, and always stick to your schedule. 
Whatever software development company you will choose, it will provide you several communication options – regular calls, progress updates via email, video calls with the technicians, etc. On top of that, you will always receive all kinds of reports to control your budget and suggest project changes on the go. 
Project management will also impress you from the first days of work. Every project manager from a software outsourcing company uses reliable tools, keeps all works under control, and inserts updates into Jira and Confluence, where you can access them in no time. 
#4 Perfect geographical location 
In case you would like to stay closer to your software development partner, you should definitely choose Easter Europe as your outsourcing destination. If you select Asian or American companies, it may be harder to visit their physical offices. And speaking about remote cooperation with those teams, the time zones may become your major productivity obstacle. 
Therefore, if you are from Europe and are looking for a software development partner, we would recommend you to choose the one from countries in the Eastern Europe to have the same time zone, and benefit from location proximity. 
For example, several of our clients visited our offices, arrived from time to time to discuss some project details in person, or just arranged meetings to get better acquainted with our specialists. This is a great practice that will guarantee the success of your project. 
#5 Diverse industry specialization 
The variety of custom software development services and diverse industry specialization is what makes many business and startup owners consider companies in Eastern Europe. 
Let's take our team as an example. We do not specialize in one specific narrow industry, but what we do instead is perform digital transformation of various businesses. We can build and provide the following:
And top software companies in Eastern Europe do the same. They not only have those technical positions in their service lists, but also can provide you with the real examples of already developed projects. So whatever solution you need to develop, you can come up to the team of your choice and ask about their experience. And you will likely get some examples and definitely get a team that already worked on something of a kind. 
Moreover, many software development companies offer professional consulting services. They can help you complete holistic market research, explore strong and weak sides of solutions your competitors own, write technical documentation, and even create a fresh design concept. It is a very advantageous option that you should definitely make use of. 
Talk to experts
If you are already in need of professional consultation, we are here to help you. Let's get in touch to discuss your app idea, software development challenges or cooperation options. 
Pros and cons of development in Eastern Europe 
We can say for sure that most leading tech companies will always be fully involved in your project, focus on your end goals, and make maximum effort to deliver the solution that will last you for years to come. 
And although the reasons to outsource software development to Eastern Europe are rather convincing, it would have been unfair to avoid the conversation about pros and cons this kind of cooperation may have. Let's speak about them right away. 
As you can see, the number of advantages outweighs the disadvantages, so we can state that Eastern Europe software outsourcing is a safe and reliable option for both business owners and startup founders. 
We have 100+ highly experienced team members ready to dive into your business specifics to develop a solution able to transform your company. 
Tips on how to hire a reliable custom software development company 
These days the IT market is full of great development companies located in Eastern Europe. And luckily you do not need to reinvent the wheel to find and hire them. However, outsourcing software development can be tricky. Should you choose the wrong partner, you may end up losing your time and resources. 
Therefore we decided to share with you some tips that may help you to select the right team and complete software outsourcing in Eastern Europe seamlessly. First of all, we would recommend you to explore such platforms as Clutch and Goodfirms. They have listings of the most reliable companies that perform software development in Eastern Europe. In addition to aforementioned platforms, check out Behance and Awwwards if you look for companies that specialize in UI/UX design and want to see some real portfolio cases. 
When you surf Clutch and Goodfirms, pay special attention to some important categories that differentiate all the companies. Here are some of them that can help you make the right choice: 
Minimum project size
every software development company sets the minimum size of a project they are ready to start developing. While some agencies specialize in smaller digital projects, others may be experts in developing huge and expensive business solutions.
Company portfolio
both Clutch and Goodfirms let you quickly navigate to the company website. And while you are exploring it, visit
the portfolio section
. There you will find a lot of information about the projects that the company has developed and launched, the specialization of a company, and information about some development challenges they've dealt with. 
Cooperation models
most companies offer different cooperation and
pricing models
such as outsourcing, outstaffing, team extension, dedicated team, time and material, etc. So depending on your goals and project complexity and size, you can choose the model that suits you perfectly. 
Communication skills
the software development company of your choice should have and use effective
remote collaboration
tools. For example, our team uses Jira and Confluence for project management, Zoom, Google Meets and Slack for communication, Dropbox for document sharing. The communication should be frequent and easy to handle. And it is better to ask about it from the very beginning.
Company values and specialization
what can be more important than finding a team that has great core values and specializes in development of solutions for your specific business industry. You can find out everything about company values and specialization by checking company websites, getting in touch with company managers, and even communicating with previous company clients.
5 leading tech companies to choose from 
Without doubt, development companies in Eastern Europe have gained leadership on a worldwide scene. Their affordable hourly rates, impressive hard and soft skills, dedication and motivation is what attracts most people in need of custom software solutions and development services. 
Now when you know how advantageous it is to choose Eastern European software development companies, it is time to name some of them to help you with the tough choice you are about to make. 
But before we proceed to describing the most reliable companies on the IT market, we would like to emphasize that every development company is unique and has its specific business processes and development approaches. And this is great, since such diversity is what makes software development in Eastern Europe  such a unique and pleasant experience. So, let's waste no time anymore, and proceed to our list of top 5 software development outsourcing companies you can hire. 
Altamira
The first Eastern European company we'd like to talk about is Altamira that has headquarters in Slovakia, Ukraine and the UK. For more than 10 years in business this company has been delivering technology solutions for such businesses as real estate, retail, manufacturing, banking and finance, healthcare, fitness and sport, and many more.
The technology stack and overall approach to the development process of this company is beyond impressive. They build native and hybrid mobile apps, perform web development, SaaS development and deliver cloud-based solutions. As to the advanced technologies, the company software engineers work with machine learning, IoT, AI, predictive analytics, VR and AR.
Moreover, this team helps organizations and startups to scale up fast, and speed up the development of their projects. Here is the tech stack they mainly use: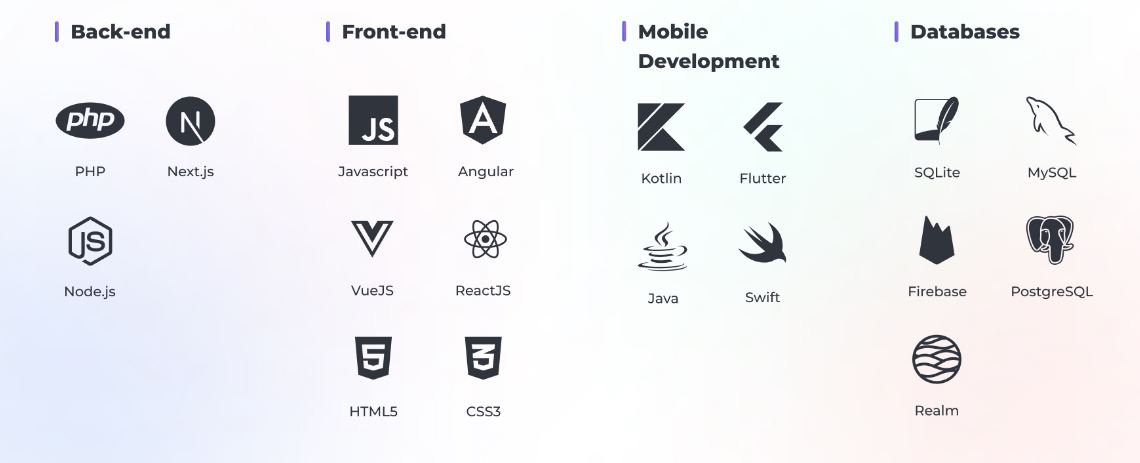 The Software House
This outsourcing company from Poland is mainly focused on mobile app development, cloud development and product design. This agency is skilled in Node.js, React.js, Vue, Angular, Laravel, and Symphony. These technologies let the Software House develop flexible, scalable and feature rich custom solutions.
The company has more than 160 happy clients from different business industries who already benefit from digital transformation and agile solutions. The Software House has 53 client reviews on Clutch and has almost a 5 star rating. The communication is also at a great level since the company uses:

Image source: The Software House
Intellias
Intellias is a huge Eastern European software company with headquarters in Ukraine, Germany, and Poland. The company provides not only mobile and web development services but also offers cybersecurity, DevOps, and design services. Here is the full service list: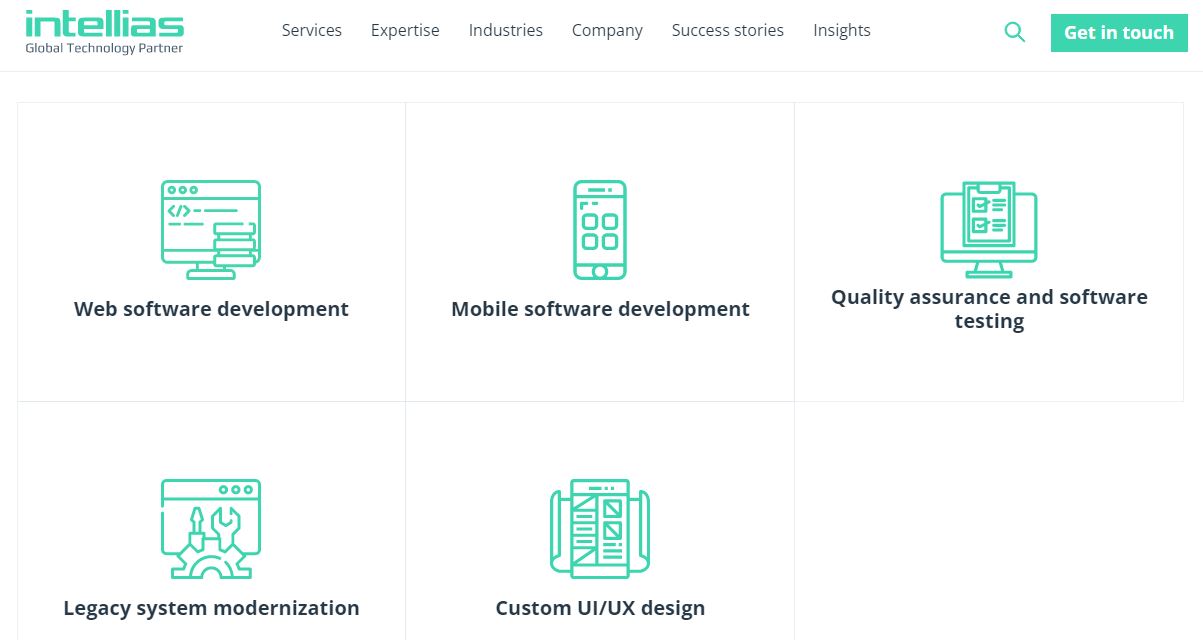 Image source: Intellias
Intellias builds solutions for automotive, fintech, retail, agriculture and transportation industries. And the solutions are often powered by machine learning, Big Data and analytics, location based services, blockchain and even robotics. Intellias is concentrated on customer experience, transparent development, modularity and reliability.
IBA Group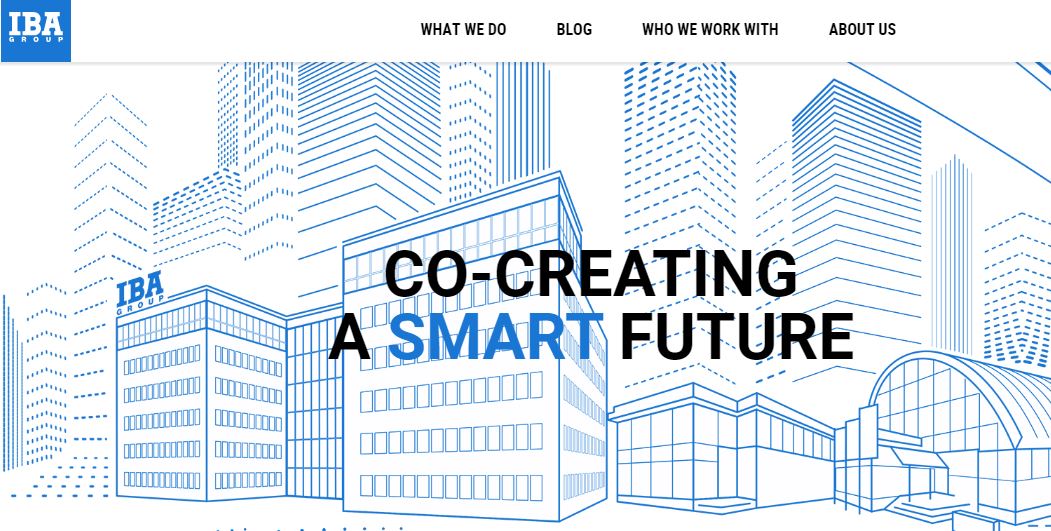 Image source: IBA group
This development services company was founded in 1993 in Czech Republic and now has more than 2500 highly experienced software engineers. IBA Group is skilled in mobile development, enterprise solutions, cloud-based and data science software, business intelligence tools, multiplatform software and many more.
IBA group is a perfect partner for huge enterprises and growing businesses since they have well-organized processes starting with estimation and project planning, and ending with project management and software integration.
MentorMate

Image source: MentorMate
MentorMate is a Bulgarian development company with 21 years of experience. Their core outsourcing services include development, design, cloud and DevOps, staff augmentation, and support.
This team offers human-centered designs, Agile project development, secure delivery, high quality risk management, and post-release software maintenance and improvement.
Additional top lists
Perhaps you are looking for more options and would like to check out other European development companies. To make your research easier we have written two more posts about top development agencies in
Europe
and in
the world
. 
To find Eastern European development companies you can use Clutch and Goodfirms platforms. They rate and categorize the companies based on their skills, rates, size and many more. It is very convenient. Once you've selected several teams there and visited their websites, you can get in touch with them via email or phone call. You can request a free consultation, an estimation or else. Then choose one company that is a perfect fit for you and proceed with hiring and signing all necessary documents. 
a
In case you hire software engineers from Eastern European companies, you should be ready to pay $27-45 for junior, $40-65 for middle, $55-81 for senior developer and around $75 for leading specialists. The services of DevOps in Eastern Europe will cost you $52-80 per hour, and highly skilled QA engineer – $44-76. 
Yes, it is completely safe to delegate custom software development to international companies. First of all, they will offer to sign an NDA to protect your app idea. Second of all, you will sign an agreement that will guarantee that your project will be developed and delivered within the set time frame and your budget. On top of that, the software development companies will preserve all industry specific standards and mandatory compliances, mitigate possible development risks, and resolve all the challenges that may occur. So you get maximum software development results with minimum input from your side. 
All in all, digital transformation is gaining momentum today. This means that the increasing number of businesses seriously considers custom development and looks for reliable software developers. With a variety of top software development companies on the market it gets easier than ever to build any kind of solution. 
These days you can hire specialists from any country, and yet Eastern Europe still remains the best outsourcing destination. The development in Eastern Europe is a venture that always ends up perfectly for both parties – you and the team of your choice. 
Not only do you get access to the best tech talent pool, but also you have a chance to save a lot of time and money. Eastern European software development outsourcing guarantees that you will get a trustworthy technical partner, impeccable software and huge competitive advantage.