The emergence of network platforms such as Uber, Facebook, or Twitter has shaped our habits of modern online social interactions, rapidly reshaping entire industries (automotive, tourism, restaurant, retail, etc.). Successful integration of features of these platforms into stock market brokerage platforms has given rise to social trading, which successfully transformed the financial world into being global and widely inclusive instead of local.
Social trading platforms have opened millions of possibilities for beginners. The trading networks have greatly assisted in the consolidation of a previously fragmented trading community, ensuring rapid data and knowledge exchange. After all, not only are the novice traders benefiting from the possibility of learning from experts; advanced traders are also eager to get inspired by their colleagues' ideas and strategies.

How to make money on the social trading platform – its major benefits 
Business automation and digitalization haven't passed by the financial industry over the recent years. Unlike the traditional trading models, new tendencies center around offering exclusive access to financial services information and participation through digital channels. Which is simultaneously convenient due to its speed but also lower in cost as compared to the traditional ways. Making the financial services affordable, accessible, and secure to a broad base of investors, including the average investor. This phenomenon was the basis for the emergence of social trading, which combines the latest technological features of financial services but with a touch of influence from social networks.

Social trading online allows junior traders to trade online under the mentorship of others. With the ability to copy ideas and trades of more experienced investors, look at and analyze moves made by hedge funds, see equity research ratings and analyst reports, etc., inexperienced traders can quickly learn efficient and profitable trading techniques, practices, and strategies, making their journey becoming seasoned traders much smoother and more swift.
In other words, social trading online apps support the exchange of valuable information and serve as an instrument for networking, shadowing, and building professional relationships. These trading networks also typically serve the purpose of a brokerage in that they allow you to purchase various assets, CFDs, ETFs, and give you the option to participate in "social trading" with the help of forums and discussion boards, as well as trade cryptocurrencies (although the selection is likely to be far more conservative than on a platform like Coinbase).

How investors act on social trading platforms:

Make their investment positions publicly available for anyone who desires to see, mingle with other investors, signal followers, copy each others'  investment strategies, thereby acting as signal providers.

Act as signal followers and reproduce other investors' investment strategies.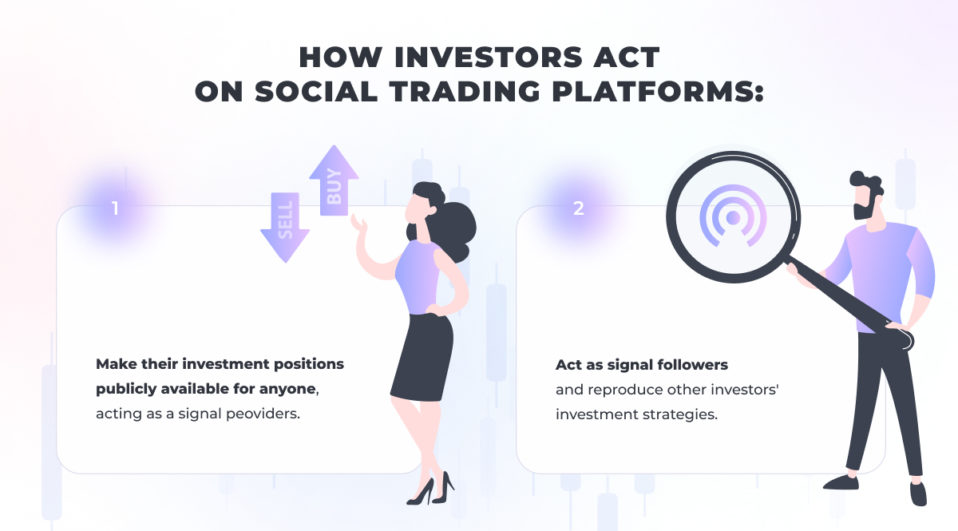 The best handy tool for careful investors and traders who feel confident enough to be on their way to successfully managing investments/money is a social trading network. Social trading is a new model of trading offering a variety of benefits, especially for junior traders enabling social trading with cryptocurrency.
Easy access to useful and reliable information –

Wisdom of the crowd

– having access to expert opinions of advanced traders

Ability to be a part of a community of seasoned professionals offering a helping hand in support of less-experienced traders. You can access the diversity in trading strategies by being able to understand the vision of other skillful traders

Cut costs on achieving proficiency in the trading industry. You can trade with the risk reduction, cost-saving compensating the lack of expertise.

Ability to learn from real-life examples, helping one learn how trading strategies compare in practice.

Opportunity to polish your skills and learn risk mitigation in practice, thus gaining valuable experience to avoid inflicting outsized financial losses.
Social trading platforms aggregate and facilitate the sharing of financial content, serving as a reference for constructing trading strategies and supporting the all-important process of investing decision-making. It allows users to analyze valuable financial data, extracting the needed insights to follow the tendencies of top stock market participants.
Keep your thumb on a pulse!
Subscribe to get regular tech updates and insights!
Problems and drawbacks with social trading
The most dangerous illusion of a social trading platform is that it is an automatic lucky ticket to earning great fortunes. One shouldn't go into it blindly thinking that it's a risk-free, free-for-all affair as that's definitely not the case. The CFTC study has shown that brokers stated that only 35% of US retail forex traders made an identifiable profit, while an eye-opening 65% of traders suffered losses. There is never a guarantee and even in the best trading conditions, you cannot, with 100% certainty, predict windfalls. Everything depends on the decisions you make, as well as macro and micro factors that move the stock market and underlying prices of the securities. But the effect that social trading platforms have is that individuals can be influenced by others' sentiments and bias can set in, so one has to be careful to try to distance from emotion and not succumb to unwanted pressures.
A team of experts has carried out a three-stage experiment aiming to detect the major risks hidden behind online social trading, which otherwise seems perfectly beneficial. Here are some valuable results they got:
traders start taking on more risk when they see the results, performance, and rankings of other traders

ability to copy expert trading strategies  sets up an even more risk-on approach as compared to the pure effect that transparently showing information on other traders' positions and moves has
More than 67 percent of people polled by the website Social Trading Guru have specified that they had lost considerable sums of money when hastily using the trading template(s) of advanced traders.
Risks:
False sense of security – inexperienced traders may sometimes overlook the fact that copying successful strategies may also result in losses.

The illusion of confidence in trading – False sense of security sometimes shifts focus and distorts the critical thinking approach while taking decisions on the market.

Having no full picture – essentially entrusting the control over one's finances to others by replicating their trading, novice traders do not have the opportunity to fully assess the circumstances/situation. Consequently, it may result in the use of unjustifiably high-risk strategies and one may end up racking up major losses.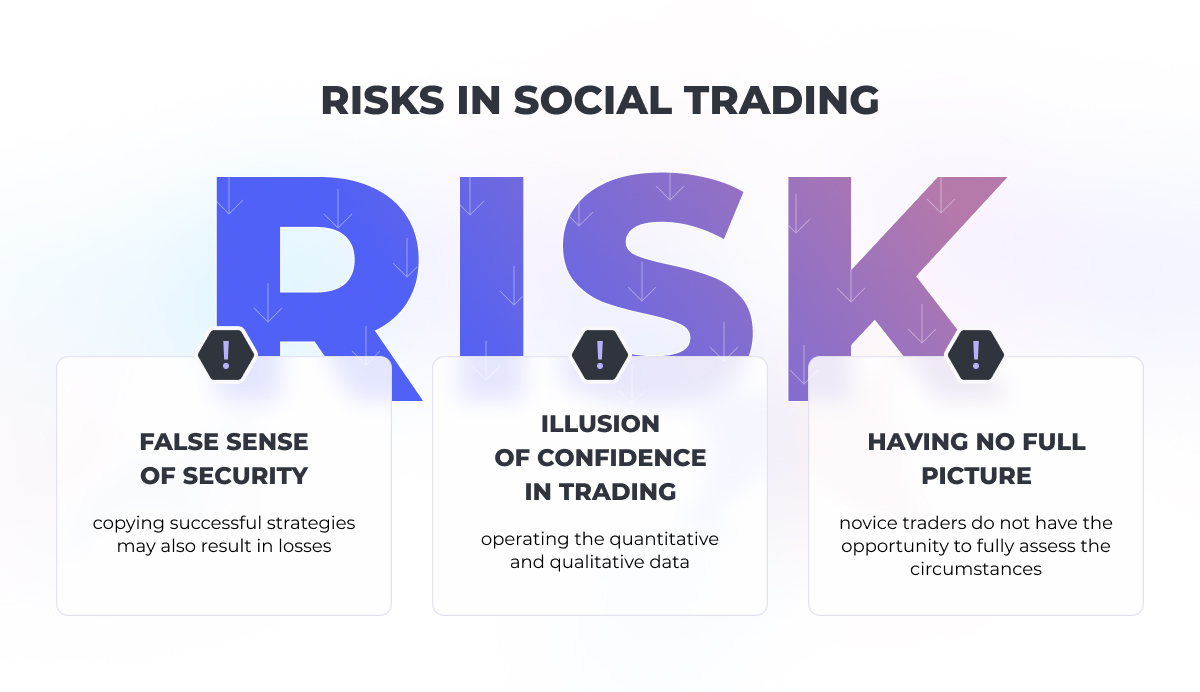 It is highly desirable that beginner traders install personal limitations on investment, putting an artificial restriction or ceiling on the amount of leverage and risk a trader can take on. This is done to minimize and protect against possible losses and the damage they can inflict. Online social trading users have often constrained themselves by limiting their horizons in that they would only trade based on templates of advanced traders, without leaving room for possible discretion. For sure, the profits can be significant, but losses can also be stark and painful, especially if risks aren't managed properly.
Providing valuable data for Social Trading Platforms with ML and AI-powered technologies
Social trading online networks are gaining tremendous popularity due to the degree of transparency they provide for investors. This model of trading combines both financialization and generation of profits and thus has become widely used. With the number of social traders growing, there also arises a need for better data analysis, to predict shifts in optimal strategy, losses, and pitfalls.  In other words, eliminating the human factor.
Machine Learning (ML) and Artificial Intelligence(AI) are advanced handy tools that are building blocks for modern technologies for everyday use. They allow you to accomplish your tasks more rapidly, eliminating imperfections, enhancing transparency, accuracy and diminishing human interference factors.
Here is the list of key ways in which ML and AI can enhance social trading Apps:
ML greatly assists in the decision-making process and data processing, providing the highest accuracy results. 

ML also enhances algorithmic trading, allowing one to simultaneously carry out various operations and pounce on the best trading opportunities/deals.

AI automation allows for high-frequency trading, executing numerous orders within the shortest time.

ML assists in processing huge amounts of data, extracting the most valuable insights for predicting and profiting from a recurring situation in the future.

ML and AI enable your platform to analyze users' behavior and sentiments and predict the future price movements of stocks based on this data with the help of NLP (natural language processing).

Greatly assists in risk estimation and forecasting, detection, evaluation, and mitigation.

Enables to use robot trading advisors.
The GBKSOFT team can power up your trading platform with software solutions built on AI and ML technologies. Our experts provide advanced development on Node.js, with considerable benefits:

AI-based solutions can include chatbots on your trading platform that are available to answer any questions and deep learning software allowing speech, image, and text recognition. Thus, your trading platform will offer 24/7 tech support. 

AI-powered solutions that GBKSOFT builds have been such that a social trading platform, for example, can be automated with the help of trading algorithms and shopping assistants, which will instantly buy and sell assets autonomously – with trading decisions backed by AI and machine learning.

Enhanced cybersecurity allows avoiding cyberattacks and quickly gathering and analyzing big volumes of data to thwart any potential cyber threats. 

Accurate forecasting became possible with the successful implementation of ML, allowing users to execute the best trades and possibly buy promising stakes in wonderful publicly traded companies.
ML and AI have transformed every aspect of social trading, greatly assisting in tracing market patterns, as well as assessing and mitigating risk. These technologies have made the decision-making process less stressful but more secure and consistent. All of this combined makes for a great case that can definitely help unskilled investors who need to shadow and follow the footsteps of professional mentors who have already polished and formed their "bullet-proof" trading strategies.
Shedule a consultation
Enhance your social trading experience with AI and ML powered social trading solutions.
Best Crypto Social Trading Platforms 
Being a fusion of social media networks and trading platforms, social trading has become one of the most accessible and convenient ways to start trading in the markets. Through social trading broker and platform, the newbie gains the ability to learn from experienced traders through a dynamic social network, receiving a unique professional trading experience whilst having fun doing it. Here is a scheme that lays out how a social trading platform functions: 
Social trading procedure
A broker provides the new trader with a platform to use.

The platform allows the new trader to follow other experts in their trading, leave comments, write messages, and share opinions as part of the trading environment.

One has to choose the

social trading platform

type and sign up.

To get experience and find expert advice to use, one can join all sorts of communities and groups, as well as gather data from charting indicators and get help in choosing the right strategy.



Here is the list of the top 4 crypto social trading platforms and the set of features they offer:

Ticker Tocker

A unique social network that also manifests in an intuitive trading platform. It was designed for newbie traders to help them learn valuable trading lessons and gain professional experience in the real world of trading.

over 100 complex market indicators;

unique user experience;

charts reflecting real-time data;

ladder allowing to place the OCO & TRG orders;

customizable feeds with trading ideas;

live streaming from community leaders, chart masters;

performance tracker;

backtesting allowing to avoid major money loss;

wallets for transactions.

Zulu trade

The platform offers social trading and investment services. Active in social trading and cryptocurrencies.

Zulu Guard, Lock Trade, and Zulu Script;

algorithm for ranking Signal providers;
additional analysis of various factors.

NAGA trader
Offers social trading and investment services. Also active in social trading and cryptocurrencies.

advanced charts and trading signals;
ability to follow and copy traders with price alerts;
risk management tools.

Ava Trade

 Trading platform for every type of trader.




doesn't require downloading;
user-friendly and intuitive design;
flexible trading environment for advanced traders and beginners alike;
13 options of strategies;
trading with fixed spreads.
GBKSOFT Custom Trading Software – Making the most of functionality
A team of closely-knit IT professionals that have been building comprehensive tech software solutions for over 10 years. We secure smooth business operations for our clients, provide them with efficient tools to streamline their business, and set them up for success. We offer custom-built solutions utilizing the Agile methodologies guided by client app specifications. Unique UX/UI designs, various testing tools, code review, and continuous tech support and maintenance – it is still not an exhaustive list of our benefits.
Take into consideration!
GBKSOFT team always makes sure that the information on the server, the data behind the code, and all services are under protection. Regular file reviews, tracking of abnormal activity, provision of daily statistics on logs. We also use HTTPS by default to ensure that the data (personal, credit card, etc.) is transferred in an encrypted form.
To build a multi-featured App, a team of experts is needed. This includes business analysts, developers, designers, the Quality Assurance team, and a project manager. GBKSOFT comprises a team of advanced experts and all the necessary specialists for building extensive featured software from scratch or will enhance already existing solutions with all the necessary updates. We provide tech support at all stages, including the pre-development discovery stage, which allows us to uncover all the critical points and ensure that we will come up with software that will be as close as possible to the demands of the customer.
We suggest that we can build a brokerage all-in-one solution that will help
Attract new clients

Secure trades and increase user engagement;

Deep analysis of client's experience;

Advanced charting;

Customizable portfolio;

Instant one-click trading;

Integrated crypto e-wallet;

Improved

access for retail traders.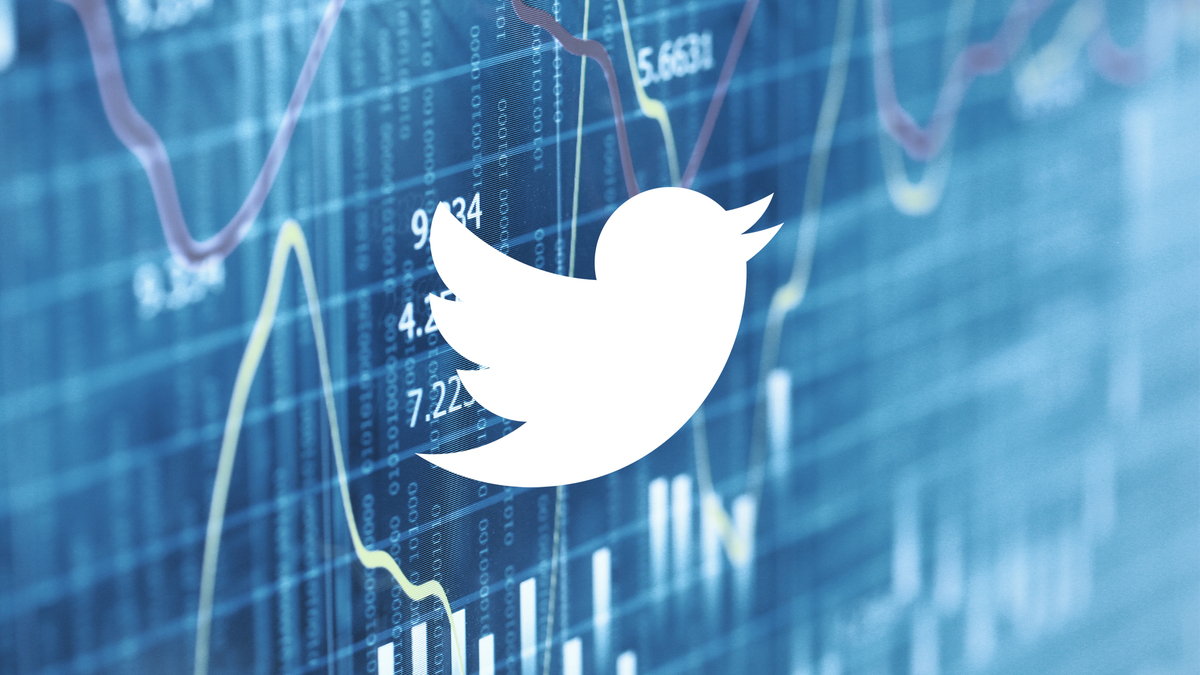 GBKSOFT as a "dedicated team" has contributed to building a truly innovative social trading platform Ticker Tocker. Having defined the client project objectives and taken into account the stock market specificities, we have integrated unique features, such as:
unique individualized design of visual charts providing the advanced user experience;

access to large amounts of data for extracting valuable insights;

ability to subscribe to top traders and get inspired with their trading strategies;

social media integration, instant messaging, analytical and risk management tools;

filtering tools and advanced search.
Benefits that the social trading solution developed by GBKSOFT provides:

Better trading decisions;

Your trading app users won't miss and pass up on great deals/buying opportunities as they can trade from anywhere, anytime;

Great connectivity between the mentor and the mentee of trading strategies- Improved access for retail traders – all trades in one place;
IOS and Android apps, web-based solutions.
Settle a consultation!
Ready to put your social trading app idea to work with the professional support of the GBKSOFT team?
Here is the estimation of our project costs. Although the total cost of the project can appear rather high, the custom solution is worth it, and you should not give up on this idea. Our advanced team will build the unique MVP of your future custom solution, allowing you to estimate the user's feedback. The regular enhancement of your demo trading platform will ultimately enable you to build a solution that fully meets your expectations. The opportunity to build an MVP allows you to test your trading app idea and avoid huge money commitments right from the get-go. Instead, investing in full-cycle development can wait until you are 100% sure.
| | | |
| --- | --- | --- |
| Stage | Dev hours | Dev cost  |
| Specifications | 111 h | $2664 |
| Design | 78 h | $1560 |
| HTML/CSS | 329 h | $9212 |
| JS Development  | 328 h | $9840 |
| PHP Development  | 826 h | $25780 |
| Testing  | 383 h | $6894 |
| Admin | 29 h | $580 |
| Scrum Master  | 332 h | $7972 |
| Total | 2416 h | $82501 |
Conclusions
Social Trading platforms combine the trading functionalities of classic online brokerage services with the communication and interaction features that are offered by traditional social media networks. It is a way to springboard your business trading experience to the next level, providing you with experiences, ideas, and strategies you have never come across before. There is one crucial point here – make sure to employ prudent risk management, to not make hasty decisions. Approach trading strategies critically, taking all the circumstances into account. All of this is a major appeal to customers, drawing them to these kinds of solutions as by choosing the right broker, one has all the chances of improving their profits and cutting out major risks.
In 2021, trading has become very popular among millennials and gen-zers, and this trend will for sure still be widespread in the future. Thus, now is the perfect moment to invest in custom software development of your trading app and establish a comfortable position in this competitive and ever-growing niche. Our team at GBKSOFT will become a reliable and trusted tech partner helping you with all stages of software development including specifications, risk mitigation strategies, rapid release, and continuous tech support of your software. Investment in trading software is an investment into your future and a unique opportunity to build a successful and profitable business having an efficient software base.
Get more details from our expert!
Aready have a project in mind? We will help you to put the idea into reality!
Social trading networks are gaining tremendous popularity due to the degree of transparency they provide for investors. This model of trading comprises both financialization and generation of profits, and their popularity has been skyrocketing as of late.
Social trading procedure Broker provides the new trader with a platform. The platform allows traders to follow other experts when they are in their trading flow, leave comments, write messages and share opinions as part of the trading environment. One has to choose the social trading platform type and sign up. To get experience and find expert advice, one can join the various groups and communities that are present, as well as gather data from charting indicators assisting in choosing the strategy.
The emergence of network platforms such as Uber, Facebook or Twitter has shaped our modern online social interactions, rapidly reshaping entire industries (automotive, tourism, restaurants, retail etc.). Successful integration of features of these platforms into stock market platforms has given rise to social trading, which transformed the financial world into being global instead of local.
Ticker Tocker – a unique social network presenting an intuitive trading platform. It was designed for newbie traders for learning valuable lessons and gaining professional experience. Features: -over 100 complex market indicators; -unique user experience; -charts reflecting real-time data; -ladder allowing to place the OCO & TRG orders; -customizable feeds with trading ideas; -live-streaming from leaders and chart masters; -performance tracker; -wallets for transactions.