Among the top reasons why companies might require nearshore outsourcing software development services are: the need to implement new technologies, the urgent necessity to have a mobile app built as well as the desire to create an
Uber-like
business. In most of the cases, all entrepreneurs seek out box solutions for their businesses to gain competitive edge and offer the best service to their potential clients, expanding the abilities of their companies. In this article, we are going to discuss the top reasons why companies still hesitate to outsource software development to nearshore outsourcing companies.
Why Businesses Search Nearshore Software Companies
Whatever the reason is, each company has its own approach to hiring software developers, based on personal preferences as well as business needs. You can either hire the in-house team, find freelancers to complete the project, or outsource the development. Please, see the table below to get a better understanding of these often confused concepts:
Outsourcing
Offshoring
Nearshoring
Onshoring

A company outsources software development within the territory of its location, aiming to get higher profits.

A company outsources software development to a nearby country, killing two birds with one stone – benefiting from offshore advantages and being in a proximity to its clients.

A company outsources software development within the single location, eliminating cultural differences and communication gaps.

Pros

: Low costs

Cons

: Political differences, poor communication, security issues, timezone differences.

Pros

: territorial proximity, well-toned communication, high-quality software, strict control, cultural and business similarities.

Cons

: communication difficulties may arise if there are no settled and discussed rules and schedules

Pros

: no cultural and timezone differences, regulatory compliance.

Cons

: lack of skilled teams, high budgets
Outsourcing is preferred by numerous businesses all over the world. In this post, we'd like to share some real advantages of outsourcing to nearshore companies, some tips on how to choose such companies and what to expect from the collaboration.
 How can your business really benefit from nearshoring?
What is
outsourcing
? Generally, outsourcing includes both domestic and foreign contracting, as well as offshoring. Offshoring means relocating some business functions to a company in a distant country, choosing innovation, accelerated time to market, and access to the latest technology at reasonable pricing.
What's the difference between outsourcing and hiring an in-house team? In-house software development can be troublesome as you need to hire professionals. But as we know, the recruiting process can be rather long and costly. And don't forget about such expenses as office rent, taxes, competitive salaries, and other perks. 
Unfortunately, not all companies can afford to hire an in-house software development team. But to tell the truth, not all of them need an in-house team. For instance, a lot of famous startups outsourced development in the early stages of their existence before hiring the in-house team. The best examples are Slack, Skype, Basecamp, and Github.
Nearshore outsourcing software development offers a range of benefits:
You  are pulling two weeds with one yank- get the convenience of an onshore development with the benefits of an offshore development model;

Nearshore outsourcing experts can support the already available team ;

Available resources, as well as the profound skills of the developers, can power up your business by offering new possibilities;

Avoiding the time-zone differences contributes to higher availability and increased flexibility.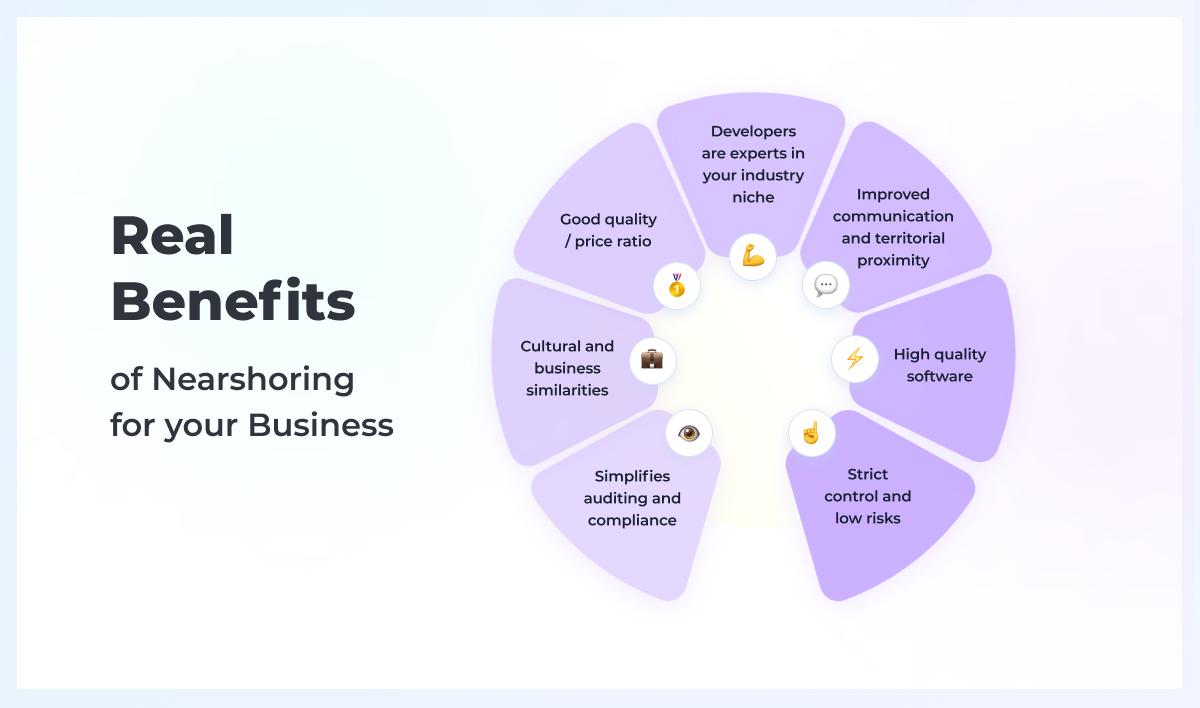 To experience the benefits of nearshore outsourcing to the fullest, one needs to pick the technology partner scrupulously and carefully, taking into account the following points. This will enable you to get a reliable partner and empower your business with rich functionality and the latest technology solutions. 
Here is a list of criteria you have to take as a basis while choosing potential nearshore software development partners
:
the location of the company;

the availability of portfolio, illustrating successful project cases and reviews of the satisfied clients;

a company should be an expert in your current domain;

the amount of the company's in-house developers as well as their ability to scale your team in case of necessity.
Though nearshore outsourcing has lots of advantages, many companies still hesitate to outsource their projects and it is not much of a wonder. The risks will always exist, however, that can be successfully eliminated. Experts state that fear of outsourcing software development among business founders and investors is what holds them back.
So, let's see what the most common concerns about nearshore outsourcing and offshoring are, and decide whether they are reality or a myth.
Communication and support during nearshore software development
Having an in-house team seems to be more comfortable for many business owners as they have more control. When you have employees by your side, it's possible to check on them anytime. Recognize yourself? Well, to tell the truth, trusting your team is the best you can do to create an effective working environment.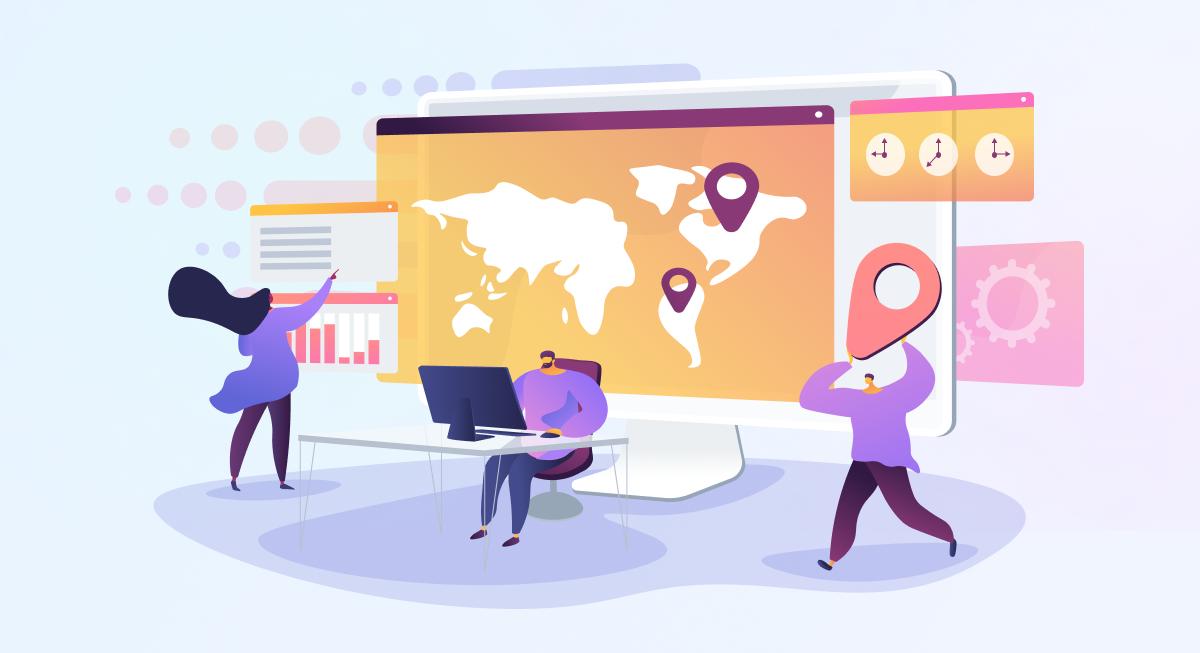 One more thing that's bothering founders is the time-zone differences. How to build the communication process in the most efficient way? And what about the language and mentality differences?
How we are busting these prejudices:
GBKSOFT is located in Ukraine
, in the perfect time-zone – only one or two hours ahead of Europe. We also have intersecting hours with the U.S. and Australia that makes it easy to plan the schedule.
We always start the cooperation with the discovery stage, enabling us to settle the project's objectives and discuss all the significant points. All of our projects are coordinated by experienced project managers. Not only do they control the development process, but also prepare regular reports, so you can have your finger on a pulse while being aware of all the nuances connected to the project. It includes the number of hours spent, the development process, and people responsible for smooth and productive work. Transparency is in our company's DNA.
We are always trying to think from the client's perspective to reach the best results. Thus, we always approach the developing process in our client's best interests, analyzing his business to create the solutions that will allow us to explore the current possibilities to the fullest.
Ready to power up your business with the latest technology solutions?
Contact us to get a consultation!
Trustworthy company near me provides the best nearshore outsourcing services
The second reason why many companies prefer to search for
development partners
nearby is that it is easier to check the company's credibility by visiting the office and having a chat with the development team. But know what? You can visit our office as well. All our developers work from the office, so you can meet your future team in person.
NB
We are recognized as a top software development company on Clutch.
Another way we can prove our credibility is our genuine client reviews and a great number of successfully deployed projects. You can find some of them on
Clutch
.
The main advantage of this platform is that they call each client to interview about the project, so you can be 100% sure about the authenticity of each review. The list comprises the feedback from satisfied customers, sharing their impressions about cooperation with GBKSOFT.
GBKSOFT was able to complete the project ahead of schedule, just in time for the summer sailing season. Demonstrating an organized approach, the team utilized various tools to compile project notes and receive feedback from the client. They led a smooth, stress-free process throughout the project.
John Lyon-Smyth, CEO & Co-Founder, Mozayik, LLC

And the last prove is our portfolio. Not only you can take a look at the web and mobile app we completed, but also find out whether we have and expertise in the industry you are working in. Check out some of the exciting projects we completed! That includes stunning mobile and web applications that we built, leveraging our focused expertise and innovative technology solutions.
Security issues and software nearshoring
Distance is what makes people feel unsafe when it comes to nearshore outsourcing software development. How to protect your idea? What to do with the personal data of your clients?
Transparency is what we value the most of all in our work, hereby, we never hide any crucial information from our clients. Some of our customers prefer not to disclose their project ideas during the initial contact. Nevertheless, we always require as many details as possible to prepare an accurate project estimation. That is one of the reasons why we sign an NDA (non-disclosure agreement). Thus, all the specifications, budgeting details, all the materials referred to the project, code and proprietary info are totally safe and non-disclosed. After that, you can be 100% sure, your idea is protected and safe.
The next point is the security of data, including personal data as well. We take it very seriously, so each of the projects we complete has multiple security checkpoints. Our developers work hard on building secure and seamlessly functioning apps that are fully compliant with any rules of the App Store or Google Play. We are aware of each key industry standard and strictly stick to them. We have established the best development practices, allowing us to deliver
the
most secure app ever.
One more important detail: we keep the personal data of European users in accordance with GDPR, starting from May 25. And we are ready for it too.
The actual cost of project nearshoring 
And finally, one of the most important aspects of outsourcing web and mobile development is the cost. It's not a secret that American nearshore outsourcing companies, as well as European ones, are very costly. Having their hourly rates at the level of $150-250, their services can't be named affordable. At the same time, Indian developers are known to be the cheapest with an hourly rate of $5-20. Unfortunately, the quality of their work remains poor. And that is the winning point of Ukrainian developers. An average development company in Ukraine charges $25-55 per hour, combining an affordable price with high quality.
The development rates can differ from company to company. Also, they depend on the seniority level of the specialists. But, in general, the hourly rates are the following:
| | |
| --- | --- |
| Business Analyst  | $21/hour |
| Designer  | $25/hour |
| QA | $16/hour |
| DevOps | $33/hour |
| Back-end specialist | $25 – $30/hour |
| Front-end specialist | $21/hour |
| Project Manager | $19/hour |
The prices are very general, so if you'd like to get a quote or understand the real cost of your project, it is better to consult with the team of your choice and ask for the estimate. 
Already have an idea in mind?
Ask our IT-experts and get answer within 24 hours
Final thoughts
The word "outsourcing" might create different feelings that can be rather controversial. Everything depends on the previous experience of entrusting development to someone else. In other words, outsourcing can become your hell or heaven. If you want your project to be done well, consider choosing one development company instead of splitting the process between multiple teams. Nearshoring is a great opting for software development, it's flexible and quite beneficial. You can access the latest technology and talented and skillful developers, avoiding time-zone differences. This cooperation approach is rapid, less stressful, more efficient and more flexible in terms of budgeting.
It is a form of software development, when a company outsources software development operations to a nearby country, killing two birds with the one stone by benefiting from the off-shore advantages and being in proximity to its clients.
Nearshoring is a perfect option for companies seeking talented and skillful developers at reasonable budgeting. It also helps to avoid cultural and time-zone differences. What are the pros of nearshore development?
Pros of nearshore Software development is territorial proximity, well-toned communication, high-quality software, strict control, cultural and business similarities.
Still looking for an experienced team to develop an app for you? You have already found one!