Digital agencies are prosperous businesses these days. However, people who work in that industry wouldn't tell you that their line of work is without its own set of challenges and complications. The competition is tough, and most digital agencies are constantly under pressure because not only do they need to take care of their clients, but also to ensure their own flexibility and scalability. 
So in a fast-changing world, how can a digital agency stay on top? The best way to do this is by finding the best technical partner able to provide high quality web and mobile development services. More and more digital agencies take on the development themselves but unfortunately do not have enough resources and lack expertise to deliver competitive solutions. And that's exactly why they need to partner up with professional software developers teams. 
In this blog post we are going to unpack beneficial digital marketing agency partnerships, true advantages that cooperating with development companies can bring, and what your agency should look for in a technical partner. And, without further ado, let's get started. 
Main challenges development companies help solve
In 2021 clients are ever so demanding, and that's because the market is fully saturated with digital agencies. Clients are very busy, demanding, picky and even to some degree spoiled with available broad choices. When clients hire a digital agency, they expect it to help them with marketing services and even software development. And sometimes the agency is not able to meet all of the demands due to absence of necessary tech takes.
So what can an agency do to attract and retain as many loyal clients as possible? The answer is simple – establish cooperation with a competent development company to offer a full package of high quality services. There are so many challenges that can be solved in no time if you have the right  development team. Let's take a closer look at some of those challenges and how they can be nullified. 
Narrow range of services
As we've already mentioned, clients come to digital agencies looking for opportunities and solutions to boost their productivity. And they want a holistic approach and an all-in-one solution. If the agency cannot offer it, then the clients will keep looking until they find someone, who offers a wider range of services. Having a reliable team of developers by your side gives you a competitive advantage over all other agencies.
Losing clients
It's not a secret that traditional digital agencies tend to have less clients than their more modern counterparts that offer full-scale services. Also, you may keep losing clients if you do not have enough workforce to fulfill all their needs. To get rid of this issue and expand your client base, you need an established relationship with a partner who you can turn to when you need and is able to provide consistent software development services. This cooperation can become mutually beneficial because often the clients of IT development companies need marketing services. So by exchanging client bases, you will enrich yours and boost your agency revenue.
Lack of IT infrastructure
Do you take good care of your own digital systems and their security? Sometimes digital agencies are like a shoemaker whose kids do not have shoes. They lack systems maintenance, security updates, and even basic technical background to keep everything running smoothly. And that is exactly when a software development partner can come in handy. Tune all processes within your own company and become even more productive with the help of an experienced technical partner. Don't hire freelancers or part-time specialists, as they will not guarantee you timely optimization. Rely on solid experienced companies and don't even bother spending countless additional time and money on gathering and integrating an in-house team.
The project's quality is questionable
Let's say you have a client who came to you with the request to promote the website or mobile application. And while taking a look at the project you are going to work with, you find out that it is not as great as the client thought and, on top of that, there are some major technical issues. Would you rather keep promoting a project of poor quality or suggest a client to consider redesign or code review? The first option may lead to ineffective marketing efforts, the second option leads to success. But to even consider it, you need your own tech team or development partner who will fix everything.
The most demanded services that digital agencies need 
Speaking about the marketing and promotion, we can't help but mention how drastically they've changed in 2021. These days it is not enough to add a banner, launch an ad campaign and expect a huge influx of customers the next day. The promotion requires way more effort and effective solutions and tools. 
You've probably had clients who came to you expecting to get a full package of services and obtain new tools to support and boost their business. But did you have enough resources to deliver what the clients expected from you? Or maybe you did your best but the result was not so satisfactory? 
In any case, marketing agencies should have a great technical background these days to offer a range of services in demand. Let's explore the short list of the most popular digital services together. 
Mobile applications and optimization
Many businesses consider going mobile because the devices conquered the world and  consumers. According to the statistics an average smartphone user spends at least 3 hours per day using a mobile phone and most people check their smart devices 58 times per day. Just take a look at the infographic below: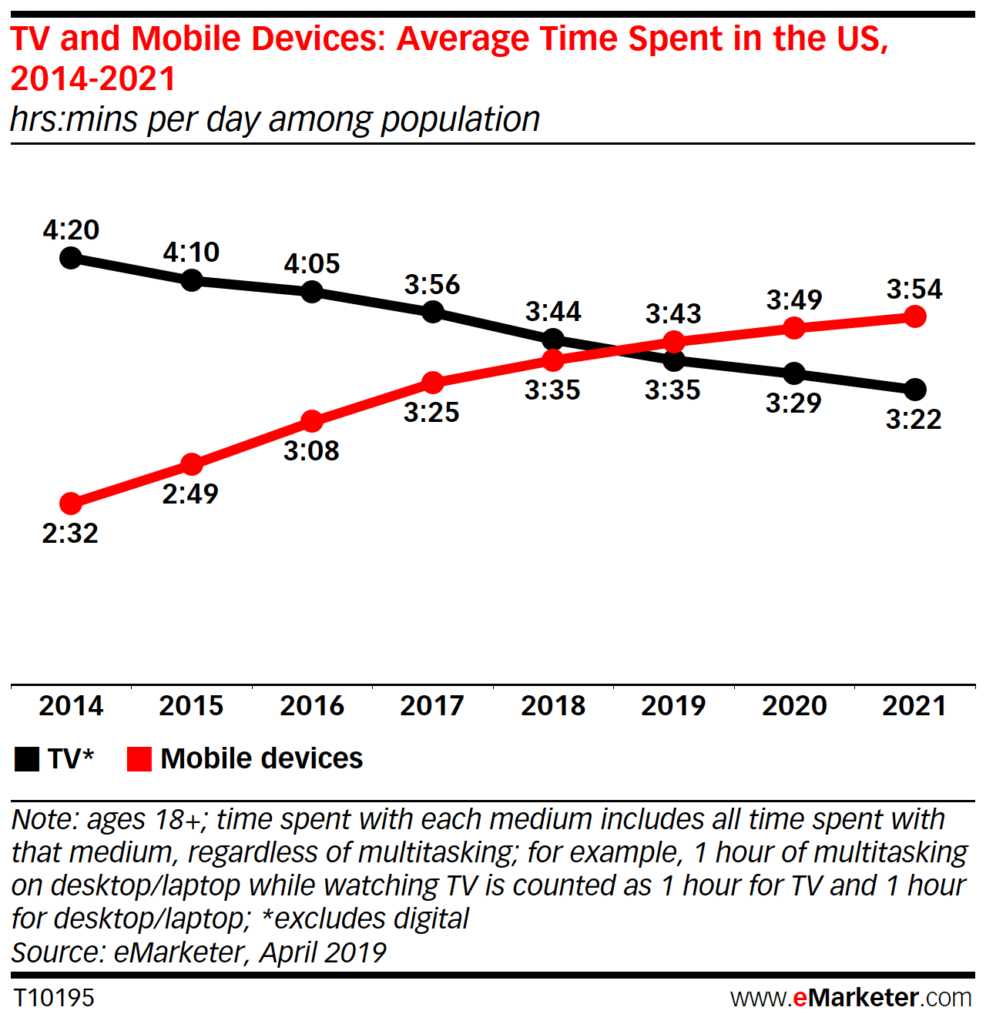 So this means that businesses as well as digital agencies should pay special attention to mobility. Mobile applications can bring way more potential customers than web ones, therefore, digital agencies should be ready for new requests from their clients. They can come not only to promote their business but also to spice it up with the development of mobile applications. 
Also there are clients who might be interested in optimizing their existing solutions to become very mobile friendly. And this also requires some technical skills. Chances are that if you do not have an experienced technical partner or only rely on your in-house team with a certain (maybe somewhat limiting) technical background, you may lose your potential clients to other digital agencies. And you definitely do not need that. 
Let's take our team, which has tremendous experience in building mobile applications, we can consistently deliver solutions quicker. GBKSOFT developed mobile applications for different business niches and by now we already have some ready-made modules, knowledge of how to minimize development risks and handle various technical issues. When choosing your development partner, pay attention to their portfolio, domain expertise, and the length of time the company has been in business. 
Good to know
When we emphasized the importance of mobile solutions, we were not exaggerating their real value.
Check out our big post
related to mobile applications and how they serve as an extra tool for big companies and even huge enterprises.
Web applications and business productivity tools 
Although web applications are less popular than mobile ones, they are still a must have  among business owners. And if we speak about big business, productivity tools are the main things that every company wants to obtain (or even develop its own SaaS). And as much as companies may be interested in business solutions development, they may also be in need of great marketing services.
So when it comes to web applications, their development and promotion go hand in hand. That's why it is so important for development companies and digital agencies to establish cooperation, exchange clients and unite their efforts in performing digital transformation for businesses. 
If you ask us what web solutions are the leading ones on the market, we would name the following business intelligence tools: 
Inventory Management System;

Point of Sale Systems;

Corporate Education

solutions;

Internal

web-based portals

;

Data Processing Software;

Task Management solutions;

Order Management Systems;

Software as a Service (SaaS).
As you can see, the possibilities for businesses are endless, and so are yours. With the help of the right technical partner, you can expand your client base and get more orders for your services. It's a win-win cooperation when you provide the client with a software and a marketing package that helps boost its work to the company's advantage. 
We understand that many digital agencies can have high class specialists on their team, but they often lack technicians. And the perfect choice for them is to hire a cohesive outsourcing team that will do the best job. For example, by cooperating with GBKSOFT you get a reliable partner that develops business intelligence tools powered by the latest technologies (IoT, AR, ML and many more). On top of that, we use Agile methodology that helps us to deliver the solutions on time and within the set budget. 
So what exactly is in it for you? First of all, the clients you redirect to us for development services are left with a high class solution and are always satisfied. Second of all, our clients can be redirected to you for highly professional marketing services. In any case, it is fruitful cooperation that helps you and us obtain more loyal customers. 
Apps redesign or update 
It is not a secret that sometimes software can get outdated and clients may think that all it takes to revive it is marketing. And yet, it is not quite true. In most cases app redesign or massive updates are required. And that is exactly what technical partners are for. They can suggest to your client what can be done to make the most out of their current solution. 
Also tech companies can perform legacy code review and update, spice up the old but gold solution with new features, change its design and UX. All these help ensure that your clients end up with a great solution that is easy to promote and use. So in case you have clients with outdated solutions, you need a tech partner able to fix them. After all, marketing campaigns make a company's reputation, so it is always better to promote something of a higher quality and performance. 
And now, let's sum it up a little bit. As we've mentioned, there are three main categories of tech services your clients may need. And it is better to have a reliable and skilled tech partner to meet their needs. What we'd also like to add is that there are development services that are also popular these days and may be asked for by your clients: 
Apps for wearables;
MVP development; 
Development of cross-platform apps;
On-demand applications. 
How can you know that you need a partner in development? 
Now when you know what services your clients may possibly ask for, it is time to think about the major cases when you may actually need a development partner. Check out the short list of cases below. If you face any of those at the moment, then a cooperation with a development company is a must for you. 
There are no skilled tech specialists to support your internal software and/or develop solutions of different complexity for your clients.

You have a great in-house team of developers but you still lack specialists with knowledge of a certain important technology or language. 

You need to deliver many projects at the same time and there are no resources to make it possible.

You lack extra hands to complete some projects that have already started. 

Your clients keep coming to order promotion when in fact they need development and you cannot offer them these services. 

You keep working with freelancers or part-time developers and the results are substandard at best. 

You have dozens of tasks and need to shorten the sales process. 
Already need a skilled and experienced technical partner?
Let's get in touch and discuss our cooperation options and mutual benefits.
Real benefits of cooperation with a development company
As you've already understood, technical partners like GBKSOFT can become your major helpers. Mutually beneficial cooperation will let you focus more on creativity and let go of all technical difficulties once and for all. And this is not the only advantage you'll get. We would like to share with you some other more crucial ones: 
Saved costs
cooperating with a software development company will cost you less than hiring and maintaining your own in-house team. Moreover, you will get a partner that has all necessary specialists in a team and can complete a full development cycle. So there is no need to hire some additional specialists or consultants.
Wider experience diversity
with experienced software developers you will never compromise solutions' quality. Your clients can get solutions developed using the latest technologies and the best world practices. Your development partner will know everything about innovations and their effective incorporation into the business environment, and that is exactly what many companies are looking for.
Technical consultancy opportunities
you can add value to your company by offering technical advising, and software development companies can help you with that. Thanks to this new option you will be able to speed-up the pre-sales process and get more clients.
Stay highly scalable
experienced tech partners can integrate their team members with your existing in-house team seamlessly. This offers you a better scalability level, improves project management and lets you take more client orders and deliver the results better and faster.
Control projects with minimum input
outsourcing software development to a technical partner is perfect if you want to be sure that the project is managed right and developed within the discussed time frame. You can also appoint your own manager to keep everything under control, however there is no need to be 100% involved. So you save your time and effort, and while you do your creative job, the tech team is sure to do their development job.
Why choose GBKSOFT as your partner? 
Perhaps after reading this blog post you will seriously consider partnering with software development companies like GBKSOFT. And this will be the right decision, we can assure you. When it comes to software development and serious digital transformations, we can say that we are highly experienced in that. For more than 10 years we have been honing our technical skills and gaining experience while building complex projects. So we are indeed a perfect partner for your digital agency. 
Among the industries in which we've digitally transformed companies you can see the following: 
Looking at our experience, one can guess that the tech stack we are working with is different as well. We have prepared an infographics demonstrating what technologies we work with to build high class web and mobile solutions.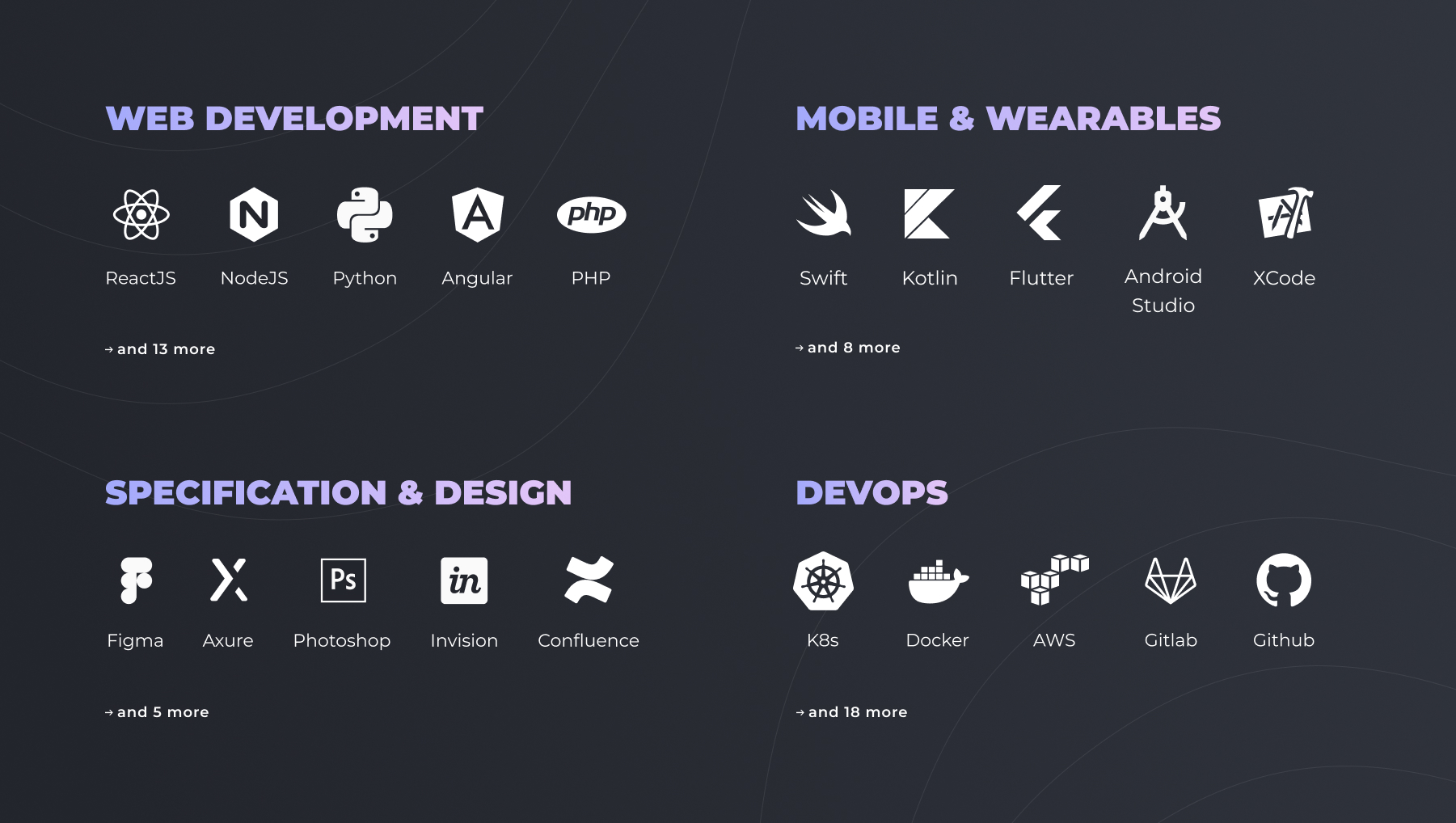 We are also skilled at integrating various services into business solutions to make them even more versatile and user-friendly.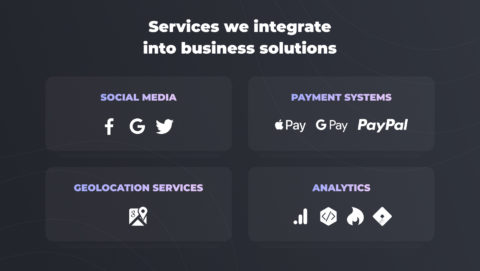 And when it comes to real achievements we prefer real numbers. So let them speak for us and highlight what GBKSOFT is capable of when it comes to software development and delivery.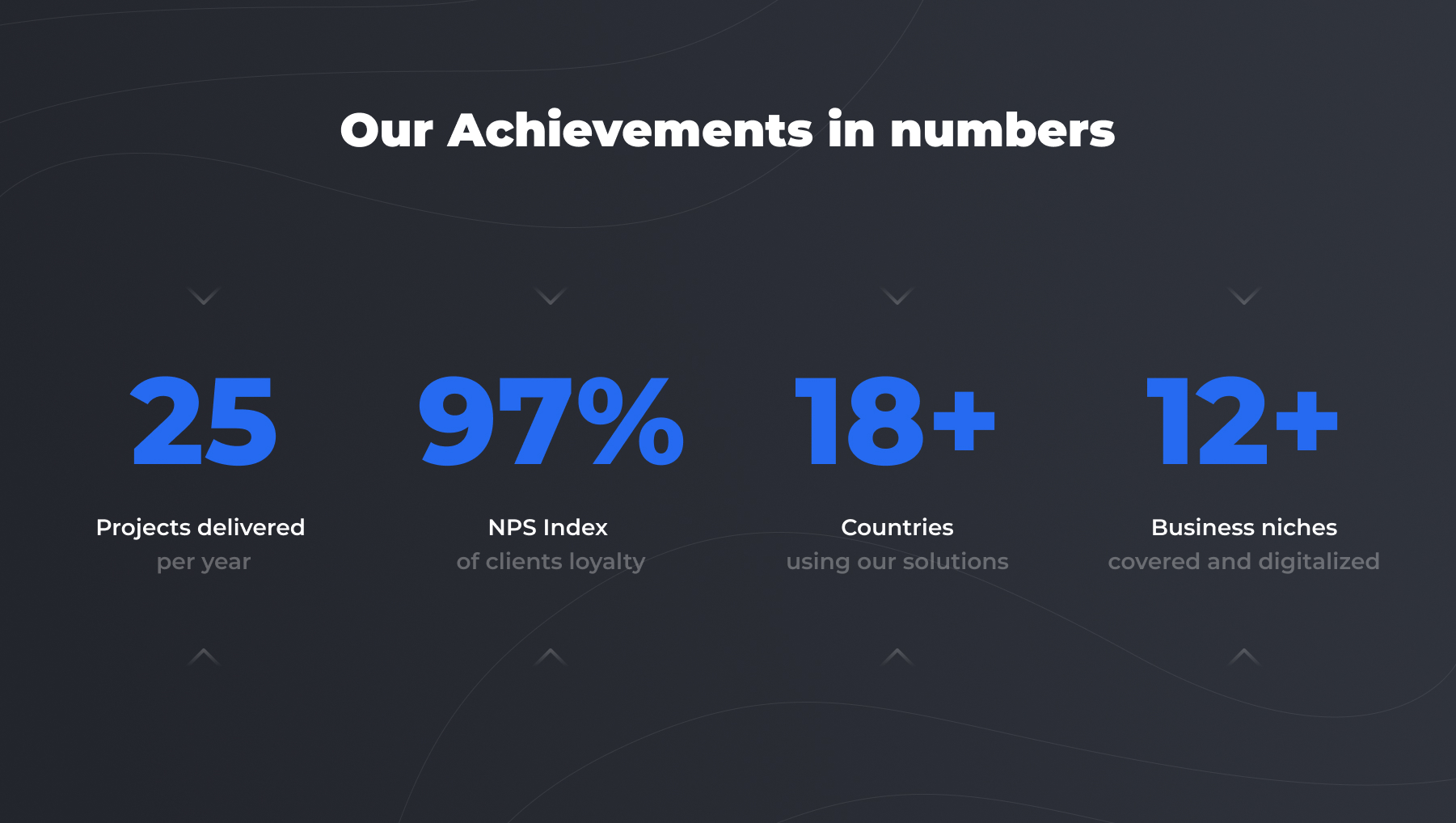 Extensive domain expertise, cohesive team of different specialists, diverse tech stack, advanced project management and innovative approach – these are the main criteria that should guide you as you select your development partner. What also matters are the reviews from the company's clients, company portfolio and average term the company is in business, since they all demonstrate reliability of the development team.
Long-term cooperation is always better as you get more business opportunities with time. At first you may supply your partner with the projects, but then they can redirect their clients in need of marketing services to you. And with time the number of clients may only increase, so it is a win-win situation. Short-term cooperation is great in case of emergency, when you urgently need to complete a project or some extra pairs of hands are needed right away.
The rates of developers, QA specialists, designers and Business Analysts vary widely from company to company. So to provide you with more or less relevant information, we decided to share current rates of GBKSOFT specialists. A skilled back-end developer will cost around $25 – $30 per hour, front-end one – $21, Business Analyst – around $30, Designer – $32, QA specialist – $22 – $25, Scrum Master – $38, DevOps – $33. Of course these numbers are not set in stone and can change depending on the seniority level of each specialist. But on average the numbers will come out as we've provided.
To summarize 
As the proverb says "If you want to go fast, go alone. If you want to go far, go together." And this is probably the best saying to describe the cooperation between digital companies and development companies. To fulfill the needs of demanding customers you need a partner, and our company can be a perfect fit for your agency. 
We can be your long-term development partner that will help you get more clients, increase their satisfaction, engage loyalty and take your and their business to a whole new level. 
GBKSOFT can handle all technical related matters while you will be working on marketing services. Your clients will get a full package and you will get a great income. And that is what really matters when you think about fruitful cooperation between marketing and software development agencies. 
Ready to discuss cooperation options?
Drop us a line and let's see how we can be useful to each other.