Modern business companies process and manage huge amounts of data every day. They require cloud-based storage to keep vital data safe and sound. Cloud storages provide enterprise scalability and agility to record important business information. Cloud services fasten the entire company workflow by building more efficient strategies, creating new modern ways of interacting with customers, monetization, etc. The distributed cloud is also defined as a tech trend by Gartner for 2021. 
The distributed cloud model provides a range of beneficial features for enterprises, and we are going to discuss most of them further in this article.
What is a distributed cloud?
A distributed cloud is a distribution of public cloud computing that provides the ability to manage everything from one computer. Everything means not only on the side of your provider but on the other data centers and third-parties sides. A distributed cloud opens a business opportunity to implement and manage applications in the environment that suits your organization best. This type of computing fixes any errors that are revealed during the work of multi-cloud environments without stopping the entire process.
The distributed cloud model also implies its framework – edge computing. This framework helps to bring business company data closer to its sources. It brings a range of benefits for the organization like deep insights, faster responses, and better traffic.
With the appearance of new technologies like IoT, AI, telco, etc., it became necessary for the tool to process huge amounts of data in real-time. This issue was resolved with the creation of a distributed cloud computing model. As data has various specifications, distributed cloud helps to conform to country, business industry, and workflow peculiarities. 
Forrester Research names about 20% of business companies that trust their data to the public cloud. 43% of enterprises are going to give more workloads to public clouds by the end of 2022.

Forrester
Distributed computing is a provider for different types of machines to interact and coordinate with each other. This type of computing helps to reveal the errors or bugs of the individual machines without interrupting the working and providing services of all others. Distributed computing is a complex system that consists of several elements like:
internet

P2P networks

telecommunication networks

distributed database

scientific computing
Distributed cloud architecture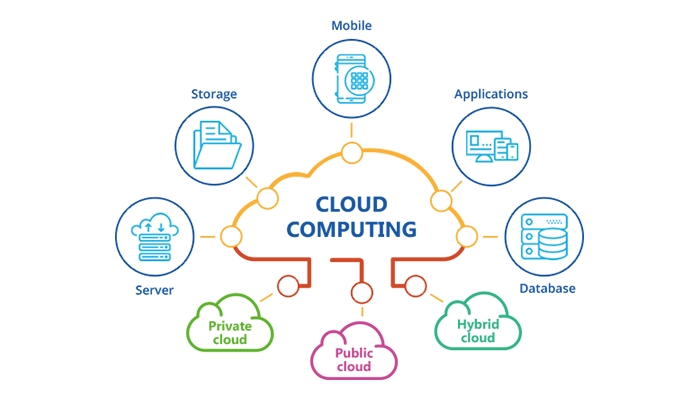 Talking about the distributed cloud, it consists of three layers that are:
Central cloud
This is the main layer of the distributed cloud that is responsible for data management and provision. It covers the entire works of the cloud. Among the most popular core clouds should be highlighted Google, AWS, and many others. These are vast cloud storages for enormous amounts of data. Core clouds are available from any location, many users, various purposes, and types of information.
Regional cloud
This cloud is considered to be the middle layer of a distributed cloud. It provides a high level of local mobility, data caching, and proxy. For example, regional clouds are CDN, PMIPv6.
Edge cloud
This cloud title says for itself – it is the last layer of the distributed cloud. It is located in the users` proximity. Edge cloud provides real-time services on mobile devices where data is processed close to its source. For example, it can be MEC, FC, etc. 
Types of distributed cloud computing
Distributed cloud computing counts two different types:
public-resource computing – this is a division of cloud computing that is more related to distributed computing that to the cloud;

volunteer cloud – it is a mix of cloud and public-resource computing that is built on volunteered resources, it is also called P2P clouds. 
Distributed cloud benefits
The distributed cloud aims to simplify the processes of multi-cloud management. It improves the storage scalability, flexibility, automation, and supports applications. Among the core beneficial features of the distributed cloud are:
Better management of multi-cloud
The distributed cloud provides the function of better visibility and easier managing the multi-cloud facilities. It gives full control over cloud infrastructure thanks to specific tools. 
Scalability
Not all enterprises have enough budget to build and implement a custom data center. This process is rather expensive and demands much time. Distributed cloud removes any borders like space, location, industry, etc. With a distributed cloud, any company can easily expand its sizes and easily integrate into any data environment.
Regulatory compliance
As the distributed cloud is public computing, it has to follow privacy rules and regulations. Some personal data can not be shared or announced in particular locations. This process is easy to control with distributed cloud computing as it sets required limitations considering the data privacy regulations in particular industries. 
Content delivery
A content delivery network or CDN is integrated into a distributed cloud. It aims to improve the content performance and consequently user experience as it delivers content closer to the user-side.
IoT and AI applications
Many industries need real-time data analysis and quick response without sending or receiving the data from the central cloud. These are healthcare, self-driving cars, manufacturing automation, etc. Distributed cloud delivers the required data muck quicker and accurate.
Value of distributed cloud for business 
Distributed cloud, provided by public clouds, got its title because of physical location specifications. It means that any operation is performed close to the edge cloud to reduce latencies. It also provides managing the cloud infrastructure and data environment. All these components aim to improve service performance and user experience in the way of decreasing the number of latencies and network overload.
Distributed cloud unites network, storage, and compute, provides their communication in specific geographies. Each of these elements is called substations, like a part of something big. These substations are supported by the public cloud provider and bring higher productivity and innovation to enterprise networks. A distributed cloud is expected to control the compliance of regulation and privacy policies in specific areas. It also reduces the probability of network overload and latencies. The distributed cloud provides the ability to host cloud services in any location and widen the possible compute zones.
The days of self-hosted solutions are in the past. They remained relevant for isolated and critical systems (control of metro or power plants). In everything related to business on the Internet, cloud technologies long and firmly entered into practice. We will not think of our own servers to receive email or host a website. Cloud technologies can remove all barriers to business development from idea to any scale. Government and military organizations trust their data to the clouds, which confirms the reliability of the technology.

GBKSOFT Admin
Distributed cloud applications
Cloud technologies involve not only huge enterprise networks but different types of mobile applications that provide some services for their customers. We would like to bring several of these applications that are supported by the distributed cloud to your attention. 
Emergency care assistant
An Emergency Care Assistant or ECA is the service that provides tracking the patient state during the moving from home to hospital. To monitor the symptoms and help the patient in real-time, all data about his or her states should be tracked and analyzed quickly. This data should also be sent to doctors in the hospital to give urgent treatment. Due to distributed, edge, and regional clouds, the probability of latencies and any errors reduce, and the path to the hospital is tracked by receiving, analyzing, and responding to patient data in real-time.
VR rental service
VR rental service is a virtual assistant that helps customers to find the required apartments or houses to rent. Due to virtual reality technology, each tenant can check out the potential house, inspect its rooms, and other details without even meeting the owner and visiting the building. All data about available apartments are held on the conventional cloud that provides real-time changes. In this case, cloud computing lets a huge number of users look at the apartments simultaneously without any problems and latencies. 
Distributed cloud reduces the amount of the network loads and improves the performance of the online service by sending location-based data to edge cloud. It means that all apartment data in one location is managed by a particular edge cloud and the entire network loads are distributed to other edge clouds in other geographies. Usually, people search for a new house in the neighborhood and request the needed information in their location. If tenants decide to move and look for apartments in another location, the edge clouds communicate and find the required data.
Video streaming
This type of application is assisted by a more complex cloud than a conventional cloud – VANET. Cloud video-streaming app lets users watch videos anywhere and in any vehicle. It is usually performed with the built-in DVD player in cars and other kinds of transport. This application is rather easy to develop and deploy as the main requirement is a vast video source with quick updates. 
Another type of video-streaming application is watching videos through the LTE connection. This app is mostly for smartphones or tablets. Using this app by many users at the same time can lead to network overload and latencies as video take a great part in the general traffic. Deploying edge clouds, all videos will be kept and distributed by locations, so each cloud streams video itself. 
Challenges of distributed cloud
As public cloud storage, this model has a range of disadvantages that can become critical for particular enterprises. We would like to highlight the potential risk of distributed cloud deployment. 
Complexity
Distributed cloud computing is rather complicated to implement and maintain. It is a difficult task to reveal all bugs and fix them. A distributed cloud also needs a high level of security and a feature of constant communication that is complex.
Higher Initial Cost
Along with complexity, distributed cloud implementation is expensive as it contains several systems that should be connected into one. Data should be easily accessible and shared between diverse layers of the cloud which makes the integration even more expensive. 
Security Concerns
As a distributed cloud is public and used by many organizations, security is crucial. The amounts of processed data are vast and need different levels of access. A user who has access to specific information should have full control of this information to share, change, or delete it in case of need.
Cloud computing benefits
What beneficial functions can distributed cloud computing bring to your business area?
Future of cloud computing
The distributed cloud is divided into 2 phases. The first one consists of a like-for-like hybrid where a particular company's customers buy cloud substations avoiding latency-based issues. The public cloud as a provider is responsible for everything. The second phase or next-generation cloud provides the ability to buy substation for vast facilities like universities, government, telecommunications, etc. Therefore, cloud substations are based everywhere like Wi-Fi public hotspots. 
We recommend checking the video below to find out about the differences between cloud computing strategies and their specifications.
Each customer can set specific settings and access levels, privacy policy, and latency compliance. Then, the cloud provider considers these configurations automatically. Cloud computing counts several strategies that match various business industries and enterprises. These strategies are expected to widen their border and continue to be integrated into each organization network. Cloud computing contains scalable and agile tools that boost the company`s productivity and improves the services and their results. 
By 2024, most cloud service platforms will provide at least some distributed cloud services that execute at the point of need.
How to find a development team?
Before the deployment of a distributed cloud computing, it is important to build the right strategy that considers particular business needs and requirements. It is not about gathering everything in the cloud but defining the role of the cloud in the enterprise workflow. It is vital to set the main goals you want to reach with migration to a distributed cloud. This plan is complex and demands attention to any detail to avoid mistakes and misunderstandings in the future. 
For building the individual strategy, you need to hire a reliable team of developers that have already had experience with cloud migration. The choice of software development companies is really vast nowadays, so you have to pay attention to several details before hiring:
clients feedback about their projects and work with a team

documents package
Our team has credible experience in the digital transformation of business companies and implementing modern technologies to automate the workflow. We know that a key to success is always building the right plan and defining main requirements before the start of developing or integrating any technology in the enterprise. Our Business Analyst can hold a free consultation for discussing the goals that should be reached with distributed cloud deployment and choose the appropriate strategy of accurately and easily implementing it to your company. 
FAQ
It is a public cloud service where anyone who wants can join their network, and use storage for a certain payment. The public cloud is easily accessible and can be managed through a self-service portal.
The distributed system contains several autonomous computers that communicate in the computer network. Distributed cloud computing connects different systems in one network for the scalable and agile infrastructure of storage.
There are three types of cloud computing – private, public, and hybrid. The choice of the cloud computing type depends on the specifications of your industry and organization objectives.
To end up
If you decide that your organization requires distributed cloud deployment, think of your company workflow first. The cloud strategy should respond to all peculiarities, and demands of your business industry and its specifications. If you are ready to discuss the objectives of distributed cloud computing for your business, feel free to contact us, and get a free consultation with our professionals. 
Cloud computing deployment
Ready to discuss your company specifications and deployment of cloud computing?