While looking for the right IT outsourcing company, you may consider a lot of locations. Eastern Europe is one of the most popular options, with Ukraine being the cherry on the top of the cake. IT outsourcing in Ukraine is a diverse and highly competitive market, therefore the companies are constantly growing and improving, which is a definite gain for clients.
So how does the Ukrainian IT outsourcing market look like? In this article, we gather all crucial info about the market size, specialist qualification level, and main players in this field to show the beneficial role of Ukrainian software outsourcing.
Top Reasons to Choose IT Companies in Ukraine
What makes Ukraine such a desirable outsourcing destination? There are a number of reasons that make companies all over the world appreciate the IT outsourcing of Ukraine. Here are the most significant reasons for hiring Ukrainian developers.
Enormous talent pool
IT is a popular occupation in Ukraine, with more than 200 thousand specialists. The industry grew by 20%  in 2021, compared with the previous year, as the COVID-19 restriction pushed people to dive more into the IT field. 
The market is rapidly developing and expanding, therefore it needs more engineers specialized in different technologies. According to the Ukrainian IT job portal Djinni, July 2021 set a new record, with 23 thousand openings and only 16 thousand specialists looking for a job. The shift occurred in January 2021, when the number of available positions exceeded the number of candidates searching for work. 
But the popularity of technical careers increases as well: there were 20% more applicants to IT schools than two years ago. Being a software developer is a desired career path for lots of young Ukrainians. According to the latest data from The Ministry of Education and Science, more than 100 thousand applications were submitted for bachelor's degrees in Ukrainian universities, with 66 thousand of them for computer science and 43 thousand for software engineering.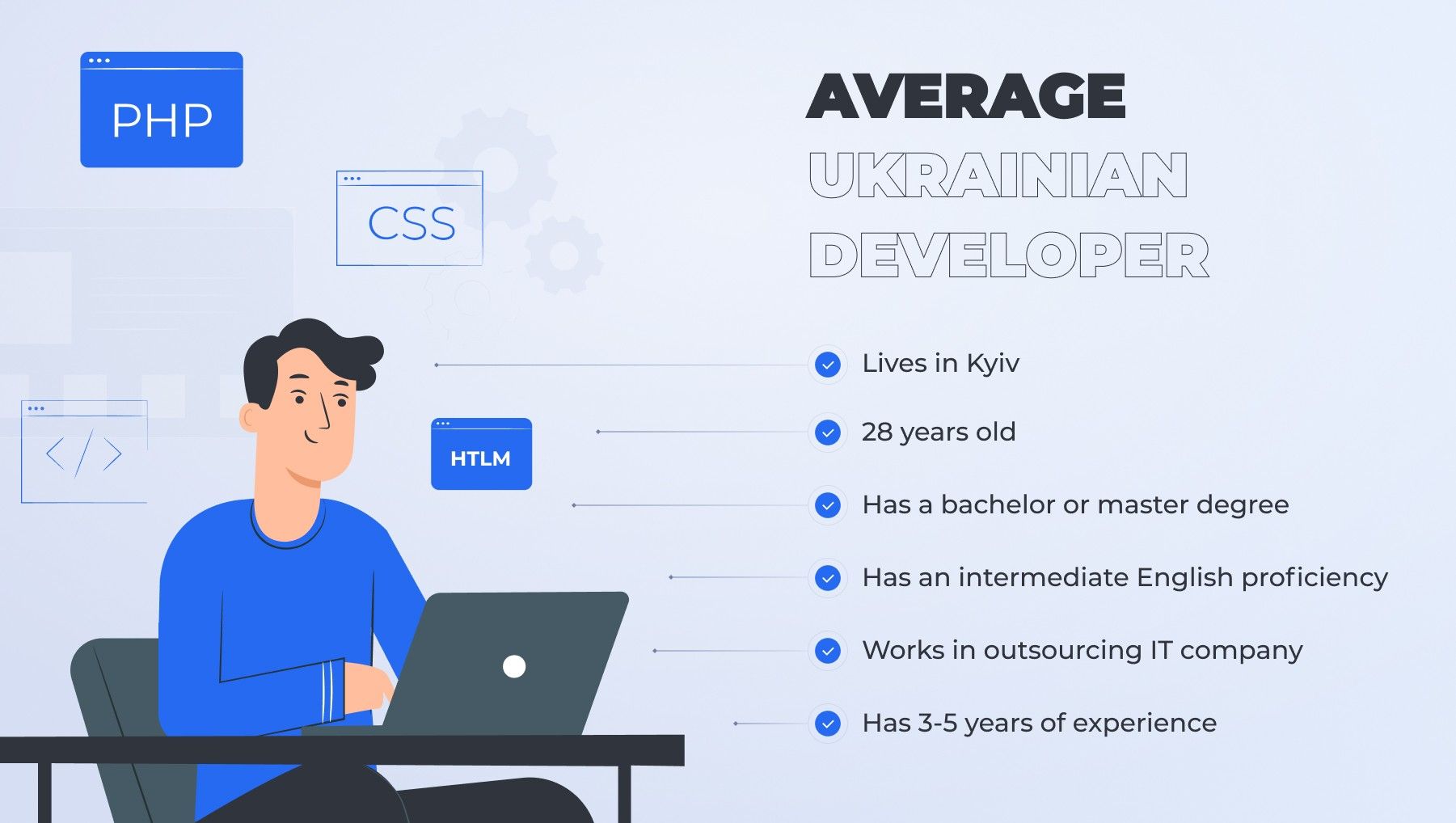 High Level of Professional Qualifications
Ukraine provides a strong base for technical education, both formal and informal, which leads to the strong qualification of developers. Top technical universities, such as the National Technical University "Kharkiv Polytechnic Institute," the National Technical University of Ukraine "Igor Sikorsky Kyiv Polytechnic Institute," Lviv Polytechnic National University, are featured in the international rankings. 
Private IT schools have their share and teach thousands of students every year, from university graduates who want to deepen their knowledge to experienced professionals that decide to pursue another career. 
Another proof of the high quality of IT outsourcing of Ukraine is the current popularity of this destination: according to Unit.City report, at least 100 companies from Fortune 500 have applied to Ukrainian IT services, and huge investors fund companies and startups here. 
Ukrainian specialists show a wide range of skills that make them in demand among international companies and projects. It's easy to find skilled developers with the knowledge of rather common technologies like JavaScript, Python, Java, C#, C++, Ruby, as well as with some rarer languages. The Ukrainian market also offers the development of a variety of business solutions, such as artificial intelligence, IoT, blockchain, and others. 
According to the latest DOU research, more than half of the specialists have 2-5 years of experience, and 12% of their respondents have already gained more than ten. Considering the whole number of developers in the country, it is more than 24 thousand highly skilled developers who definitely have a lot on the ball!

High English Proficiency
Ukrainian developers speak English pretty well. Many of them can conduct all their work-related activities in a foreign language, including face-to-face communication or documentation writing. According to the DOU publication we've mentioned previously, 84.8% of specialists have at least an intermediate level of proficiency. 
It's no wonder that English has become a must-have for developers: this crucial skill makes the candidate more competitive and guarantees higher salary expectations. English is taught in Ukraine since the first grade of the school; it's a part of the curriculum in colleges and universities. Many companies often offer additional English courses for their employees to improve their professional level of knowledge. 
Quality / Cost Rate
As we established, Ukrainian software outsourcing shows good quality. But another perk is a reasonable price for these services: Ukrainians can develop quality self-sufficient solutions that can compete with products created in developed countries, but the price will be significantly lower. 
| | |
| --- | --- |
| Country | Average Rate |
| Ukraine | $25-45 |
| India | $25-50 |
| Vietnam | $20-40 |
| US | $70-150 |
| Israel | $100-200 |
| Germany | $50-100 |
| Sweden | $100-200 |
| Brazil | $30-50 |
| Argentina | $35-55 |
The average hourly rate in Ukraine stays in the range between $25-45, depending on the technologies and level of expertise you need. It might not be the cheapest rate in the world (Asia and Latin America sometimes may offer less). Still, IT outsourcing in Ukraine is winning here with quality, English level, and cultural compatibility that we will discuss later.
Big Volumes of IT Export
The Ukrainian IT field is focused mostly on IT outsourcing services: in 2018, its export generated 4% of the country's GDP. Local companies are targeted to the western markets, with the US clients in the first place and EU countries following. More than 50% of developers work in outsourcing.
Such a market characteristic favors customers who look for the best services: a great variety of IT companies creates fierce competition. It pushes IT companies in Ukraine to better the quality of their development, hire more qualified engineers, and stay client-oriented in general. The market is in constant growth and has already developed its standards, regulations, and rules, so it's very unlikely to encounter an outsourcing team from Ukraine that will act unprofessionally or do shoddy work. 
Strong Technical Background
As you could have already guessed, Ukraine has a solid technical industry besides outsourcing services. Some top startups come from Ukraine, for example, world-known Gitlab and Grammarly. Tech community unites and creates IT clusters in the biggest cities in Kyiv, Lviv, Kharkiv, Odesa. Every year, more than 1000 IT events happen all over the country.
Convenient Timezone
Ukraine is situated in the UTC+2 timezone, which switches to UTC+3 during the summertime. It has a minor time difference with every European country, which makes communication easy and unobstructed.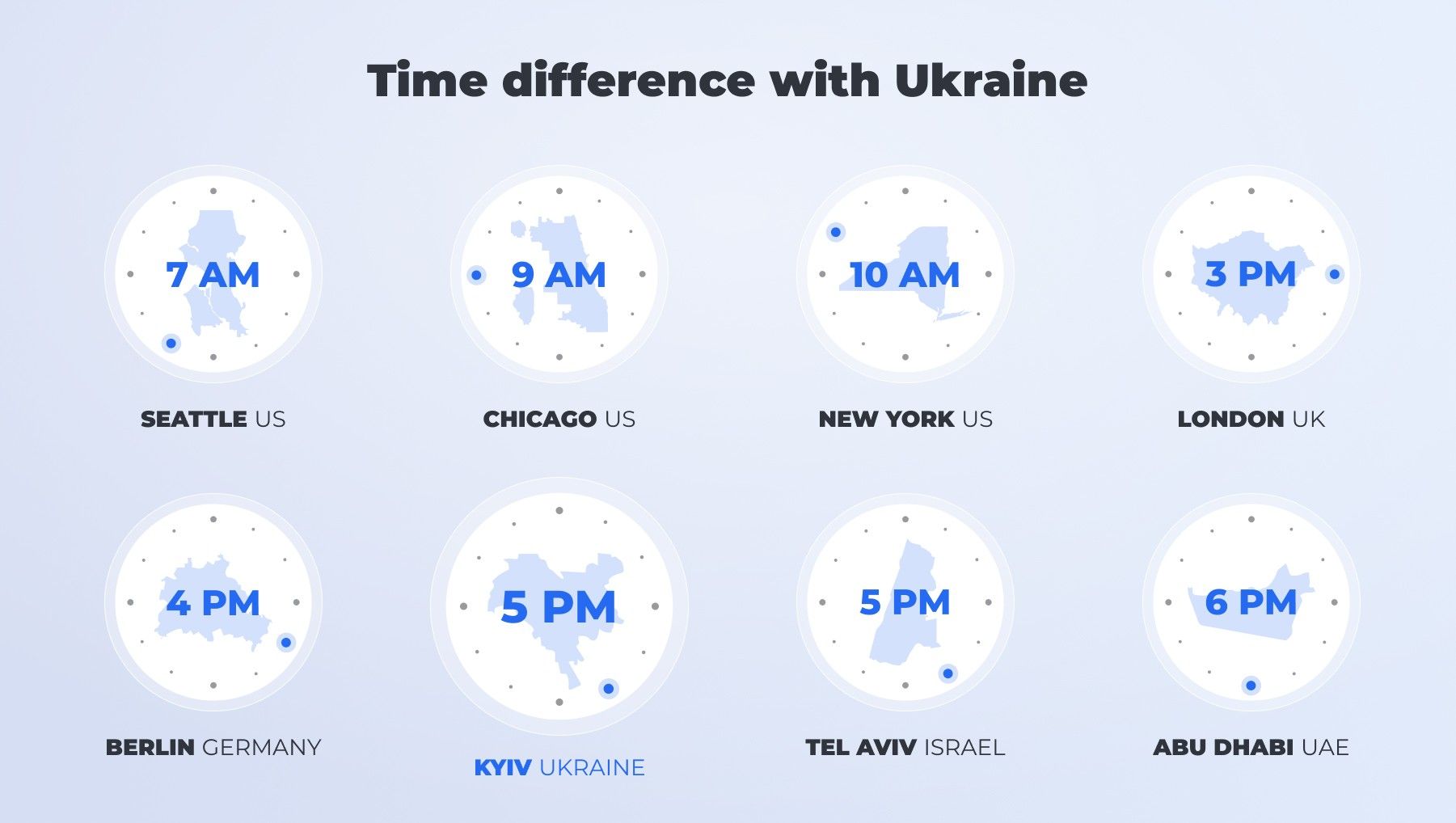 On the other hand, the time difference may be 7-10 hours with the more distant countries like the US or Canada. However, it may also be beneficial for the project: such a difference still leaves enough time for comfortable face-to-face communication through video calls, and it can decrease the "idle time". While it's night in the US, developers in Ukraine are working, and at the end of the day, they can present the results and end their workday. While Ukraine is sleeping, the US clients will have time to review work and leave comments, and in the morning, the Ukrainian side will be able to handle tasks without any idle time during working hours.
Cultural Compatibility
Ukrainians are a European nation, which is now oriented to full integration with European Union. The country embraces European policies, standards, and values, at the same time retaining qualities historically inherent to Ukrainians: hospitality, honesty, and openness. 
IT outsourcing companies in Ukraine won't sugarcoat the situation or equivocate so much that you won't know the real state of things — they will honestly keep you updated on the good and bad developments, however always offering ways to solve the issues if needed. Ukrainians are also usually open-minded, so the communication would not be strained or uncomfortable. 
Decided to choose Ukraine for IT outsourcing?
Cooperate with the GBKSOFT and get superior software.
Top Ukrainian IT Outsourcing Companies
GBKSOFT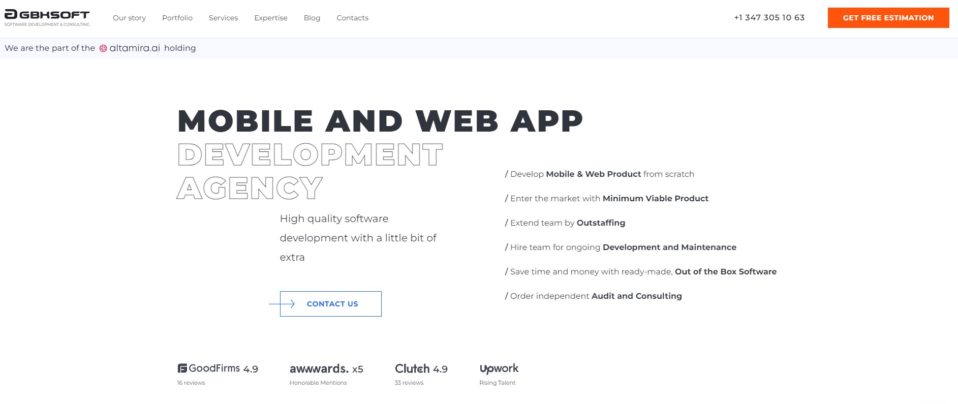 Location: Kyiv, Zaporizhzhia
Employees: 100+
Technologies: wide range of languages, frameworks, and libraries for web and mobile development like JavaScript, Python, PHP, Java, Kotlin, Flutter, Swift, and others; artificial intelligence, Internet of Things
Industries: Fintech, Manufacturing, Healthcare, Retail & e-Commerce
Successful Cases: 
SoftServe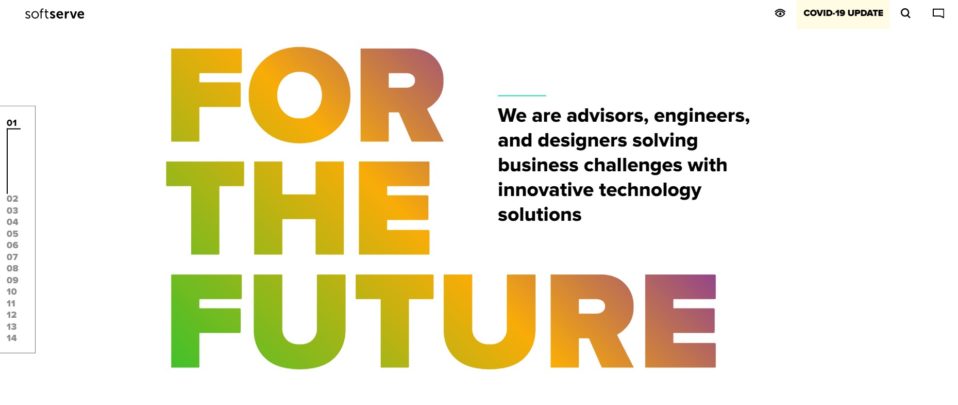 Location: Lviv
Employees: 10 000+
Technologies: Engineering, Cloud, Big Data, AI, IoT, Robotics
Industries: Healthcare & Life Sciences; Financial Services; Retail; High Tech; Energy, Oil & Gas; Manufacturing; Agriculture
Successful Cases: 
process control system (PCS) for a sugar producer;

ML-powered data warehouse solution for investment banking;

security governance program for a company that provides digital identification services;

e-commerce POS solution for a luxury brand of textiles.
Dysnix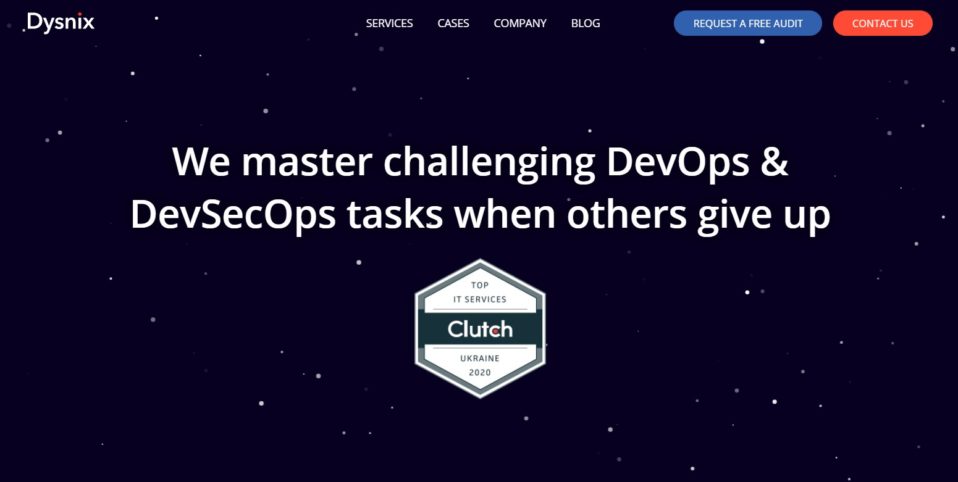 Location: Kharkiv
Employees: 10-49
Technologies: DevOps as a Service; Blockchain App Development; AI/ML
Industries: Financial Services, Gambling; Medical; Marketing; eCommerce
Successful Cases: 
building scalable infrastructure for the Blockchain-ETL;

building infrastructure for gaming business platforms;

AI/ML Solution for Investment Risk Forecast and Assessment

development of a Ukrainian stablecoin called "Cryptohryvna".
N-iX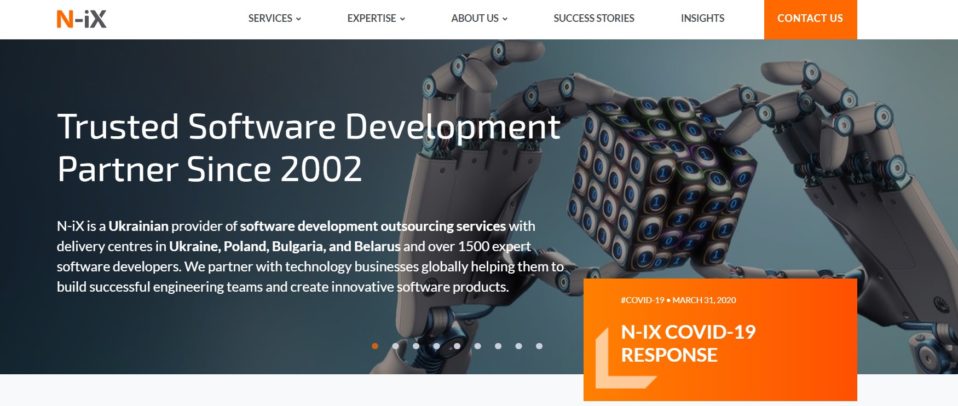 Location: Lviv, Kyiv
Employees: 1200
Technologies: Highload systems, Microservices, Cloud, Embedded software, BI & Data Science, Machine Learning & AI, Blockchain, IoT, DevOps
Industries: Telecom; Manufacturing; Retail; Agritech; Fintech; Logistics & Supply Chain; Healthcare; Energy & Utilities
Successful Cases: 
big data analytics platform for industrial supply company;

modernized inventory management system for car dealership;

cloud-based unified data platform for a provider of in-flight broadband Internet;

SaaS platform to standardize and streamline the development of products for an automotive company.
Intellias

Location: Kyiv, Lviv, Odesa, Ivano-Frankivsk
Employees: 1800
Technologies: AI, Data Science, IoT, Software Engineering, DevOps
Industries: Financial Services; Automotive; Supply Chain, Logistics, and Transport; Medical; Retail; Telecommunications
Successful Cases: 
Azure migration services for CI/CD in Telecom;

healthcare application for the digital transformation of the healthcare sector;

high-load system for a telecom company;

product prototype development for an in-car gaming system.
IT Svit 

Location: Kharkiv
Employees: 71
Technologies: DevOps, Server Services, Cloud Computing, Data Migration, Blockchain, Big Data, Database Services, Product Development
Industries: Information Technology, eCommerce, Financial Services, Advertising & Marketing, Education
Successful Cases: 
infrastructure optimization for online meal planning platform;

online meeting functionality for SaaS solution in recruitment;

DevOps services for containerizing a web conferencing software;

AWS infrastructure configuration and optimization for a cryptocurrency exchange platform.
ELEKS

Location: Kyiv, Lviv, Ivano-Frankivsk, Ternopil
Employees: 1000-9999
Technologies: Software Engineering, Cloud Computing, Data Science, Cybersecurity
Industries: Financial Services; Supply Chain, Logistics, and Transport; Retail; Automotive; GPS, Navigation; Media
Successful Cases: 
portal for real-time viewing of European gas market information;

enterprise suite for the financial service industry;

CRM system for an insurance company;

SaaS solution for content authoring, publishing, and distribution.
Romexsoft

Location: Lviv
Employees: 50-249
Technologies: Cloud Computing, AWS Cloud Migration, Java, Python, DevOps, AWS Support
Industries: Fintech; Healthcare; Media and Entertainment
Successful Cases: 
e-commerce marketplace migration from On-Premises to AWS;

text-to-speech audio SaaS platform;

news portal development;

24×7 DevOps support services for different industries.
TechMagic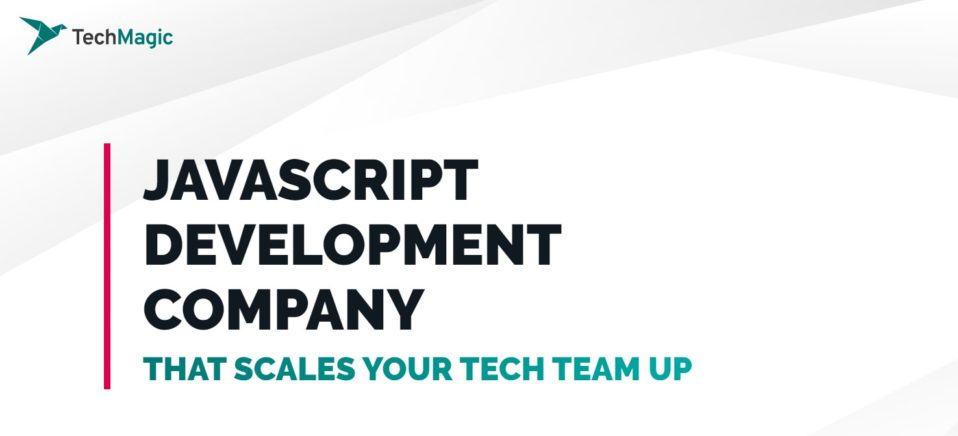 Location: Lviv
Employees: 50-249
Technologies: JavaScript, Node.js, Angular, React, AWS, Serverless, Salesforce.
Industries: Business Services, Financial Services, Media, Medical
Successful Cases: 
SaaS process mapping and visualization web tool;

intelligent platform for an omnichannel approach to electronic commerce;

application for remote control of smart scooters;

recruiting platform that matches people with the most suitable company.
Binariks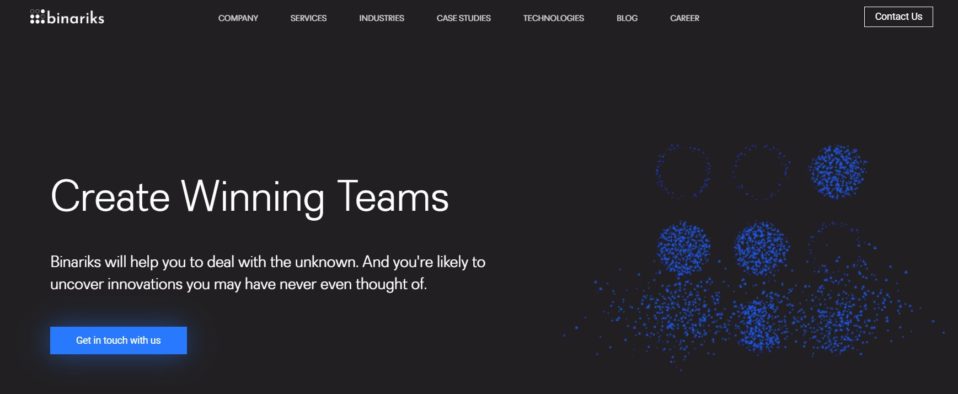 Location: Lviv
Employees: 100+
Technologies: .Net, Java, IOS, Android, Angular, React, PHP, Node.js
Industries: Healthcare, Delivery, Education, Insurance, Automotive, Fintech
Successful Cases: 
cloud-based analytics dashboard for an infrastructure company;

messaging platform based on ID authentication;

account-based marketing platform for manufacturers;

application for hospital management.
Looking for a reliable partner from Ukraine?
GBKSOFT guarantees smooth development.
Choosing GBKSOFT as Your Software Development Partner
Since 2011, GBKSOFT has helped businesses grow and strengthen through software development services. The company gained more than 200 satisfied clients all over the world and helped them with digital transformation processes. 
Working with GBKSOFT, you receive:
High-quality solution
We don't just do coding; we are creating a self-sufficient solution that will power your business and help you reach the goals you've set. Our team consists of top developers, engineers, and designers from Ukraine, who have impressive experience and expertise in their respective fields.
Deep industry expertise
Our team possesses wide knowledge in the different business industries. Moreover, before starting every other project, our Business Analysts run deep research of the field, market trends, and competitors to create the most efficient product development.
Full transparency and efficient communication
Every client is assigned a dedicated manager who will lead the project and keep you involved in the development process. We provide regular updates, report on the project progress, and grant access to our internal workspace. Your manager constantly stays in touch and provides answers to any questions that may appear.
Flexible development
We follow Agile methodology which gives us
enough room for maneuver
in case it is required during the development. In this case, we can discuss and determine the best strategy and adjust the plan without harming the project and deadlines.
Security and compliance
Our team follows all the required security practices to provide you with breach-free and protected solutions. Our software is also developed in compliance with major regulations from different industries, like HIPAA, PSS DCS, or GDPR.
Choose the most suitable form of cooperation with us:
product development;

dedicated team;

outstaffing;

MVP development;

discovery and analysis stage;

audit & consulting.
Need more information?
Contact our managers to learn more about our services and rates.
In Conclusion
Ukrainian software outsourcing is a great option for those who look for high-quality development solutions, unique expertise, and client-oriented services. This country has significant potential and has already proved itself as a powerful IT hub not only in Eastern Europe but in the whole world. Local developers are skilled and experienced, and companies are bound to show the best quality ever as the market is highly competitive and challenging. 
So, we suggest considering IT outsourcing companies in Ukraine for your development and enjoy the great results you will receive!
There are several reasons: cost optimization without loss of quality, as Ukrainian developers show impressive quality for a moderate price; smooth communication as companies in Ukraine are usually client-oriented, and employees have a good English proficiency.
It depends on the company you choose to work with. Indian companies may offer you a lower price, however, Ukrainian rates are usually not so significantly higher. Ukrainian developers also are easier to communicate with due to their cultural background, and the country is situated in a more convenient timezone than India.
Yes,
Ukrainian software developers
are pretty good. The country has a strong technical base with dozens of technical universities and schools; the market is very competitive, so you are either a good developer, or you won't survive in this industry.
Ukraine is one of the best destinations for IT outsourcing. It has low prices with a high quality of development; the developers are well trained and educated, the market is full of specialists with 2+ years of experience. The country is also located conveniently for communication with any European or American country, and IT outsourcing companies provide efficient communication.