It's no longer a case that we can passively receive health care and assume that this will produce the best results. If modern medicine is going to have an optimal impact, we now have to participate actively in finding good care. This is a new framework for the patient's standpoint.
From the physician/hospital point of view, this means finding the best solution to engage patients and meet them in the middle. The modern medicine requires to keep patient up to date with their treatment plans, help them stay in touch with their health and provide extra information so that patient could enhance the efficiency of their treatment.   
Here are just a few Reasons why you may want to develop patient engagement solution for your hospital:
The app saves the time of your doctors and reduces amount of paperwork they need to cover.

It reduces the number of visits and short check-ups while preserving "attentiveness" of your service.

Engagement app allows patient to stay connected to their care team 24/7 to ensure recovery is on track.

Easy management of patients' appointments no matter the size of your clinic.

Medical patient software will keep your medical records safe and up-to-date.

The app establishes effective patient-physician communication.
As a result, the engagement software can help your patient to recover faster, lower their anxiety, keep them engaged and safe. We decided to make a deep dive in and consider all possible features that a patient engagement app may require.
Patient Engagement App Features
Appointment Booking Use Case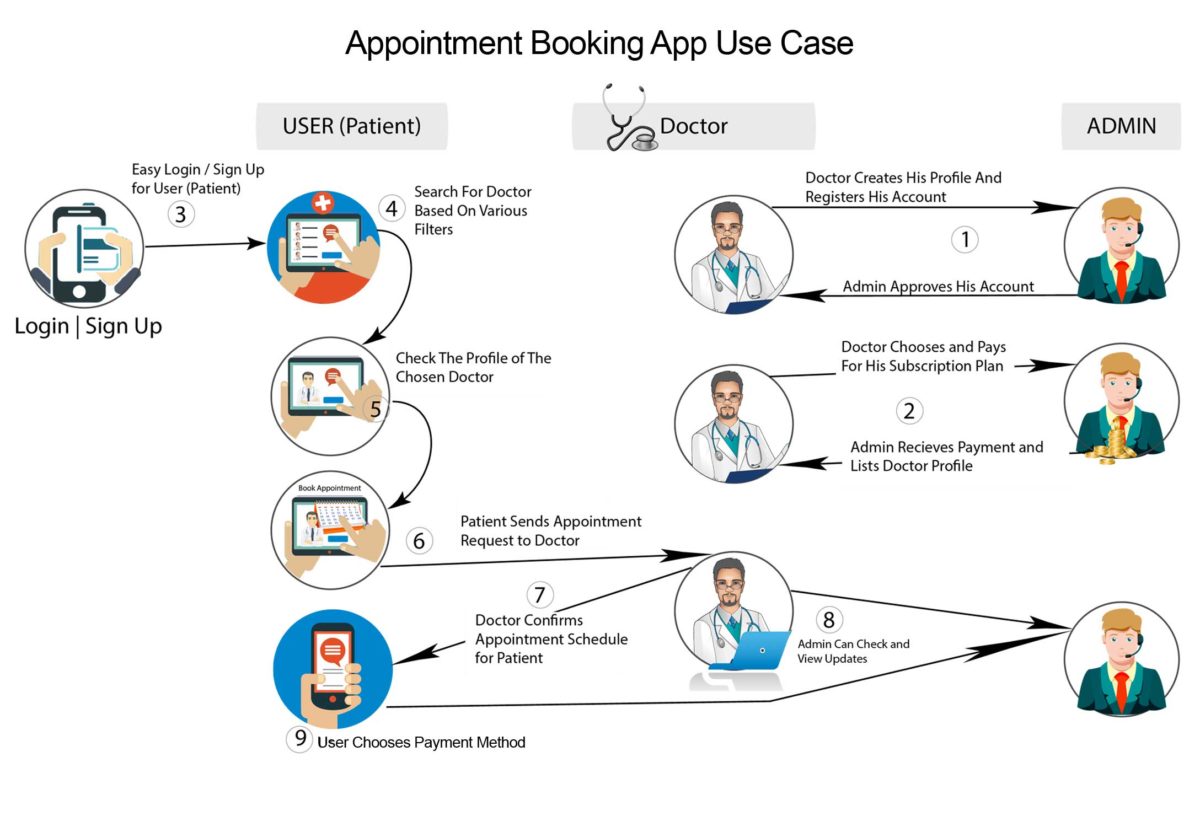 Hassle-free appointment booking option may be the most valuable one in the engagement app. It allows hospitals to work without unnecessary phone calls and meetups, which usually add up to the doctors' work time.
There are two ways of how users can request an appointment in your hospital:
– Semi-Automated: Make a request and wait for an approvement from your secretary.
– Self-service: This way all use case will be covered by the patient himself. One should select a physician, the type of procedure required, and find a suitable time in the online calendar.
Along with this simple booking use case we also advise to include several functions that would dramatically increase patient engagement rate:
Doctors Search

– On top of the list of doctors, users should also have their own list of favorite doctors. This feature will make search go faster and raise the number of returned visits. Plus, this feature would allow patient discover additional specialist within your clinic, or change them if they moved to another city.

Consent Form

– Once the appointment is approved the user will get a consent form. Integrating this function will allow your patients to read and fill in consent form carefully, without a rush.

Emergency Services

– We advise to make it as a fixed button on the first screen which would allow patients to reach your hospital for any emergency situation fast and securely.

Directions – This function is exceptionally useful if you have hospitals or offices in several locations. The app will find the nearest one, or it can direct patients to the specific doctor within a city, whether it's a physician or an oncologist.
Treatment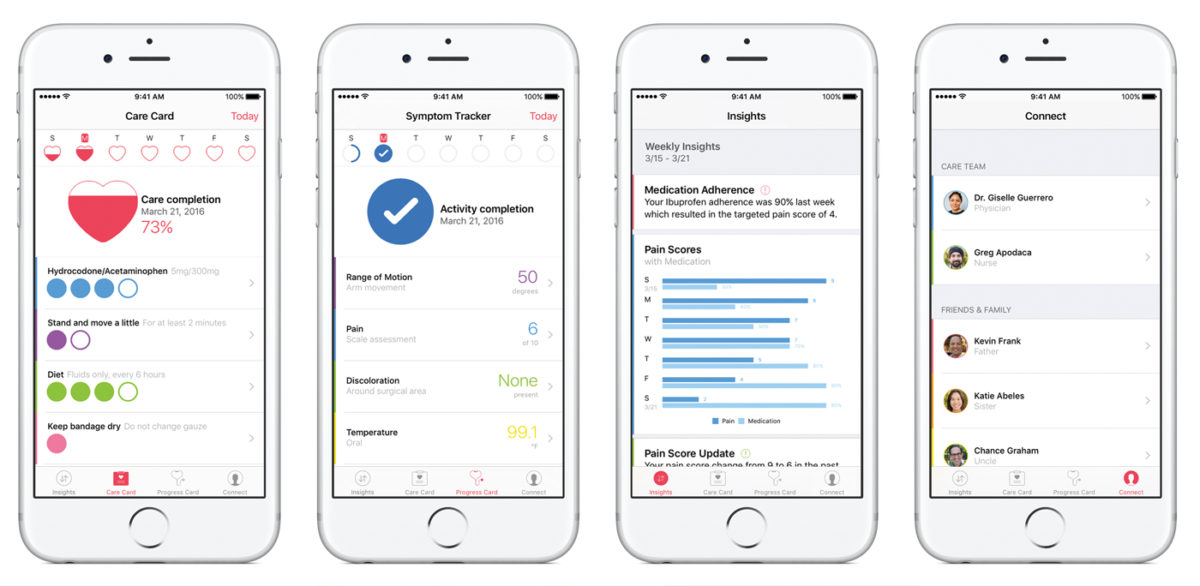 Treatment is the most responsible part of the process. This is what your customers are paying for. Thus, your mobile app should be able to supplement this process by any possible means. You can even grow a healthcare app first as a supplement to your services and only then grow this app to the full-scale engagement tool.
Imports Past Health Records

– The app can store patients medical records in one place. Just like

Apple's Care API

your mobile app can provide doctors with fast access to all past patient's records.

Progress Tracking

– The app can be used to make a daily self-check-ups to help patients recover safely and save the time of their doctor on routine procedures. It will also allow you to increase the number of remote check-ups and keep the clear statistics of patients' recovery.

Prescriptions & Drugs

– Of course it is also possible to make a better management of drugs that are prescribed to your patients. You can create additional reminders for drugs or change the prescription online based on patient's tests.  

Messaging

– In-app messaging will help doctors stay in touch with their patients months after treatment. In addition, all health recommendations and dialogues between the patient and his doctor will be documented and can be reviewed if needed.   
Add a caregiver – You can enroll additional caregivers to follow a patient and help him to recover. This may be someone from the family or a hired specialists that would synch the results of daily check-ups with the doctor.
Office Administration
It must be acknowledged that adoption of engagement software will also lead to significant cost saving. Your hospital would manage administrative works more effectively and it will also help to reduce the cost of patient management.   
Online Payment – This is no-brainer function for a mobile health app. Although, we advise to modify the payment gateway, so your patient could defer payments till the end of the month.
Health Insurance

– Integration with health insurance companies will save time for accounting not only for hospital, but also for your patients. You can also inform patients whether a certain procedure is covered by their insurance and what deduction they can receive.

Document Sharing

– All lab reports, medical records, and patient information document can be shared among physicians in instantaneously and securely. The app will preserve the confidentiality of health data and, at the same time, make it more transparent for users.
Bottom Line
Patient engagement app is a complicated software that requires much thought to put behind it. There are many inner nuances and security requirements to comply with while creating a hospital app. Fortunately, you can start growing your software from any side, whether it is treatment functionality or a simple appointment booking tool.
Already have an awesome app idea?