While smart solutions became increasingly popular among other industries, the real estate industry stayed quite conservative and remained a late adopter of  digital technologies. However, during the past few years this tendency changed and digital transformation gained its momentum. 
Now it is hard to imagine a successful real estate company without innovative property management systems, CRMs, data parsers and even IoT and AI powered solutions. Active implementation of technologies shapes the future of real estate businesses. 
So in this blog post we'd like to cover up the most influential tech trends you should follow, describe some interesting use cases and highlight why now is the best time to develop custom real estate software. Let's wait no further and proceed to this interesting topic right away. 
What is digital transformation for real estate business? 
To begin with, let's speak about digital transformation for the real estate industry in a nutshell. Basically it implies adoption of the new technologies that help to automate the work of real estate agents and assist any property owner with selling or renting out buildings, apartments or offices. 
You may say that now everything is being done online with the help of the internet and just in a couple of clicks. But unfortunately having electronic documentation and ready-made solutions is not enough. 
Without proper digital transformation and custom software you may face many issues such as client data loss, ineffective property management, questioned security of your business data and many more. 
That is why it is crucial to embrace all new possibilities that modern technologies grant you. You invest in real estate software development today, and see it pay itself off and help your business grow in no time.
Additional information
We have already written a post about smart property systems and what positive impact they have on real estate businesses. So it is highly recommended
to read that post
and pay attention to all tech related insights our experts shared.
Reasons to adopt smart digital technologies in 2022
To prove our point that the real estate industry really needs digital transformation, we have explored some industry related reports and statistics. The one we liked the most was provided by Deloitte.
The most interesting finding from that report was that actually a huge number of companies from the commercial real estate sector are ready to invest in the adoption of several technologies. What's even more important, they are ready to do this in a 12-18 months time frame. And in most cases digital transformation also implies transitioning from legacy systems to modern ones.
Here is an infographics demonstrating the percentage of respondents from real estate sector ready to invest in different phases of digital transformation phase: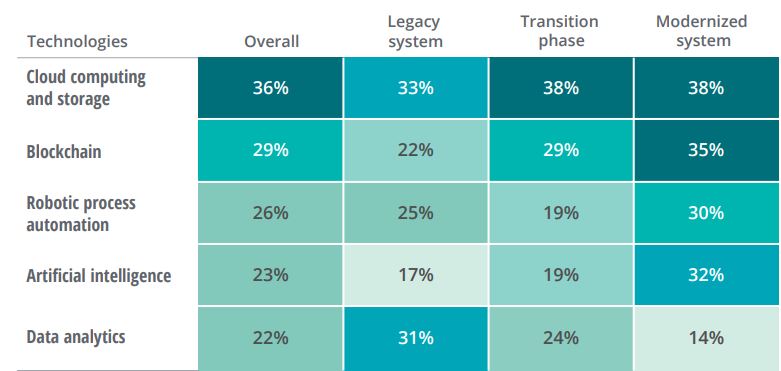 Image source: Deloitte report
When it comes to technologies, many companies are either in transition or in the modernization phase. And while everything is quite clear with numbers, the reasons for such business decisions may still be of interest to you. 
So we collected the top 4 reasons that make real estate business owners seriously consider custom software development and major tech related investments. 
#1 Automate and streamline operations 
In 2022 it is unreasonable to keep doing repetitive things day after day and load your employees with tasks that can be easily automated. Digital technology allows boosting operational efficiency, improving quality of services and minimizing the number of human errors. 
A feature-rich platform may provide you with all necessary tools for effective property, finance, and maintenance requests management.
#2 Improve your selling and marketing strategy 
Delegate all the routine to a software and focus on new digital marketing and selling strategies. Without a strong online presence it is hard to expand your client base. 
The consumer behavior changed, now people prefer fast and personalized services. So your digital strategy should be based on data driven decisions and more modern approaches. And that's what technologies help with. 
#3 Gain competitive advantage and more loyal clients
It is hard to stay competitive and at the same time preserve operational efficiency. After all, there are so many things that should be taken care of. However, with the right software you can double the number of successful deals and outshine all your competitors. 
Implement Big Data and AI and get all crucial insights about your customers, past deals and many more, then use them to adjust your strategy and grow your business.
#4 Take better care of security and property condition 
The main advantage of digital transformation is that it can help property owners  make their properties more smart and secure. Surveillance cameras connected to the IoT apps, smart doorbells, various sensors and devices monitoring house conditions and timely informing about malfunctions – all these technologies implemented by house owners lead to effective cost management and building maintenance. 
Get a consultation
If you are still not sure how to make your business more efficient with the help of custom software, let's get in touch to discuss your challenges and ways to solve them.
Top 7 tech trends for real estate industry and their practical use
We understand that digital transformation is a serious and costly commitment. So it is reasonable to dive into that topic a little bit deeper before you make any technology decisions. 
Therefore, we would like to cover up the most popular tech trends that may inspire you and give you some new ideas that will be turned into awesome innovative projects.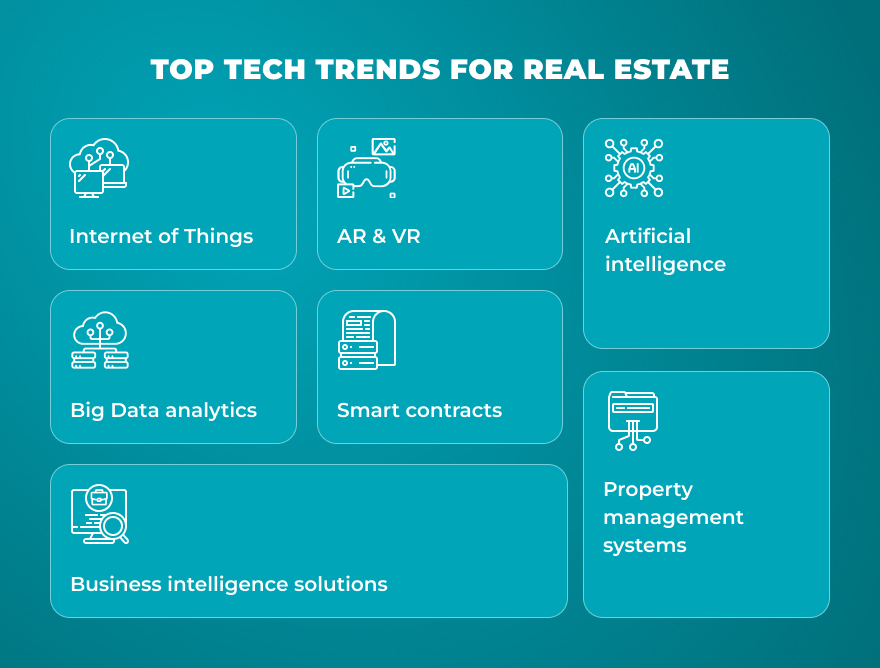 Internet of Things 
Now is the era of smart real estate that's why IoT became the most popular technology. IoT powered solutions for real estate help with processes automation, energy efficiency and predictive analysis, and contribute greatly to personalized client service and the convenient lifestyle most tenants tend to have. 
Every house and office space with smart home devices and smarter properties attracts customers more than just a common property. So if you want to implement IoT, we'd recommend you to consider the following smart solutions: 
apps for data-based decision making;

apps for house hunting and self-guided tours;

predictive maintenance apps;
Must-read
For more information about all trendy IoT apps,
read this blog post
that covers all of them and provides crucial development tips from our experts that make your digital transformation seamless. 
Artificial intelligence
The future belongs to artificial intelligence, so it is time for real estate companies to adopt this technology and make the most out of it. There are many ways how AI can be used, but the most interesting and popular three use cases would be:
Automate lead generation process
AI analyzes mobile or web searches of potential clients, explores their preferences and behavior and provides important business insights helping to convert website visitors into customers.
Improve digital marketing
AI-powered
chatbots
and apps can help you improve your marketing strategy and content. By communicating with clients via digital tools you can collect and analyze all necessary information and sell more real estate properties.
Get more data about property
AI is able to collect information about the desired property starting with the neighborhood and nearby infrastructure, and ending with purchasing trends and transportation matters. This can let real estate brokers narrow down the search, select just the right house and close more deals with higher client satisfaction level.
Augmented reality and virtual reality 
Augmented reality and VR turn real estate to a whole new level by introducing totally new experiences such as virtual tours. Thanks to such tours all real estate brokers can save a lot of time and money spent on arranging common tours. On top of that, AR and VR provide a unique feeling of presence and sense of ownership to your potential buyers, which influences their buying decision. 
Around 40% of real estate buyers who tried virtual self-tours claimed that this experience pushed them to invest the money in the houses they saw remotely and liked. Therefore usage of AR and VR in real estate is a win-win for both real estate companies and their buyers.
Related topic
If you are interested in creating solutions for virtual tours, you might want to collect more information about how it works. Therefore we'd like to share with you an article describing how to benefit from VR and AR if you have a real estate business.
Check it out here
. 
Big Data analytics 
Big Data technology not only improves operational efficiencies, it also pushes real estate companies towards growth. All agencies deal with a lot of data and unfortunately they do not make much sense or any practical use out of it. That's because they do not have advanced analytics tools powered by Big Data. 
By collecting, saving and analyzing information in a proper way your real estate agency can personalize buyers experience, nurture leads better, improve your outreach and even predict the upcoming property related trends. On top of that, the chances of any mistakes in numbers of documents are minimized. 
Use of smart contracts 
Smart contracts are apps powered by blockchain technology that record all the conditions of the real contacts in the form of a code. In real estate it is crucial to take care of information safety, so such technology is a must. It protects against frauds, saves time, and automates repetitive tasks associated with contracts signing.
Business intelligence for real estate brokers
Real estate industry requires business intelligence more than ever. Real estate agents need advanced custom CRM systems, ERPs, internal web portals, order management systems, digital house listings and many more solutions that digital transformation offers. 
 A commercial real estate sector can benefit the most from CRM tools since it lets you structure business flow, build an accurate sales plan, evaluate the results, track brockers efficiency, and NPS level among buyers. 
Smart systems for property managers 
A multifunctional management system is what the real estate industry and all property owners need these days. This is a major digital helper that you can use anytime and on any device, and resolve any real estate problem in a couple of clicks.
Thanks to custom made property management system you can benefit from the following optimized business processes: 
automated transactions and online payments;

predictive maintenance of property;

tracking of occupancy numbers;

analysis of home buying and selling numbers;

electronic storage of renting or selling documentation;

manage buildings as well as tenants requests and violations;

notifications about lease renewal and rent payment, and many more.
Pro tip
Property management software has its development specifics. If you are interested in getting such software for your business, then take your time and
read this article
first. It has all necessary tips that might help you on your development journey.
Go digital with Altamira and benefit from our extensive experience 
We can be fairly called digital transformation experts, since for more than 10 years in business we have helped many real estate agencies build custom solutions from scratch. Our development services include web and mobile app creation, design, and modernization of your current real estate software. 
We follow all guidelines and standards required for real estate software, utilize the best practices, and spice up every solution with the advanced and trendy technologies. Together with our team you can build feature rich solutions such as:
property management systems for residential and commercial real estate industry;

IoT powered apps, including smart home solutions;

AI and ML powered platforms;

internal web portals for your brockers;

solutions working with Big Data and analytics; 

CRM and

ERP systems

.

By hiring our company, you get access to 100+ skilled developers with relevant experience. Many of them already created software for real estate so they know how to preserve deadlines and deal with all bottlenecks. They can build a great MVP for you within 3 months to test your idea and collect real users feedback.
Speaking about some examples, we'd like to mention two recent projects we developed for real estate agencies. One of them is called Kontaq – a mobile app for iOS and Android. Basically it works like a smart video doorbell and is used by building owners and their tenants to ensure security. Kontaq is QR code-based app which also lets its users benefit from tagging options.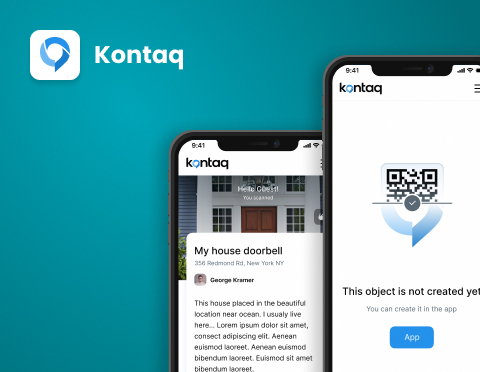 The other solution we are proud of is Highrise – an advanced web solution that helps to parse the data from the public boards of building violations. Apart from that, Highrise can easily detect newly registered complaints and violations, and inform property owners about them using notifications. This solution automates property management operations, increases conversion of the business website, and identifies new issues very fast.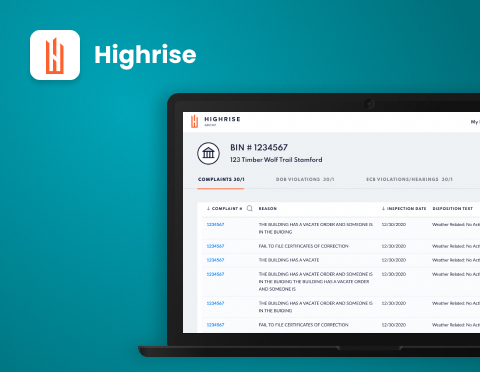 The possibilities of custom software for real estate are endless. So just delegate its development to us, and we will create your perfect digital helper you've never had before. 
Proptech implies the use and implementation of technologies to help real estate agents complete market research, sell and buy properties, and manage their real estate. So in other words it is a tech innovation created to meet the needs of the property management industry.
Your solution should serve you for years, therefore it is very important to take care of its security, scalability, and reach a customizable feature set. Also if you are working with huge piles of data, it would be better to build
cloud-based software
that can store and process all information effectively and is easy to update. 
As of now all real estate companies can make use of a holistic CRM system,
real estate platform
, and property management software with built-in messenger and tenant portal for landlords and tenants. Also implementation of all kinds of IoT apps would be a good idea. 
To wrap it up
The future holds so many great things for the real estate business. Smart technologies, augmented reality, AI and ML already change the industry and make it more client-oriented and profitable. In 2022 digital transformation is a must have for real estate. Although this is a serious investment, it is worth every penny. 
Digital technology is able to completely transform your business and eliminate routine processes from it. Technologies add enormous value to the real estate industry and make the work of real estate agents easier and more effective. This, in turn, improves the quality of services and multiplies the number of loyal and satisfied clients. 
What many companies struggle to achieve for years, you can achieve in months thanks to custom real estate solutions. And we can help you build them without minimum effort and input from your side. 
Altamira professionals will help you with software design, development and implementation in no time.