If you're a sports person, who can't live without activities, chances are you have rented a playfield once or twice over the past year. And statistics show that you're not alone. 4 out of 10 people engage in additional technical training, skill development, and sports.

However, you may know that it may be quite tiresome to book any sports facility or equipment. You need to contact the company, wait till they check their database and inform you whether the facility or equipment is available and at what time. So, as a result, you have less flexibility in your training. You cannot choose the preferred time or take a direct look at your other options. Let's just be honest, such renting experience is not the best. But can anything be done about it? Actually yes, one smart app can be a real game-changer in the facilities rental industry.
Just take a minute and imagine a simple mobile app that would help numerous people to book sports facilities, rent playfields, or various sports equipment. As a software development company, we were approached several times with such ideas and requests and encountered few apps that mimic some of the functionality.
In this article, we'll share our thoughts about this app idea, acknowledge best practices, and tricky use cases that would enhance the future app.
Target audience of athletic facilities rental app
If you are involved in business related to sports and decided to create your own application for facilities rental, you should consider some essential factors beforehand. So before turning your idea into a real project, make sure you know your target audience and their requirements. 
To create an app is a costly decision, so you need to be sure that you are spending your money right and that your app will be used by your future clients. So our main advice would be to make a prototype, or an MVP before starting the development of a full-scale app. This will help you to test out the idea on a limited audience, pick the right set of functions to solve their problems. MVP costs less than a whole new application but its main advantage is that you can alter it easily and turn into a holistic project. Taking into account all information you receive after testing your idea can help you shape it better. So the first thing you have to do is to select a preferred audience type to target at.
Want to test your app idea and build MVP?
Business clients
Such clients are usually interested in hosting their corporate events, company birthdays, business holidays, educational camps, summer training, etc. From here you should target event managers, marketing specialists, human resource managers, or head office managers.
If your goal is to attract this type of audience, you should think about the development of a web app or a website. Such apps can contain a minimum set of functions, limited to a clear description of a facility and contact information. You do not need an app with numerous functions or complex interface that can confuse your business clients. They simply do not have time to figure out how it works and where to find all information. It is easier for them to make a call and arrange a rental.
Private clients
In regards to this audience, we're talking about small groups of people who are interested in an occasional rental of sports facilities, usually for non-profit reasons (for fun or private event). It could be a company of friends on vacation, a little child camp, a rental for a birthday party, etc.
As you understand this audience can be quite picky because they are looking not only for a place or equipment to spent their leisure time, they would like to create a certain atmosphere around. So they can spend more time looking for the right place and mobile application would be a perfect choice for you and them. You need to think about keeping your clients engaged. So we'd suggest adding such features as:
pictures of sports facilities or equipment; 

some entertaining videos shoot on the territory or with the equipment;

prices with hourly rate and ability to perform instant booking; 

services of trainers (if needed);

geolocation so that your clients can choose the most convenient option; 

feedback and comments section (honest feedback can even attract more clients);

push notifications to inform your clients about special offers. 
Your sports facilities listing also should include small to medium-sized playgrounds in order to fit the needs of private clients.
Non-profit organizations
This is the least obvious type of clients. But you still should keep in mind this option. Firstly because non-profit organizations are the easiest and most efficient way to get the first clients and get at least some popularity. Think of the non-profit sector as a free advertising tool to gain traction.
Nonprofits are usually rather reserved about new advancements, but they have the widest communication network. They can help you a lot in search of new clients, especially corporate ones, that may be donating to such organizations.
Search for a golden niche
Besides the target audience, you should keep in mind different sport types and carefully choose the type of activities your listing will serve. The speed skating and archery are less popular than football or baseball.
To discover what sports are the most popular and among which age groups, we'd recommend you check out websites like Statista. We have looked through several fresh reports to discover what activities are preferred by adults in the USA. And here is what we've found: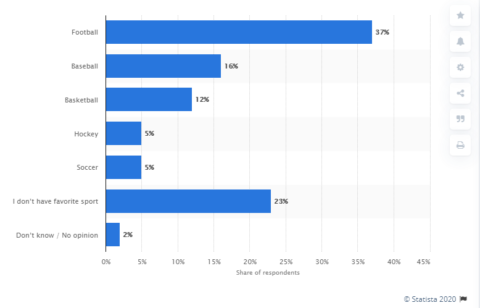 We have also created a short checklist for you that would help you to find your own golden niche. So before starting app development find out the answers to the following questions:
Would you like to attract people who are into team sports or individual sports?

How many sports facilities and of what type you'd like to make available? 

How many clients should your sports facility types accommodate at a time?

What would be an average price for a sports facility or amenities rental?

What kind of sports are popular in your particular area, country, district? 
Athletic facilities and amenities types
The users of your application will have to make a right choice – what facility or amenities they need. It can be easy to get lost looking through the variety of sports facilities that exist today. Starting with big arenas, and ending with gyms.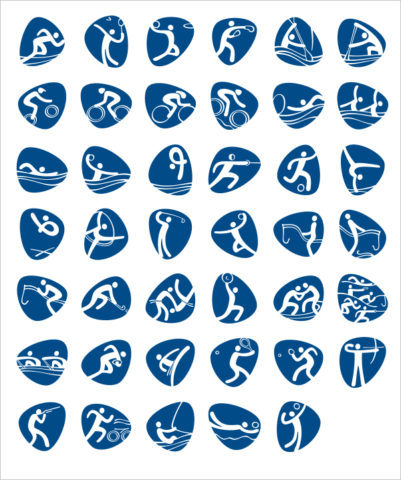 For better User Experience purposes, we would recommend you make a listing of activities and sports names rather than names of the facilities (like hippodrome or bullring). This would allow users to solve their real problem – find the best place to play their favorite sports.
Besides, some types of athletic facilities can serve different sports. Thus, you won't limit users with only one type of facility and give them more variants to choose from. You can even include an advanced search algorithm, that would pick the right place based on sports type + the number of players.
Gym Rentals & Professional Trainers
Besides listing big facilities you app can focus on fitness activities and users that are looking for a gym nearby. You can integrate a gym locator feature. It can list the best gyms nearby based on the equipment and facilities the user is looking for.
It must be acknowledged that adding gyms and professional trainers would greatly increase the monetization potential of your app. This way you can promote different trainers and new gyms reaching a far more reliable audience that just occasional sports fans. If you are interested in such kind of app, then consider adding these features:
trainer profiles with detailed information and samples of training;

gym overview (some pictures, videos, 3D overview);

feedback option to let you know whether the services are okay; 

comments section (to enable clients to share their opinions regarding gym conditions and trainers services);

notifications to promote some special offers;

price list for gym rentals. 
Already have an awesome app idea?
Monetization of Sports Facilities Rental App
Yes, the main advantage of your own application is that you can get a profit from it. But how exactly can it be done if you offer sports rental services? Use cases and overall functionality of such an app greatly depends on the monetization strategy you'll choose. Fortunately, this app idea offers a great variety of options to choose from.
Advertising

. This is probably the easiest way to monetize your app. It does not require any additional use cases but only a spare space within the app to serve those ads. It can do a little harm to the overall user experience (let's just be honest, ads can be a little annoying), but if you dose it all right, you will still have satisfied users). So don't leave to much spare place for ads.

Sponsored offers. 

Your app can collect money from a sponsored placement of facilities. Just like Google, you can reserve first search positions for promotional placements of facilities. This will be a suitable monetization option once your app accumulates a big number of users. Thus you'll have a competition inside your app, and sports grounds would be interested in the promotion of their field.

Sponsored content

. Another type of monetization that profits from a big user base. It is suitable in case you don't have too many sports facilities but your app is used by many players. You can serve dedicated advertising articles and promotional content that would target users based on their sports preferences.

In-app purchases. 

While you may don't want to sell user information elsewhere, you can sell products based on the interests of users. For example, coupons and vouchers for several visits in a bowling club, or offer equipment rentals. You can even connect your app to an e-commerce store as

 we did for our client

.
Bottom Line
The rental of sports facilities and amenities is a very promising industry. The development of a local app to cover such needs may bring a steady income for you as an owner. But there are tricky moments every rental business owner should solve out in advance. If you doubt whether your idea is a good one, then just create MVP and test it beforehand. Just don't forget to decide what audience you want to attract, how your app will bring you money, what functions are a must for every user.
Need a team of developers to create your own app for sports facilities rentals?