Innovative technologies play an important role in business development and promote competitive opportunities on the market, spurring progress. Digital transformation is a new era in supply chain management where suppliers and clients use a completely new approach to leading their businesses as it completely reshapes and transforms the way everyone interacts. 
Digital transformation doesn't just mean upgrading technology. It's an opportunity to broadly adapt your business to modern realities, to not hopelessly lag behind others including your direct competition, to raise the transparency and visibility in the supply chain processes, and to enhance sustainability. Moreover, it shows a willingness to accept and respond to an increasingly fast-changing business environment and uncertain future.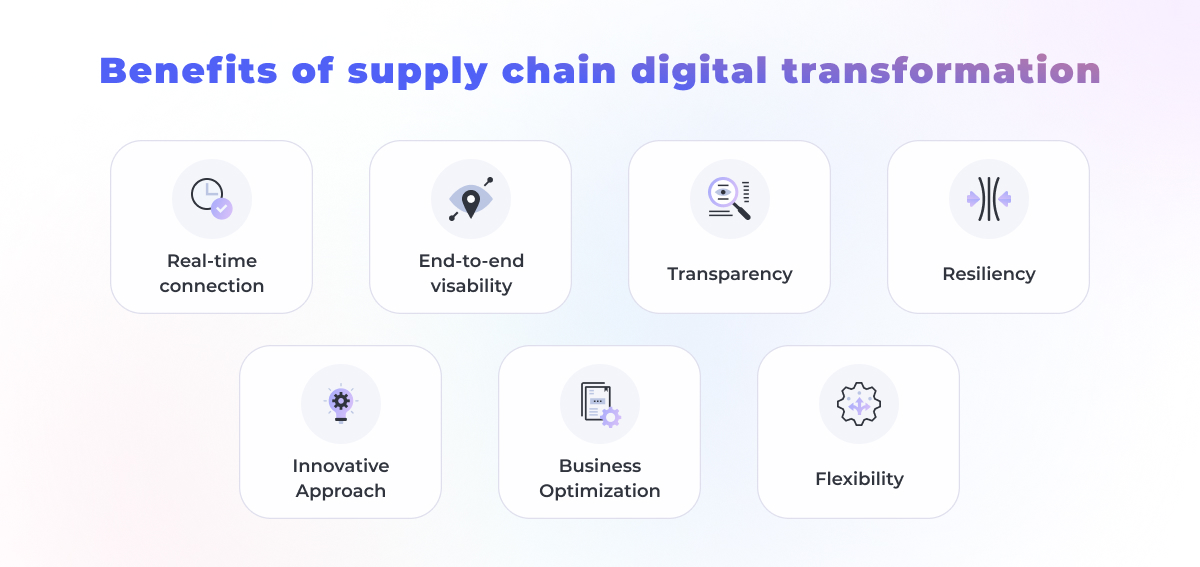 New technologies such as different forms of robotics, machine learning (ML), artificial intelligence (AI), Big Data, virtual reality (VR), augmented reality (AR), blockchain, 3D printing certainly have an outsized impact on various industries and areas of our lives. This trend isn't passing by logistics and manufacturing either, and an all-engulfing digital transformation in the supply chain industry is an inevitability in the near future. And the future starts today.

Working with huge amounts of data, having different performance challenges and operations every day, you need to have stable operational software to rely on. In order to optimize your business processes, raise productivity, ensure real-time visibility, and increase client satisfaction levels, consider supply chain digital transformation.
Let's now discuss nothing other than the current trends of supply chain optimization and what challenges the industry faces to help you better understand why this complex process requires digital transformation.
Supply Chain: Tech Trends

Digital is a key priority for most supply chain leaders, but less than half have defined or plan to implement a supply chain digital transformation roadmap

Gartner
Digitalization is a way to profitability and coincidentally brings a scope of other advantages. Before digging deeper into this topic and choosing the right strategy for yourself you need to be up-to-date with the supply chain trends in 2021. And we will share them with you:
Smarter approach
Visibility is no doubt an important factor in the supply chain, but it's not an absolutely crucial one. This feature depends on using IoT technology (you can read about IoT trends in manufacturing here). It helps infuse transparency into processes. But just to see is not enough when it comes without a real, fundamental solution to problems or challenges. Integration of technologies, especially AI algorithms is done to foresee potential future problems (predictive analytics) and provide resolutions (prescriptive analytics) in the supply chain processes. 
GBKSOFT engineers offer IoT technology implementation and, more to that, development and integration of custom software solutions that will help automate and optimize the supply chain in your business. 
Why do we need to think about a smarter approach? It will increase performance and productivity, help you carve out a competitive advantage for your company, define various problems in the work process and solve them. Moreover, it will help cut operating costs. All of the aforementioned benefits can be tapped into with the help of custom supply chain software. 
Omnichannel is a power
In order to succeed, companies need to combine offline and online resources and efforts, for example, to widen e-commerce, direct-to-consumer, retail, distributors. They strive to improve the level of services, maximize revenue and minimize costs. So, in case an accident occurs and one channel is disrupted, the entire supply chain doesn't fall like dominoes. The process of strengthening every point along the supply chain will lead to increased resilience and ensure business continuity. 
Stay one step ahead
Companies need to start implementing innovative logistical methods, figuring out production and delivery, using technologies to stay competitive on the market and be responsive to customer's demands. Using different types of software such as transportation management systems, warehouse management software, and others will help elevate your logistical capabilities to a new level.
Thanks to the integration of AR technology you can optimize all the logistics processes. For example, GBKSOFT have previously developed different types of software for upgrading the logistics industry so we can help you with it as well. For a free consultation just drop us a short email.

Real-time connection
What really matters now – real-time inventory tracking according to the client's needs and demands. Few companies now know about the real state of inventory in their supply chain. It's important to track and know this not just for the customer but for the supplier as well. Visibility plays an essential role. In case of any risks, all sides should be kept informed as much as possible to prevent any possibility of delays or waste.
The need for real-time visibility of inventory will continue becoming more pressing because it's a source of speed, increased profitability for your business, as well as transparency and satisfaction rates for your customers. Instilling modern technologies is of paramount importance if you want to boost your business and see it prosper.
For example, the GBKSOFT team can help you with the integration of IoT technology, which provides real-time monitoring of the supply chain (its sensors and advanced analytics capabilities track the process of machines working). Smart devices powered by IoT technology can be attached to containers so that you can easily track their location, how they are stored and when they will reach their destination.
Real-time monitoring helps detect whether any issues occur (like delays or losses), and warn stakeholders at early stages so they can do something about it sooner rather than later.
By using innovative IoT technology GBKSOFT can help you create a purposeful and collaborative supply chain system. A differentiating factor of our company is fast time to market, so you can save time and get exceptional high-quality code solutions.
Optimal supply-demand match
More and more companies in 2021 will apply the strategy of optimal supply-demand matching that allows reallocating production in periods of fast shifts in demand. There is such a concept as global demand-supply matching. It is based on a near real-time process. The competitive advantage is obvious: it minimizes costs, avoids waste, and improves the level of services. 
Development of supply networks

Enterprise's legacy systems hold back the effectiveness and efficiency of supply chains, which need to be modified. Collaboration of suppliers, customers, distributors, manufacturers requires the strengthening of business networks. According to Deloitte, there will be a shift from the traditional supply chain to a digital supply network (DSN) in the future. DSN's advantages focus on unlocking cost efficiencies, revenue potential, improving time to market, and product quality.
Thinking to optimize your business?
GBKSOFT experts will help to make your supply chains more efficient!
Challenges in supply chain
According to those familiar with the matter, the pandemic has had a profound impact on supply chain processes, many companies meet similar and recurring problems on a daily basis. Most of those problems can be solved with the help of software. But first of all, let's discover what are the biggest challenges that can be observed in 2021: 
Lack of transparency 
Old supply chain systems don't provision enough transparency. That can lead to delays in the supply chain and, as a result – loss of time and productivity. It also became hard to track and know how goods are moving in the supply chain. That's why optimization and automation are required.
A proper authentication is available with the help of AI and machine learning technologies. Program algorithms allow the supply chain process to be more transparent. Moreover, the integration of digital technologies speeds up your supply chain processes, saves you time, and bolsters your business.
Such technology as blockchain provides better transparency, easy access to information and increases the visibility of the supply chain. So, if you still struggle with lack of visibility, then it's high time to seriously consider digital transformation. And this is where GBKSOFT can become your major helper. Should you have any questions or solutions in mind – don't hesitate to contact us and ask for a consultation. Let's make your business smarter together!

Enlarging resiliency
In general, we cannot say that supply chains are resilient on their own. We live in a world of changing demands and strong drive to keep up with floating customer's priorities. As such, companies face higher risks because they need to take into consideration potential lack of items (deficit), failure, disruption.
They need to re-evaluate their risk tolerance accordingly, and then balance buffer stocks at different points of the chain to match that risk tolerance. To have more than one source of supply will help strengthen the supply chain. Implementing innovative technologies and digital transformation in supply chain management aids productive efficiency.
Increased flexibility
Flexibility helps manage manufacturer's costs and resources. Flexibility in the supply chain means being able to react quickly to the fast-changing market and evolving customer needs. If resiliency helps the supply chain and the supply process in general to stay strong – flexibility allows it to adapt quickly to evolving market conditions. It is also a possibility to adapt or change your plan in real-time if necessary if something unexpected props up. For example, a ship got stuck in and blocked the Suez canal this summer.
In such a case, different scenarios and possibilities need to be thoroughly considered, yet decisions need to be made quickly to limit financial losses and avoid any impending disaster. This is exactly the kind of thing that tests supply chain flexibility and illustrates that having reliable software is absolutely instrumental.
To provide another example of a less emergency-type situation, let's consider a company that offers a wide range of bicycle models and notices that customer demand is growing more rapidly for a certain model. Then, flexibility in supply chain [production] can be helpful in terms of being able to react and adjust production accordingly. This approach will help quickly meet the customer's demands and raise the enterprise's effectiveness.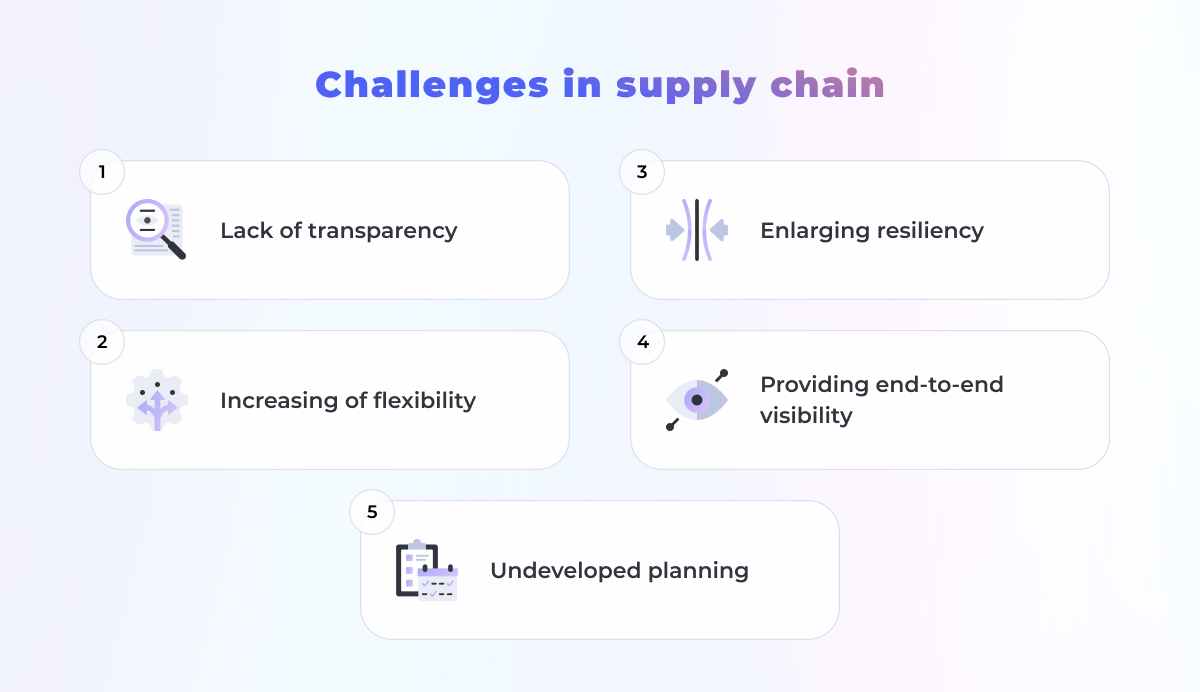 Providing end-to-end visibility
Supply chain visibility is a high-priority challenge. The supply chain is a complex process that supply chain managers are dealing with. Visibility is an opportunity to check the movement of goods travel starting from supplier to the manufacturer and to consumer. It is based on two above-mentioned features resiliency and flexibility.
Visibility is provided by supply chain management technology that enables monitoring supply chain processes in real-time. Implementation of digital transformation IoT (Internet of things) technology will help to enhance visibility up and down the chain by tracking and monitoring supply chain processes in real-time.
GBKSOFT team has extensive experience and expertise in integrating IoT technologies into various businesses in the logistics and manufacturing industries. So in case you need any assistance, we are here for you. Just get back to us with your challenges and we will suggest and develop the most suitable software able to correspond and be the answer to your queries.
Poor planning 
Even the smallest failure at any level of the supply chain can have a big overall impact on general production/delivery. That causes waste in time and resources, in turn negatively affecting the productivity rate or because of delays, the customer satisfaction level can drop. Because of that, regular updates, reports, and deep analyses are absolutely vital and are musts.
Industrial digital transformation that has widely become known as Industry 4.0 brought a completely new approach to the supply chain management processes.
Request an estimation!
Develop reliable software that will meet your productivity challenges with the GBKSOFT team
Now when you know what challenges you may face, it is time to find out the strategies that can help your enterprise deal with those challenges.
Customer Requirements and Strategies
Legacy systems that enterprises have are no longer an efficient way to run businesses. When your customers need real-time reporting and you as management need insights into the operational state of your business, you must feel that supply chain management requires changes.
Quite often logistics specialists don't know or can't give a clear explanation of what solution is needed in the face of sudden industry [trend] changes. When you have delays or an absence of flexibility in your business processes, it's time to use a different approach. A supply chain digital transformation will be the right choice to reorganize your existing system and create customer-focused initiatives.

We'd like to share the following strategies to save the unsuitable situation and meet customer needs:
Choose the right operating business model
Based on real-time customer demand evaluation you can have a real vision of the current situation; this can be enabled with correct planning and predicting tools. Companies can regulate demand-driven price models quickly, which is good for revenue and good for highly in-demand products with an excess demand and limited supply on the market.
Arrange flexible supply chain with quick planning
Adaptation to the market is a critical feature that goes with an understanding of demands and risks of the supply chain. So take into consideration all the risks related to your supply chain, adapt and expose yourself in order to get the advantages of a market.
Open yourself to opportunities for dynamic planning. The new model strives to do just that so be ready for the changing demands and prepared to react quickly to market changes. It allows for improved visibility and collaboration.
Accelerate innovations through optimized product management
Innovations allow you to be one step ahead of your competitors and innovations are also a driving force but there is something that propels them. To stay competitive, you should implement needed solutions at early stages for reasonable prices and sizable rewards (good ratios).
Product managers understand customer's needs and make necessary efforts to optimize a business case for a particular product. They focus on what is important according to supply chain operations. Optimized processes and solutions set up in a timely manner help predict money spending to balance end-to-end business.
Sales and operation integration process helps to line up your supply chain business goals
As they say: failing to plan is planning to fail. Concrete business planning will help ensure smooth and well-calibrated cooperation. Tightly involve sales and operations teams in the process so the processes, people and technologies are all well-coordinated.
This will allow you to avoid any gaps in the supply chain and will help to be sure that the process is performing according to standards and in line with the detailed budget plan.
Devoted and predictable supply is required
Working on strategies that continuously improve the supply chain and strive towards bringing operating excellence makes for a strong basis of making a company successful.
If all business operations are connected and integrated and communication is set up, it leads to more fruitful relationships and better outcomes. Everyone becomes client-oriented and in sync with that one goal in mind. But this won't happen if business planning is not integrated.
It's quite challenging to effectively balance all the processes but digital transformation of the supply chain and the use of impactful technologies make it possible and even to stay competitive on the market.
Role of Industry 4.0 in Driving Innovation
Although existing business models at enterprises can be just about sufficient, with the implementation of Industry 4.0 technologies companies can reach a whole new level by optimizing their processes and developing new strategies with a focus on innovation.
If Industry 3.0 focused on automation of separate machines and processes, Industry 4.0 means a total transformation of all physical assets and their integration into the digital ecosystem with supply chain partners. Industry's concept lies in well-established processes for obtaining, analyzing, and exchanging data.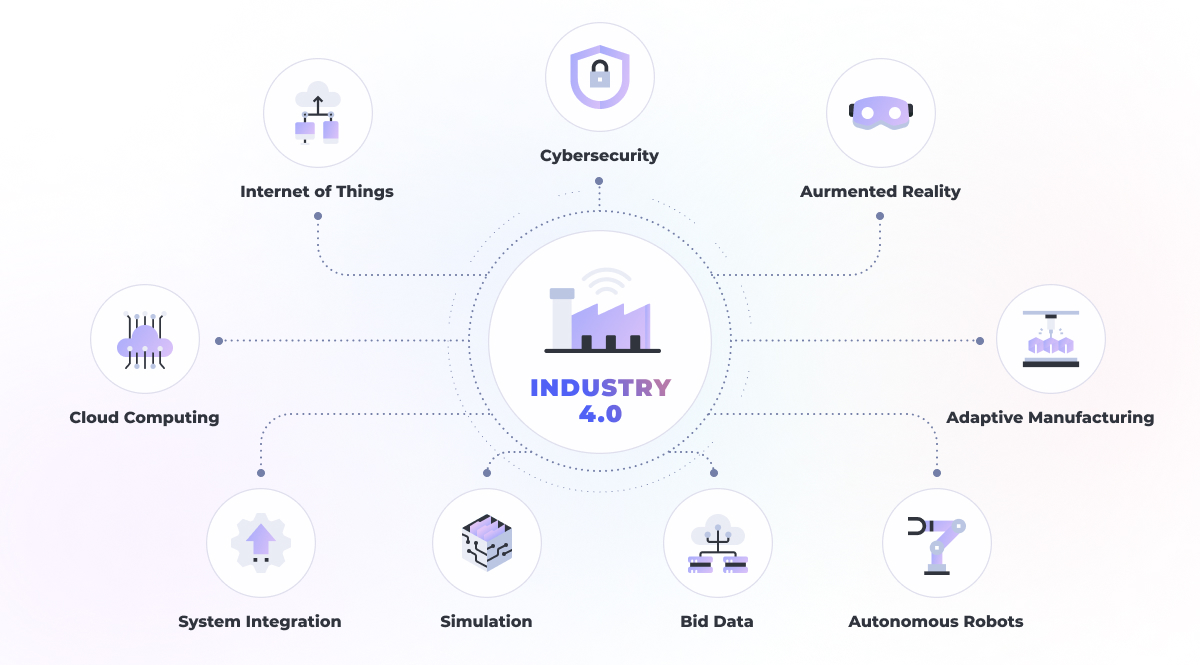 Digital transformation is a result of the use of digital technologies to reconsider the way a company structures its business. With the help of the agile approach, you can assume higher responsibility, flexibility, and visibility, helping to deliver higher value to customers at a lower cost.
It means the digitalization and integration of processes throughout the company: from product development (starting from raw materials) to production, purchasing, distribution (sales), supply, delivery, and service. 
Digital transformation can be thought of as a technological process that implies changing mindset and corporate culture in the company.
SAP in the Supply Chain Digital Transformation and ERP Solution

SAP stands for Systems, Applications, and Products in data processing. SAP Supply Chain Management is a key branch in SAP ERP system that has a wide range of options and its unique set of benefits.
First of all, it covers the bases when it comes to coordination and planning and helps the company manage its supply chain and regulate various processes among the suppliers, partners, customers, manufacturers, and retailers. It has a positive effect on productivity and helps optimize business processes in the company. It also can predict the sudden changes in the supply-demand disposition.
ERP (Enterprise Resource Planning) software along with finance, CRM, digital supply chain and HR software are products synonymous with the makeup of SAP. Thanks to SAP, organizations can install new business models to solve industry-specific requirements and with the help of digital assistants and embedded analytics can make better decisions and achieve superior results, for example, accelerating innovation and reducing business risks.
Get to Know
If you'd like to know more about
ERP solutions
you can read it here
.
GBKSOFT has successful experience in developing custom ERP solutions for various business niches including the supply chain one. This custom software development allows you to invest once, to have a ready system, and to use it continuously for an extended period of time.
Experience the difference when:
the cross-departmental collaboration is improved, the whole company interacts as one unit, undergirded by the integrated database;
better reporting tools that convey data in real-time;
workflow productivity is higher and processes are managed better;
you have the opportunity for scalability because streamlined business processes are easier to manage and control. When your business is ready to grow an ERP solution will facilitate that process and is exactly what you need to provide you the necessary infrastructure and framework;
upgraded inventory planning and procurement to reduce your company's costs. It seems like one of the most attractive advantages, doesn't it?
automation processes allow to reduce manual work usage;
your high level of data protection. Here at GBKSOFT, we pay a lot of attention to security and make sure that databases are reliable.
ERP provides flexibility and as it was mentioned before it's one of the crucial features of digital transformation in the supply chain management process.
GBKSOFT can help you with the integration of software solutions to your existing working environment or we can deliver one from scratch. ERP software solutions are gaining popularity and momentum across the board, For example, it is now actively used in Soljets Web Platform for Aircraft Brokerage.
It includes:

comparison tool

range mapping

messaging systems

360 view of 3D models

knowledge base, and others
This platform allows you to:

run an easy search

compare aircraft characteristics
make educated decisions or choices based on quality, price and other characteristics
Digitalization brought optimization of aircraft brokerage, made it more convenient and simple in use for the client. And if it came in handy for a niche like that, your company could certainly also do with a high-quality ERP! The possibilities are endless and you definitely cannot afford to pass up on such an opportunity.
If you have an idea in mind that requires a custom ERP solution, the GBKSOFT team is a perfect fit to help you quickly tackle the development.
By now you may be wondering what it actually takes to develop an ERP for your supply chain business? Do I need to invest a great deal of money to make it work? 
Well, the development may cost you anywhere between $50,000-$65,000 (or maybe more, everything depends on the desired feature set and overall ERP complexity). An MVP development will cost you roughly half of the full budget and will let you test your idea and see if the solution properly addresses your business challenges.
So the decision is yours – by investing in custom development you invest into the future of your business. And we can help you build the best solution that will last you for years to come.
In Conclusion
Digital transformation touched many spheres of our life. We can feel the advantages by having modern devices that make our life more interesting, easier, as well as more comfortable and pleasurable. Enterprises and industries can feel the advantages as well. Yes, implementation of innovative technologies can be costly but it helps save time, optimize business processes, raise the efficiency of the production and is certainly worth it.
Supply chain digital transformation is not just a technological upgrade but it's also an opportunity to be competitive on the world's market. So if you are ready to boost your business, our team of highly-skilled experts at GBKSOFT is standing ready to offer you full-scale digitalization centered around a data-driven approach, and the best software solution according to your needs. 
Ready to power up your business?
GBKSOFT will integrate innovative ERP software solution in your supply chain tool
It is a completely new approach to existing supply chain processes. With the help of up-to-date technologies, an enterprise can simplify the workload, bring higher value to the clients and reduce its costs.
Artificial Intelligence and Machine Learning, Big Data, Internet of things, cloud technology, real-time analytics, blockchain, augmented reality, 3D printing.
Implementation of IoT (Internet of things) will help track, monitor, and make any necessary changes in the supply chain management in real-time.