Let's imagine the situation: there are two Italian restaurants in your district – Pizza A and Pizza B. Both of them make delicious pizza, yummy pasta, and adorable Tiramisu. Each place has cozy interior and good service. And then, one day, Pizza A offers you a 50% discount on the next meal if you download their app. Would you come again to get the half-price pizza? Surely you would. Because everyone loves loyalty programs. And what if you can put that program right in your customer's pocket?

Nowadays, the marketing strategy number one is building the online presence. So having your own web or mobile application is a must for all restaurant owners. While some of them create only websites and social media accounts, and involve influencers, the others move to the next level by building complex  restaurant mobile app. Since people don't leave their smartphones for a minute, each and every business tries to use this weakness to stand out from the competitors. Moreover mobile application helps to receive firsthand feedback from the customers and consider some changes or improvements. So digital solution can not only help you with some routine operations, but also it can boost your business.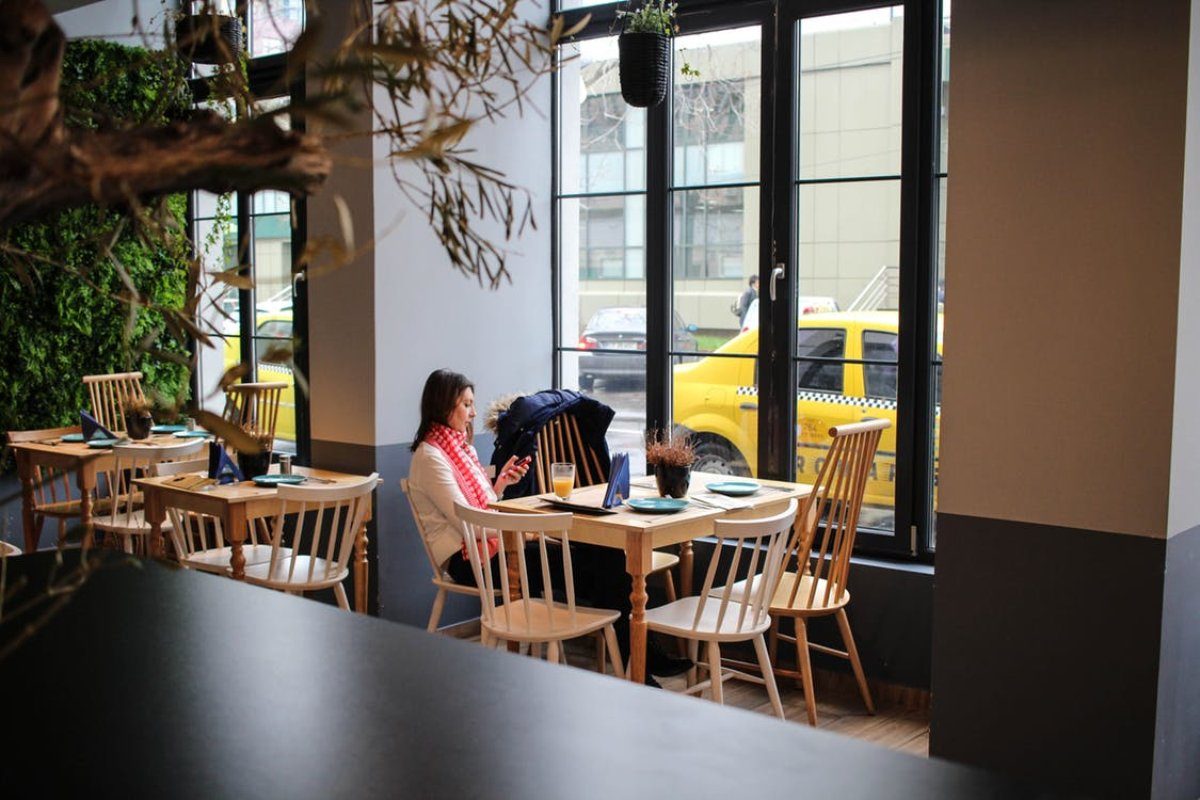 Dining trends in digital marketing
People now want to be more informed before visiting a restaurant. 94% of smartphone users prefer to browse bars via their mobile devices before visiting the place. They tend to take decision within one day after checking it online.
But how many people use smartphones in the U.S. for example? According to Statista, 83% of mobile users in the U.S. own a smartphone, and that fact turns them into potential users of mobile applications. And these numbers are growing yearly.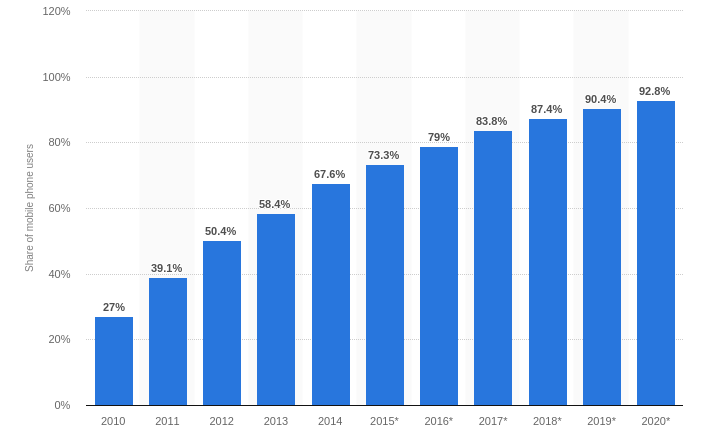 One more research by IAB found out that almost 70% of people turn to their smartphones and tablets to order some food when being hungry. Moreover, 50% of savvy mobile users have at least one restaurant app downloaded on their device, while 55% have also "multi-restaurant" review app like Yelp.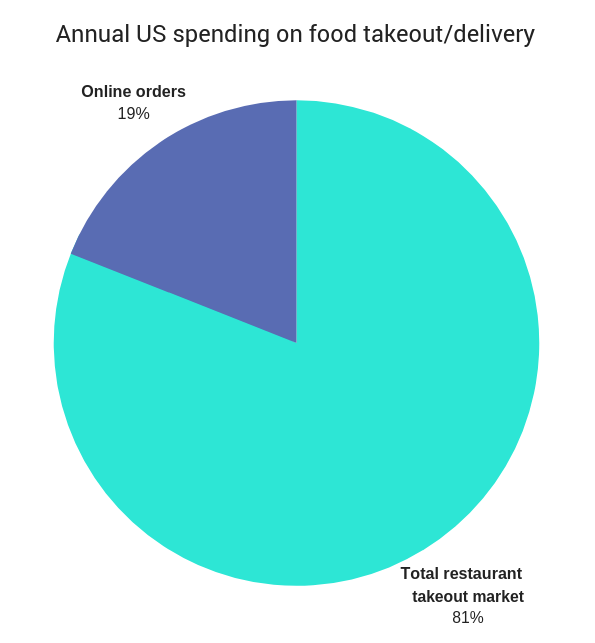 We think this chart is a perfect demonstration of the huge marketplace waiting for your restaurant app. What is more important – your application can help you introduce some new options your restaurant lacked before. F.e. It is easier to organize deliveries, sell some food that is in surplus at discounted prices, introduce your ow bonus program, expand menu and check out your customers reaction, etc. 
Already have your own restaurant app in mind?
TOP 7 Features to Include into Your Restaurant App
#1 Menu. Introducing a comprehensible and clear menu is a must for both websites and mobile apps for restaurants. The reason is hungry person leaves quickly and would barely leave an order or book a table within your restaurant if the menu positions are hard to read or the prices are not specified. Don't forget to add some pictures of your dishes to attract customers attention. If you are thinking about something even more convenient for your customers, then consider creating QR code allowing to access your menu from any smart device in less than a minute. QR code software can help make services faster, because your visitors will not need to sit without menu waiting until someone from your personnel brings it to them.  
#2 Online booking. Calling a restaurant to book a table is not what people are going to do nowadays. Who wants to pass all steps like finding the restaurant's number, waiting for someone to pick up the phone, trying to explain the details? We can now easily make a reservation directly through the website or via mobile app in a few clicks without any human interaction. Restaurant owners, on their part, don't need to hire a person for getting calls, spelling client's names properly and thinking how to accommodate all the visitors together by managing the waiting list.
#3 Delivery and takeaway service. Ordering food delivery online is the new black. Ordering food via mobile apps is even more trendy and handy. As well as while booking a table, you don't need to interact with restaurants' staff that brings the possibility of the human mistake to zero.
You can also allow users to make their in-app orders and show the preparation time so they know exactly when it's time to arrive and take their meal to go. That means the end of long queues and annoyed customers at your place. Some venues go even further and place smartphone kiosks simplifying the order process. Due to their resemblance to smartphones, these kiosks are easy and fun to use.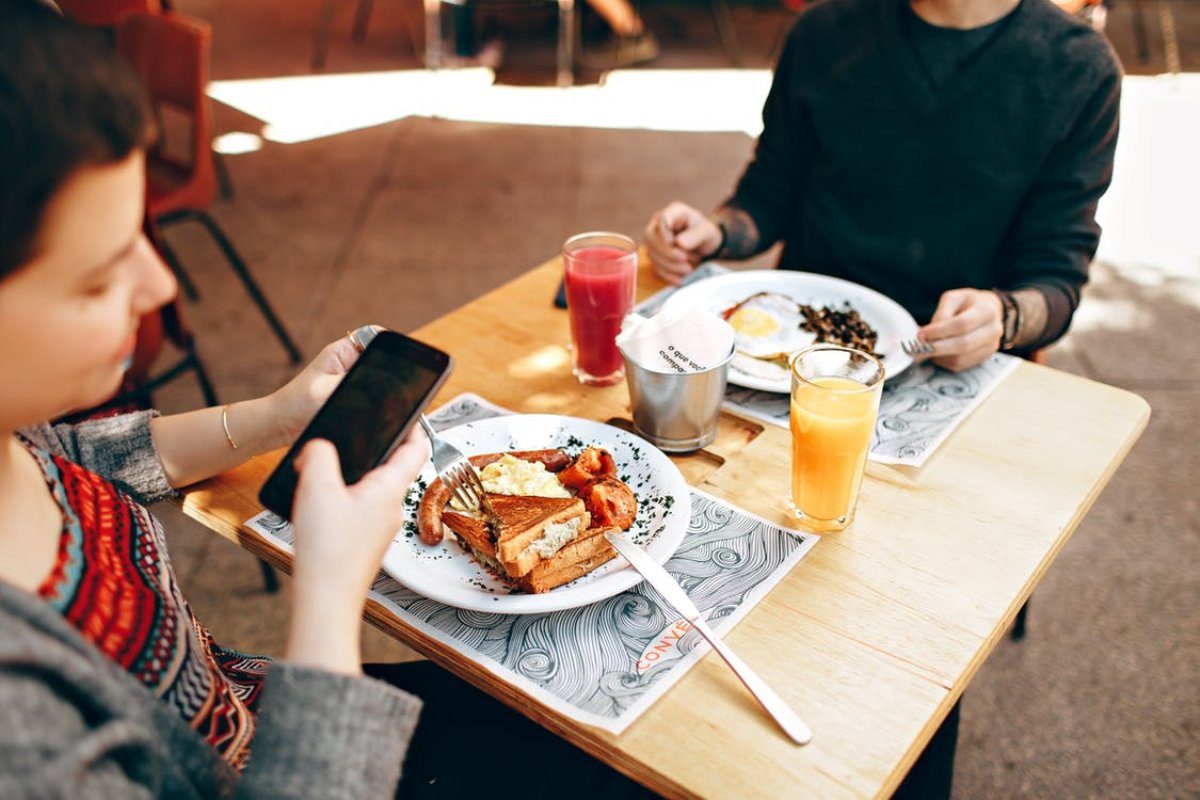 #4 Loyalty and referral programs. Everyone loves discounts, free drinks or complimentary dishes. But do you work hard enough to make your customers remember about your loyalty program and use it on a regular basis? Print coupons or emails are good examples of activities but keeping all promotions in your customer's smartphone is much more effective. Just scan the virtual coupon from the user's screen and give him a present. Be sure that guest will return again and again and even invite friends if you run a referral program.
#5 Push Notifications. Is the meal ready for takeaway? Do you give client extra points for Birthday? Or maybe you have a new offer? You can easily reach all the customers with your app by using push notifications. By the way, push notifications have the higher view and click-through ratios than emails or SMS which might be considered as spam. Moreover, being shown right on the screen, they are short but informative, as well as you don't even need to open an app to be aware of the promotion. But don't be too annoying unless you want users to opt-out. Once a week is enough to keep your customers close to your business. And one more thing – sending push notifications is free.
#6 Customers feedback. It is crucial for any restaurant to know if your services are liked by the customers or not. An honest feedback left by customers within your app can grant you both a space for improvements (if your clients point out some cons) and a bunch of new customers (if the client will leave a positive review on your place). A word of mouth has been working perfectly for many years, and now when all discussions moved to online space it is important to let people a chance to share their honest opinion.
#7 Convenient payment gateway. Choose any of the suitable options (PayPal, Stripe, WePay, etc.) to let your customers pay for the order in a couple of clicks. More and more people each year choose to make online payments instead of buying anything with cash. It is more fast and convenient. Moreover there is a huge trend right now to accept cryptocurrency payments. We have already covered this topic in our article about trends in food delivery applications. If you are interested, you can check it out here.
Feel that your restaurant needs such powerful tool as mobile application?
How can your business leverage from a Restaurant App Development?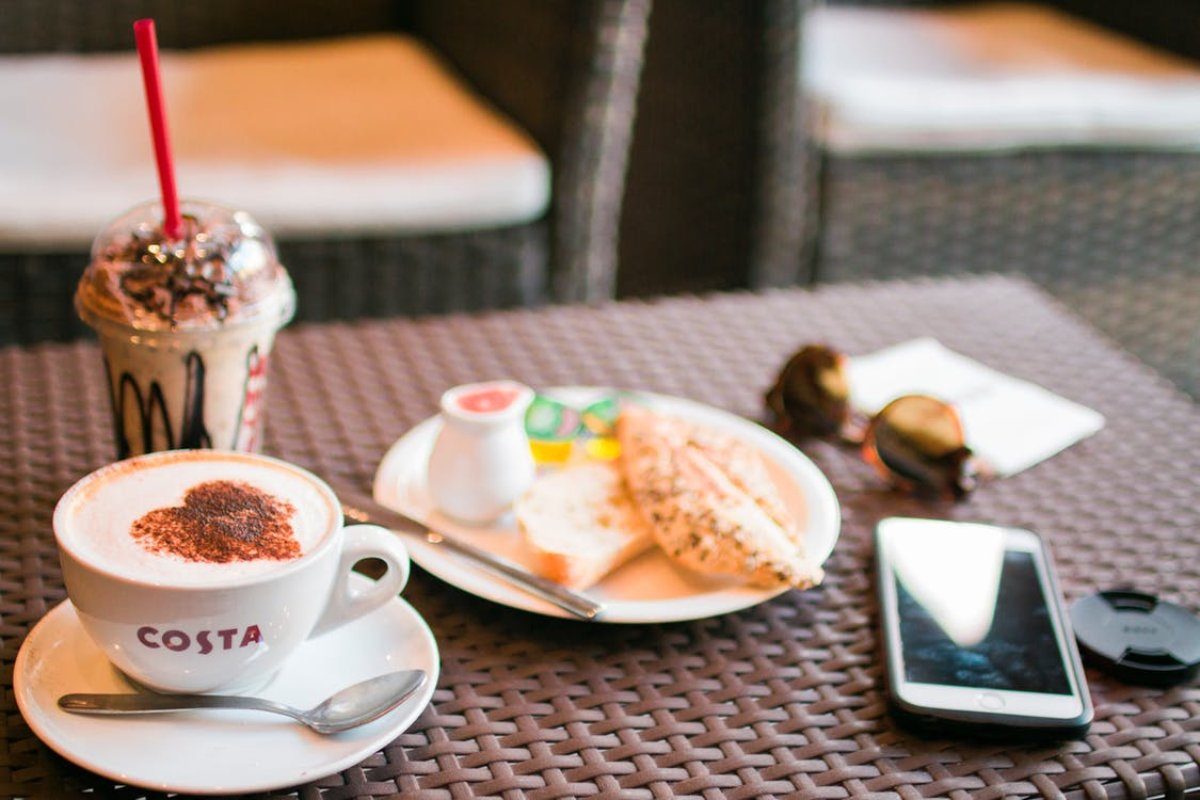 Reach your audience and keep them engaged. Implementing technology in your restaurant business allows you to get into the customer's pocket literally. Keeping the loyalty program directly in smartphones allows customers to get best offers easily and share them with their friends. As we know, word-of-mouth marketing is the most reliable and trustworthy channel in any business. Just create the promotions, people would love to share.
Know your audience. Adding more personal info during registration allows you to discover users tastes and preferences and create custom offers that will only increase brand loyalty. Moreover by gathering and analyzing that info you can alter your menu, understand what dishes are popular and which ones should be replaced, etc. 
Optimize booking and delivery process. When you have all the order information on your screen, there are no chances to make a mistake in the name, address or the order itself. Forget about the bad connection or indistinct accent, both clients and employees benefit from online booking and ordering.
Perform better inventory and goods control. If you consider developing a POS system for your restaurant or cafe then you will be in charge of all crucial processes. Point of sale systems (especially mobile or cloud based) can work on any device and they help to manage marketing, employees and customers. It is a holistic system able to help your business grow significantly. Check out or article dedicated to POS to discover more details and understand why POS is a must-have tool.
Conclusion
The power of online presence is undeniable. When most of your competitors focus on their websites, go ahead and think about the mobile app or PWA for your restaurant. Growing restaurant business is not only about attracting new visitors but also about retaining the existing customers. The marketing duo of a website and mobile app is the way to boosting your positions and increasing the interest to your place.
So if you still have any doubts whether your restaurant needs an app, you 'd better take a look at such successful giants as Domino's pizza, Starbucks, and many more. They have lots of loyal customers who use their apps daily and who to some extent shape their business. Mobile app is a must-have tool for any successful company which is aimed to grow and expand its customer base.
Need free consultation regarding new business opportunities a mobile restaurant app can offer you?